Image Credit: Costamare Homepage
Costamare Overview
Costamare (CMRE) is a leasing company focused on the container shipping segment. CMRE holds a variety of ships spanning different sizes and ages from feeders to ULCVs. Costamare controls the world's 2nd largest publicly-traded independent container fleet, second only to Seaspan (SSW). They deal almost exclusively with investment grade counterparties, including MSC, Evergreen, COSCO, and Maersk. CMRE added six secondhand ships, scrapped four old vessels (1x 1994-built, 3x 1998-built), added five newbuilds (mid-2020 to early-2021), and bought out a major equity interest in five vessels.
This is a company that has been making major waves behind the scenes, but their share price has not been rewarded. There is still a lot of uncertainty around some of their new contracts and the recent York buyout, so I will be continuously updating our models as more information develops.
CMRE currently trades at $4.77 and offers a dividend yield of 8.3%. With about 113M shares estimated outstanding, CMRE carries a common equity market capitalization of about $540M. They also have $365M (par-value) in preferred equity (CMRE-B/C/D/E).
Q4-18 Results
Costamare presented solid results, beating my estimates by 2-cents (20%) while we look set to see a Q1-19 beat of analyst expectations shown below of likely another 4-5 cents.

Source: MarketWatch, CMRE Analyst Estimates
CMRE is clearly prioritizing stabilizing the company's revenues with recent acquisitions focused on long-duration assets. This strategy has worked well for Seaspan (SSW) and CMRE has done a good job of delevering their existing assets. Unlike their cousin, Costamare hasn't received any 'love' from the equity market even though they trade at more attractive multiples.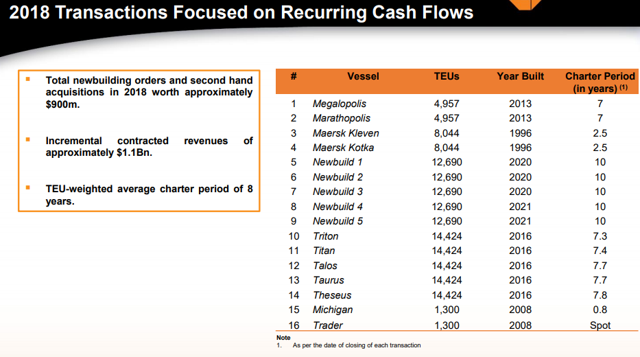 Source: Costamare, Q4-18 Earnings Presentation, Slide 7
Easily Funded Growth
The most interesting factor on the conference call is that CFO Greg Zikos revealed that CMRE only has $31M remaining in equity financing for the entire newbuild program. This is remarkable leverage and means they have substantial cash left to fund further growth.
With $160M in remaining cash and sharply positive EBITDA expected throughout the coming quarters, they should be able to continue to do transactions although we are still awaiting precise specifics of the recent York joint-venture buyout and the cash expenses required for the 5x scrubbers for the MSC ships. I'm hoping the scrubbers would go onto their 5x 14k TEU ships to Evergreen, which would further bolster cash flows from those ships they just bought from York.
Zikos revealed there are further discussions to add scrubbers to at least five other ships and he also mentioned they are looking at buying the rest of the 11k TEU ships off York, but they would want to see a longer-term charter first. This makes sense, but adds exciting potential for accretive growth in 2019 or 2020. If they then found longer employment for the 11k ships (currently doing 1-year deals in the low-$30k/day range), we could see another $200-$300M backlog improvement.
Earnings Focus Question Review
As part of our exclusive earnings coverage on Value Investor's Edge, we provide earnings previews with 'focus questions' for the report. I've included these questions and our reflections below to account for the recent Q4 results.
Details on York buyout? In mid-November, CMRE announced they had purchased the remaining (60%) equity interests in five of their 14k TEU vessels from their partner, York Capital.
Unfortunately we didn't get much additional color on this deal and we'll need to review the annual filing (20-F) when it is uploaded in the next few weeks. They disclosed that they might be interested in buying out the 11k TEU vessels as well, but they want to see charters attached first ideally...
Improving earnings? I expected a bit north of 10-cents for Q4 and was hoping to see a clear guide for Q1-onward. This compared to average analyst expectations of $0.10 for Q4 and $0.13 for Q1 prior to results.
Costmare posted a supplementary presentation last December, which estimated the total earnings accretion to be $0.27 per year, of which $0.16 relates to current vessels and the balance is for newbuilds.

Source: Costamare, December Presentation, Slide 6
Considering CMRE's Q4-18 runrate was $0.12 EPS, they should easily do $0.16-$0.17 next quarter considering the positive charter rolls. This is a clear beat of analyst targets and I'm hoping the stock will trade accordingly.
Two more demolitions very soon? CMRE demolished 4 vessels in 2018 including three which were built in 1998. I've flagged two more ships with special surveys coming up including the "Monemvasia" which is due this month and the "Elafonisos" which is due in March. No news yet on these ships, but the Monemvasia shows a charter to November 2021.
The Elafonisos has an expiring charter in February 2019 at "confidential rates," so I expect to see this one hitting the scrapyard within a few weeks. This vessel is already unencumbered so it's an easy source of capital.
More scrubber deals? Costamare has taken a very shrewd approach to scrubber investments, choosing (thus far) to only install scrubbers on five ships chartered to MSC. These had lucrative charters to 2023-2024 and the rates will be expanded upwards and the charters themselves have been extended three years to 2026-2027.
CMRE confirmed that the five MSC deals will be closed-loop scrubbers and they confirmed they are in discussions with other charterers at this time for at least five additional vessels. If I had to take a wild guess, I would suppose it's the 5x 14k TEU vessels they just bought from York with long-term hire to Evergreen.
Conclusion & Price Target
This was a very strong report for Costamare and the market initially acted rationally to bid the stock up strong. Unfortunately recent trade war jitters have sent CMRE running back down even though they have very little near-term exposure and container rates have been rising the past few weeks.
I believe CMRE is worth about $7/sh right now when giving them a decent premium for their substantial backlog. If CMRE traded close to Seaspan (SSW) valuations, we could break $10/sh, but I'm certainly not holding my breath and $7-$8 looks like a much more reasonable range.
I am considering starting a substantial pair trade here (long CMRE, short SSW), but I'll likely wait until after Seaspan reports as I expect them to have a pretty solid report also.
I collaborate with James Catlin on a Marketplace service.
Join Our Team
We will be continuing to cover top ideas and earnings-related trades as part of exclusive coverage at Value Investor's Edge.
Members of Value Investor's Edge will receive the first look at new coverage updates and potential changes to our portfolios as the year progresses. We have recently updated our income portfolios and full coverage of preferred and fixed income opportunities. Roughly 90-95% of our research is fully exclusive to our members, join our group now to check it out for free!
Disclosure: I am/we are long CMRE. I wrote this article myself, and it expresses my own opinions. I am not receiving compensation for it (other than from Seeking Alpha). I have no business relationship with any company whose stock is mentioned in this article.