Following up yesterday's note on the Brumadinho disaster, this is a focused one on BHP Billiton (BHP). As you know mid-last year, I wrote an initial recommendation for BHP Billiton that was based on company-specific factors.
Due to supply decreases after the Brumadinho dam disaster at Vale (NYSE:VALE), iron ore prices are driven upwards. It's not just the Brumadinho supply that has disappeared, but a judge ordered Vale to shut other operations as well. This can happen at other companies operating these kinds of tailings dams as well. In addition, I expect inspectors will not let much fly in the immediate future. This could even have a global impact on the behavior of both mining companies themselves (putting additional emphasis on security over production) and regulators.
It is very unlikely we will see any positive supply surprises as a result. By my estimate, market prices of the large miners are not discounting the fallout of this tragedy correctly.
Over the time the S&P 500 advanced about 1.8%, the miners went up a lot more. The market seems to believe Rio Tinto (RIO) will benefit most from higher ore prices, but BHP Group (OTCPK:BHPBF) is close behind. Rio produces lots of commodities, but it is deriving most of its EBITDA from iron ore. BHP Billiton Group derives about 35% of EBITDA from iron ore. Glencore (OTCPK:GLCNF) doesn't produce any iron ore, but it does trade it. Vale has been discounted.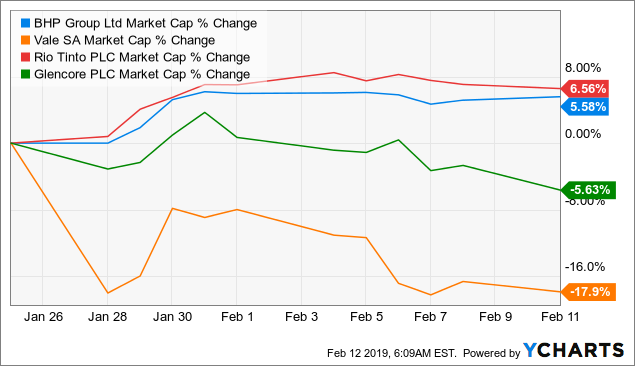 If we look at Enterprise Value, the results are only slightly different: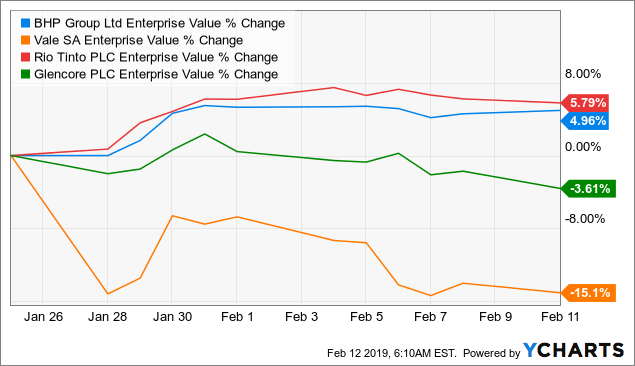 If we look at debt-to-equity ratios, we get an idea why BHP isn't far behind Rio Tinto: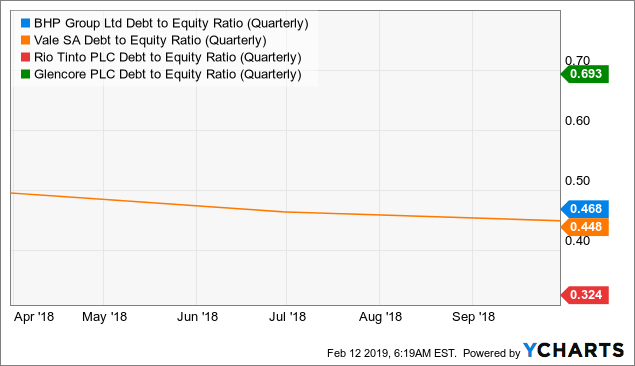 BHP is slightly more levered. Because the benefit of surging prices will primarily benefit equity, this works in its equity favor.
By my estimate, BHP's free cash flow could temporarily increase by somewhere in the 40-60% range. EBITDA should only increase by about 30-40% because Iron Ore represents only a small part of revenue. But this additional revenue is coming without any required CapEx attached to it. Meaning free cash flow actually increases by a much larger amount. The higher your cost base, the more free cash flow should increase. BHP has a relatively low cost base on its iron ore. Currently, BHP trades at about ~10x free cash flow, but free cash flow may rise to $20 billion.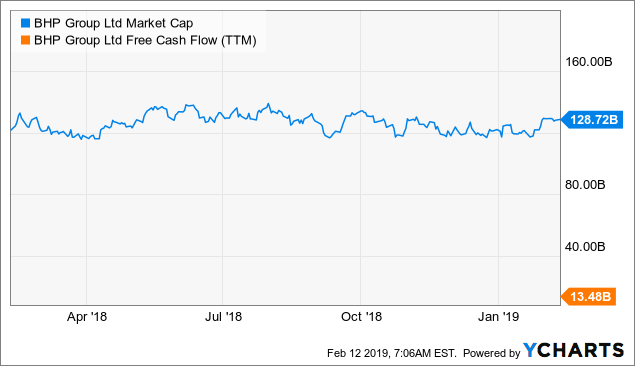 With mining companies, there is always the question what they will spend that free cash flow on. Buying additional reserves at inflated prices can destroy every last ounce of value of free cash flow. However, BHP has clearly laid out its capital allocation framework in this presentation. Perhaps thanks to Elliott Advisors', an activist fund, involvement, it is quite shareholder-friendly. BHP wants to pay out 50% of its cash flows. It will consider buybacks and just did two major programs.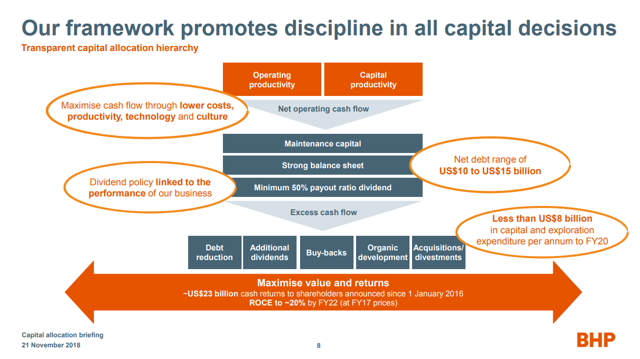 Source: capital allocation
Since I believe the company is undervalued as is, buybacks are one of the best uses of return of capital. However, I'll be happy to accept a big dividend increase up from the current ~4.5%. With net debt on the lower end of the projected range, we should see a lot of capital returned through those two levers.
Conclusion
BHP Billiton was already an interesting investment before iron ore supplies got under pressure. I think it got even more attractive. The market is underestimating how long this undersupply will last, and it doesn't seem to take into account the additional scrutiny miners will be under. At ~10x TTM free cash flow, BHP Billiton is not expensive as is. Under pressure from Elliott Advisors, it is actually putting a lot of thought into correct capital allocation. With high free cash flow, capital allocation is one of the most important considerations. If BHP Billiton keeps steady on the current course, I expect very good results for shareholders.
Check out the Special Situation Investing report if you are interested in uncorrelated returns. We look at special situations like spin-offs, share repurchases, rights offerings, M&A events, etc. But we also have a keen interest in the commodity space. Especially in the current late stages of the economic cycle.
Disclosure: I am/we are long GLCNF, RIO. I wrote this article myself, and it expresses my own opinions. I am not receiving compensation for it (other than from Seeking Alpha). I have no business relationship with any company whose stock is mentioned in this article.
Additional disclosure: I'm short Vale