Kala Pharmaceuticals (KALA) is a small-cap biopharma with one product already in the market and one about to have a PDUFA on August 15, 2019. These products are in the ocular disease segment, and while the approved product, INVELTYS, is merely a steroid approved for post-surgical use, the lead pipeline product seems to have more potential in relieving certain dry eye disease symptoms. Overall, we like the focus on a less competitive area, and the fact that they have been able to get something approved, with another on the line. Make no mistake, though; this is a boring company that will never make a multi-bagger stock. We have used the IOMachine procedure here to analyze the company.
About the IOMachine; this is a four-step test that makes biopharma analysis easy. The test considers each of the most important angles - upcoming catalyst; past trial data relevant to that catalyst; execution, which can include such things as cash runway, insider transactions, funds involvement, secondary offerings, deals and licenses, and general management experience; and competition, which discusses what others are doing in the space, the market potential, and patents - and forms an opinion based on all these factors put together. While you will get to read a lot of long reports and so on here on Seeking Alpha, this is not a medical journal. We clearly understand that. So, we use the IOMachine, which is a basic drill down of all that's important for investors to know about a biopharma stock. Anything else can and should be found on peer-reviewed medical journals.
Catalyst for KALA
The nearest major catalyst for Kala Pharmaceuticals is the PDUFA of KPI‑121 0.25% in dry eye disease on August 15, 2019. Besides that, they will announce data from an ongoing phase 3 trial for the same candidate in the same indication, due somewhere at the end of the year.
Previous trial data
KPI-121 0.25%, Kala's product, is targeting dry eye disease or keratoconjunctivitis sicca, specifically a symptom known as dry eye flares.
Kala has conducted three clinical trials where around 2,000 patients have participated. There has been a phase 2 trial and two separate phase 3 trials, STRIDE 1 and STRIDE 2. Per the company, the company achieved statistical significance (stat sig) in:
the primary sign endpoint of conjunctival hyperemia in phase 2 and both phase 3
the primary symptom endpoint of ocular discomfort severity at Day 15 in the ITT population in STRIDE 1
the second primary symptom endpoint of ocular discomfort severity at Day 15 in patients with a more severe baseline discomfort in STRIDE 1
Overall, STRIDE 1 delivered much better results than STRIDE 2, which did not achieve stat sig in a number of primary endpoints. Below is a table showing all this: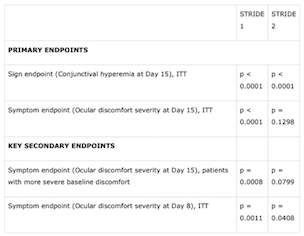 As we see here, it failed to achieve stat sig in two endpoints in STRIDE 2 whereas it did achieve stat sig in STRIDE 1. The first one is ocular discomfort severity at Day 15 in the intent to treat population, where p-value was 0.1298, and the other related one was the same endpoint in a different population with more severe baseline discomfort. Note that both measured discomfort severity. There was another secondary endpoint, inferior corneal staining change, in STRIDE 1 which also the drug did not meet.
In its next earnings call, management was asked (see a question from Christopher Schott) if there was any difference in the two patients' populations to account for this difference in the outcome. Management was not able to say anything definite. However, they have the ongoing phase 3 trial which will also help clarify what happened in STRIDE 2. Because this was, after all, a somewhat subjective measurement, a lot of non-quantifiable factors could have set in. Also, as fellow contributor Statbeyond Consulting has shown, competing Xiidra was approved despite not meeting stat sig in some endpoints.
So, those mixed results were one of the reasons Kala stock dropped so much last year. The source we referred to above argues that the market overreacted. They argue that Xiidra also did not do well in some of its trials, but that the FDA considered overall treatment effect rather than p-value in its decision-making process. However, the FDA did request a new trial there, which the author above does not seem to be able to deny will not happen with Kala again. They just think Kala has enough funds for that.
Kala has actually initiated STRIDE 3, just the sort of confirmatory trial they think the FDA might ask for. They will go ahead with the PDUFA, but if there's a CRL, they may be able to use this trial to address those issues. This trial will yield results in Q4 2019. So that's the game plan here.
Execution
The company has a market cap of $186M, a cash balance of $80M as of the September quarter, and burn is $6.2mn. So, cash is not a problem, and there's no real risk of dilution. Much of the cash balance came from a public offering from October, where Kala netted $62mn at $8.25 a share.
Here's a chart showing recent insider buy/sells. As we can see, most are purchases, which is a good sign: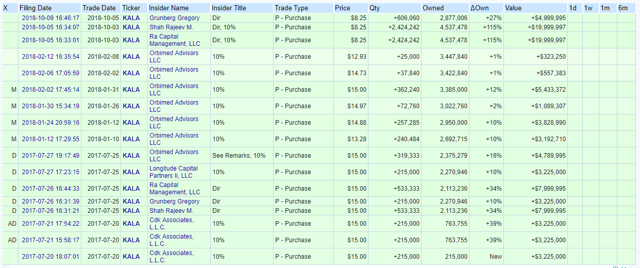 And here's a quick snapshot of fund ownership: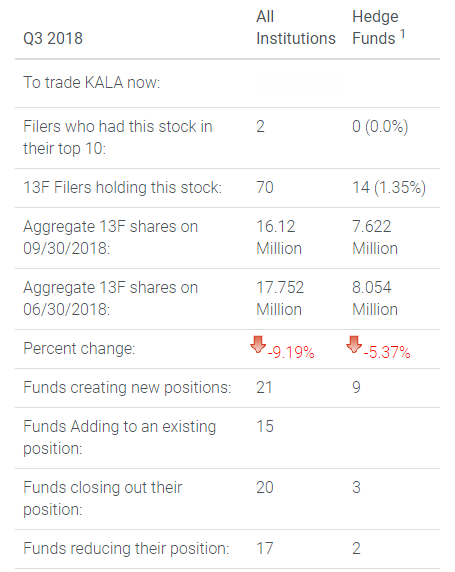 Competition
There are two products currently in the market targeting dry eye disease symptoms in general, not specifically dry eye flares. These products are Xiidra and Restasis from Shire Pharmaceuticals and generic manufacturers respectively. Both produce a number of side effects, some quite unpleasant. Restasis is ciclosporin and Xiidra is usually taken with the latter. Xiidra causes eye irritation among other things, but ciclosporin's profile is worse. It causes kidney and heart problems.
KALA's claimed USP is that it is an as-needed medicine that can be used whenever there are seasonal or otherwise flares, instead of having to use it chronically. It also has a better safety profile than either of these other products. Per a Kala survey, patients did not like using these medicines because of low efficacy and poor safety profile.
Another up and coming competition is from Aldeyra's (ALDX) reproxalap, which recently released strong data from a phase 2b study. Recall, though, that besides all these, there are a number of alternative treatment options for dry eye disease. These include artificial tear inserts, tear-stimulating drugs, autologous blood serum drops, and other options.
The company presents the following chart for market potential: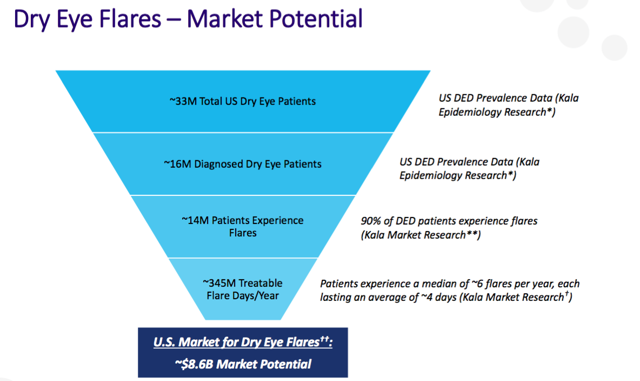 I have no specific comment about this except that these numbers come from a Kala funded research on about 500 patients. Here's some corroborate data.
So, we have a market that is potentially valued at $8.6bn. Kala is currently valued at just $227mn. Restasis, at peak, made over $1.2bn for Allergan (NYSE:AGN). Taking these together, we can form a rough ballpark figure for Kala's valuation. I would say that, if approved, Kala could easily see valuation well over $1bn right after approval. Those endpoint misses are a problem, which is why its current valuation is largely discounted. However, if the drug gets approved, we should compare it to competing drugs like Restasis and Xiidra.
Opinion
There are a number of reasons to like Kala based on this drug. The insider buys, the cash runway, the game plan with the ongoing phase 3 trial which acts as a preemptive measure against an FDA rejection, the current depressed price, the safety profile, and even the apparent efficacy all make good arguments for an investment. Our only issue here is with those stat sig misses, but other than that, this looks like a decent investment ahead of the PDUFA.
Disclosure: I/we have no positions in any stocks mentioned, and no plans to initiate any positions within the next 72 hours. I wrote this article myself, and it expresses my own opinions. I am not receiving compensation for it (other than from Seeking Alpha). I have no business relationship with any company whose stock is mentioned in this article.