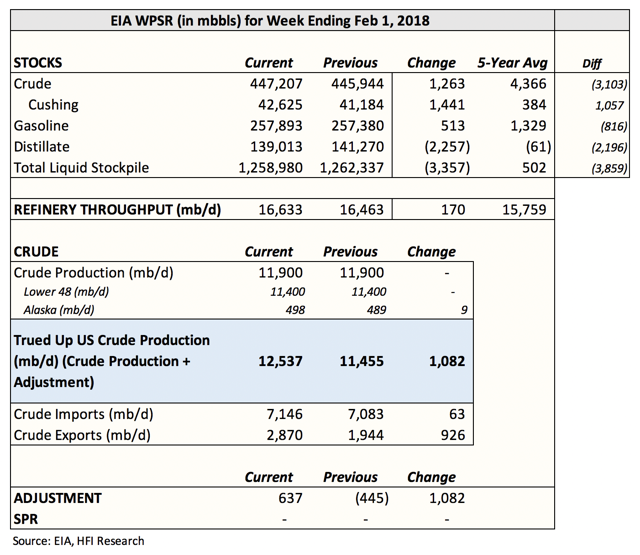 EIA reported a bullish oil storage report this week. Crude, gasoline, and distillate all reported better than average storage changes. Total liquids in the US also dropped 3.357 mbbls versus the 5-year average build of 502k bbls.
On the crude side, US crude exports increased ~926k b/d w-o-w, while imports only increased 63k b/d. US refineries actually increased throughput by 170k b/d versus the modeled decrease. US refinery throughput should start to drop across February.
This week's US crude storage change of +1.263 mbbls was exactly in-line with our forecast. We need more wins in the belt as our US crude storage forecast for January came in just ~1 mbbls below the actual reported build figure of ~5.8 mbbls.
According to Jorge, a subscriber of ours (posts all updates in the Oil Market Signal chat room), SA + Iraq imports are expected to keep trending lower in the 2nd half of February into March. We will be updating the figures soon, but next week's report will be greatly impacted due to the fog in PADD 3. Our figures are showing a major drop in both exports and imports. So please expect next week's report to be funky and noisy.
The recent bullish oil storage inventory reports is a breath of fresh air for the oil bulls. A few things continue to go well according to plan like the lower crude imports from Saudi, but US demand has also been stellar. The implied product demand for gasoline is also higher than 2018 levels, which is interesting to see.
Could we be at an inflection point?
There's a chart we want to highlight to all readers.

The y-o-y total liquid chart is quite telling given that we bottomed at the end of June and energy equities have underperformed since. And as you can see on the year-versus-year chart, US total liquids increased week after week after June. The trend continued and has not reversed into negative territory yet.
We think US total liquid fundamental balance may be headed into an inflection point though, and we are deriving our conclusion on two variables: 1) US product demand and 2) US crude imports from OPEC.
We will first talk about the US crude imports from OPEC. According to Kpler, OPEC sent the lowest volume of crude to the US in January in the last 5 years.
This is considerable given that the US still imported on average ~2.2+ mb/d throughout 2018. With exports to the US plummeting to just ~1.4 mb/d, the -800k b/d delta will immediately impact crude storage balances.
In addition, Saudi is following through on the message that it's cutting exports to the US with the latest 4-week average data showing US crude imports from Saudi dipping below ~700k b/d.

Second, the product demand side in the US is just stellar.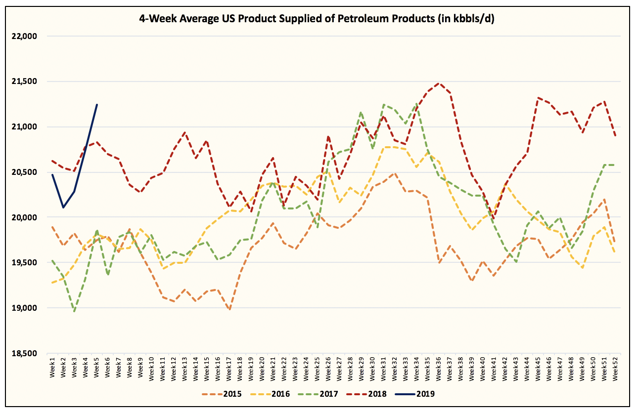 As you can see on the 4-week average basis, implied US product demand is at another all-time high.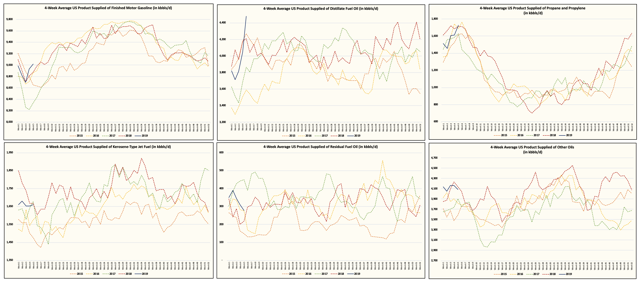 Most of this demand increase is driven by diesel demand hitting a new all-time high. US gasoline demand has also rebounded to the highest level over the last 5 years. These stellar demand figures will go towards reducing total liquids, while lower imports will help drive crude storage balance lower.
Now keep in mind that we are now entering the heaviest refinery maintenance month of the year, so US crude storage is still expected to build. But given refineries are reducing throughput even though end user demand is stellar, if we get relatively good product storage changes, then the balance will improve for the better.
These two variables should drive the inflection point in US oil storage data, which should go a long way in boosting investor sentiment towards energy equities.
Charts
Thank you for reading this article. Weekly oil storage report along with our EIA weekly crude storage estimate is only available to premium subscribers. If you have found our oil market articles insightful, we highly encourage you to take advantage of our 2-week free trial. Come and see for yourself why we are the largest energy subscription service on Seeking Alpha.
Disclosure: I/we have no positions in any stocks mentioned, and no plans to initiate any positions within the next 72 hours. I wrote this article myself, and it expresses my own opinions. I am not receiving compensation for it (other than from Seeking Alpha). I have no business relationship with any company whose stock is mentioned in this article.