Ever since shares of DXC Technology (DXC) topped out at above $95 last Sept. 2018, the stock broke down below key moving averages and bottomed at $50 a share. The stock rebounded ahead of its third -quarter earnings report but added another ~ $5 to its share price when revenue topped estimates. Though the Do-It-Yourself Value Investing marketplace service noticed DXC stock after its drop last quarter, we took the stock off the top idea list when the stock continued to sell off. And as it acquires Luxoft, repurchases shares, and increases staff hiring, investors also may consider this stock due to its low valuations and turnaround potential.

Decent Third Quarter Results and Outlook
DXC's revenue grew 4.3% sequentially to $5.18 billion. DXC highlighted the double-digit (+16.9% year-over-year) growth in its Digital unit, with a book-to-bill of 2.1 times. This is due to strategic investments in digital assets and capabilities.
The company deepened its digital vertical by acquiring Luxoft for $2 billion. By fiscal 2022 (or in three years), the unit will add $300 million - $400 million to the annual revenue. With total revenue for the year coming in at between $20.7 billion to $21.2 billion, the Digital unit still accounts for a small amount of the overall business.
GBS and GIS Units Lag
DXC reported revenue falling 6.3% YoY to $2.17 billion for the Global Business Services unit. Bookings also fell by ~33% to $2.3 billion. Revenue from Global Infrastructure Services, or GIS, also fell by 4.3%, to $3 billion. Bookings rose from $2.2 billion last year to $3.4 billion in the third quarter.
Management said on the conference call that GIS deals do not close in a consistent or predictable way. The duration of projects is shortening, which makes resource forecasting more difficult. The Digital unit is characterized by such short projects. As DXC ramps up hiring because of the expected growth in Digital, its profit margin could grow, offsetting the weaker GIS and GBS performance.
Modest Cost Controls
The firm took a $76 million restructuring charge but it also booked a $723 million ($1.94 a share) pretax charge, citing integration and acquisition costs. In cutting staff by 3,000, the company is on track to cut $575 million in costs.
Taking into account a net cumulative reduction in its receivables facility, adjusted free cash flow for the nine month period was $1.2 billion.
Outlook
DXC raised its non-GAAP EPS target to between $8.15 - $8.30, albeit due to share buybacks and the benefit of a lower tax rate.
Digital is the business unit that DXC is most bullish on. 17% is its baseline growth expectation but it's aiming for more. It believes that 20%-23% growth is possible. Getting there through acquisitions and investments may weigh on the stock price, because revenue growth may not keep pace with growing costs.
At a 10.5 times P/E and 7.3 times forward P/E, investors are paying around a 2 times PEG multiple for the core business and ignoring the Digital business. This valuation model is like that applied to IBM (IBM) stock. Much of IBM's business is in legacy solutions, while its digital and cloud units, which are growing quickly, are too small to add to net profits.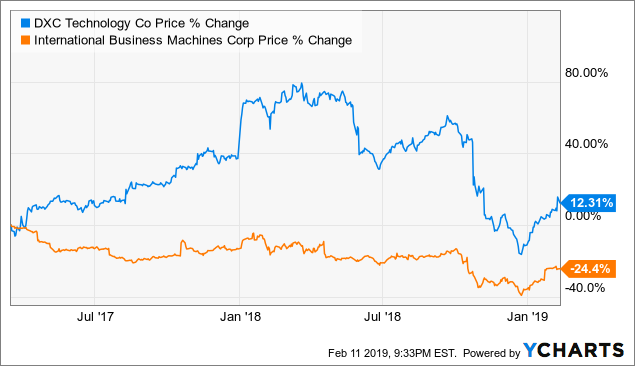 Price Target
Analysts are a good starting point for getting Wall Street's sentiment on a stock. Of the six analysts offering 12-month price targets on DXC stock, the average price target is $79. This implies the stock has ~18% in upside for investors buying it today at $67. Following DXC's earnings report, four analysts reiterated their hold or buy calls on the stock:
| | | | | | |
| --- | --- | --- | --- | --- | --- |
| Analyst | Firm | Position | Price Target | Action | Date |
| | SunTrust Robinson | Hold | $72.00 | Reiterated | today |
| | Cantor Fitzgerald | Hold | $70.00 | Reiterated | 3 days ago |
| | BMO Capital | Buy | $82.00 | Reiterated | 3 days ago |
| | Citigroup | Buy | $88.00 | Reiterated | 3 days ago |
| | J.P. Morgan | Buy | $83.00 | Reiterated | Last month |
| | Cowen & Co. | Buy | $80.00 | Upgraded | Last month |
Source: Tipranks
Experienced DIY value investors will want to model their own fair value on DXC Technology. Using a five-year DCF growth exit model, assume revenue growth stalls to the single digits and a steep discount rate to price in the Luxoft integration risks. In this scenario, DXC stock is still trading at 5% below its fair value.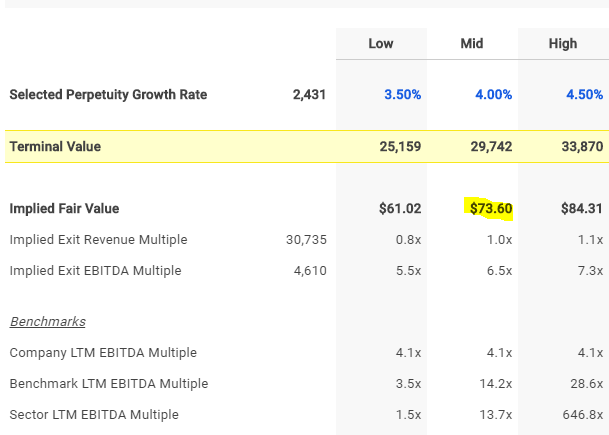 Source: finbox.io
Your Takeaway
DXC Technology enjoyed a $17 a share price appreciation since bottoming at $50. With no news for some time, buying momentum may wane. This will give value investors who have a 2-3 year investment time horizon a better entry point.
Please [+]Follow me for coverage on value stocks in technology. Click on the "follow" button beside my avatar.
Also, for the first time in a long time, I am inviting readers to sign up for a risk-free, trial subscription to DIY (do-it-yourself) investing.
Disclosure: I/we have no positions in any stocks mentioned, but may initiate a long position in DXC over the next 72 hours. I wrote this article myself, and it expresses my own opinions. I am not receiving compensation for it (other than from Seeking Alpha). I have no business relationship with any company whose stock is mentioned in this article.