Investment Strategy
Warren Buffett and Charlie Munger were the founding fathers of finding superior businesses at reasonable prices. I attempt to mimic this philosophy across all market capitalization levels. Even some of the smallest companies can have competitive advantages. As a long-term investor, I follow a high quality, value-oriented investment process. Key attributes I look for are:
Predictable and strong cash flow generation
High returns on invested capital
Market leader coupled with a growing market
Durable moat
Pricing power
High reoccurring revenue streams
Good balance sheet
Has shown the ability to generate earnings in difficult markets
Good capital allocation decision-making
Long-term oriented management team
Reasonable valuation
A terminology used for my investment strategy would be time arbitrage. Average holding periods have substantially decreased over the years (1 to 1.5 years), and event driven trades have always been popular. This is where my edge hides. With understanding the quality of the business model and a willingness to look beyond the average market holding period, investors should receive positive future expansion for free.
Exhibit 1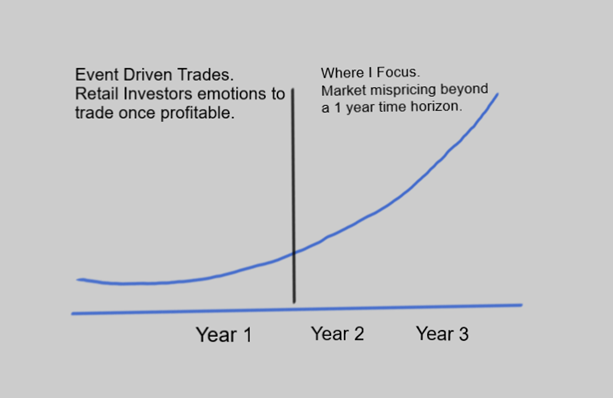 Source: Author's Work
I'm always more concerned about the business building value and not so much about elevating profits in the short-term.
"But when short-term and long-term conflict, widening the moat must take precedence."
Warren Buffett
Investment Process
I search for investing ideas everywhere. I subscribe to a couple of investment newsletters, read quarterly investment letters from different fund managers that have similar investment styles, and read lots of books and blogs. Turning over a lot of rocks is the only way to find value, learn, and enhance your opportunity set.
Once I discover an idea that is worth researching, I will start the process by trying to understanding how the company makes money. I believe a lot of investors brush over this part, as there are many nuanced data-points one can gather, which in return allows the investor to build a framework around the durability of the business. A perfect example of this would be Visa (V) many years back. The company is not in the business of providing credit to its cardholders, they are in the business to seamlessly facilitate transactions between merchants, banks, and consumers. As they control the card network, and have over 3 billion cards in circulation, the company is a toll road worldwide in a cashless environment. This is a much more powerful business model that requires very little capital to operate. As such, should be valued at a higher multiple.
Exhibit 2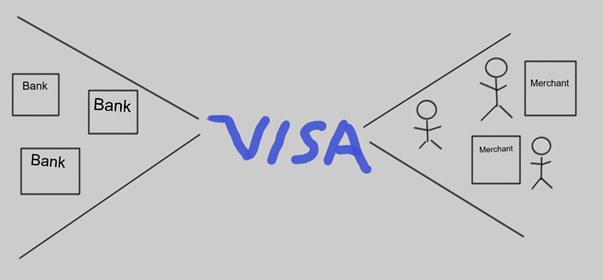 Source: Author's Work
Once I understand how the company makes money, industry dynamics, and believe very little competition will be able to pick away at cash flow, I will attempt to model out a 3-5 year cash flow model. Typically, I try to stay in the 3 year range because forecasting has its challenges with many studies backing how inaccurate we humans can be. I hope to buy high quality assets above a 9% free cash flow yield compared to enterprise value - giving a high probability to compound at an attractive growth rate. In certain circumstances I'm willing to lower the current free cash flow yield criteria if the assets are producing double digit growth.
Another place I look at from a valuation prospective is user/customer growth. User growth could be a key data-point in finding value as the customer base may be undermonetized. As such, the business wouldn't screen well creating an edge for the investor that puts the puzzle together. A good example and maybe an obvious one is Facebook's (FB) WhatsApp - Facebook has held back the monetization to gather users. One day, those users will have a lifetime value for the company.
Ideal Long
I'm long biased and mainly look for asset light businesses that have a superior business model. With little capex management can reward shareholders, invest for the feature, and clean up the balance sheet if needed. These businesses tend to be platform type companies, but not always. Platforms are in the business of connecting transactions between buyers and sellers. They don't want to own the factories, trucks, and products, they just want to help facilitate transactions and take their cut. Large examples are Facebook (FB), Alphabet (GOOG), and Visa (V), but there are smaller companies that have similar models.
In addition, management is key, as they will be running the company one owns. Looking back at prior acquisitions or usage of cash flow is paramount. What does the returns on invested capital look like? How is it trending the past 5 years? Ideally, I hope management is thinking long-term for growing per share cash flow or book value.
Risk Management
By taking this approach on mainly focusing on companies with superior business models allows one to reduce downside risk. Naturally, in volatile market environments wide-moat companies can see less draw down compared to companies with lots of debt and inferior models. In addition, typically these companies will repurchase a lot of their own shares driving a higher probability of out sized returns in the future.
Position sizing is another method for an investor to mange risk. As I'm in my 30's I tend to be more concentrated with 10-20 holdings at a time. I recommend though for investors to review at what stage they are in their life and their ability to tolerate draw downs. My ultimate goal is to own a basket of wonderful companies that allows me to sleep easy at even in difficult market environments. Visa is a perfect example of this.
Return Objective
I try not to rely on valuation re-ratings, but it does give free optionality for upside. My return objective is 12%-15% CAGR with a time horizon of 3-5 years.
Myself
I've been investing now for a decade and help manage some family money. I have a financial auditors background, which I do believe translates well. I've been writing on SA for three years now and founded Wide-Moat Investing Platform to help other investors discover high caliber businesses that offer compounding attributes.
About Wide-Moat Investing Platform
We only focus on best-in-class companies that offer durable and superior business models. Subscribers get access to our watch-list, model portfolio and in-depth research.
Take advantage of our special offer as we have extended our $280 annual fee from the first 25 subscribers to 50 subscribers. In addition, you can try the service out with our two-week free trial.
Disclosure: I am/we are long V, FB, GOOG. I wrote this article myself, and it expresses my own opinions. I am not receiving compensation for it (other than from Seeking Alpha). I have no business relationship with any company whose stock is mentioned in this article.
Additional disclosure: The information contained in this article is not and should not be construed as investment advice, and does not purport to be and does not express any opinion as to the price at which the securities of any company may trade at any time. The information and opinions provided herein should not be taken as specific advice on the merits of any investment decision. Investors should make their own decisions regarding the prospects of any company discussed herein based on such investors' own review of publicly available information and should not rely on the information contained herein. The information contained in this article has been prepared based on publicly available information and proprietary research. The author does not guarantee the accuracy or completeness of the information provided in this document. All statements and expressions herein are the sole opinion of the author and are subject to change without notice