Dividend investors love utilities, as these companies generally offer safe, growing and attractive dividend yields. YieldCos, renewable energy utilities, are no exception, and they generally have stronger growth prospects as well, due to the ongoing shift towards cleaner energy sources. Atlantica Yield (AY), a little-known industry player, is looking particularly attractive as an investment choice as of late. The company offers investors an 8.1% dividend yield, backed by incredibly safe revenues, cash flows and a strong balance sheet, and +30% upside potential, product of a rock-bottom valuation and misguided market fears. It is a very strong investment choice and would be a welcome addition to any dividend investor's portfolio.
Business Model - Low-Risk High-Distributions - Perfect for Dividend Investors
AY's business model is particularly well-suited for dividend investors, as the company focuses on low-risk, highly regulated assets, resulting in very safe dividends, and distributes the majority of its cash flows to shareholders, resulting in very high yields but only moderate growth.
AY is a YieldCo, a corporate structure somewhat similar to an MLP but designed to hold renewable energy assets. A sponsor/parent, Algonquin Power & Utilities (AQN) in this case, builds and operates renewable energy projects, while the YieldCo, AY, is simply a passive investor in these same projects. The projects are almost always self-contained; each asset generates enough cash to pay for itself, including expenses, interest rate payments, etc. AY itself has almost no operational expenses, risks or requirements, it operates almost like a holding company.
There are certain drawbacks to investing in some, but not all, YieldCos. Sometimes, the sponsor of a YieldCo has incentive distribution rights (IDRs) which entitle it to a greater portion of the YieldCo's distributions under certain conditions, but this is not the case for AY or AQN. Some YieldCos also have complicated tax implications, requiring the filing of different tax forms, but this is also not the case for AY.
AY is a reasonably large YieldCo, but significantly smaller than Brookfield Renewable Partners (BEP):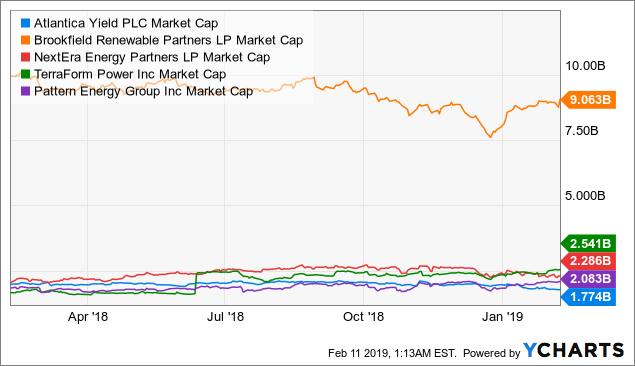 YCharts
AY mostly focuses on solar power assets in Spain and the U.S., although the company also has natural gas, wind power, transmission and water assets across several countries and regions: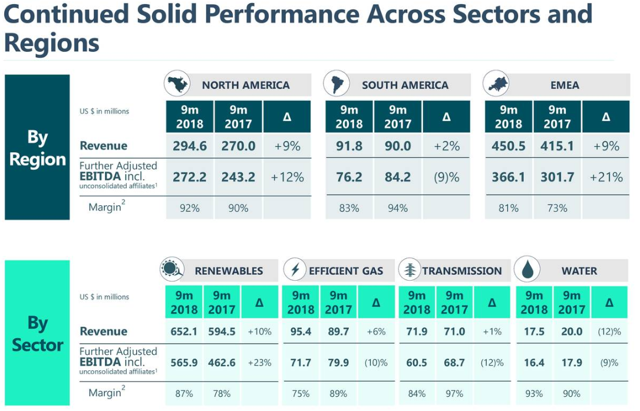 (Source: Atlantica Yield 3Q Earnings)
The company's assets and operations are generally very heavily regulated, although specifics vary by country. The way it usually works is quite simple. Relevant regulators, the CNMC in Spain and the FERC in the U.S., generally set prices in such a way that companies are guaranteed to earn a reasonable rate of profit, regulators generally target an ROE of 7-12%. This results in very stable companies with almost guaranteed profits, but without the potential for outsized earnings or growth, perfect for dividend, and especially income, investors. Returns are generally lower in Spain, and the country's government tends to interfere in the market, which is a bit of a negative for the company.
AY generates the majority of its revenues and cash flows from long-term, fixed-fee contracts. These contracts generally have no commodity price exposure, and almost always have availability/capacity payments included, meaning the company still receives payment even if their plants are underutilized. AY's revenues, earnings and cash flows are therefore extremely stable, subject to very few risks, and very easy to project into the near future, a boon to the company and its shareholders.

(Source: Atlantica Yield Corporate Presentation)
AY, as most other YieldCos, distributes the vast majority of its cash flows to shareholders, targeting 80% of cash available for distribution (CAFD) the industry's preferred cash-flow metric. Distributing so much cash leads to an outsized dividend yield, 7.5% TTM, and an even greater 8.1% forward yield. It's a very attractive yield and compares favorably to those of its peers: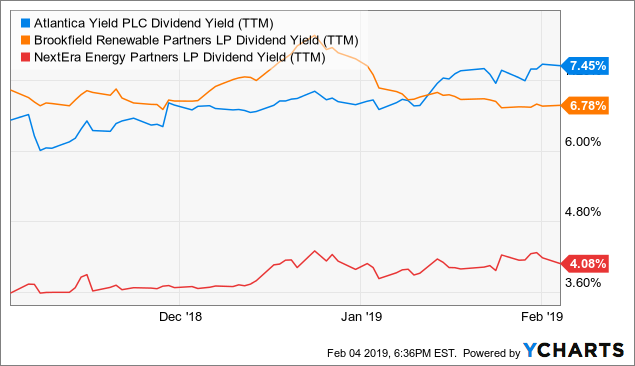 YCharts
AY's business model results in very high dividends backed by extremely safe revenues and cash flows. I believe it is a very strong business model, and one that is particularly well-suited for dividend investors, who will benefit the most from the stock's high and stable dividends.
If you want to read more about YieldCos, especially as they relate to dividend investors, I thought this link was very informative.
Proven Business Model - Solid Financial Track Record
Extremely high yields and payout ratios can sometimes come at the expense of profitable growth, but that has not been the case for AY. The company has achieved very good financial results for the past few years, averaging 10% revenue, EBITDA, and operating cash flow growth since 2015. CAFD has, however, been stagnant for years:

(Source: Atlantica Yield Corporate Filings - Chart by Author)
Readers might be wondering where all that cash went, and the answer is simple: debt repayment. AY has, slowly but steadily, deleveraged its balance sheet for the past few years. Total debt has decreased by around $500 million, or 10% of the company's total debt load, in the past three years, and the company expects further repayments next quarter.
AY's CAFD would be significantly higher, and greater than those of its peers, if the company wasn't deleveraging its balance sheet: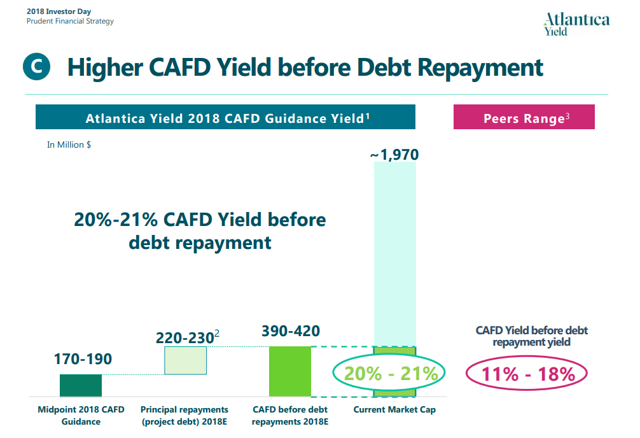 (Source: Atlantica Yield Corporate Presentation)
AY's balance sheet itself is reasonably good, with the company exceeding most of its management's internal targets: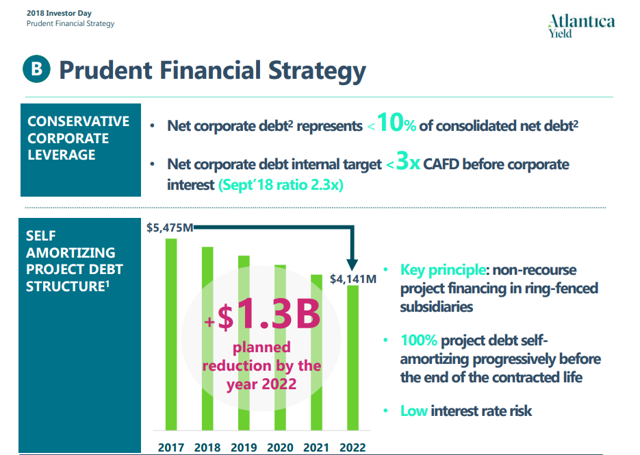 (Source: Atlantica Yield Corporate Presentation)
Nevertheless, AY's balance sheet is somewhat weaker than those of its peers. Brookfield Renewable Partners has a higher credit rating, while NextEra Energy Partners (NYSEMKT:NEP) has better results in certain debt metrics. Not great, but not all that bad either:

(Source: Atlantica Yield Corporate Filings - Chart by Author)
AY has achieved double-digit growth rates in most key financial metrics and a strengthening balance sheet in the past few years. Very good past results, and more importantly, I believe that the company will be performing even better in the future.
Strong Growth Prospects - Renewables Are Booming
AY's future growth prospects are strong due to an expanding asset base, booming renewable energy production across the globe, and favorable financing opportunities. Let's take a look at each of these points.
Expanding Asset Base
AY's growth prospects, as those of most YieldCos, are almost wholly dependent on the company expanding its asset base. Remember, prices are set in advance, contracts last decades, payments are mostly for availability/capacity and not production per se, and production is already running close to full capacity regardless, so other avenues for growth are mostly nonexistent.
AY has identified $245 million worth of investments for the next two years, mostly related to expanding or acquiring extra ownership of the company's existing transmission infrastructure in Peru and Chile. Generally speaking, AY has already signed preliminary agreements to buy or invest in these assets, so they are very close to being a done deal: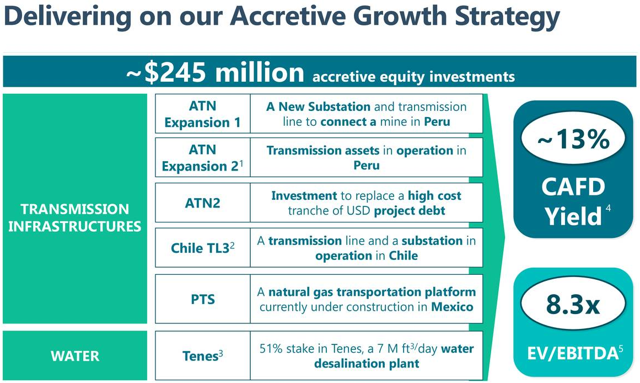 (Source: Atlantica Yield Corporate Presentation)
By my calculations, based off management's guidance, these projects will drive 11% CAFD growth in the next two years, other financial metrics will most likely track CAFD as well.
Management is guiding for 6-8% dividend growth for the next three years, roughly consistent with the figures above: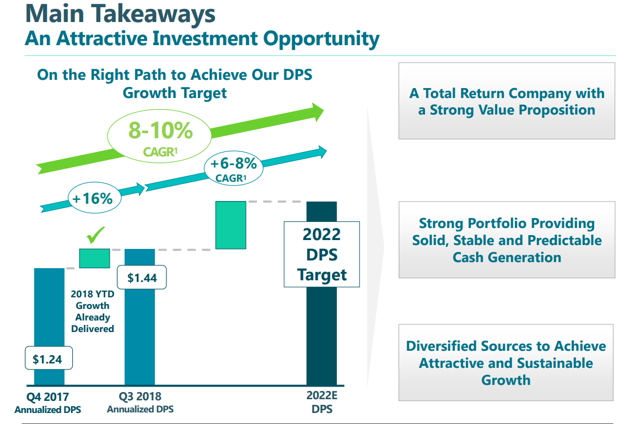 (Source: Atlantica Yield Corporate Presentation)
Taking into consideration the low-risk inherent in these assets, and as management guidance has proven reliable in years past, I believe the company will be able to achieve the expected CAFD and dividend growth for the next few years.
Booming renewable energy production across the globe
AY's long-term growth prospects are also incredibly strong, due to the rapid adoption of renewable energy production, and especially solar, in the U.S. and the world. Due to climate change concerns and the health issues caused by excessive fossil fuel pollution, most countries around the globe are investing massive amounts of money in new, cleaner, sources of energy and electricity. Technological improvements have caused solar and wind costs to plummet in the recent past, and they are set to decrease even more in the future: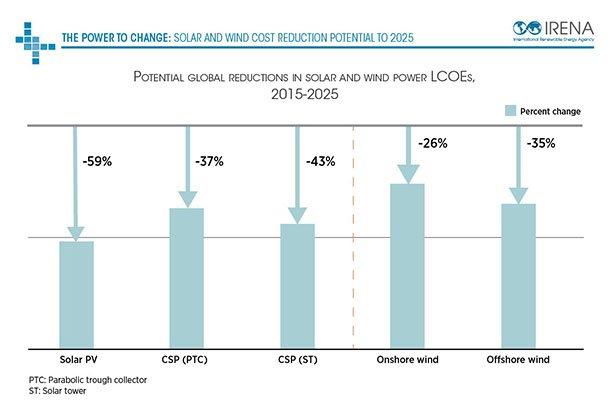 (Source: Cleantechnica.com)
Due to this, the U.S. Energy Information Administration is forecasting significant growth in renewables all around the world in the coming decades: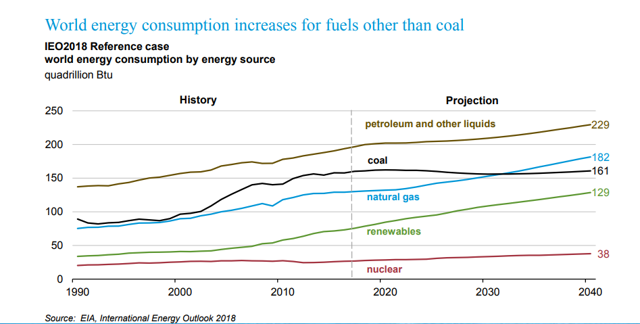 (Source: AEI International Energy Outlook 2018)
The U.S. itself will be investing heavily in solar, due to favorable geographical conditions in the South: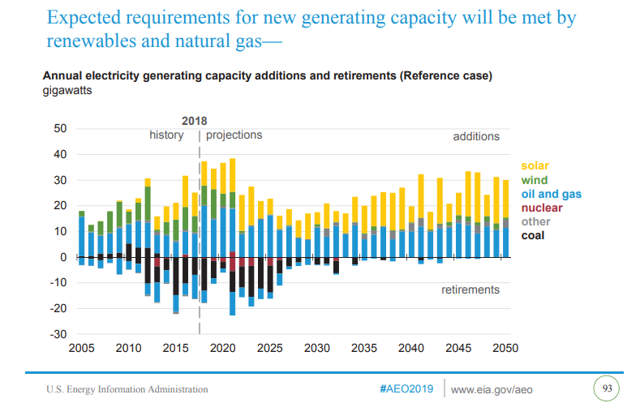 (Source: AEI Annual Energy Outlook 2019)
All that growth will require massive amounts of CAPEX and investment in new plants, transmission lines and stations, which should create many opportunities for AY to grow its future asset base and drive revenue and earnings growth into the future.
Favorable Financing Opportunities
AY's investments must be financed, either through retained earnings, debt issuance or equity offerings. All options are currently available for AY under reasonably good conditions.
Regarding retained earnings, the company only distributes about 80% of its CAFD to shareholders; it can use the remainder to partially fund new asset acquisitions. Although 20% sounds like very little, it is important to remember that CAFD includes debt amortization. Meaning, the company can invest about 20% of its CAFD in new assets and strengthen its balance sheet, growth could be much higher if it goes into debt, or keeps its total debt load constant, which brings me to the next point.
AY could very easily finance new investments through issuing debt as it has a reasonably strong balance sheet, untapped lines of credit, good credit ratings, and has aggressively paid back debt during the past few years. As mentioned previously, I've calculated that the company could very easily fund its $245 million worth of capital projects through debt and retained earnings and still meet management's internal targets. This would be, in my opinion, the ideal choice, as it avoids dilutive equity issuance and ensures current shareholders receive 100% of the increased earnings and cash flows from these investments. Management seems to agree:
So, the [nearly $250 million] of equity investment that we discussed today, our plan is to execute those acquisitions with cash on hand (and available) financing under the system facilities...
Finally, and although the company's management isn't planning to do so, AY could issue shares to fund any new investments. AQN, the company's sponsor and largest shareholder, has already pledged $100 million in any new equity issuance, subject to board approval, so there is definitely some market interest for this type of financing.
Regardless of how AY decides to fund its capital investments, the fact that it can fully fund them through retained earnings and debt is beneficial for its current shareholders and is indicative of the company's conservative financial stewardship. Strengthening their balance sheet in prior years will most likely benefit their shareholders in the near future.
Peer Comparison
AY's growth prospects are comparable to BEP, but lower than those of NEP. Taking into consideration the company's higher yield, it carries the greatest potential for total shareholder returns of its peer group:

(Source: Company Filings - Chart by Author)
Attractive Valuation - Materially Mispriced - 30% Upside
AY is currently significantly undervalued in several key valuation metrics. The company's PB, PS, P/CFO and EV/EBITDA ratios are all at their lowest levels for the year, and 31% lower than their 5-year average: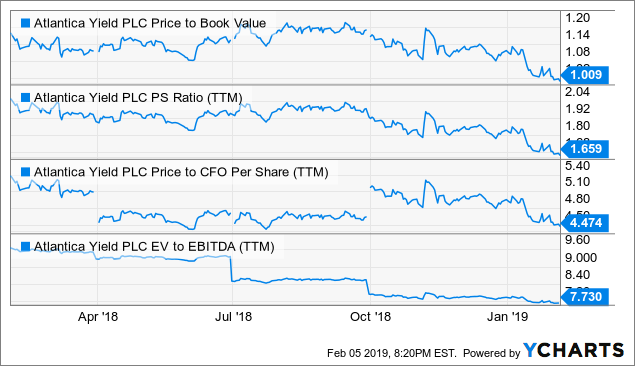 YCharts
AY is also more attractively valued than its two larger peers:

(Source: Gurufocus.com - Chart by Author)
The reason for the above is quite simple. AY's stock price collapsed in 2015 and hasn't recovered since: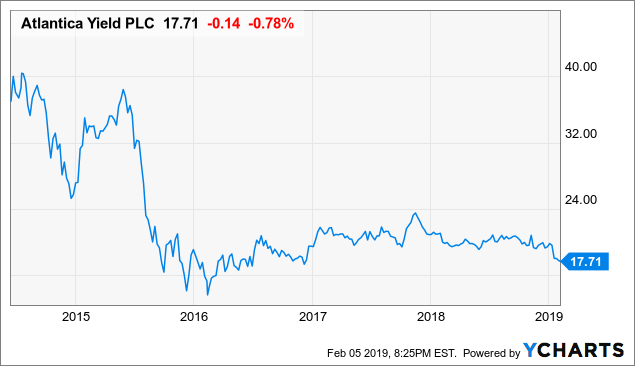 YCharts
Total shareholder returns don't look materially different either: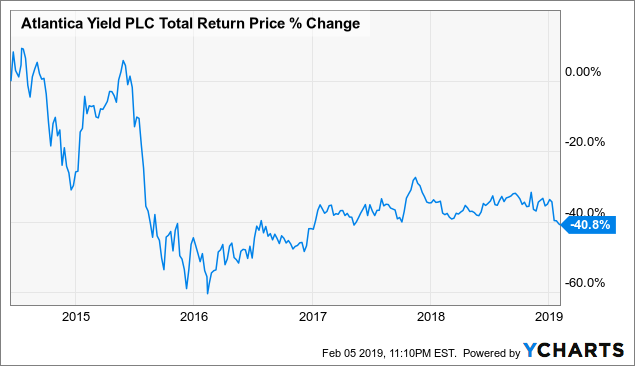 YCharts
The reason for that isn't quite as simple, but I believe understanding AY's past performance and history is instrumental to ascertain its future.
Atlantica Yield used to be called Abengoa Yield and was the subsidiary of Abengoa (OTCPK:ABGOF), a Spanish utility focusing on solar power assets. The parent company ran into serious issues starting in 2014, due to an excessive debt load and several adverse regulatory changes/rulings. Spain, as part of several austerity measures, slashed subsidies for renewable energy sources, and retroactively cut electricity rates, straightforwardly detrimental to Abengoa. I was actually living in Spain while this was happening; most of the Spaniards I knew were particularly incensed with the government raising taxes on homemade solar panels and generation - the 'Sun Tax' they called it. I remember dire predictions concerning the country's renewables industry and small-scale solar power generation, which were proven true in short order.
By 2015, Abengoa, the sponsor, had issues generating enough cash flow to pay back its debt and operate normally; growth was out of the question. The company was soon forced into a radical restructuring plan, narrowly avoiding bankruptcy but effectively wiping out its shareholders. Atlantica Yield, or Abengoa Yield as it was called then, fared quite a bit better, but was still negatively affected by the above. The company lost its sponsor/parent, lost access to most of its financing and investment opportunities, and some of its senior managers, along with some of its operational know-how. As Abengoa was in default, many of their joint projects were also in default, which caused certain difficulties for Abengoa Yield. Most importantly, business uncertainty was extremely high. No one, not investors, banks, credit rating companies or the company's managers themselves were all that sure of how the situation would develop. Growth, investments and even the dividend were put on hold for several quarters, while the company took decisive action. Abengoa Yield decided to extricate itself from its sponsor, renamed itself Atlantic Yield, reinstated the dividend, successfully negotiated a series of waivers and forbearances regarding the debt of many of its projects, found a new sponsor in Algonquin, and soon returned to profitable growth. The situation was successfully resolved without any lasting harm to the company's financial situation, although the share price never recovered.
Taking into consideration the above, I can understand why the company's stock price plummeted; investors panicked and assumed the worst. Nevertheless, I fail to see how the issues Abengoa and Atlantica Yield faced in the past are relevant now. There is no longer any significant uncertainty regarding the company's dividend, financing, investments, growth prospects or exposure to Abengoa's financial difficulties. Spain continues to be a tough market for solar, and the government continues intervening in the industry, but the low returns inherent in this market have been fully priced in by now, no one expects another retroactive cut to energy prices. AY's current valuation and share price can only be explained by the market's misguided and myopic focus on the company's troubled past, investors should be looking towards its much rosier future.
Double-Digit Shareholder Returns and Upside Potential
AY's future shareholder returns are looking incredibly strong, in no small part due to the company's rock-bottom valuation and low share price.
AY's total shareholder returns should track the company's dividend yield plus earnings/dividend growth, assuming the valuation remains constant. With a yield of 8.1% and expected dividend growth of 6-8%, investors could see total shareholder returns of 14-16%. I've ran the numbers, taking into consideration management guidance and the company's performance so far, and I believe that long-term growth is more likely to be closer to 6%, so total shareholder returns of 14% seem likely.
Investors could also see substantial capital appreciation if the company's valuation increases and the stock starts trading higher, both of which I believe to be likely. By my calculations, the company is currently 31% undervalued according to several valuation metrics (PB, PS, P/CFO, EV/EBITDA). Analysts are estimating 33% upside, very similar to my calculations: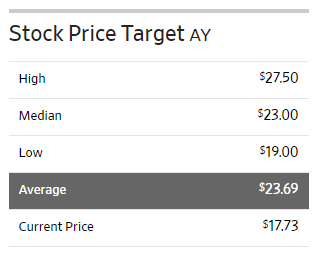 (Source: WSJ)
AY offers investors an incredibly attractive dividend yield, double-digit long-term total shareholder returns, and significant upside potential. The dividend is especially relevant, as it ensures investors are likely to be well-rewarded even if the company's valuation and share price remain stagnant.
Risks - Minimized and Mitigated
AY might be a very strong investment choice, in my opinion at least, but it is not without risk. I believe the following to be the main risks AY and its shareholders currently face:
Interest rate risk: AY operates in a capital-intensive industry, and holds a sizable amount of debt in its balance sheet, so the company is somewhat exposed to rising interest rates. As over 90% of AY's debt is currently fixed or hedged, and with the Federal Reserve sounding more dovish as of late, I'm not overly concerned about rising interest rates.
Exchange rate risk: AY operates in many international markets, most notably Spain, so earnings and distributions are somewhat exposed to foreign currency exchange movements. AY has minimized its foreign currency exposure by denominating or hedging about 90% of its revenues in U.S. dollar.
Financing risk: AY operates in a very capital intensive industry, and it distributes most of its earnings to shareholders, so it will require copious amounts of outside financing to growth. AY has unused credit facilities with banks, and AQN has said it would help finance any future share issuance, so I don't think this is a huge concern as of now.
Regulatory risk: AY almost exclusively operates in highly regulated markets. Regulations can change, sometimes for the worse, and this can harm the company and its shareholders. Especially relevant for AY considering its past issues in Spain, although I don't the situation is going to necessarily repeat itself.
Sponsor risk: AY is partly dependent on AQN for growth and financing. If AQN has financial or operational difficulties, like Abengoa once did, these will spill over to AY. Once again, particularly relevant for AY considering its issues with its former sponsor, but the situation won't necessarily repeat itself.
Counterparty risk: AY sells most of its electricity to third parties, generally other utilities which then distribute the power directly to customers. If these counterparties are unable to make payments on their contracts, AY could face substantial financial difficulties. AY operates in heavily regulated markets so this is very rarely an issue, although there is one exception. Some of AY's contracts in the U.S. are with PG&E (NYSE: PCG) which recently declared bankruptcy. It's possible that PG&E's payments and contracts with its suppliers, including AY, will change. This fight has only just started, but regulators seem to be siding with PG&E's suppliers.
I believe that AY has taken the necessary steps to minimize and mitigate most of the above risks. Although the company does face some regulatory and sponsor risk, which are much more difficult to minimize, I see no reason why the company's past issues should repeat themselves. Even if they did, I imagine the company would be able to successfully navigate them, as it did with AQN in the past. As such, I believe AY to be a relatively low-risk investment, all things considered.
Conclusion - Strong Investment Choice
AY offers investors the possibility of substantial capital appreciation and long-term shareholder returns. The company's safe, growing and high dividend yield will ensure investors are very well rewarded as they wait for the company's valuation and share price to rise. I believe AY to be a solid addition to any dividend investor's portfolio and a strong investment choice all around.
Thanks for reading! If you liked this article, please scroll up and click "Follow" next to my name to receive future updates.
Disclosure: I/we have no positions in any stocks mentioned, and no plans to initiate any positions within the next 72 hours. I wrote this article myself, and it expresses my own opinions. I am not receiving compensation for it (other than from Seeking Alpha). I have no business relationship with any company whose stock is mentioned in this article.