Today, I'm promoting Tesla (NASDAQ:TSLA) - a stock that I've been short for a while - to "favorite" status. As I'll discuss below, this means that it's now my biggest short position, as timing considerations are now as compelling as the fundamentals underlying the trade.
A Bit of History
Over the past few years, I've designated a total of 5 stocks as "favorite" shorts. The first was on June 3, 2015, Proofpoint (PFPT) which didn't work: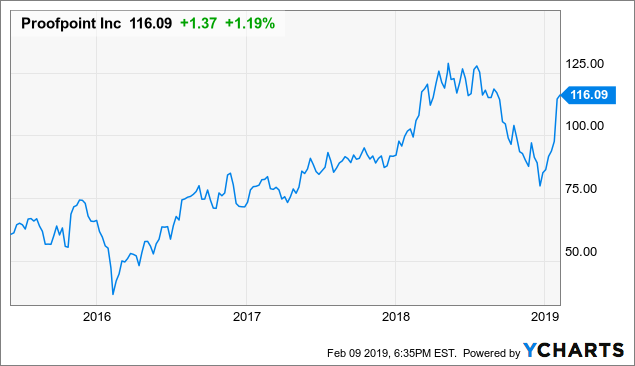 Since that time I've learned a lot, including not only to have a catalyst in mind but when the play depends on bullish arguments not playing out, the key is to wait until the data is available or will be so imminently. I discussed that in a "lessons learned article" on Radius Health (RDUS) noting:
I had to always keep in mind that the catalyst for this trade was for investors to realize that the rosy assumptions for commercialization were not going to come true - and for that to happen the product had to be launched first.
This point is the key point as to why TSLA is now a favorite short, but before getting to that, here are my other four previous "favorite" shorts for the record:
First, on Feb 1, 2016, I designated Vital Therapies (VTL) as my favorite short for 2016. Here's how that played out: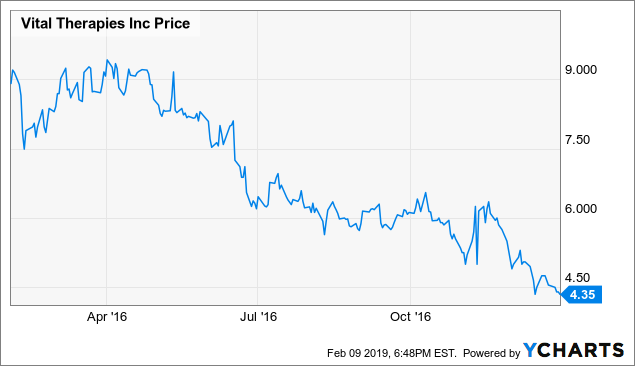 Then, on Aug 23, 2018, I explained why VTL was once again a favorite short. My condemnation of the company engaging in post-hoc trial design turned out to be correct and I was able to cover my position for a substantial gain: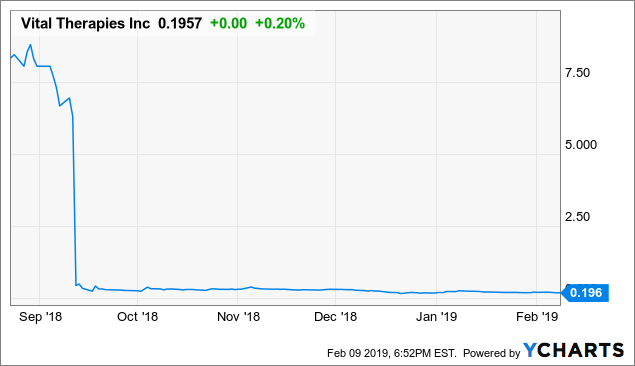 Third, on Aug. 24, 2018, applying my lessons learned, I wrote about my other favorite short, Aerie Pharmaceuticals (AERI). I'm still short the name, but so far, the trade is working out: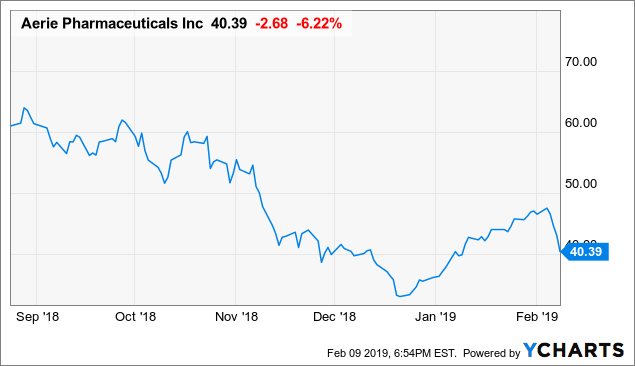 Finally, on Oct. 17, 2018, I explained why Tilray (TLRY) was a new favorite short. I'm still in that trade, but it too is working out nicely: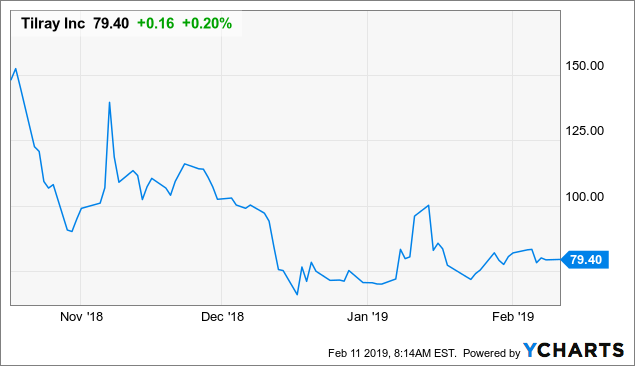 So, why is TSLA now a favorite short?
The Timing is Right aka "Peak Tesla"
In brief, it's because timing considerations can now be married to a solid fundamental short case. I've previously written about the fundamental problems at TSLA, listing the following items as my top 5 concerns (in order of importance):
Corporate Governance/Executive Turnover
Competition
Financials and Valuation
Eventual Loss of "Most Favored" Status
Lack of Manufacturing Scale and Experience
Now, the effect of timing doesn't follow the same order of importance, so I'll re-order the timing considerations from what I consider most important to least.
Competition is Here
I recently delved into the two critical aspects of the competition thesis in depth, noting that serious competition is finally arriving and that the erstwhile competitive moat of the Tesla SuperCharger Network is rapidly losing its importance.
The threat of competition only continues to grow. And while I recognize that TSLA is only beginning its European Model 3 deliveries this month, the best real-time data out of Norway and the Netherlands show that the 4 newest significant BEV competitors are carving out healthy sales, all of which impinge upon overall TSLA demand. (And it would be a lot worse if I counted the Nissan Leaf which has been undergoing continuous improvements since its launch in 2010 and whose new 62 kWh e-Plus model is highly anticipated.)
Here's the Norwegian data with my highlights (note, particularly, the anemic Model S sales in comparison to the Jaguar I-PACE and the Audi e-tron, the latter of which is just starting to be delivered):


(Source)
And here are the numbers from the Netherlands: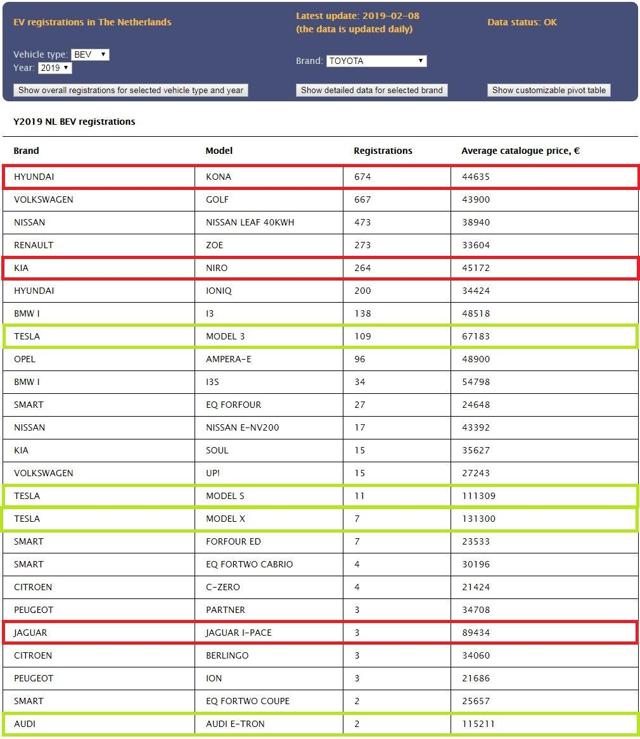 (Source)
These are European numbers, but as we'll discuss below, TSLA has blown out its demand in North America and hence, the threat of competition is that much higher there. Indeed, in stark contrast to TSLA, there are currently wait lists (for configurations actually being produced) for the Hyundai Kona, the Kia Niro, the Jaguar I-PACE and the Audi e-tron.
Moreover, competition is expanding with the Porsche Taycan and Mercedes EQC due out soon.
So, we're no longer talking about theoretical competition in the near future, instead, we're now seeing the effects of mature automotive companies delivering exciting and well-manufactured BEVs. This is the competition that will erode TSLA's pricing power from every direction and will push TSLA back into the red for the foreseeable future.
Peak Tesla Earnings and Revenues
I believe that we've seen both peak TSLA earnings and revenues for the foreseeable future.
Q3 of 2018 marked peak earnings due to favorable (cherry-picked) Model 3 ASPs and large ZEV credits. See this article for more details. Going forward, Model 3 ASPs will decline due to TSLA having already fulfilled all of the highest priced order configurations as well as due to the price reductions caused by the reduction in federal tax subsidies. Add in reduced Model S and X prices and sales and earnings decrease further. Moreover, as discussed below, TSLA desperately needs to upgrade its service operation, and since this isn't a profit center, spending on improving service will be an additional drain on profitability for the foreseeable future.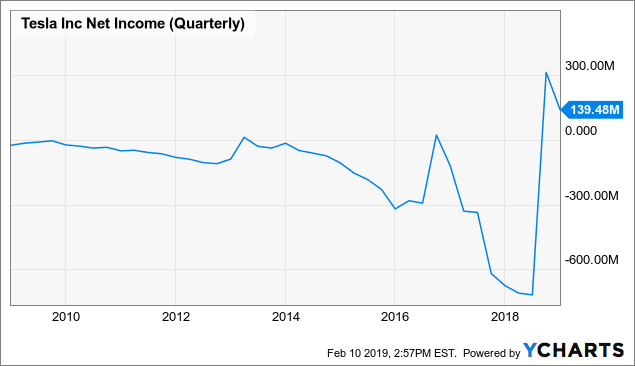 Revenues, on the other hand, likely peaked in Q4 of 2018 due to higher volumes of Model 3 sales, accompanied by the aforementioned higher ASPs. It's unlikely - partly due to timing, but mostly due to the relatively small European backlog (see this article for example) - that TSLA will ever match quarterly Model 3 sales from Q4 of 2018. As one point of evidence, here are the monthly US Model 3 sales figures: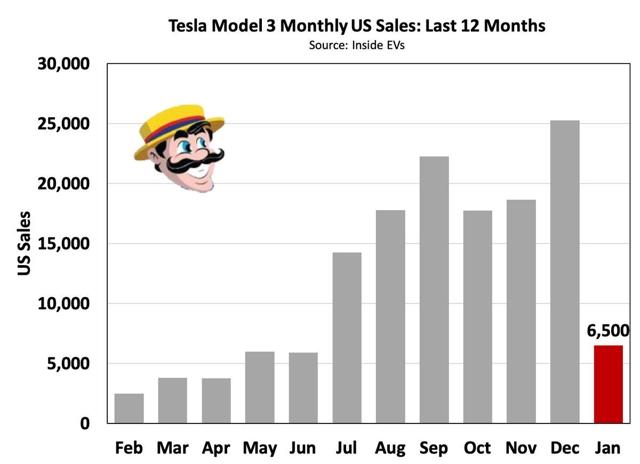 And as we've discussed above, Model S and X sales volumes and prices will be under continuous pressure thanks to the emergence of viable competitors, with more to come.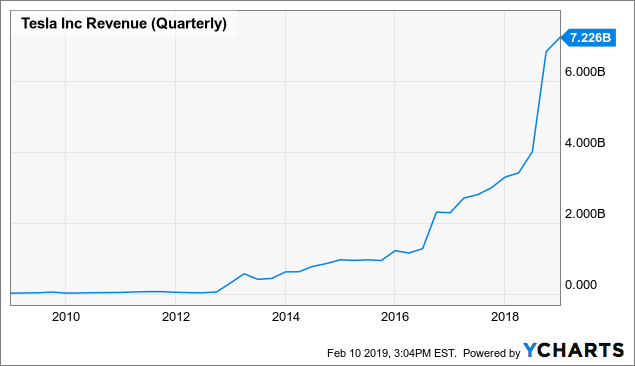 If I'm right about "Peak TSLA", then the current valuations make absolutely no sense in light of a dead growth story.
Compare TSLA's valuation statistics to that of Volkswagen (OTCPK:VLKAF) or Ford (F) for example.
TSLA:

(source)
VLKAF:

(source)
F:

(source)
Were TSLA to trade at a comparable price to sales metric as do its peers, the stock price would have to decline by an order of magnitude!
The Press is Starting to Become More Objective
Two very recent, representative articles confirm a new trend in media coverage of TSLA. Previously, reporters had taken Elon Musk and his company at his word, however far-fetched his word may have been. Remember, for instance, how everyone gushed about his "machine that builds the machine" (which referred first to the Gigafactory and was then extended to the Fremont factory). Here's how Fortune reported on that in 2016:
Musk said the Gigafactory is being designed "like you'd design an advanced computer"-all of the pieces of the factory will be optimized to be as efficient as possible. The company is bringing in engineers that are used to doing this type of work and have them focus on the factory design and engineering. Engineers usually are met with a series of walls when they work on projects, said Musk, adding "We explain those walls don't exist here."

The Gigafactory was only 14% completed as of early May, but the company is already working with Panasonic to "collapse the supply chain and drive down costs," as Bloomberg put it after a tour of the place. There are already 350 Tesla employees working out of the factory.

That concept of building the "machine that builds the machine," is now what gets Musk "really fired up," he said during the shareholder's meeting. Despite that the Gigafactory hasn't yet manufactured its own battery cells, Musk said: "I'm highly confident that this will by far be the best [battery] cell production in the world."
Nary even a question, let alone any skepticism that Musk, with no history or track record, could accomplish this. The silliness went even further when Musk began talking about first principles of physics limiting factory output:
When you think of a manufacturing facility, for a given size of factory, the output is going to be volume times density times velocity. If you look at our factory and say what is the density of useful to non-useful volume. It's crazy low. It's like 2 or 3 percent if you look volumetrically - not on a footprint basis.

Then you look at velocity. What is a reasonable expectation for the exit velocity for the vehicle coming out of the factory. You might think that some of the most advanced car factories in the world are very good at making cars and they are maybe making a car every 25 seconds - that sounds fast, but actually, if you say the length of the car plus some buffer space is approximately 5 meters so it's taking 25 seconds to move 5 meters.

That's 0.2 meter per second or not much faster than a tortoise.
With more time and the machine that builds the machine becoming a makeshift assembly line under a tent, the media is now more objective.
As an example of this, consider this Reuters article, which rather than just going with the idea that a reduction in delivery people must mean new gains in TSLA efficiency, now rightly questions the level of North American demand (with my emphasis):
When Tesla Inc announced last month a second round of job cuts to rein in costs, one crucial department was particularly badly hit. The automaker more than halved the division that delivers its electric vehicles to North American customers, two of the laid-off workers said.

[...]

The cuts, which have not been previously reported, could fuel investor worries that demand for the Model 3 in the United States has tailed off after a large tax break for consumers expired last year and the car remains too expensive for most consumers.

[...]

"We sold through just about every car we had on the ground and we called almost every being on the planet who had ever expressed desire to own a Tesla to let them know the tax credit was expiring," said the other ex-employee.

[...]

If Tesla does not cut prices soon, it risks losing potential customers - and ones already on its reservation list - to a slew of German and Asian competitors whose electric vehicles will hit the U.S. market this year. Each of the new entrant's first 200,000 buyers will be eligible for a full federal subsidy.
Note too that the contents of the Reuters article offer further support of my thesis of peak TSLA outlined above.
As another example of newfound media objectivity, the Wall Street Journal just put out an article with this headline and tagline:
Tesla Is Cranking Out Model 3s-Now It Has to Service Them

As Tesla owners complain about long waits for repairs, Elon Musk says improving maintenance is a priority this year
The article contains a litany of complaints from customers, as indicated by these example paragraphs:
Tesla customers in recent months have been venting on social media about trouble getting repair appointments, long waits for those fixes and flaws in newly delivered vehicles, whether they are the paint job or cracks in windows.

[...]

David Kim's Tesla Model 3 was damaged in a collision last September in the Los Angeles area; he is still waiting for it to come out of the shop.

"I don't really see any kind of loyalty from the Tesla side for its existing customers," the 33-year-old said.

Several body-shop owners said it often takes weeks longer to get parts from Tesla than from other auto makers, whose supply chains are generally well stocked with spare parts.
With the media no longer spinning every TSLA development as unequivocally positive, the timing for a short sale is much improved as bad news will now much more likely be reflected in the share price.
Top Executives are Now Leaving
The executive turnover at TSLA continues apace, and on the latest earnings call, the company announced that second in command, CFO Deepak Ahuja was leaving the company, to be replaced by 34-year old Zach Kirkhorn. Bloomberg reported that the latest announcement was part of a pattern:
Tesla saw a wave of executive departures in 2018 that hit the finance team particularly hard. Chief Accounting Officer Dave Morton resigned in September after less than a month. Justin McAnear, vice president of worldwide finance, left in October.

Ahuja, 56, retired in 2015 but returned in 2017 when his successor, Jason Wheeler, announced he'd quit after just 15 months. He plans to go back into retirement after a few months and continue to serve as a senior adviser, probably for several years, according to Musk.
This doesn't impact timing greatly, but the trend of more and more high-level executive turnover is still very important to the overall short thesis.
Manufacturing Problems are Manifest
Finally, my previous criticism that TSLA lacks manufacturing scale and experience is no longer just a worry, its effects have become manifest for all to see.
Consider this recent review of the Model 3 by a prominent German news magazine (I'm relying on Google translate here). On top of software problems, the reviewer notes (my emphasis):
I get the charging cable out of the trunk. Here I come across water that has obviously collected during the ride through the pouring rain in the trunk lid and now runs out. The Model 3 has been in production in the US for months; since all body problems should be eliminated long ago. But they are not.
Indeed there are several known issues with water ingress into the Model 3 (just search google), and the historically supportive site Inside EV's even recommends against "opening [the] Tesla Model 3 trunk in [the] rain"!
Similarly, as reported in USA Today, "Tesla's reliability tumbles to near bottom" of Consumer Reports widely followed auto reliability survey. Lexus scored top in the survey with a reliability score of 78, Tesla scored only 32 being tied for second to last of 29 automotive brands.
In a similar, though smaller, UK survey, equivalent results emerged (my emphasis):
More than 18,000 car owners in the UK identified the Tesla Model S as the least reliable car out of 31 brands and 159 model.

Motoring magazine What Car? gave the Tesla Model S a reliability rating of just 50.9%, with owners identifying issues with the car's electrical systems and bodywork.

The car's "electric powertrain is proving reliable," What Car? said, but owners reported bent seat frames, broken door handles, and failures with parking sensors.

What Car? factored in how much cars cost to repair and how long they were off the road for. When it came to the Tesla Model S, "Just over half of the cars were out of action for at least a week and some fixes cost more than £1500," What Car? reported.

41% of the Tesla Model S cars owned by those who responded to the survey had faults. Of those, 30% had issues with bodywork, 19% had issues with non-engine electrics, and 7% had issues with the interior trim.

Another 4% of these owners identified issues with battery, brakes, steering, and the wheels and tires.
Conclusion
Most or all of the problems and challenges to TSLA's market and market valuation are now no longer theoretical forecasts -- they're an actuality. And as a result, the timing is now right for an overweight short, which is why I now consider TSLA my favorite short.