In my previous article, analyzing the stock when the latest available data was Q3, I argued that Nordea (OTCPK:NRDBY) is a secure source of an above-average current income stream. Since then, the stock has increased by ~6%, and in Q4, the board has proposed a 1.2% bigger dividend compared to 2018. Given the recent figures and Nordea's stock performance, I consider that the bank is still a good investment for one who seeks to capture huge dividend yield. However, the level of its attractiveness has slightly decreased.
Valuation
Nordea is currently trading at TTM P/E of 10.02, which is 9% below its 3-YR average and 12% below its 5-YR average. The graph below shows that among its closest peers, Nordea has experienced the biggest share price gain during this year, which has brought back its valuation to its peer level. Compared to the 3 closest peers in Scandinavia, Nordea trades at 1% premium (by looking at their TTM P/E ratios).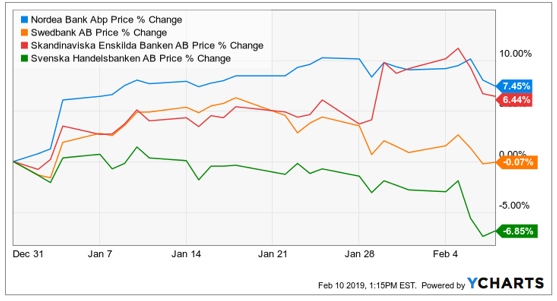 Source: YCharts
Q4 and 2018 in a nutshell
Q4 has proved that Nordea has finally got the net interest income under control. While -11% in net fair value result looks rather depressing, the fact that its relative portion of the total operating income bucket is only 8.6% allows one to not worry too much about the drop. The impairment of goodwill in Russia resulted in a one-time cost of EUR 141 million (USD 156.9 million). Excluding this impairment, the costs would have increased by 8.5%.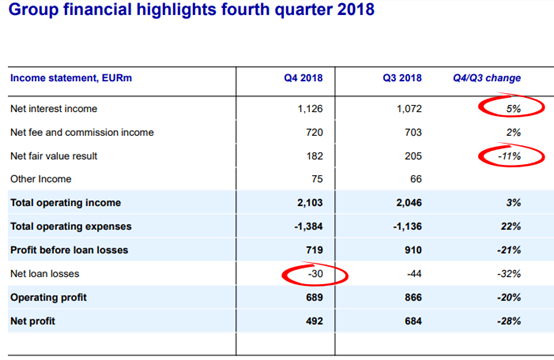 Source: Q4, Nordea
2018 featured challenging revenue development. Net interest income was down 7% in 2018 compared to 2017 driven mainly by margin pressure and the deconsolidation of the Baltic operations. While the bank has reduced its costs in absolute terms, the cost-to-income ratio has increased by 2%. This, however, should not be viewed as a sign that the management is inefficient in executing its promises. As stated before, the revenues have dropped to such an extent that the change in cost-to-income denominator outweighs the improvement in the numerator.

Source: Q4, Nordea
The management expects costs to be 3% lower in 2021 vs. 2018 and the total cash costs to be 5-10% lower in 2021 vs 2018 (excluding the impairment of goodwill). In addition, the management predicts that costs in 2019 will decrease compared to 2018. This will be accomplished by staff reduction in personal banking due to digitalization and by the increased focus on technology. Furthermore, the number of employees in Poland has more than doubled from 1,200 to over 3,000 between 2015 and 2018, indicating that Nordea is seriously working on optimizing staff costs.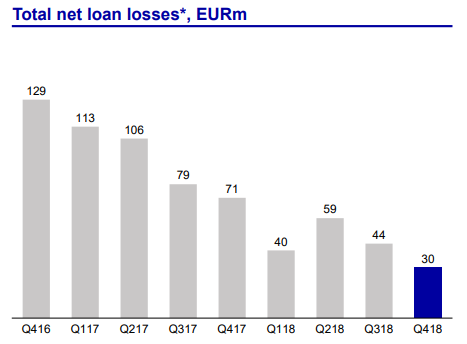 Source: Q4, Nordea
The positive trend in the total net loan losses continued in Q4, which shows that Nordea's asset quality is strong. The management expects 2019 to bring the same results in net loan losses. This statement can be easily backed with the fact that ~88% of Nordea's residential loans fall in 0-50% loan-to-value bracket.
Dividend
According to Nordea's CEO Casper von Koskull, the composition of the balance sheet puts the banks in a safe spot:
In recent years, Nordea has proactively de-risked the bank, re-focused on core Nordic activities and maintained strict underwriting discipline in lending. This, combined with a record-strong balance sheet, makes us comfortable we can manage the bank successfully through the cycle.
For one who seeks to get stable and above-average dividend yield, this circumstance should matter a lot. Furthermore, Casper von Koskull has reiterated that ambition is to achieve a yearly increase in the dividend per share while maintaining a strong capital position in line with the capital policy.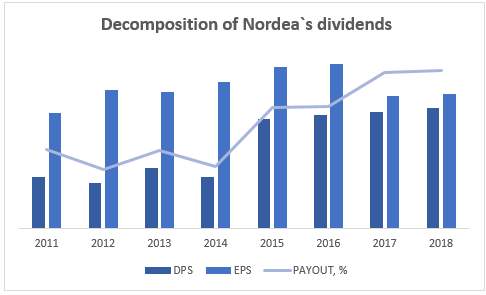 Source: Author, Morningstar
As it can be seen in the chart above, in 2015, Nordea increased its dividend payout dramatically. The huge payout ratio since 2015 indicates that the bank has steadily increased its dividends no matter how big the earnings were. All other things being equal, the current payout ratio of 89% leaves no room for a further major dividend increase.
Risks/Mitigation
After the Q4 report, the main risks remain the same as outlined in my previous article.
Housing bubble/Household debt. Huge household debt burden in the main Nordea's markets exposes it to significant financial risk. Slowing economy or aggressive rate hikes could severely affect such a debt loaded environment that consequently would set a huge pressure on the margins and force huge dividend cuts. Nevertheless, these risks are softened by Nordea's astonishing capitalization levels and actively engaged regulators. Moreover, the positive economic outlook adds an extra safety layer to Nordea.
89% payout ratio. Current payout ratio may set some ceiling to further dividend increase. There is also an elevated risk of dividend reduction in the case of the earnings decline. The mitigating factors are similar to those of the aforementioned risk. The high-quality loan portfolio, coupled with Nordea's well-equipped balance sheet, should decrease the risk of some dividend cut.
Poor growth prospects. There are certain obvious circumstances, which put pressure on further earnings growth. Already heavily indebted households and the impending interest rate hikes in Nordic countries set a depressing tone for the growth outlook. The increased competition in the Nordic banking sector affects the growth negatively as well. However, its high rankings in the customer satisfaction surveys, the initiated cost reduction program and the high-quality loan portfolio should warrant somewhat balanced development.
Conclusion
Q4 and 2018 indicate that Nordea's main challenge remains revenue development. Although the last two quarters have shown that it has managed to stop the fall, comparing 2018 to 2017, the revenues are still down 7%. Because of the sharp decline in the top line, the cost-saving programme could not cover the reduction in profits. In addition, the huge payout ratio, coupled with already indebted households, makes the way of revenue increase more difficult. However, Nordea's capital is still very robust, and its risk profile is rather attractive. For an investor who wants to get a considerable current income, while making sure that the probability of dividend cut is small, Nordea is still a good investment. But the level of its attractiveness has lowered since my previous article - the valuation has converged to that of its peers, and the cost control seems to not be sufficient to compensate for the revenue drop. In my opinion, the stock is a hold.
Disclosure: I am/we are long NRDBY. I wrote this article myself, and it expresses my own opinions. I am not receiving compensation for it (other than from Seeking Alpha). I have no business relationship with any company whose stock is mentioned in this article.