Cresco Labs Inc. (OTCPK:CRLBF) (CSE: CL) is the Chicago-based medical cannabis and life sciences company being given short shrift by the media and investors. It may be too young for investors to notice while leaping into the Canadian cannabis industry. But investors ought to consider Cresco largely because the company is building its base in the U.S. for Americans where the market is growing. Cresco is a vertically integrated company from seed to sales.
Cresco is investing in expanding its product offerings and geography. It relies on marketing sophistication and a sound business model. Cresco's recently reported growing revenues and profits from operations separates this company from newsmakers in the cannabis industry. Moreover, cannabis stock prices are getting their greatest boosts from M&A speculation and investments from multinationals; it is only a matter of time until CRLBF hits some CEO's radar.
Building A Sound Foundation
Here's what Cresco does for a living. "We are involved with every element of the seed-to-sales process—starting with state-of-the-art cultivation facilities, precisely designed to produce thriving cannabis plants." Cresco controls production, packaging and shipping, selling to dispensaries nationwide and through the dispensaries the company owns and operates in seven states with more on the way:
Five retail stores in Illinois and two cultivation and processing facilities
Six retail stores in Pennsylvania and one cultivation and processing facility
One retail store in Ohio and one cultivation facility
Two stores and one facility scheduled for Massachusetts
One store and two facilities in Arizona
One and one in Nevada
Two cultivation, processing and distribution facilities in California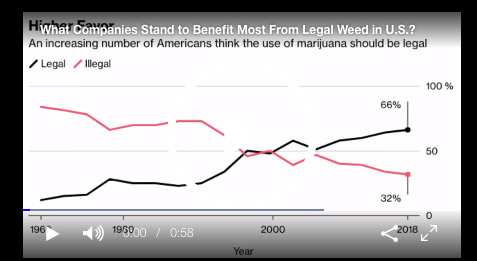 Source
The company made news in December 2018 being approved for Ohio's first medical marijuana dispensary and passing all state inspections. Cresco will sell medical marijuana to patients certified by doctors for any of 21 approved medical conditions. Products will largely come from the company's recently built 50,000 sq. foot facility in Yellow Springs, Ohio.
CRLBF is a life sciences company selling premium marijuana under the Cresco name. Cresco sells under retail names cannabis dry flower, cannabis for vaping and vape pens, CBD oil in capsules, and topical applications. Cresco paired with award-winning chef Mindy Segal selling infused edibles including Chocolate Brittle Bars, baked goods and fruity confections.
Revenue Growth From Sophisticated Marketing
Following are financial highlights and statements from a Cresco press release:
Third quarter revenue1 of $12.2 million, up 335% year over year and 51% quarter over quarter.
Year-to-date revenue of $25.1 million, up 248% from the prior year.
Third quarter pro forma revenue2 of $16.3 million and year-to-date pro forma revenue of $35.1 million.
Third quarter net income of $3.9 million, compared to net loss of $0.2 million in the prior-year period.
Third quarter adjusted EBITDA3 of $5.3 million, compared to adjusted EBITDA of less than $0.1 million in the prior-year period.
Successfully raised $205 million in growth capital through three capital raises in 2018.
Operations in seven states, with binding transactions pending in two more states.
Deepened and strengthened the management team through numerous key hires from Fortune 100 and other major companies.
Hired more than 400 employees in 2018, bringing total staff to nearly 500 employees.
Cresco share price sells midway between it 52-week low of $4.19 and high of $9.50 per share ($7.74). The market cap is around $220M but I believe this is an overvaluation. Figuring around $180M is more realistic. Shares are lightly traded.

Cresco reported nearly $150M in cash and equivalents as of September 30, 2018, and $2M in long-term liabilities with $+$105M in working capital. Cresco subsequently raised hundreds of millions of dollars in various forms of funding. MJ Magazine named Cresco among the best companies to work for in cannabis. It won a national healthcare Advertising Award and a Summit International Award for creative, marketing and advertising. The company's hiring spree includes experienced leading executives from top companies in manufacturing, packaging, advertising and brand marketing.
Not Enough Science For Its Claims
There are some flags from the website that if improved will make investors feel more secure and lend gravitas to the business model. For instance, the company touts its science assuring commitment to "quality, purity, and consistency." Yet, there is no detail about a science advisor or, even better, a scientific advisory board. There are agronomists on staff mentioned but no names and resumes. Upgrading the scientific information will go a long way to cement the professional aspects of the claim Cresco is a medical marijuana company especially with management promoting its FloraMedex dispensary as a pillar of the Illinois Opioid Alternative Pilot Program.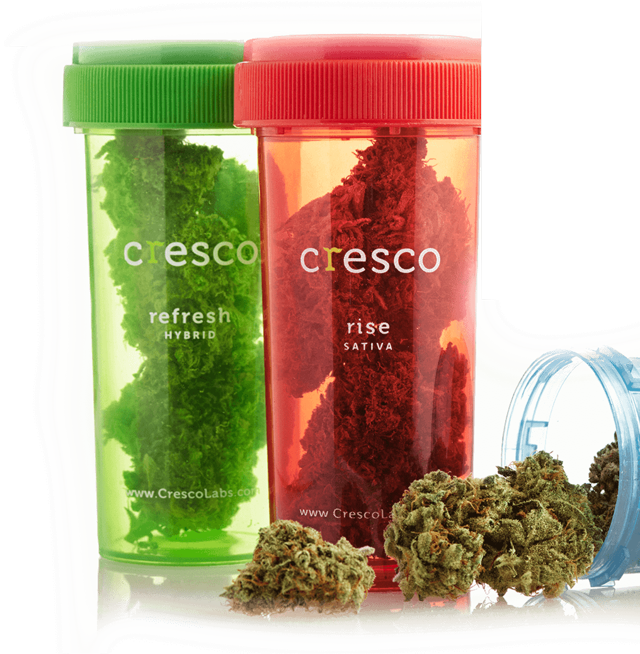 Image from Cresco Labs website
It's Early But Not Too Late
Cresco appears to me to be especially high powered in retailing and marketing emphasizing brand building in the nascent U.S. cannabis business. I expect annual revenues to grow significantly as the U.S. market legally expands. The company's product offerings, marketing, and locations have yet to kick into high gears. The overall feel about products and operations from Cresco shouts premium and state-of-the-art. Neither is Cresco drowning in red ink and debt. Just the opposite in fact, while warnings are surfacing about other more popular cannabis companies. It is still early to invest in Cresco if investors worry about the company's low profile and thinly traded shares. It may be a while before the share price experiences the spikes of other cannabis companies. I have little doubt Cresco will be a profitable investment in the not too distant future.
Disclosure: I/we have no positions in any stocks mentioned, but may initiate a long position in CRLBF over the next 72 hours. I wrote this article myself, and it expresses my own opinions. I am not receiving compensation for it (other than from Seeking Alpha). I have no business relationship with any company whose stock is mentioned in this article.