While many market watchers continue to debate whether or not the stock market has actually established a major low, a reliable historical signal has just provided another major indication that a bottom of intermediate-term (3-9 month) proportions is in. In today's report, we'll discuss the bullish implication of this signal as it pertains to the Dow Industrial, Transportation, and Utility averages.
Most sectors have advanced impressively since the correction low on Dec. 24. This can be seen in the fact that the NYSE advance-decline (A-D) line has nearly recovered all its losses from the troubled period from September through December 2018. What the A-D line shows is that the overwhelming majority of stocks have had more upside than downside days since late December. This encompasses all the common stocks listed on the Big Board.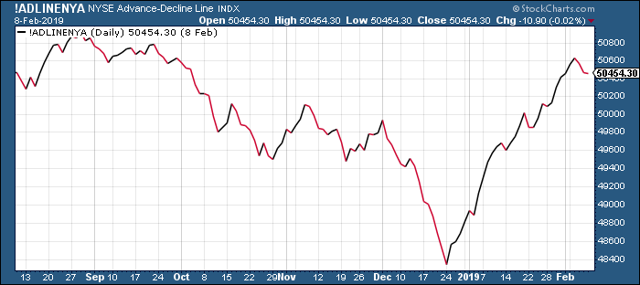 Source: StockCharts
As I've emphasized in this report, whenever the A-D line shows relative strength versus the S&P 500 Index (SPX) and other major indices after a big decline, it strongly suggests that an intermediate-term low is in. This has been my working thesis since January as most breadth and volume indicators confirm this. The market's fundamental backdrop is also still impressive, with earnings growth still on an upward trajectory. And perhaps of even greater importance, central bank policy has taken a dovish turn recently, which should give investors another incentive for holding equities in the coming months.
Now let's examine one of the most important of the recent indications that a major stock market bottom is in. This particular indicator was successfully used by a legendary mutual fund trader named Richard Fabian, who outlined the rules of his system in a book entitled "The Mutual Fund Wealth Builder." For many decades, Fabian beat the market by using the method which has since become known as the "Fabian Formula" for market timing. It's actually similar to the well-known Dow Theory but contains a more detailed set of exit and entry rules. The rules of Fabian's market timing system are simple:
A buy signal for an actively traded fund is made when the fund closes for the week above a 39-week moving average of the fund's weekly closes, and either the Dow Industrials or Utilities have also closed above their 39-week moving average. Conversely, a "sell" is signaled when the fund's weekly close is below the 39-week MA, and either the Industrials or Utilities have also closed under their 39-week MAs.

Stocks can also be purchased when the Dow Jones Industrial Average (DJIA) close 2 percent above the lowest point of its most recent market decline, while the Dow Jones Transportation Average (DJTA) is 4 percent above the lowest point of the decline, and the Dow Jones Utility Average (DJUA) is 8 percent above the lowest point of the decline.
Based on these rules, let's examine the stock market's latest progress to see if a Fabian Formula buy signal has been confirmed. Our first observation is that the Dow Industrials did indeed close above its 39-week moving average in the last two weeks, but barely. The Dow's recent close above this trend line can be seen in the following graph.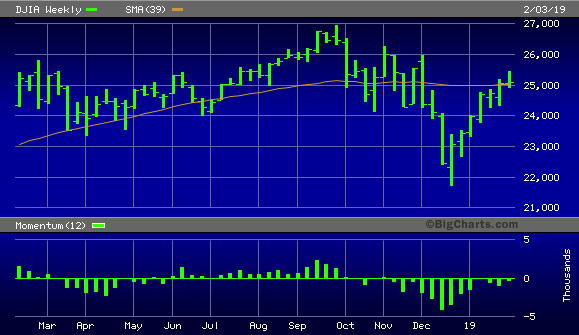 Source: BigCharts
The Dow Utilities closed much more decisively above its 39-week moving average (below), however. This confirms in any case that a significant market low has been established based on the rules of the Fabian system.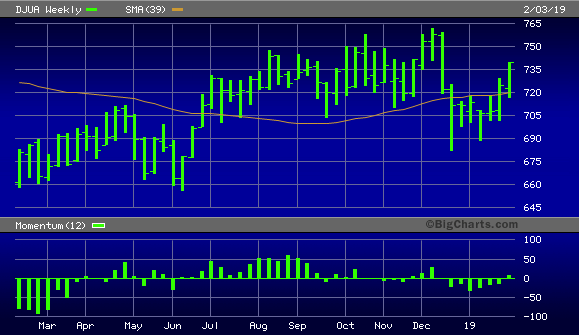 Source: BigCharts
More importantly, the latest rally in the DJUA has put the utility index 8 percent above its Dec. 26 low of 681. The Dow Industrials meanwhile has long since rallied in excess of the required 2 percent to confirm a low, while the Transports have also risen by more than 4 percent. Thus, all three basic components for a Fabian Formula buy signal have been confirmed. When combined with the 39-week moving average signal mentioned above, the technical weight of evidence suggests the low is in for the latest correction. This further implies that several weeks-to-months of continued recovery should follow in the stock market based on the historical tendency of this confirmation signal.
Turning our attention to investor sentiment, Bank of America Merrill Lynch has shared its latest market outlook based on its evaluation of retail investor sentiment. The bank remains bullish on the U.S. equity market and advocates a continued bullish stance despite recent volatility. Its bullish outlook is in part based on the observation that investors are moving more heavily into the credit market instead of the equity market. Moreover, according to BofAML, of every $100 invested since 2012, $55 has gone into bonds, $35 into equities and $10 into cash and other alternative investments. This data suggests that investors in the aggregate are still somewhat risk averse and still afraid to be heavily committed to stocks. This in turn argues against another stock market "bust" since there is no "irrational exuberance."
Meanwhile, BofAML's widely followed bull-bear indicator currently reflects a neutral bias among investors, though it's still closer to a "buy" signal than a "sell." This indicator has been useful in calling the market lows of recent years. Only when the indicator returns to the red portion of the following graph is a "sell" signal flashed.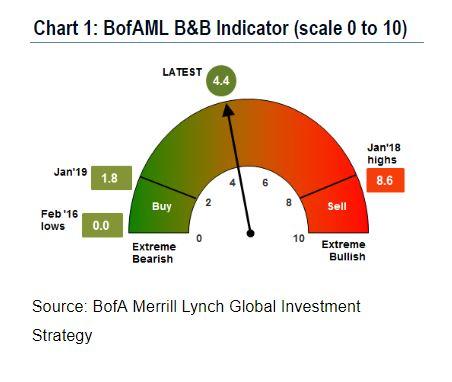 Source: BofAML
Incremental demand for equities also remains healthy according to the cumulative trend in the NYSE new 52-week highs and lows. Shown below is the new high/new low ratio, which is another way of showing whether or not demand for stocks is increasing. As you can see here, the new high/low ratio has recently hit its highest level since last summer and is reflecting an impressive amount of relative strength versus the major broad market averages. This is another sign that the bulls are in control of this market. When combined with the bullish Fabian Formula buy signal mentioned above - and the continued upward trajectory of corporate profits - investors are justified in leaning bullish based on the weight of technical and fundamental evidence.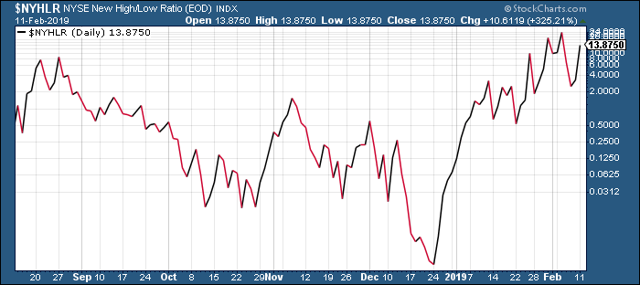 Source: StockCharts
On a strategic note, investors should be long the sectors and industries which are showing the most relative strength and solid fundamentals. In particular, investors should be looking at consumer staples, pharmaceuticals, and real estate equities, as well as the tech sector in general. I also recommended last week that technical traders take some partial profit in market tracking ETFs, such as the Invesco S&P 500 Quality ETF (SPHQ), of which I'm currently long. After the impressive upside run of the last few weeks, now would be a good time to book a little profit and raise stop losses on long positions in the event my bullish thesis is wrong and selling pressure increases.
Disclosure: I am/we are long SPHQ, IAU, XLE. I wrote this article myself, and it expresses my own opinions. I am not receiving compensation for it (other than from Seeking Alpha). I have no business relationship with any company whose stock is mentioned in this article.