FCEL (FCEL), Bloom Energy (BE), and Doosan Fuel Cell America (Doosan) are the primary competitors in the market for utility-scale fuel cells. BE has been market traded since its IPO on July 24, 2018, at $25 per share; it is now trading at $10.06 per share, a decline of about 60%. On July 24, 2018, FCEL was trading at $1.35 per share; it is now trading at $0.445, a decline of 67%. Doosan is part of a large conglomerate.
FCEL is a company with a number of large opportunities before it but is struggling to raise the capital to complete these projects on time and on budget. Because FCEL competes in the utility-scale fuel cell business, they may serve large industrial customers, but the projects they are building are usually interconnected with the grid. This means dealing with regulated firms that must deal with a regulated and bureaucratic administrative process. Thus, FCEL has a limited ability to control the timing of their projects.
One source of market uncertainty for FCEL is its apparent loss of the opportunity to participate in South Korea via its licensing agreement with POSCO, which had announced the intent to exit the fuel cell business and sell its stake in FCEL. More recently, there is some indication that POSCO is rethinking its fuel cell plans, which opens the possibility that the licensing agreement may become some sort of joint venture instead, meaning that FCEL would have more control over POSCO's manufacturing using FCEL's technology. As described below, there are other sources of market uncertainty. Nevertheless, FCEL common shares may be attractive to investors that have a holding period of two or more years.
BE has also faced market uncertainty in the last two or three months, likely reflecting disappointing market guidance and general volatility in the overall financial markets.
Doosan benefits from being a small piece of a very big company. Doosan bought the legacy fuel cell manufacturing assets of United Technology Corporation or UTC after the successor to UTC, ClearEdge Power, closed the factory and went bankrupt. UTC had made the fuel cells that were used in the golden days of NASA's space program. While it is hard to say with certainty, Doosan appears to have been successful in reestablishing the manufacturing of fuel cells from its factory in South Windsor, CT, and expanding the manufacture of fuel cells in South Korea. Doosan seems to benefit from being somewhat insulated from short-term uncertainties in the financial markets.
FCEL, BE, and Doosan won a combined total of 52 MW in the CT DEEP's recent clean energy RFP, the results of which were announced on June 13, 2018. The breakdown was 22 MW for FCEL, 10 MW for BE, and 20 MW for Doosan.
I realize that it's become somewhat of a cliche to say that fuel cells are always a few years away from becoming successful, but there is some evidence that the prospects of fuel cells are changing for the better as shown in Figure 1 below.
Figure 1: Comparison of Fuel cells MW production compared to solar PV and wind turbines.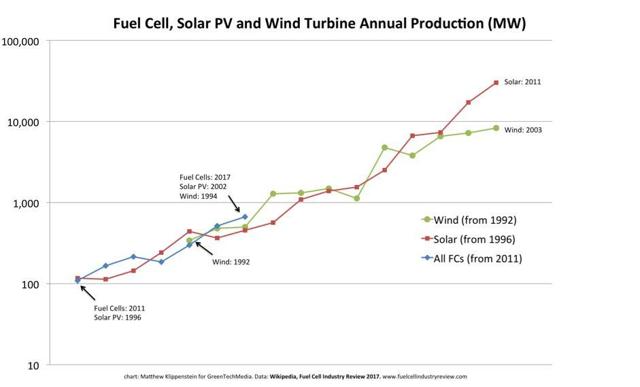 Both FCEL and BE have seen stock price declines in recent months, but looking forward two to five years, it's possible that fuel cells may be entering a golden age, not unlike the trajectory that wind faced in the 1990s and that solar PV faced in the 2000s.
1. FuelCell Energy, Inc.
FCEL continues its transition from an R&D company to a commercial products manufacturer, services provider, and developer. FCEL may grow very quickly in 2020-2021 in terms of revenues when its LIPA and CT projects are completed and may even become profitable in terms of EBITDA, but in the meantime, FCEL has low revenues and losses.
This presents FCEL with the need to raise additional common stock equity capital, but given FCEL's low market price per share, which is well below book value per share of $0.86, this dilutes the shares of existing stockholders in terms of earnings. As I've discussed in previous articles, sales of new common stock above BVPS are not earnings dilutive for existing stockholders, but sales below BVPS do harm existing common stockholders via earnings dilution.
FCEL's most recent 10-K states (p. 7) that:
[o]ur mission and purpose is to utilize our state-of-the-art fuel cell power plants to provide environmentally responsible solutions for various applications such as utility-scale and on-site power generation, carbon capture, local hydrogen production for both transportation and industry, and long duration energy storage."
FCEL's business strategies (10-K, p. 8) are to: (1) execute on backlog and project awards; (2) grow their generation portfolio; and (3) develop and commercialize technology related to carbon capture, distributed hydrogen, long duration energy storage, and other advanced technologies.
Given the size of their products, FCEL's target market is electric utilities, non-utility generators (often referred to as IPPs), large industrial firms, colleges/hospitals, data centers, wastewater treatment, etc. Most of these entities acquire resources via competitive bidding (often referred to as RFPs), which means that FCEL is able to win large projects but has to deal with a slow and bureaucratic process. Once they win a project even more time is needed to resolve technical, contractual, and regulatory issues. Much of the timing of this process is beyond FCEL's control. This is inherent in its business model.
FCEL's primary products are carbonate fuel cells or CFCs, but they also make solid oxide electrolysis fuel cells or SOECs, and solid oxide fuel cells or SOFCs. FCEL's SureSource fuel cells are sized at 1.4 MW, 2.8 MW, and 3.7 MW, which can be grouped together into larger configurations, e.g., the 14.9 MW Bridgeport fuel cell park currently owned by Dominion (NYSE:D) (FCEL is currently arranging financing to acquire Bridgeport). FCEL has also talked about developing a smaller (i.e., 0.4 MW) product. The problem is that FCEL's fuel cells are in many cases too large for one company to use for its own load around the clock, so it is much better if these plants can sell excess power to the grid at a reasonable price.
Per FCEL's 10-K (p. 15), its fuel cells are relatively "green" compared to other alternatives, as shown in Table 1. This would be especially the case with FCEL's carbonate fuel cells that provide an opportunity to concentrate CO2 from a dilute state to a concentrated state, which can then be captured. FCEL's primary competitors don't make carbonate fuel cells, which may provide it with a competitive advantage.
Table 1: Emissions profile of FCEL fuel cells

In FCEL's target markets (basically, CA, Northeast US, and South Korea), FCEL's levelized cost of electricity is competitive with the cost of electricity if purchased from the grid. Note that its target markets already have relatively high electricity costs.
Per FCEL's most recent 10-K, the capital cost of FCEL fuel cells has fallen about 60% compared to 2003. Here is an article on cost reductions over time in generating electricity via solar energy. Here is an article on cost reductions in wind energy. As FCEL works through its existing backlog and gains additional business, the capital cost of FCEL fuel cells may decrease.
In CT, the nominal 2018 cost of energy and RECs for the selected projects (including FCEL's Hartford and Derby projects) is about 10 cents per kWh. [PUR Decision in Docket No. 18-06-37, dated December 19, 2018, p. 7.] The average cost of electricity net of T&D costs is about 10.8 cents per kWh in CT, as discussed here. Thus, the fuel cell resource additions approved by the CT PURA would generally not tend to increase the cost of electricity for electricity users in CT.
From an operating cost standpoint, FCEL is moving toward a seven-year design life for its fuel cells. FCEL provides guarantees for system performance and levels, including electrical output, usually for the 1st year of operation.
From a cost-of-capital standpoint, FCEL now has a construction line of credit with Generate Capital for $100 million, which may expand to as much as $300 million. I would expect that over time FCEL will gain working partner relationships with other energy financiers and infrastructure investors, such as Clearway Energy and its parent Global Infrastructure Partners, among others. Fuel cells may be an attractive addition to infrastructure investor generation portfolios that already include a lot of solar, wind, and natural gas generating plant.
A key indicator of FCEL's future business prospects is its contract backlog and project awards. Table 1 presents FCEL's contract backlog and project awards. It may be the case that current investor expectations do not fully reflect the almost three-fold increase in generation backlog. Or perhaps there is doubt about FCEL's ability to raise capital to fund its future growth.
Table 2: FCEL Contract Backlog ($millions)
| | | | |
| --- | --- | --- | --- |
| | 10/31/2018 | 10/31/2017 | 10/31/2016 |
| Contract Backlog | $1,200 | $554.2 | $432.3 |
| Service agreements | $316.0 | $182.3 | $347.3 |
| Generation backlog | $839.5 | $296.3 | $254.1 |
| Product sales backlog | NMF | $31.3 | $24.9 |
| Advanced tech | $32.4 | $44.3 | $60.1 |
| Project awards | $600-$1,000 | $600-$1,000 | |
| If sold | $600 | $600 | NA |
| If held in portfolio | $1,000 | $1,000 | NA |
NMF=Not Meaningful Figure
NA=Not Available
2018 generation backlog is up about 2.8 times compared to 2017 backlog. Backlog moves from project award status to contract backlog once a definitive agreement (usually a power purchase agreement or PPA) has been executed. This increase may largely reflect the signed PPA with LIPA for 7.4 MW and the signed PPAs in CT for 22.2 MW. FCEL's backlog also includes Triangle St. (3.7 MW), Tulare (2.8 MW), Bolthouse Farms (5.0), Groton (7.4 MW), and Toyota (2.2 MW). Project awards also include two more LIPA projects (32.3 MW).
Table 3: FCEL Significant Customers (%)
| | | | |
| --- | --- | --- | --- |
| | 2018 FYE | 2017 FYE | 2016 FYE |
| Hanyang | 35% | 40% | NMF |
| Clearway Energy | 15% | NMF | NMF |
| AEP Onsite Partners | 10% | NMF | NMF |
| U.S. DOE | 8% | 9% | 8% |
| ExxonMobil | 6% | 9% | 3% |
| POSCO Energy | 5% | 6% | 48% |
| Dominion Bridgeport | 3% | 11% | 6% |
| Avangrid | 2% | 3% | 10% |
| Other | 16% | 22% | 25% |
| Total | 100% | 100% | 100% |
FYE = Fiscal Year End
NMF = Not Meaningful Figure
Hanyang was a direct sale of 20 MW of fuel cells to Hanyang, which is an EPC contractor, with the completed plant then transferred to Korea Southern Power Co. or KOSPO, which is now the owner of the 20 MW fuel cell plant. The 20 MW plant was completed in 2018. Going forward, FCEL is expected to have service revenue from KOSPO. Direct sales are more beneficial to FCEL in the short term, but most utilities now use PPAs to contract for capacity rather than owning it outright.
Clearway Energy bought NRG Yield's renewable assets in August 2018; previously, NRG Yield was a significant customer in 2016 and 2017.
U.S. DOE provides various research-related grants to FCEL.
Exxon Mobil (NYSE:XOM) is working on a pilot project in Alabama with FCEL, which has to do with carbon capture in the natural gas generation sector.
FCEL is working toward buying Dominion's Bridgeport fuel cell plant.
Avangrid is a utility in CT.
POSCO Energy is a licensee for FCEL's fuel cell technology in Korea. The facts are debatable, but my understanding is that POSCO's fuel cells have had operating problems, the pricing of POSCO's contract with Gyeonggi Green Energy is unfavorable, and POSCO is seeking to resolve these operating and pricing issues in Korea. It is my understanding that POSCO has not sold its shares in FCEL.
In the meantime, FCEL and POSCO are currently at odds with each other as noted in FCEL's 10-K (p. 17). One possible solution for POSCO's problems is a joint venture with FCEL, which could help POSCO produce reliable fuel cells. POSCO is reportedly working with its primary buyer to adjust prices to market-based levels. Further, the Yongham News reported (translated via Google) that:
In order to improve profitability, the fuel cell business, which recorded a chronic deficit, is seeking to attract foreign investors and establish a joint venture with FCE, a leading technology company.

'We are in the process of finalizing the agreement to raise the price of Gyeonggi Green Energy and its customer, which is the biggest customer,' he said. 'We are also in close contact with FCE, so we expect to see a breakthrough in fuel cell soon.'"
This would be a favorable outcome for FCEL, which is currently hamstrung in its efforts to sell fuel cells in South Korea.
If FCEL succeeds in completing its backlog so that its fuel cells achieve commercial operation and remain in place for many years, FCEL may do very well indeed. FCEL does not lack for market opportunities. Unfortunately, the LIPA and CT projects that it has won are very large at 39.7 MW and 22.2 MW, meaning FCEL will face challenges in funding and completing these projects.
This a classic "lumpy investment problem." Building a nuclear generating plant is an example of a lumpy investment. South Carolina spent $9 billion on now-canceled nukes that will never generate electricity.
The LIPA and CT projects are great opportunities so long as they eventually are completed and generate electricity. FCEL acknowledges that risk in their 10-K (p. 5), by identifying "the risk that commercialization of our products will not occur when anticipated."
It is my understanding that the vision of the founders of FCEL was to focus on building large scale plants that would benefit from economies of scale in the generation of renewable energy. FCEL may be able to achieve this vision going forward, but only time will tell.
2. Bloom Energy Corporation
BE's fuel cells are smaller than FCEL's, which allows it to avoid many of the delays resulting from regulation and bureaucracy that FCEL has to deal with when it sells fuel cells to utilities, IPPs, and other large users of electricity. BE's emissions profile is probably roughly similar to that of FCEL, but BE's fuel cells are not CFCs, so there is not an opportunity to use the fuel cell itself to concentrate carbon emissions and store or use them in some fashion. BE is able to compete against FCEL in RFPs to win larger projects, yet FCEL can't compete against BE in the market for smaller fuel cells.
BE's IPO was completed on July 25, 2018. BE's prospectus is here. BE's stock price fell to below $10 per share for the first time on December 24, 2018. BE's current price is about $10 per share.
Greentech Media reports that BE:
reported fourth-quarter 2018 revenues of $213.6 million on Tuesday after market close. That's up from $190 million in the previous quarter, up 73 percent year-over-year - and above analyst estimates.

The Sunnyvale, Calif.-based solid-oxide fuel cell firm reported earnings per share of ($0.12), besting consensus of ($0.18) for the quarter. Adjusted net loss per share for 2018 of ($0.63) was in line with estimates. Bloom lost $99.8 million in the fourth quarter of 2018 - and CFO Randy Furr said he expects continued losses in Q1 2019 during today's earnings call. The fuel cell leader lost $242 million for the year, slightly less than the $263 million lost in 2017.

Bloom's total revenue for 2018 was $742 million, almost double last year's figure."
BE's mission statement states that:
Our mission is to make clean, reliable, and affordable energy for everyone in the world. To fulfill this mission, we have developed a distributed, on-site electric power solution that is redefining the $2.4 trillion electric power market and transforming how power is generated and delivered. The commercial and industrial (C&I) segments are our initial focus. Our solution, the Bloom Energy Server, is a stationary power generation platform built for the digital age and capable of delivering highly reliable, uninterrupted, 24x7 constant (or base load) power that is also clean and sustainable."
Bloom fuel cells are large enough to be meaningful for a buyer but small enough that the company doesn't necessarily expect to sell power back to the utility. This simplifies things immensely. The fuel cell can generate electricity on site but the site owner can still draw on the grid for electricity to supplement its self-generation, paying the utility for the option to draw on them.
Bloom fuel cells can also function as a "microgrid" keeping some of the power on when the grid goes down, replacing diesel backup generators with clean power.
Bloom's primary product is an SOFC fuel cell, which Bloom markets as "Bloom Boxes" or the "Bloom Energy Server," as described in Figure 2.
Figure 2: Explanation of how an SOFC works.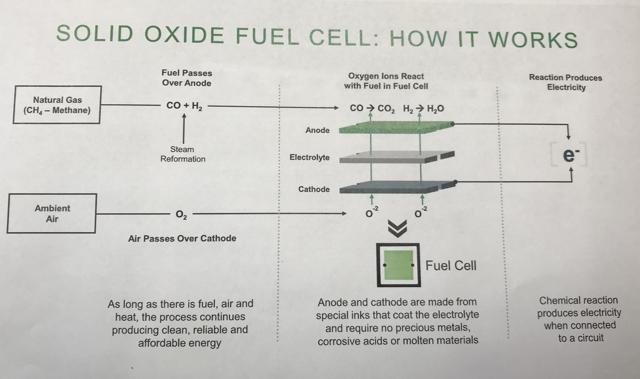 Source: Bloom Energy presentation.
Bloom has been able to improve the effectiveness of its fuel cells over time. Bloom points out that:
We have continuously innovated and evolved our technology over time. The latest generation Energy Server delivers five times the energy output of the first generation in a constant footprint. Similarly, we have also improved the beginning-of-life electrical efficiency (the rate at which fuel is converted into electricity) of our Energy Servers from 45% to 65% today, representing the highest delivered power efficiency of any commercially available power solution. In addition, we have expanded the range of available accessories which extend the capability and functionality of our Energy Servers to meet additional customer requirements, such as an uninterruptable power capability. Our team has decades of experience in the various specialized disciplines and systems engineering concepts unique to this technology. We had 209 issued patents in the United States and 90 issued patents internationally as of March 31, 2018."
Bloom's target audience is large firms that can use them to serve some of their own load, with the rest provided by the grid. Given the capital cost of fuel cells, fuel cell buyers likely expect to use them to provide "baseload" service. This is explained in the Prospectus (p. 134) as follows:
The Bloom Energy Server converts standard low-pressure natural gas or biogas into electricity through an electrochemical process without combustion, resulting in very high conversion efficiencies and lower harmful emissions than conventional fossil fuel generation. A typical configuration produces 250 kilowatts of power in a footprint roughly equivalent to that of half of a standard 30 foot shipping container, or approximately 125 times more space-efficient than solar power generation. 250 kilowatts of power is roughly equivalent to the constant power requirement of a typical big box retail store. Any number of these Energy Server systems can be clustered together in various configurations to form solutions from hundreds of kilowatts to many tens of megawatts.
BE's large customers are not likely to be as rigorous in selecting a fuel cell vendor as would an IPP or large industrial customer that must cooperate with regulators to be connected to the grid. In 2017, BE's largest customers were Southern Company, which finances their Energy Servers for a large number of end customers, and Delmarva. The Southern Company is a financing partner with BE, which purchases the systems that are deployed at end customers' facilities in order to provide the electricity as a service. Thus, BE has avoided using the "securitization model," which can fall apart if the market dries up.
BE's first large-scale utility project, a 30 MW project with Delmarva Power and Light went into commercial operation in October 2012. As part of an "economic development" package, BE agreed to site its manufacturing operations in DE and was able to build a 30 MW fuel cell plant with the electricity sold to Delmarva. BE's manufacturing operations are on the site of a former Chrysler plant in Newark, DE. BE promised 900 jobs in Delaware but had only 277 employees in DE as of March 31, 2018, and this has been a source of controversy in DE. Delmarva is required to present the charges related to the 30 MW fuel cell plant separately on utility customer bills, which amounts to over $5.50 per month on average.
Other major customers of BE include AT&T, Caltech, Equinix, The Home Depot, Kaiser Permanente and The Wonderful Company. BE is also expanding in South Korea, as discussed here and here.
3. Doosan Fuel Cell America
Doosan Fuel Cell America or Doosan FA is a part of a market-traded South Korean conglomerate that focuses primarily on large-scale infrastructure and equipment. As part of a large company, Doosan FA may not be as concerned about quarterly results, but instead may be able to pursue its long-term business prospects.
Doosan paid $32.4 million in March 2015 to buy the former UTC Power fuel cell facilities. ClearEdge Power had taken over UTC Power in 2013 but admitted defeat in 2015 by laying off its entire workforce and declaring bankruptcy. Doosan FA was able to run its plants in CT at near full capacity in 2015. In 2017, Doosan FA completed construction of a large fuel cell manufacturing facility in South Korea.
Doosan FA appears to be an effective competitor against BE in the market for smaller-sized fuel cells while also being able to compete against FCEL in the market for utility-scale fuel cells.
Disclosure: I am/we are long FCEL AND FCELB. I wrote this article myself, and it expresses my own opinions. I am not receiving compensation for it (other than from Seeking Alpha). I have no business relationship with any company whose stock is mentioned in this article.