This article was first published on Trend Investing on December 11, 2018; therefore all data is as of that date.
For some background it is best to read my related article first:
In 2019, most flagship android phones will have Qualcomm 5G enabled chips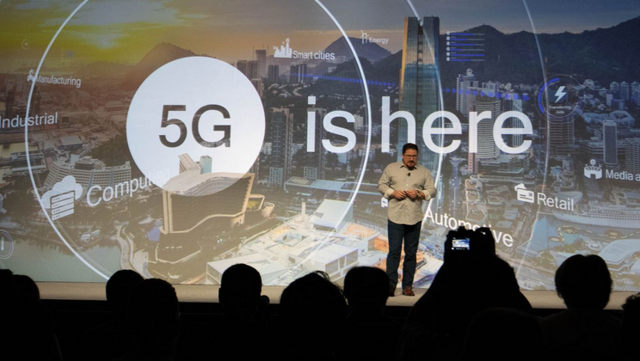 My top tech stock and runner-up for each tech trend
1) 5G
Qualcomm (QCOM) - Price = US$57.24
Qualcomm generates the majority of their revenues from chips for smartphones and technology licensing. The company's Snapdragon X50 5G modem was chosen by 19 global operators for mobile 5G trials. Qualcomm is reportedly pushing up production of its 5G-capable chipsets in anticipation of the first major smartphone releases in 2019.
5G-ready handsets such as the Samsung Galaxy S10, Huawei P30, and OnePlus 7 are scheduled for launch in 2019. Qualcomm's President, Christiano Amon, stated: "By the holidays next year (end 2019), every flagship handset – at least when it comes to those running Google's Android software and using Qualcomm's Snapdragon processor – will tap into 5G."
Qualcomm has amended a long-term cross-license agreement with Samsung Electronics (OTC:SSNLF) to make use of Qualcomm chips in its mobile devices and infrastructure equipment.
On the negative side, Qualcomm has had a nasty legal battle with Apple (AAPL) (for not paying Qualcomm their royalties) which should come to a resolution relatively soon. China recently announced: "China court bans sales of older iPhone models in Apple-Qualcomm global battle." The Apple negativity and global smartphone sales slowdown is already priced into the stock (down 9% YTD). The flip side is Qualcomm can reasonably expect to receive a considerable amount of back payments of royalties owed from both Apple and Huawei. A smaller risk is that Qualcomm's licensing practices could be revoked in China or globally. The US-China trade war issue is another risk, but may actually end up favoring Qualcomm if IP and licensing are better protected going forward.
Seeking Alpha author Jonathan Cooper summarizes well when he states:
The launch of 5G will greatly benefit Qualcomm thanks to increased prices for its chips, increased revenue from licensing, and likely increased unit shipments as customers want to adopt the new, faster phones. Back when 4G launched, Qualcomm saw seven consecutive quarters of 25%+ revenue growth - and ten quarters in three years. A repeat of that performance would provide amazing returns for shareholders.
Current market cap is US$69 billion. 2019 PE is 20.3 and 2020 PE is 16.3, with a 2019 estimated 4.36% dividend yield. 2019 net profit margin is forecast at 16.3%, and debt at US$9 billion. 2019 net income is forecast at ~US$3.4b, so the debt burden is not bad (~1.7 x EBITDA).
Current consensus analyst price target is US$68.16, representing 19% upside.
Qualcomm's financials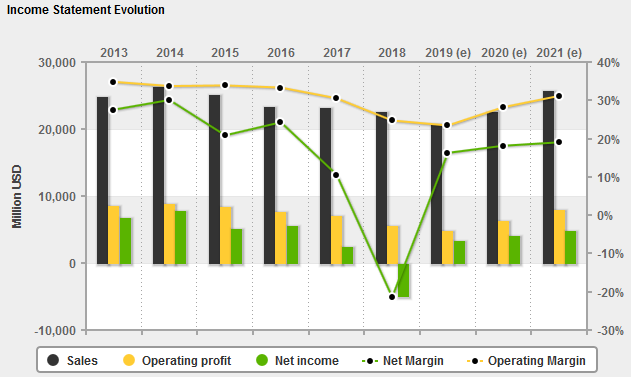 Source: 4-traders
Runner ups - Verizon Communications (VZ) and Ericsson (ERIC)
Verizon covers 98% of the United States and is serving more than 150 million wireless customers. Verizon first trialed 5G residential applications in 11 cities in 2017. Verizon is a strong US mobile company and an early adopter of 5G. The stock looks attractively valued at this time (2019 PE of 12.3), but does have a significant debt (~US$100 billion).
Ericsson is a leading 5G infrastructure provider along with Huawei and Nokia. Fierce Wireless reported that as of March 2018, Ericsson has signed 38 operator agreements for 5G. The first very few 5G devices will likely be introduced towards the end of 2018. Ericsson estimates the number of subscriptions reaching one billion by the end of 2023. The stock looks fully valued at this time (2019 PE of 26), but is a leader in supplying 5G infrastructure (antennas, etc.).
2) Autonomous Vehicles (AVs)
Alphabet/Google (GOOG) (GOOGL) - Price (GOOG) = US$1,051
Alphabet/Google's subsidiary Waymo is a clear industry leader in autonomous cars. In fact, they are the first company to launch fully-autonomous vehicles on public roads when they launched in November 2018 in Phoenix, Arizonia. In Q2 2018, Waymo announced the purchase of 62,000 new Chrysler Pacifica hybrid minivans. The significance here is that Waymo has the potential to completely disrupt the Transport as a Service (TaaS) sector. The global on-demand transportation market size was valued at US$75.0 billion in 2017, but could quadruple by 2025 to reach $304.97 billion if forecasts are correct. Soon Waymo can potentially grab a large slice of this at better margins than companies that have to pay drivers (~50% of costs). Their other advantage is having the Google search engine and android software on mobile devices, meaning it is very easy to market their business. The novelty factor of riding in the first ever autonomous vehicles with no human driver may also help.
Of course, to move the needle for Alphabet (given they will already achieve ~US$136 billion of revenue in 2018), TaaS revenues would need to be in the billions. Looking at the graph below this is possible, only considering the US. My view is that most people are still underestimating the enormous potential profits that the electric robo-taxis can bring in. 2019 will bring a new awareness as to the enormous profits Waymo can earn from an ever expanding autonomous fleet of EVs.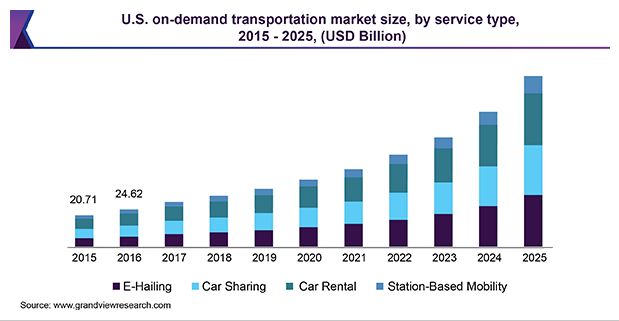 Current market cap is US$727 billion, with no debt and cash of ~US$100 billion. 2019 PE is 22.3 and 2020 PE is 19.1, with no dividend. 2019 net profit margin is forecast at 20.7%.
Current consensus analyst price target is US$1,339, representing 27% upside. To buy Alphabet, investors would also need to also be positive on their search and advertising business as this is by far the main contributor to revenues.
Note: An indirect way to play the success of Waymo is buy Intel (INTC) which supplies the onboard processor for their autonomous vehicles. Again, this is a small business for now, and Intel gets most of their revenue from supplying chips [CPUs] for PCs. The other way is to buy Fiat Chrysler (NYSE:FCAU) which for now is supplying hybrid electric minivans to Waymo. In Q2 2018, Waymo announced the purchase of 62,000 new Chrysler Pacifica minivans. Waymo also plans to buy 20,000 self-driving I-PACE electric SUVs from Jaguar. Those cars alone will be able to provide 1 million rides a day.
Alphabet's financials - Strong growth is forecast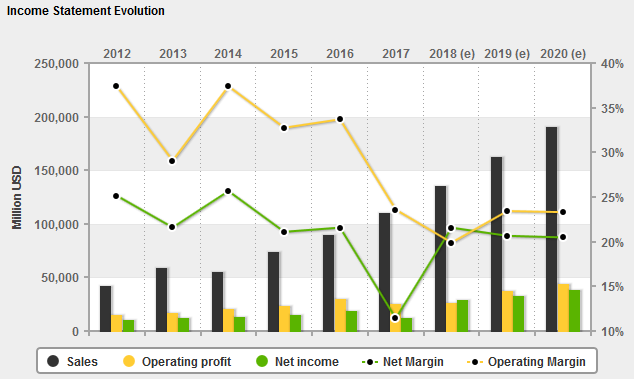 Source: 4-traders
Runner-Up: General Motors (GM) (Cruise)
In 2019, General Motors plans a rollout of their AVs thanks to their subsidiary Cruise's technology, and their all electric GM Bolt. The advantage GM has over Alphabet is the fact they can supply their own electric vehicles. Time will tell as to who gains the most market share, but for now Alphabet has about a 1 year head start on the pack. Valuation is quite attractive on a 2019 PE of 5.9. The reason for the low PE is the potential loss of market share of their legacy ICE business to new battery electric vehicle [BEV] rivals such as Tesla (TSLA), and their low net profit margins (2019 net profit margin of 5.7%) typical of car manufacturers.
Note: In China, Baidu (BIDU) is the leader and another worthy runner-up with many similarities to Alphabet, being "the Google of China". 2019 PE is 20.7.
3) Artificial Intelligence ("machine learning")
Nvidia (NVDA) - Price = US$154.40
Nvidia is arguably the market leader in Artificial Intelligence [AI]. Nvidia pioneered the graphics processing unit [GPU]. Wikipedia summarizes it well:
GPUs are used in embedded systems, mobile phones, personal computers, workstations, and game consoles. Modern GPUs are very efficient at manipulating computer graphics and image processing. Their highly parallel structure makes them more efficient than general-purpose CPUs for algorithms that process large blocks of data in parallel.
This leads to Nvidia's core areas of revenue basically supplying computer chips [GPUs]:
Computer gaming (55%) - In FY 2018, their gaming revenue grew 36%.
Data centers (25%) - In FY 2018, their data center revenue grew 133% YoY.
Professional visualization (10%) - Nvidia professional visualization solutions are used by industry leaders around the world, from film to architecture to engineering to design. You can read more here.
Automotive (autonomous vehicles) (5%).
The gaming revenues are very reliant on the computer gaming sector (as the industry leader) and on China where there is a huge number of gamers. The upside here is the tailwind as China's middle class rises. The downside can be trade war issues and the recent Chinese government clamp down on gaming which has led to a slowdown (or delay) in gaming chip sales that is likely to only be short term. This helps explains Nvidia's large fall in the past few months as earnings guidance was weaker than expected at least for the next 6 months while excess gaming chip inventory is sold down. The cryptocurrency (and associated crypto mining) collapse has not helped. Competition comes mainly from Advanced Micro Devices (AMD).
The data center business is growing very strongly helped by tailwinds from cloud computing and AI ("machine learning"). Competition comes mainly from Intel.
The automotive business is set to boom thanks to Nvidia's GPU which is well suited to autonomous vehicles given the large amount of data that needs to be rapidly processed by the onboard computer. Nvidia is a market leader with almost 400 drive partners developing self-driving systems using Nvidia's integrated Drive platform that combines software and hardware.
You can read more on Nvidia's website here regarding their AI plans.
The Artificial Intelligence market is projected to hit $90 billion by 2025 - That is a 28-fold increase on 2016.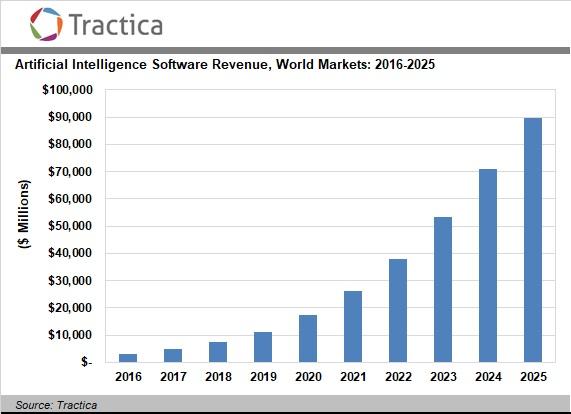 Current market cap is US$92 billion, with no debt and cash of ~US$6 billion. 2019 PE is 22.0 and 2020 PE is 23.3, with a 2019 dividend yield estimate of 0.4%. 2019 net profit margin is forecast at 35.75%.
Current consensus analyst price target is US$230, representing 52% upside.
The short-term gaming and crypto downturn is offering investors a much better valued entry point, with forecast strongly rising revenues and profit ahead.
Nvidia's financials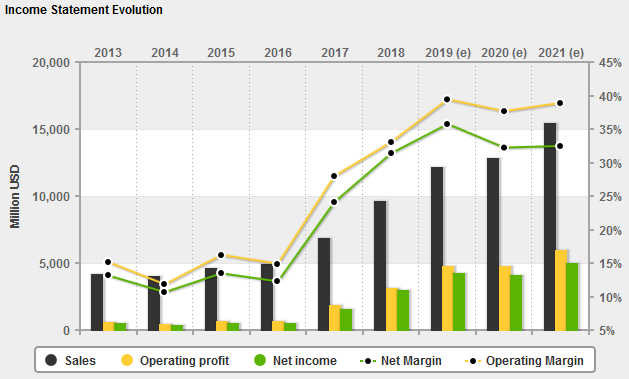 Source: 4-traders
Runner up - Baidu (BIDU)
Baidu has several AI programs, including autonomous vehicles ("Apollo program"), DuerOS (a voice enabled digital assistant), and Baidu ABC cloud services. Valuation is fair trading on a 2019 PE of 20.7. If Baidu can emulate Alphabet's growth plans, then the current market valuation will look cheap.
Note: Another key company in the AI space is Intel. Valuation is attractive with a 2019 PE of 10.9.
4) The Internet of Things [IOT]
Skyworks Solutions (SWKS) - Price = US$67.44
Skyworks is a US semiconductor company heavily focused on the IoT. Or as the company states:
Connecting Everyone and Everything, All the Time. Empowering the 5G revolution.
Skyworks has traditionally earned ~70% of revenues from smartphones whose growth has recently slowed. This should hopefully be cyclical and pick up once 5G enabled smartphones become available and affordable. The other significant issue is they have been very reliant on Apple, as ~40% of revenue comes from Apple. Apple has also recently suffered a slowdown in their iPhone sales.
Looking ahead, Skyworks is increasingly focusing on the IoT, with low power products. As more devices around the world get embedded with internet connection enabling chips, Skyworks will be a huge beneficiary, with their portfolio of connectivity solutions.
IHS forecasts that the IoT market will grow from an installed base of 15.4 billion devices in 2015 to 30.7 billion devices in 2020 and 75.4 billion in 2025. That's a massive 5-fold increase in a decade. SoftBank believes 1 trillion connected devices will create $11 trillion in value by 2025. The opportunity is enormous, and Skyworks Solutions is an industry leader.
IoT devices to increase at least 5-fold in the decade 2015 to 2025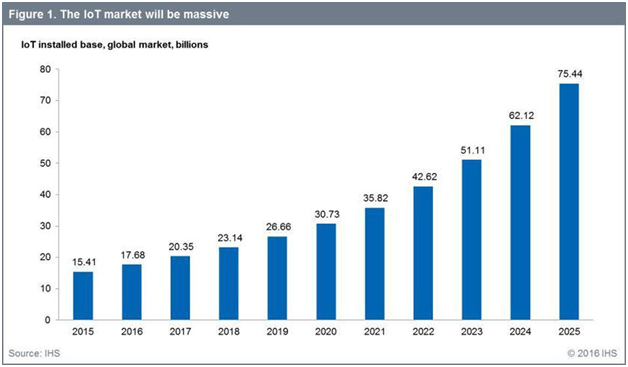 Current market cap is US$12 billion, with no debt and cash of ~US$1.31 billion. 2019 PE is 10.4 and 2020 PE is 9.4, with a 2019 dividend yield estimate of 2.3%. 2019 net profit margin is forecast at 29.82%.
Current consensus analyst price target is US$99, representing 47% upside.
Skyworks Solutions' financials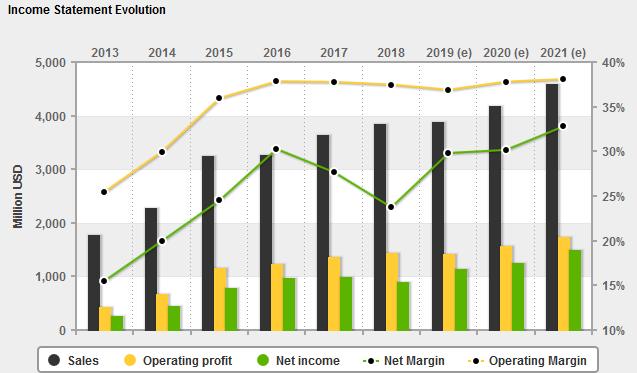 Source: 4-traders
Runner up - Samsung Electronics
Samsung is primarily a smartphone and appliance manufacturer, as well as the leading memory chip maker where most of their revenues come from. Samsung has been making aggressive moves into 5G and the IoT. The IoT is still very small for Samsung, yet they have the potential to dominate the appliance IoT market. Samsung is currently very well valued on a 2018 PE of 5.8, and a dividend yield of 3.53%.
5) Data Storage and the Cloud
Amazon (AMZN) - Price = US$1,673
Amazon is ranked number 1 for cloud data storage and cloud computing services from their Amazon Web Services [AWS] division. This is a fast growing revenue business, with very high profit margins, especially when compared to online retail. For example, AWS contributes ~12% of Amazon's revenue, but 55% of Amazon's operating income.
As of end Q2 2018, Amazon had a 34% share of the global cloud service market compared to the nearest competitor Microsoft (NASDAQ:MSFT) at 13% share.
Everyone knows Amazon is the US leading online retailer. Regarding online retail Amazon should still enjoy many years of growth especially when you consider in 2017 e-commerce represented only 10.2% of retail sales worldwide and 9.7% of online sales in the U.S. Amazon has also made moves to disrupt new sectors such as grocery and health care. They are also in AI with their home device Echo.
Global Cloud Storage Market is expected to grow from US$22.95 billion in 2016 to US$122.59 billion by 2024, at a CAGR of 23.3%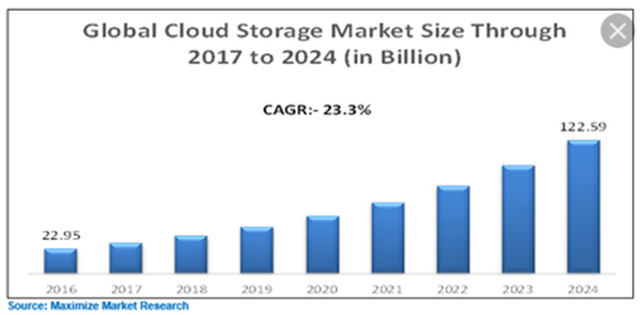 Current market cap is US$802 billion, with no debt and cash of ~US$11 billion. 2019 PE is 61.9 and 2020 PE is 42.4, with no dividend. 2019 net profit margin is forecast at 4.88%.
Current consensus analyst price target is US$2,107, representing 28% upside.
Amazon's financials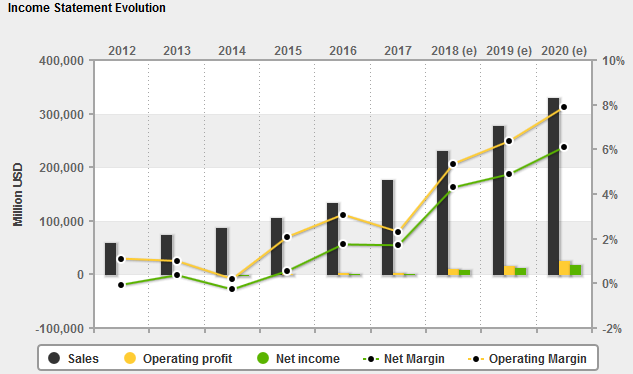 Source: 4-traders
Runner-Ups - Microsoft and Alibaba (BABA). Alibaba in particular has huge potential to grow their cloud business especially considering the massive size of the Chinese online market.
Others
There are many smaller players with niche areas some of which I hope to cover in future articles. The cashed up giants of Apple, Facebook (FB), and Microsoft are also worth mentioning as they have the cash and the interest to be future leaders in the discussed tech themes.
Risks
The tech trends discussed may not progress or may not succeed. An example is autonomous vehicles may run into technical or political hurdles.
Several companies discussed have their main revenue sources from other areas.
Technology disruption and competition from peers.
Further reading
Conclusion
My top 5 tech stocks to match my top 5 tech trends for 2019 are:
5G - Qualcomm.
Autonomous Vehicles (AVs) - Alphabet/Google (Waymo).
Artificial Intelligence - Nvidia.
The Internet of Things [IOT] - Skyworks Solutions
Data Storage and the Cloud - Amazon
To be clear, the above companies are nowhere near pure plays on the above themes. They are industry leaders with strong market share and are all likely to lead each trend to a fair degree. Several of the runner-ups such as Samsung Electronics, Baidu, Intel, and Microsoft are also well placed to benefit from many of the 2019 tech trends. Cashed up giants Apple, Facebook, and Microsoft also need to be on the radar.
New trends take some time to grow so the impact of the newer tech trends such as 5G, AVs, and IoT will take a few years to be fully felt. This means investing in these trends will ideally require a 5-year time frame.
As usual, all comments are welcome.
Disclaimer: The information in this article is general in nature and should not be relied upon as personal financial advice.
Trend Investing
Thanks for reading the article. If you want to sign up for Trend Investing for my best investing ideas, latest trends, exclusive CEO interviews, chat room access to me, and to other sophisticated investors. You can benefit from the work I've done, especially in the electric vehicle and EV metals sector. You can learn more by reading "The Trend Investing Difference", "Subscriber Feedback On Trend Investing", or sign up here.
Latest Trend Investing articles:
Disclosure: I am/we are long GOOG, SAMSUNG ELECTRONICS (XLON:SMSN), BABA, MU, FB, NVDA. I wrote this article myself, and it expresses my own opinions. I am not receiving compensation for it (other than from Seeking Alpha). I have no business relationship with any company whose stock is mentioned in this article.