Overview
According to the most recent quarterly report, in FY18 Q3, Bilibili(BILI) delivered a net loss of 246 mm rmb. One year before that, this loss number was only 15 mm. Despite the heavier losses, investors still favor this company. The stock price of BILI has risen by 59% since the company went public on March, 1, 2018. Even during the trade war when China-concept stocks like Alibaba lost more than 20% of value compared to June 2018, BILI stock price was rising at a stable pace.
The question is, how long will it take for BILI to turn around its bottom line, from net losses to profits that meet investors' expectations? Specifically, as an internet company whose main revenue stream is video gaming, will it again be able to deliver double-digit growth in this sector amid the ongoing Chinese government regulatory crackdown?
Business and Financial Analysis
BILI is a China-based video sharing website focusing on contents around animation, comic, and game. Different from traditional video platforms like Youtube, BILI users can submit, view, and add commentary subtitles on videos, which enables them to interact more closely with each other when watching videos. Besides that, BILI also offers ACG (animation, comic and game) themed mobile games, the most popular of which is the Chinese version of Fate/Grand Order.
When BILI was founded, its founder promised that BILI would never attempt to make profits from video adverts. That is the reason why until today, ads have not become a major source of revenue for BILI. Throughout the years, its largest revenue source has always been mobile gaming, which makes up more than 70% of total net revenue. As a result, the future growth of BILI is highly dependent on its performance in the gaming sector.
However, in the third quarter of FY18, BILI's mobile gaming revenue only delivered yoy growth of 24%. In the previous year, the growth rate was 104%. At the same time, its total cost rose by more than 100% compared to FY17 Q3, among which costs in sales and marketing rose by more than 160%.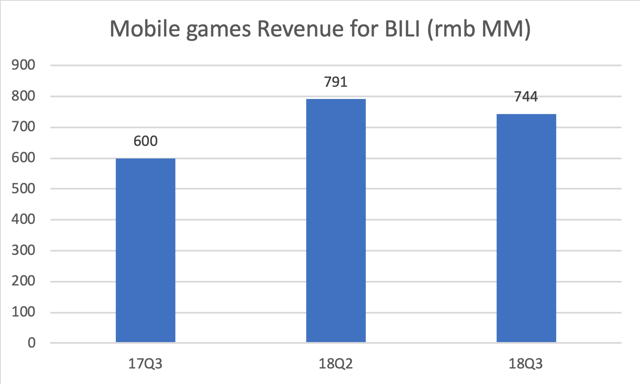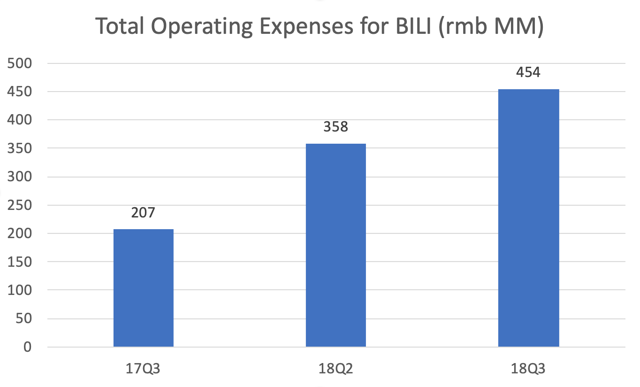 Source: author
BILI is trying hard to boost its gaming business, which is largely the reason that its expenditures for sales, marketing and r&d are skyrocketing. For example, it has been building partnerships with companies like TENCENT (TC) and GREE to expand mobile game contents. However, none of its recently launched games will likely gain as much popularity as Fate/Grand Order did three years ago.
Why the Slowdown in its Gaming business?
Regulatory crackdown
Since 2015, China has become the largest and the most profitable market in the world for video gaming, thanks to a large population, increasing per capita disposable income and well-developed online payment methods. However, as Chinese players spend increasing amounts of time and money on online games, the government has begun to crack down on the industry, out of concern for a wide range of social issues.
In March 2018, the Chinese government suspended giving out operating licenses to new and some existing games. Amid the regulatory freeze, new products are delayed because they can't get licenses. Even mega firms like Tencent and NetEase (NTES) have seen their market value shrinking amid dismal growth prospects. Obviously, the current regulatory environment which stifles new product development also presents a huge challenge for BILI.
2. Fierce competition
Besides regulatory risks, the China gaming sector is also saturated with fierce competition. At the beginning of 2018, Tencent held more than half the mobile gaming market in the country, followed by NetEase. Compared to them, BILI only holds 1.6% market share, and it has to survive fierce competition with other numerous second tier companies.
Gaming development is both time and capital-intensive. Only in rare circumstances does a launched game become a big hit in the market. The difficult competitive landscape is another reason that BILI sees its margin constantly shrinking in the recent year.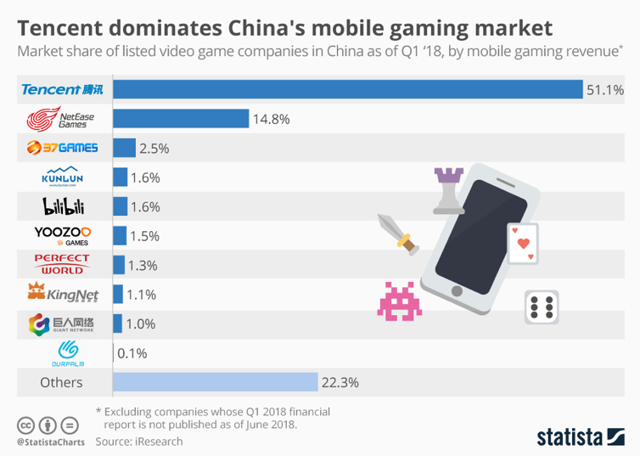 Source: statistica
Opportunities Ahead
1. Live streaming
Live streaming is a form of online video broadcast where people play games and entertain their viewers. It emerged in the mid-2010s and quickly became popular since then. One good thing about BILI is that, in FY18 Q3, its live streaming &VAS revenue delivered yoy growth of 292%. Although at present this segment makes up only 10% of BILI's total revenue, its huge potential makes it a powerful engine to drive BILI's growth in the following years.
2. Gaming tournaments
When Wang Si-Cong (son of Dalian Wanda Group chairman Wang Jianlin, ranked by Forbes as the third-richest man in China) created Invictus Gaming, a lot of people in China were unfamiliar with the concept of esports. Since then, esports has flourished in China and Invictus Gaming made many notable appearances in international video gaming tournaments. Following this trend, In 2017, BILI created its own Chinese esports team called Bilibili Gaming.
There are many ways in which BILI could profit from esports, most common of which are TV contracts, ticket sales, merchandise sales, and licensing fees. At this moment, a commercial esports market is not yet mature in China. However, in the near future Bilibili Gaming has strong potential to become a profit and brand value driver.
Conclusion
In China, there are very few internet companies that have such popularity among the younger generation as BILI does. However, it does not mean BILI is able to quickly turn its heavy losses into profits in the short run, which is especially difficult amid the gaming sector regulatory crackdown and fiercer competition. It would not be surprising if BILI's next earnings report delivers even heavier losses, and investors need to take that into serious consideration.
Disclosure: I/we have no positions in any stocks mentioned, and no plans to initiate any positions within the next 72 hours. I wrote this article myself, and it expresses my own opinions. I am not receiving compensation for it (other than from Seeking Alpha). I have no business relationship with any company whose stock is mentioned in this article.