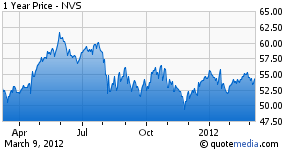 When drug companies reach a certain size, growth becomes a big challenge for them as there is a very strong pressure to keep coming up with new products due to expiring patents. Novartis (NYSE:NVS) is no exception. It is a very large company and it faces a lot of pressure to come up with new products in order to keep growing. The company will be hoping to get multiple FDA approvals for its new drugs in the next few years. While some of these drugs do not look that promising, many others look like very strong opportunities for the company.
David Epstein, Head of Novartis Pharmaceuticals recently said the following in a letter to investors:
"We recognize that the next two years will be challenging in the Pharmaceuticals Division and we are proactively making these changes to further focus our pipeline on the best opportunities and align our market position on our growth brands. These are difficult but necessary decisions that will free up resources to invest in the future of our business which we view as well suited to bring new valuable therapies to patients and payors."
Recent Approvals
In 2011, the company had 15 approvals for its drugs and other products, the highest number among all pharmaceutical companies. Novartis' strong research and development department is one of the most valuable assets of the company.
More recently, Novartis gained approvals for 2 of its drugs in China. These are Lucentis and Galvus. Lucentis is developed to treat macular degeneration, a common cause of blindness in older people and Galvus is designed to treat and manage Type II diabetes. Keep in mind that no country in the world has as many diabetic adults as China. This is a huge opportunity for the company as China has 75 million adults diagnosed with Type II diabetes and every year 300,000 individuals develop macular degeneration. As Chinese get wealthier, number of people with Type II diabetes is expected to more than double in the next decade in this country as a "side effect" of the increased wealth. Both drugs are proven to be very effective in clinical research.
Signifor, a Novartis drug to treat Cushing's disease is in the final stages of getting approval by the European Union as the Committee for Medicinal Products for Human Use (NASDAQ:CHMP) of the European Medicines Agency (NYSEMKT:EMA) suggested approval of this drug. When a pituitary tumor creates too much cortisol, Cushing's disease occurs, causing symptoms such as upper body obesity (above the waist) and thin arms and legs, Round, red, full face, and slow growth rate in children. When the final approval is issued, it will be good in 27 EU countries in addition to Norway and Iceland. This is also very good for the company's growth prospects as Signifor is expected to have strong revenues in Europe.
Currently in the Pipeline
Company's pipeline is currently focused on multiple areas. One of the largest of these areas is Cancer Treatment where Novartis has more than 20 ongoing trials. Anti-cancer drugs are expected to be the main drivers of growth at Novartis Pharmaceuticals Division in the foreseeable future. Novartis Institutes for BioMedical Research also has its own pipeline where the products are targeting repairing biological damage caused by diseases or aging itself. Alcon, a company purchased by Novartis recently, has its own diversified pipeline of eye care products. Sandoz, another company under Novartis, has a big pipeline of biosimiliars, which are upgrades or follow-up products of drugs whose patents already expired. The company also engages in generic drugs. The two other business units under Novartis with heavy research involvement are Consumer Health and Vaccines & Diagnostics.
One of the promising products for Novartis is Afinitor. This drug is designed for treating advanced stages of breast cancer and trials to tests its safety and effectiveness are still ongoing. So far the data looks promising, however it will be a while before final results are published. Everolimus is another version of Afinitor is also being tested for multiple diseases including liver cancer and kidney tumors with promising results. Herve Hoppenot, President of Novartis Oncology, announced that we are at a turning point in cancer research and soon treatment options for this disease will improve dramatically. The company realizes that "one size fits all" approach will not work in treatment of many serious diseases and that it needs to take an approach where individual differences and unique genetic factors to drug reaction are addressed. I believe that this should be very exciting for the company as it will open many doors for it. Cancer research is far from complete, the disease is far from manageable and there is a lot of room for improvement in this field.
Regenerative medicine also offers a lot of promising opportunities for growth for Novartis Institutes for BioMedical Research. In the last century, in every decade, human life expectancy increased by about 2 years. If regenerative medicine is successful, human life can be extended even further and faster. Novartis will surely benefit greatly from the developments surrounding stem cell research.
A Look at Financials
In Novartis Pharmaceuticals Division, recently produced drugs (defined as drugs being in the market since 2007) make up 28% of the total revenues in 2011. In Europe and Asia, this business unit continues to see double-digit revenue growth despite efforts to cut healthcare costs particularly in Europe. I find this as a very positive thing for the company, because it shows that the company's recent research efforts are paying off.
In 2011, Alcon posted revenue growth of 17% in Asia, 10% in Latin America and Canada. In other geographical locations, the business unit's revenues increased between 5% and 8%. The main driver of the growth was the company's surgical portfolio and contact lenses.
Sandoz saw strong growth in biosimilars and generic drugs. The growth was particularly strong in U.S. with a rate of 22%. The company has the top market share in injectable generic drugs in the world.
As a whole, Novartis had an impressive year in 2011. The company's revenues are up by 12% and its earnings are up by 16% compared to the year ago. The company also enjoys the highest free cash flow of its history with $12.5 billion. Of this money, 90% was distributed to stockholders in dividends and stock buybacks.
In the last 10 years, the company's average P/E ratio is 16.43. Similarly, the company's average P/E ratio is 13.42 in the last 5 years and 13.23 in the last 3 years. Currently the company enjoys a P/E ratio of 14.31, which is comparable to these averages. It looks like, Novartis has a pretty stable P/E ratio.
Word on Competition
Novartis has too many competitors to name them all. The biggest threat for Novartis comes from the generic drug industry as each year several of its drug patents expire. This pressures the company to ramp up its research and development in order to replace the drugs with expired patents with even better ones. There are a lot of small pharmaceutical companies that are trying to find the "next miracle drug," however; those companies with better results are likely to become takeover targets by those like Novartis.
Dividends
The company currently yields 4.54%. It's been raising its dividend payments for 15 years in a row. I like the fact that the company pays its dividends in Swiss Franc, which has been one of the strongest currencies in the world in the recent years. In 2011, the company's payout ratio was 63%.
Analyst Ratings
Of the 7 analysts covering the stock, 5 rate it as buy, 1 rates it as hold and 1 rates it as underperform. The average price target on the company is $62.25, which gives it an upside of 21% from its current price.
Conclusion
The field of medicine has seen tremendous advancements in the last few decades; however there is still plenty of room to grow. For example, many cancer types still have a lower survival rate than 50% despite all the advancements in the field. I believe that Novartis will see great opportunities in the future particularly with its investments towards cancer research. I personally think, this is where most of the growth will come for Novartis in the long term.
In the last 10 years share price of Novartis moved up from $39.45 to $54.42, an increase of 38%. During the same period, the company's EPS grew by 140%. its revenues grew by 213% and its book value grew by 169%.
I like the idea of getting dividends in Swiss Franc -even though the money will be converted to dollar prior to entering in your bank account- as this is one of the strongest currencies in the world. Another thing I like about the company is its habit of returning a significant portion of its earnings to shareholders in shape of dividends and stock buybacks. Also, the company spends a lot of money for research proven by the fact that it won 15 approvals in the last year alone. Its approvals in China and other developing countries will be particularly drivers of growth for this company.
Currently the company's stock price is down to $54.13 from its February high of $57.64 but this is partly because the company just distributed its yearly dividend. I definitely suggest Novartis to long term and dividend investors, particularly those who do not yet have exposure to a drug company in their portfolio.
Disclosure: I am long NVS.