Friday's employment report was more welcome good news. According to the Bureau of Labor Statistics, another 227,000 jobs were added to the U.S. economy during the month of February. This marked the 17th consecutive month of employment gains, with 2,812,000 jobs added to the economy over this time period. For the many people across the country that have been struggling to find work over the last few years, this improving trend continues to be a great development. Hopefully it continues.
The stock market has also been performing well in recent months. This is also good news for the many investors that are still working to recover the value of their portfolios lost from the outbreak of the financial crisis several years ago. Many are attributing the stock market rally to improving economic prospects, including the recently solid employment numbers.
After all, a strengthening economy that includes people returning to work is essential in supporting a sustainably rising stock market. But with the improving jobs picture in mind, it is reasonable to wonder - how much of the recent economic improvement has the stock market already priced in? Taking this one step further, is the stock market ahead of itself in pricing in the economic recovery we have seen thus far?
A look back at recent history is instructive in evaluating today's stock market. The following charts show the monthly change in Total Nonfarm Employment according to the Bureau of Labor Statistics during each of the past recessions over the last 40 years. Given that the stock market is widely regarded as a leading indicator for the economy, the charts begin tracking Total Nonfarm Employment at the stock market peak. They then track the progress in monthly payrolls through to three years after the stock market bottom.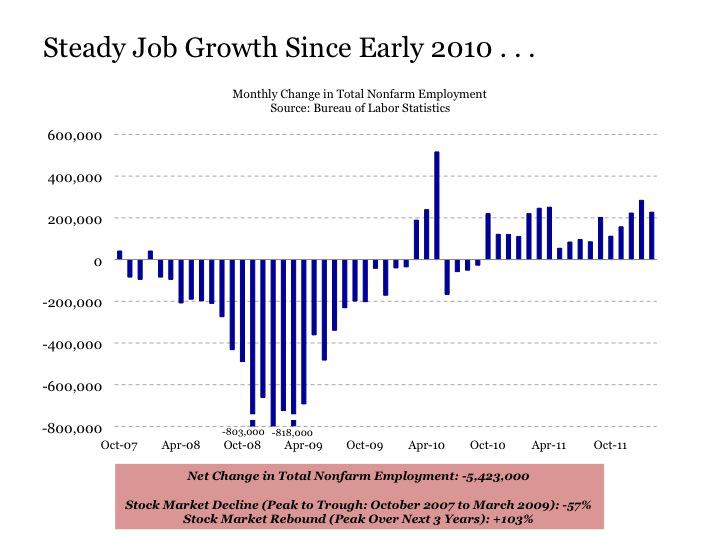 We have certainly seen steady job growth in the current environment since early 2010. But here is the problem: The job growth that we have seen thus far has been generally sluggish and has paled in comparison to what we have seen during past economic recoveries. Also, the magnitude of the job declines preceding the pick-up in employment growth was profoundly more severe this time around that what we have experienced in past recessions over the past 40 years. As a result, we are still running at a net loss of -5,423,000 jobs since the beginning of the current crisis.
Moreover, at this point in the recovery during past recessions, not only had all of the jobs lost been fully recovered, but the economy had gone on to add anywhere between 1,819,000 and 8,524,000 jobs by now. Thus, while recent signs of improvement are heartening, we have a great deal more work to do in fully recovering from the current episode.
What is problematic for the stock market is that it appears well ahead of itself in this context, relative to past episodes. Over the past three years, since the stock market bottom in March 2009, the stock market has rallied by +103%. This is vastly better than the three-year stock market performance during each of the past four recessions.
Thus, we are seeing the following disconnect in today's stock market. While the employment picture had more than fully recovered during past recessions, we are still running at a meaningful net negative in the current environment. Yet stocks today have materially outperformed the market in the first three years coming out of past recessions. Now perhaps this disconnect could be explained if we were in an environment where it appeared that we were on the cusp of a meaningful explosion in job growth. But with Europe falling into recession and still teetering on the brink of crisis along with recent concerns about an Asian growth slowdown, a major ramp from here in new hiring appears unlikely.
All of this implies that something else may be at work in driving stocks higher in the current environment. And for those that have read my past articles, aggressively stimulus monetary policy from global central banks may be the reason. But the problem with relying on monetary stimulus for stock price growth is that it is not sustainable.
At some point, this stimulus will stop. Moreover, this stimulus will eventually need to be removed. And what can be euphoric when it is being injected can be equally painful when its being withdrawn, particularly if the economy is not strong enough to fill the gap. Using the jobs numbers as just one measure, it is clear that the economy has a great deal of work to do yet in this regard.
In the meantime, it is very possible that we could see this disconnect between the jobs picture and the stock market widen even further. Thus, it remains worthwhile to maintain a dedicated allocation to stocks. But is equally important to be careful out there along the way. Although it may appear that things like employment are getting better in a meaningful way, the stock market may have already priced these improvements in and much more. And at some point, the tailwind of monetary stimulus will either lose its impact or eventually turn into a headwind once policy makers are forced to withdraw stimulus.
So for those investors that have enjoyed tremendous gains from highly cyclical names like Caterpillar (NYSE:CAT), Intel (NASDAQ:INTC) and Amazon.com (NASDAQ:AMZN) in recent years, it will remain worthwhile to keep a close watch on the prevailing economic and market risks to protect these gains. In some cases like Ford Motor (NYSE:F), these gains have already started to fade a bit. At a minimum, complementing these cyclical names with more defensive offerings that have trailed thus far during the recovery like JM Smuckers (NYSE:SJM), HJ Heinz (HNZ) and Bristol-Myers Squibb (NYSE:BMY) may also have merit.
Signs have already been developing since the previous market peak in May 2011 that such defensive names are gradually assuming long-term market leadership. And these same names have been trailing in the current year-to-date rally.
Friday's jobs numbers were a great development. And hopefully they continue in the months ahead. But be careful out there when translating these gains to the stock market, as it may already reflect such economic improvement, if not more so, already.
Disclosure: I am long SJM, HNZ, BMY.
Disclaimer: This post is for information purposes only. There are risks involved with investing including loss of principal. Gerring Wealth Management (GWM) makes no explicit or implicit guarantee with respect to performance or the outcome of any investment or projections made by GWM. There is no guarantee that the goals of the strategies discussed by GWM will be met.