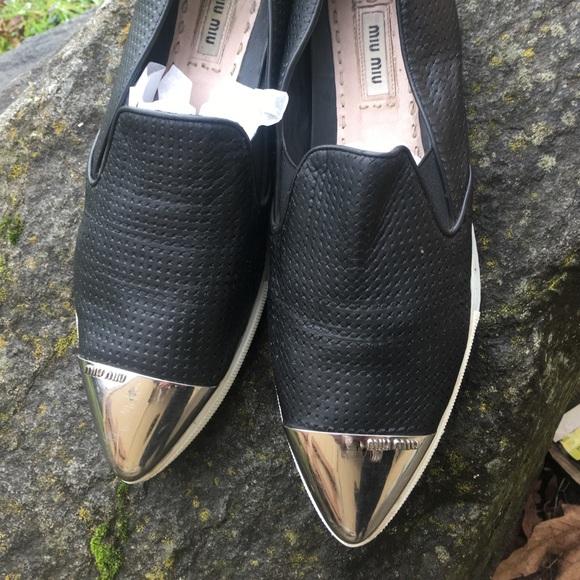 We continue to stay away from most primary silver miners. Find out why in this week's
Resource Sector Digest.
(Vol. 126 - March 11, 2019)
Brought to you by Itinerant and The Investment Doctor.
In case you missed out on previous editions of this newsletter, simply click here, here or here to catch up.
Setting The Scene
The Arcata silver mine in Southern Peru has been in production since 1964 claiming flagship asset status within Hochschild Mining's (OTCPK:HCHDF) portfolio of silver mines for many years. Back in 2009, Arcata generated more than twice as much revenue than any other producing assets under Hochschild's control. Fast forward ten years and silver prices are roughly where they were back in 2009; however, at this point in time, Arcata is no longer in a position to operate profitably. On February 13 Hochschild Mining (OTCPK:HCHDF) informed markets about the company's decision to place the mine on care and maintenance.
Undeservedly, this move has not attracted much attention among North-American investors, perhaps due to the company's primary listing on the London Stock Exchange. We say "undeservedly" because the trajectory of this mine can be viewed as a blueprint for the majority of primary silver mines, and understanding developments at Arcata also helps to understand the dire situation of most of the other primary silver mining companies left standing.
The blue bars in the chart below illustrate silver-equivalent production, dropping from a high of 11+M oz in 2009 to just 4M oz in 2018. Hochschild managed to keep cash costs near-constant from 2011 thru 2016; however, margins suffered during this period as the silver price dropped from its 2011 high to current levels. Costs finally spiraled higher in 2017 and 2018 as production declined and fixed costs took their toll.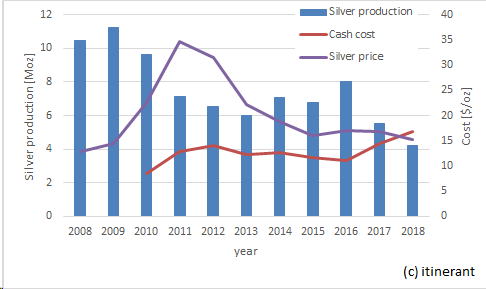 We juxtaposed cash cost margins (as in the difference between the purple and the red line in the chart above) with annual investments made at Arcata in the next chart below, and not surprisingly we note that capex spending has followed margins down from the respective peaks in 2011 and 2012 respectively.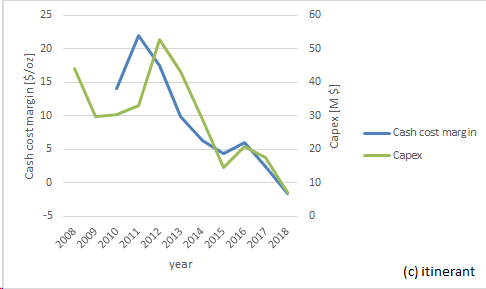 Mineral reserves increased in line with capex spent at the mine with tonnage peaking in 2013; however, silver reserve grades dropped from 541g/t in 2009 to just 312g/t within four years as a result of increasing cut-off grades.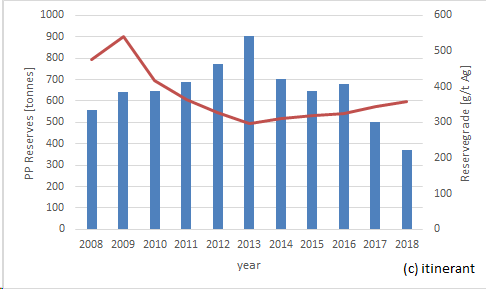 In fact, the cut-off grades almost doubled between 2009 and 2013. And while the silver price has presently dropped back to 2009 levels, the reserve cut-off grade still sits 60% higher than back in 2009. The blue bars in the chart below shows the realized silver price, and the red line indicates the NSR cut-off used for reserve calculations at Arcata. During the bull market the red line remained well below the tips of the blue bars, ensuring that ore mined at Arcata could be processed and sold at a profit. This situation flipped a couple years after the silver price peaked, and ever since 2013 the reserve cut-off proved overly optimistic when compared to the actual realized silver price.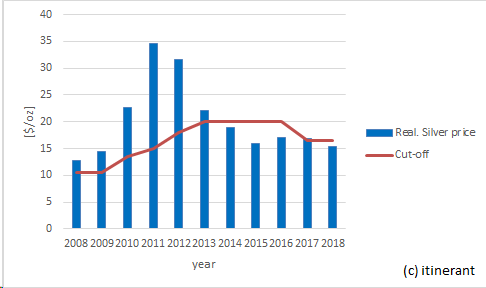 And now consider the chart below illustrating throughput and silver output at Arcata in the context of the data presented in the charts above. Throughput increased all the way up to 2013, but this increase was in-sufficient to compensate for declining head grades. Some balance could be achieved between 2014 and 2016 although from a financial point of view these ounces were already marginal. Lack of investments finally took its toll forcing silver output down to current levels which have no longer been sustainable in the past couple of years, eventually leading to the announced decision to put this mine on care and maintenance.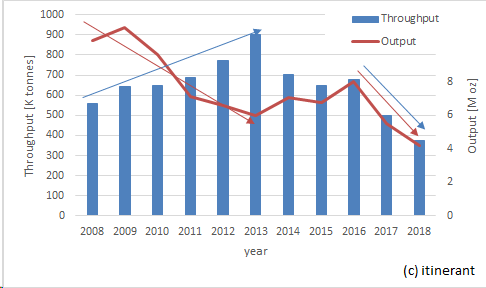 In our view these charts document two cardinal sins:
Firstly, overly optimistic projections during the bull market leading to mineral reserves of progressively lower quality;
and secondly, inertia (and probably complacency) as the bear market took hold and production could no longer be supported by the diluted reserve base.
Margins quickly disappeared in such a scenario and with it the capital necessary to re-set the operation. Arcata was a highly profitable mine in 2009 when it processed ore with a grade of 503g/t and sold its silver for $14.49/oz on average. However, it is no longer profitable in 2019 with silver prices around $15.50/oz but head grades down at 321g/t.
The case of the Arcata mine is by no means an isolated case. Quite to the contrary in fact, as similar trajectories can be observed throughout the portfolios of most primary silver miners (the Angry Geologist recently penned a post on First Majestic Silver (AG) worth reading in this context). If anything, Hochschild can be commended for finally reading the signs on the wall, and suspending operations at Arcata. Plenty of peers continue to operate silver mines that haven't produced profitably and sustainably for several years, cutting necessary capex and depleting their resources without generating any benefits for stakeholders.
But isn't this a good point in time to invest in beat-down silver miners? we get asked frequently, especially by those investors subscribing to a bullish outlook on the white metal. "We don't think so", is our usual answer as we believe that any cash flow from increasing silver prices will be gobbled up by dilapidated mines in dire need of sustaining capex. In the event of a silver rally we would anticipate costs rising in tandem with silver prices for most silver mines for quite some time to come, with little if any free cash flow left to reward long-suffering shareholders. And should a rising tide lift those leaky boats after all, then we expect silver miners to issue shares at the first opportunity, and dilute existing shareholders in short order. And in the event of continued sideways silver price action we see very little remaining downside protection for most remaining primary silver miners leading to a very un-favorable risk-reward ratio for most primary silver miners.
Actionable Ideas
The Investment Doctor likes Anglo American (OTCQX:AAUKF, OTCPK:AAUKY) for a mixed bag of copper, coal, and iron ore exposure. Teck Resources (TECK) is his other pick in this field, and the latter one gets the nod from both scribes behind this missive.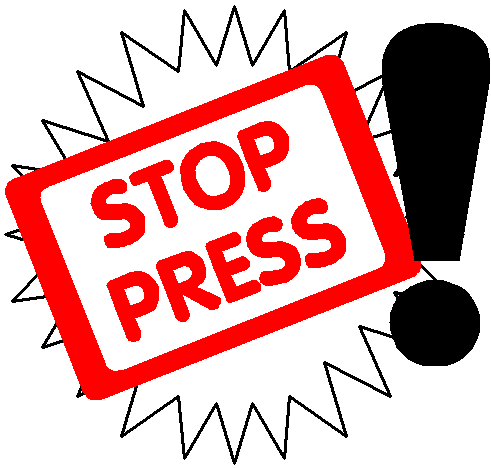 News Release of the Week
News release of the week goes to... and that's a call too tough to make, so we award equal honors to:
Yamana Gold (AUY), Goldcorp (GG), and Glencore (OTCPK:GLCNF) for finally coming to an agreement over the combination of Alumbrera and Agua Rica in Argentina. The combination of infrastructure at Alumbrera and the ore body at Agua Rica adds value on all sides, plus it provides optionality for Sandstorm Gold (SAND) which owns a 0.25% NSR on Agua Rica, and has the option to convert this royalty into a stream in due time.
Hudbay Minerals (HBM) has finally received the Section 404 Water Permit and has moved one snail's step closer towards getting the Rosemont project in Arizona permitted. Here is a link to an article we wrote more than 5 years ago explaining the permitting issues around this project. Wheaton Precious Metals (WPM) holds streams on several Hudbay assets, including Rosemont, and is probably the best way to benefit from this portfolio.
Drill Result Summary
Wheelings and Dealings
Great Panther Silver (GPL) has completed the acquisition of Beadell Resources, adding the Tucano Gold mine in Brazil to its portfolio. It will be interesting to see if Great Panther can suceed where Beadell has failed, and finally bring out the potential of this asset.
Lundin Gold (OTCPK:FTMNF) continues to receive strong capital market support for its Fruta del Norte project in Ecuador, judging from the closure of an over-subscribed C$46.6M placement. The company is on track to pour first gold later this year.
South32 (OTCPK:SOUHY) is increasing its footprint in North America by buying into Freegold Ventures' (OTCPK:FGOVF) Shorty project in Alaska.
Minera Alamos (OTCPK:MAIFF) has successfully closed a C$4.9M placement to support exploration and development activities at its Santana heap leach project in Mexico.
Wite Gold Corp (OTC:WHGOF) further expanded its already vast landholdings in the Yukon with the acquisition of the QV Gold project from Comstock Metals (OTCPK:CMMMF).
Other News
McEwen Mining (MUX) continues to encounter challenges at its Black Fox mine near Timmins, Ontario; and now also at its near-term producing Gold Bar project in Nevada. The company's distribution has been suspended as a result. The nature of the challenges was not specified other than "temporary" - which instills little confidence in this scribe.
Copper Mountain (OTCPK:CPPMF) is expanding operations at its BC namesake mine by adding a third ball mill, and developing an open pit at the Ingerbelle deposit. This expansion will come at a modest cost of just $48M and will add another 12 years to the mine life according to a technical report filed on SEDAR.
Guyana Goldfields (OTCPK:GUYFF) is the latest target of activist shareholders in the metals mining space. Former Executive Chairman Patrick Sheridan leading the charge in this latest case, and one can't help but suspect sour grapes here considering last year's un-ceremonious departure of Mr Sheridan. The latest news release by the activists claims that Guyana Goldfields management has mis-represented the status of its underground permit. The full missive can be read here.
Mr Gregory McCunn has returned to his CEO role at Asanko Gold (AKG) after a two year stint at Alio Gold (ALO). Mr Marc Bakkens was named as the new CEO at Alio Gold, a role he already filled on an interim basis a couple of years ago. Both companies have been struggling to keep up with peers battling various challenges.
At this point we bid our farewell, as always in great hope to see youse all again, awake and healthy for the next issue of this newsletter.
And Before We Go...
Please consider a free trial subscription to Itinerant's Musings.
In this service we offer
Exclusive access to our small and mid-cap ideas;
A lively community of like-minded investors;
Regular commentary and outlook on metal prices;
One-on-one contact with the author.
Plenty more.
We'd love to have you on board.
Disclosure: I am/we are long SAND, NEM. I wrote this article myself, and it expresses my own opinions. I am not receiving compensation for it (other than from Seeking Alpha). I have no business relationship with any company whose stock is mentioned in this article.