One of the discussion topics on Micro Cap Club, has been about the possibility of Mitek Systems (NASDAQ:MITK) acquiring Top Image Systems (NASDAQ:TISA). Both Mitek Systems and Top Image Systems have similar stories via a history of working with large banks and leveraging those relationships to market and launch mobile banking applications.
Mitek Systems was incorporated in 1986 and went public in the early 1990's. The company historically provided financial institutions with advanced imaging and analytics software to authenticate and extract data from checks and other documents. The company was an unknown until 2009 when smart phone camera technology made it possible for Mitek to develop mobile apps for the banking industry. Since then Mitek has rolled out a mobile banking suite which includes Mobile Deposit®, Mobile Photo Bill Pay™, Mobile ACH™ and Mobile Balance Transfer™. Mobile Deposit has quickly gained market penetration with 250 financial institutions, including eight of the top 10 banks, which have signed agreements to deploy Mobile Deposit.
The company markets and sells Mobile Deposit® primarily through sales partnerships with leading system integrators for the financial services industry including Fiserv, Inc., Fidelity National Information Services, Inc., NCR Corporation, Jack Henry & Associates, Inc., Wausau Financial Systems, Inc., BankServ, RDM Corporation, J&B Software Inc., Bluepoint Solutions, Inc., and others. Mitek apparently makes around $0.10 every time a check is deposited. Mobile Deposit is the largest revenue contributor to date but there seems to be hundreds of uses outside this one area. For example, in early February 2012, Mitek entered the insurance vertical by announcing a deal with Progressive to launch Mitek's Mobile Photo Quoting, Mobile Photo Payment, Mobile Photo Claims, and Mobile Photo Document Capture.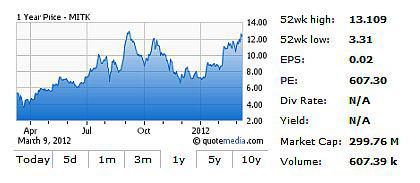 Mitek System's stock has gone on an incredible run from $0.50 - $13.00 over the last two years. Four analysts cover Mitek with an average price target of $15.33. With the stock near an all time high, it would make sense for the company to use its stock as currency to acquire strategic assets while also gaining an international footprint. Mitek Systems ($300 million market cap) should take a look at Top Image Systems ($34 million market cap).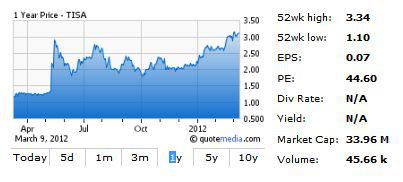 Top Image Systems (TISA), founded in 1991, is a leading enterprise content management solutions provider for automating banking, invoice, mail room, and other processes. The company has over 800 installations in over 40 countries. The company has a strong European and Asian presence and works with some of the largest financial institutions including Citibank (NYSE:C), Standard Chartered Bank (OTCPK:SCBFF), HML, and Deutsche Bank (NYSE:DB). Top Image is launching mobile banking apps into its end markets via MobiCHECK (Deposit), MobiPAY (billpay), and MobiCLOUD.
Top Image Systems is planning to leverage its relationships to launch its mobile banking app initiative in 2012. Not only does Top Image plan to launch its mobile banking apps internationally, but it plans to open a sales office in the U.S. to promote the mobile banking platform and compete with Mitek head to head. While Mitek holds a dominant position with Mobile Deposit here in the United States, it only has one Mobile Bill Pay customer (two others pilot testing), so this market is up for grabs. Piper Jaffray believes Mobile Bill Pay is not only a larger market ($350 million) but it is also a "catalyst" app for other applications.
Top Image Systems not only works with major banks but also some of the largest players in Energy, Transportation and Logistics (FedEx (NYSE:FDX), DHL, etc), as well as many government agencies. This established customer base outside of the banking sector could prove useful for more mobile applications.
Top Image System's reported impressive FY2011 results from its core business (pre mobile app roll out), while giving strong guidance for FY 2012. In 2011 revenues increased 32% to $28.7 million with EPS up 76% to $0.30. The company has $2.1 million in cash and no debt. TISA is currently trading at 10x TTM EPS.
There have been 66 recent M&A transactions in the space, including: IBM (NYSE:IBM) acquiring FileNet and Datacap, Open Text (OTXT) acquired Vignette, Kofax (OTC:KFAXF) acquired 170 systems, and HP (NYSE:HPQ) acquired Autonomy. The average multiples paid were: 3.6x trailing revenue, 20x trailing EBITDA, and 33.6x trailing net income.
When I first heard the Top Image Systems story a few months back, I thought it was a bad euro knock off version of Mitek. The more I followed the company the more impressed I became of its core business and how this core business was undervalued at its current valuation. A friend of mine posed the question about Mitek potentially acquiring Top Image for this core asset and its international presence.
Top Image hasn't deployed any mobile solutions to date, but if the company is successful in even getting one major client, I'm sure the marketplace would quickly revalue TISA shares much higher. With Mitek shares currently being valued at 100x the average analyst EPS estimates for FY 2012 and with a $100 million shelf registration sitting out there, an acquisition isn't too far fetched.
Top Image Systems Presentation
Disclosure: I have no positions in any stocks mentioned, and no plans to initiate any positions within the next 72 hours.