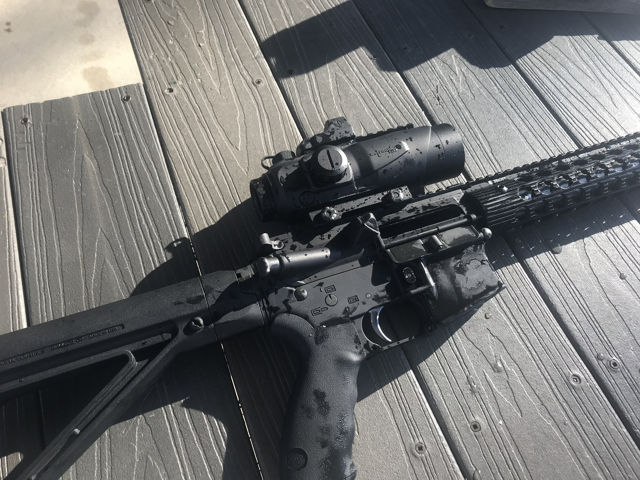 Source: Author's photo; custom AR-15 w/ Sightmark Wolfhound scope.
Over the last few years I have been blessed with building an audience around my investment interests and passions. One of those interests is the firearms and outdoors industry which has attracted a steady readership of industry executives, a number of whom I keep in regular contact with.
In the last 48 hours I have had a number of people reach out seeking my thoughts on the potential implications on the shooting sports industries in light of the terrible tragedy in New Zealand and the subsequent response of governments to push through restrictive gun control and Internet censorship measures.
As my readers and astute investors in the publicly traded companies such as American Outdoor Brands (AOBC), Ruger (RGR), Vista Outdoor (VSTO), Olin (OLN) and Sportsman's Warehouse (SPWH) know, the larger driver of sales and profitability over the last 20 years or so has been fear based buying.
As we know however from my NICS background check series, such fear induced sales spurts have gradually declined in strength over the last 6 to 8 years. Seemingly, firearms owners have either purchased everything they wanted or have frankly run out of money buying after every tragedy. The third option is that they don't believe that any major legislation is going to pass in the United States in the foreseeable future.
What's Different This Time?
Generally, terrorist and other tragic acts overseas have not translated into sales in the United States. What's different this time however is that the New Zealand government very quickly pushed new legislation to essentially ban all firearms ownership in the country.
Prime Minister Jacinda Ardern has immediately banned new sales of any semi-automatic firearm or shotgun that is capable of being used with a detachable magazine, which holds more than 5 rounds of ammunition. Furthermore, it also goes to include accessories that make firearms look more like "military style" weapons.
While this move effectively stops sales of new firearms, new legislation will soon be enacted to criminalize ownership, requiring existing gun owners to turn in their legally purchased firearms.
Domestically, Democratic front runners have quickly politicized this event to push for such restrictions in the United States and media personalities on the other side of the debate urged firearms owners to go out and purchase more.
We do have to keep in mind however that unlike in the United States, firearms ownership in New Zealand is not a Constitutionally guaranteed right.
Will It Have An Impact?
Ordinarily, I would not give this a second thought nor would I want to bring more attention to a tragedy. Unfortunately gun control advocates are quickly politicizing this event and firearms owners are taking note.
There are two ways I can see this show up in the sales and income of the publicly traded companies.
First, there is the potential increased demand from yet another panic induced environment.
Secondly, to some degree, the domestic firearms manufacturers would be impacted by the effective end of sales of firearms in New Zealand.
Let's deal with them one at a time.
Increased Demand
Over the last few days I was really unsure whether this would have any tangible impact on sales numbers. In order to get some concrete data I reached out to my two best sources of immediate feedback.
First, I put up a poll to the members of my firearms community with a simple question, "Are you likely to buy more firearms IN LIGHT of New Zealand Banning Semi-Autos?"
I gave 4 answer choices, 1. Yes, because of NZ, 2. Yes, because of NZ and NJ Changes, 3. Maybe, 4. No.
For those whom do not know, New Jersey is one of the most restrictive states for firearms ownership. Besides the federal background check, New Jersey has their own requirements including a fairly intrusive background check and numerous fees in order to purchase a firearms license and for each pistol.
The new Governor is looking to drastically increase those fees in order to help balance the budget. As such, many existing firearms owners and those on the fence are trying to get ahead of the price increases.
I further posted the poll on Facebook and on Reddit.
At the time of writing there were about 60 responses, enough to get a good idea.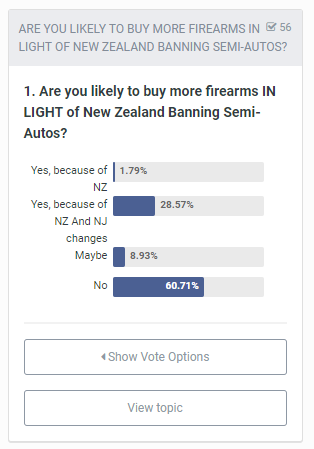 Source: New Jersey Gun Forums Poll
More than 60% of the respondents stated they were not planning nor likely to purchase any more firearms as a result of the renewed discussions.
Around 8% of the respondents were on the fence.
30% of the respondents were planning on purchasing more firearms but only 1 of those people was planning on purchasing primarily as a result of the New Zealand firearms ban and the fear of it happening in the United States.
The vast majority of the people who were planning on purchasing more firearms were doing so due to the impeding restrictions and price increases in New Jersey. To give you an example, instead of paying $2 per pistol permit, Governor Murphy wants to raise it to $50, on top of all the other fees currently paid. This can quickly add up and equates to 4 or 5 boxes of ammo, a group class or 2 to 3 days worth of range fees.
Not stopping there, I further reached out to the vendors in the community and other dealers I know around the region and asked them whether or not they had any customers coming in as a response to New Zealand, or whether it was even discussed in their shop at all.
Out of the five dealers who responded, not one has seen or heard any customers discussing the gun ban as a reason for their purchase.
One of the first to respond was Steven Blaier, owner of Monmouth Arms,
I have not seen any NZ inspired purchases. I do not expect to. There is no reason for American gun owners to fear NZ's ban… We are NOT NZ. We have a 2nd amendment which protects our rights. In my opinion there is no reason to buy anything as a result of the NZ shooting. If I said otherwise it would be a dis-service to my customers. I'm more concerned about elections than terror attacks in other countries.
This response was not limited to just gun stores but also came from a popular gun range, Tactical Training Center,
We haven't heard anything regarding potential purchases from our customers, yet.
Two firearms dealers I spoke with did note a slight increase in sales, but it was not attributed to New Zealand or renewed gun control talks. Both JT Custom Guns and Oakridge Firearms attributed it to the normal seasonality and tax time.
Tax return season is always a big driver of gun sales. I haven't had anyone specifically cite NZ as a reason for making a purchase. I think most people understand there is little chance of national gun laws in the US changing for the worse as long as the Republicans control the Senate and Trump is in the White House.
The feedback was of course not restricted to only New Jersey and a firearms dealer in a much less restrictive state has also failed to see any reaction buying or discussions and further offered an explanation.
I don't foresee any panic buying as a result of the NZ shooting. I get the feeling that gun guys are already filled to the brim with ARs and ammo as a result of past panics and recent cheap prices since Trump was elected. Newcomers are still amassing their share but those of us that have been in the game for a while have no need for more and/or no room. -Todd Moyer, Freedom Sports LLC
Bottom line, very few gun owners are rushing out to buy and even less if any have actually resulted in sales. This would be for both small single owner firearms dealers and ranges or larger firearms and outdoor chains such as Sportsman's Warehouse (SPWH), Cabelas, and others.
Export Ban
This brings the discussion to the second potential impact for the publicly traded firearms companies and that is the decreased sales as a result of no more imports of firearms into New Zealand.
From following both Ruger (RGR) and American Outdoor Brands (AOBC), we know that exports were a small fraction of their sales.
To get some more data, we can look at the ATF export reports for firearms. The latest one published right now is for 2017.
From the data we know that there were 3,691,010 pistols and 720,917 revolvers manufactured in 2017. Furthermore, there were 2,504,092 rifles and 653,139 shotguns produced in the same year.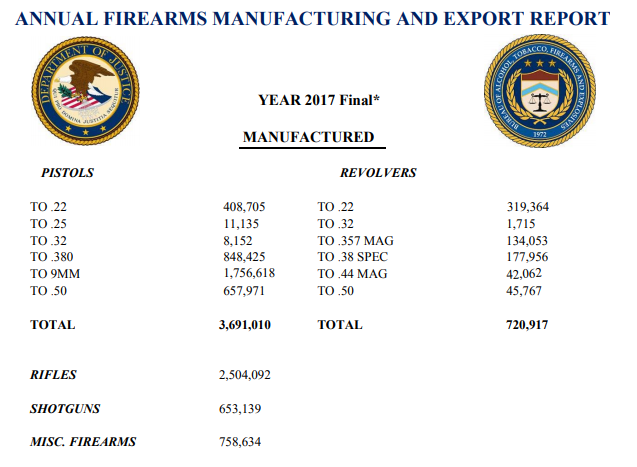 Source: ATF
From the same report we can see that there were only 275,424 pistols, 21,676 revolvers, 158,871 rifles, 29,997 shotguns and 2,332 misc firearms exported from the United States.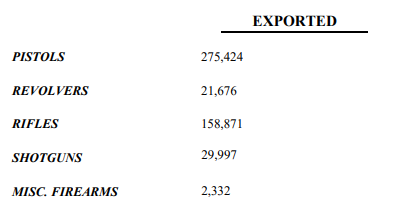 Source: ATF
This means that 7.4% of handguns, 3% of revolvers, 6.3% of rifles and 4.5% of shotguns produced in 2017 were exported. An even smaller percentage would likely be destined for New Zealand. Unfortunately the reports do not break down exports by country.
What the reports do break down however is who the major exporters were.
For handguns, Sig Sauer was the largest exporter accounting for 177,366 out of the 275,424 exported firearms. Including Glock's 47,861, the two companies accounted for 81% of all of the exported pistols in 2017.
American Outdoor Brands' Smith & Wesson exported around 22,440 and Ruger exported less than 10,000!
Smith & Wesson and Ruger did however account for the vast majority of the exported revolvers with 16,230 and 3,992 each, out of the 21,676 total revolvers exported.
With rifles, the major exporter was Remington with 62,319 rifles manufactured for export out of the 158,871 total. Here, Ruger was a bit more exposed with just under 40,000 rifles exported followed by Smith & Wesson's 11,835. Interestingly, even though Ruger was a big rifle exporter, I would guess most of those would be bolt action rifles which would not be banned by New Zealand based on currently proposed regulations.
Bottom Line
Bottom line, I think as things are developed right now, investors in publicly traded companies with firearms exposure do not need to worry or start updating their metrics or valuations. Both firearms owners and dealers surveys have largely written this tragedy off as an excuse to run out and purchase more firearms.
More than that, the overall impact on export sales for US small arms manufacturers should be minimal. The companies potentially feeling the largest impact would not be Ruger and American Outdoor Brands, but would be privately held Sig Sauer and Remington Outdoors.
The impact is a little less clear for Vista Outdoor (VSTO) and Olin (OLN) as I do not see any ammunition export data, however my belief is that there should also be minimal impacts.
For now, it is my belief that as things are, we will continue to see the year over year declines as the industry returns to "normal" until we get closer to elections and there is serious risk to President Trump not being reelected.
What will have an impact on that however are two factors we previously discussed, first, a broad consumer recession which should be net neutral to slightly positive for firearms sales. (If a recession hits before elections, lower chances for President Trump of being re-elected. Lower sales due to recession would be overshadowed by a Democratic President and the next cycle of "imminent gun control.")
The second potential factor would be the US Supreme Court solidifying the 2nd Amendment once and for all, by hearing the New York case dealing with transportation and potentially hearing the New Jersey case dealing with concealed carry and "justifiable need." This would further reduce fear induced buying and further fuel the return to normal.
So there we go. I thank you for reading and I hope this was helpful in your due diligence process. I look forward to your questions and continuing the discussion.
Disclosure: I/we have no positions in any stocks mentioned, and no plans to initiate any positions within the next 72 hours. I wrote this article myself, and it expresses my own opinions. I am not receiving compensation for it (other than from Seeking Alpha). I have no business relationship with any company whose stock is mentioned in this article.