Over the past several months, I have published numerous articles here about various master limited partnerships. This is an interesting business structure that many income investors like due to the high distribution yields and tax benefits, but they can be somewhat of a pain because many of them issue K-1 tax forms instead of 1099 forms like corporations do. In addition, master limited partnerships can be difficult to include in IRAs or other tax-advantaged accounts. There is, however, a way around this that also allows you to make an investment in the sector as a whole. That way is by purchasing shares of the ALPS Alerian MLP ETF (AMLP).
About The Fund
The ALPS Alerian MLP ETF is designed to track the price and yield performance of the Alerian MLP Infrastructure Index. This index is a capped, float-adjusted, capitalization-weighted index of energy infrastructure master limited partnerships. The companies that comprise the index are all involved in the midstream segment of the energy industry, which is the segment of the industry that transports and processes crude oil and natural gas. The majority of the companies in the index are pipeline companies, which comprise 71.91% of the total index. The overwhelming majority of the remaining companies process natural gas:

Source: ALPS Funds
Most of the companies in the index are likely going to be familiar to investors in the industry. Many of them will also be familiar to regular readers of my work, as I have discussed them individually in past articles. Here are the largest constituents of the index: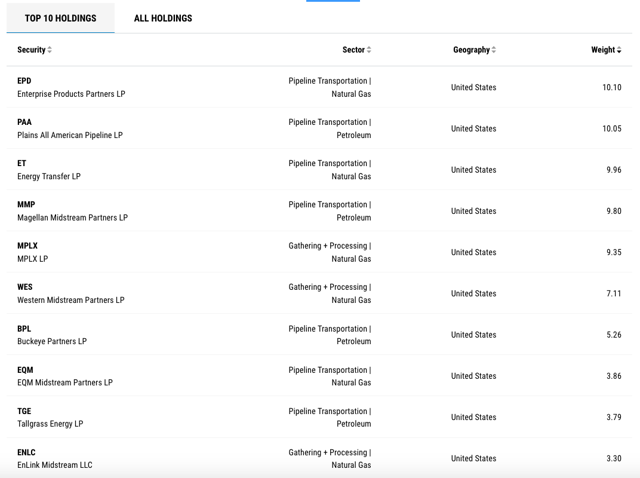 Source: ALPS Funds
As I have discussed numerous times in the past, I greatly dislike seeing any single position in a fund exceed 5% of the fund's total assets. This is because a 5% weighting is about the point at which that position begins to expose the portfolio to idiosyncratic risk. Idiosyncratic, or company-specific, risk is that risk that any asset has that is independent of the market as a whole. The concern here is that if some event happens that causes the stock price of a given heavily weighted asset to decline, then it will noticeably drag the portfolio down with it. This would not be the case with an asset that is not particularly heavily weighted. As we can see above, there are seven companies that have a weighting above 5%, so the portfolio is fairly heavily exposed to these companies.
One thing that is important to note here is that AMLP has a different structure than most exchange-traded funds. This is due to Federal regulations forbidding registered investment companies, which most funds are structured as, from having more than 25% of their assets invested into partnerships. In order to get around this, AMLP has opted to be structured as a C-corp, which have no such limitations on what they can invest in. However, this also exposes the fund to corporate taxes, which can cause it to lag the index somewhat. This also explains the fund's 0.85% expense ratio, which is very high for an ETF.
Why Invest In Midstream Companies?
As I stated earlier, a midstream company is one that is involved in the transportation and processing of oil, natural gas, and related products. The usual business model under which most of these companies operate is essentially charging a fee for each unit of oil or natural gas that they transport. Thus, if the amount of product that they transport goes up, so should both revenues and cash flows. This is what has been happening in recent years.
As we can see here, the amount of oil and natural gas produced in every major basin in the United States has increased year over year:

Source: Energy Information Administration
As a rule, none of the companies held by AMLP actually produce any resources. The way they benefit here is by transporting greater volumes of resources to the market to be sold. Thus, this production growth has stimulated growth in these companies. This is one reason why the fund has generated a 15.76% return over the past twelve months.
It looks likely that the growth that we have already seen will continue going forward, although the pace has slowed down from estimates made in the middle of 2018: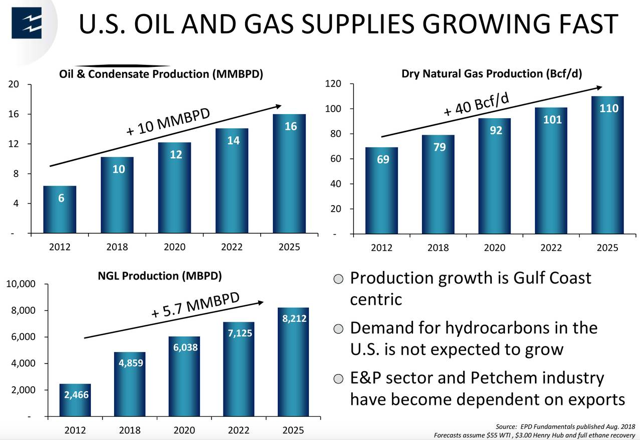 Source: Enterprise Products Partners
I discussed these trends in greater detail in a previous article. In short, though, the majority of the new production that comes on-line over the coming years is bound for export markets. This is because the demand for hydrocarbons, with the exception of natural gas, has been relatively static in the United States but demand overseas has been growing. The Energy Information Administration projects that the same will be true between now and 2050, with only renewables and natural gas seeing any consumption growth in the United States: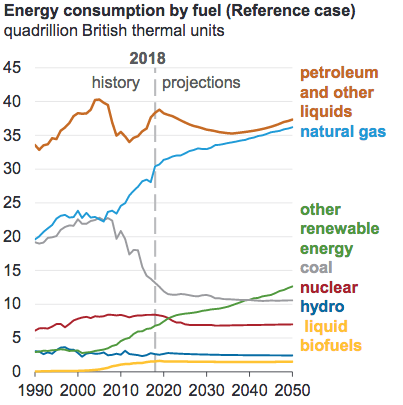 Source: Energy Information Administration
Midstream companies will benefit from this because they are the companies that operate the terminals that facilitate the export of energy resources as well as the pipelines that transport the resources to the terminals. As midstream companies' revenues are directly correlated to the volume of resources that they transport, this growing production bond for the export markets should boost the top line as well as the cash flows of these firms.
This growing production is also why many midstream companies have been building new pipelines and terminals. As all of this infrastructure has a finite capacity of resources that it can handle, if companies need to move more product, then more infrastructure is needed. This has been driving the growth that we have been seeing in the sector, and is likely to continue to do so.
Distributions
As I mentioned earlier, one of the major reasons why many investors purchase midstream master limited partnerships is the high distribution yields that they tend to possess. Indeed, most of these companies boast a distribution yield that is in the high single digits. As such, we might expect AMLP to boast a fairly high yield itself. This is the case as the fund boasts a 7.89% trailing distribution yield.
It is important to note, though, that the distribution tends to fluctuate over time. We can see this here: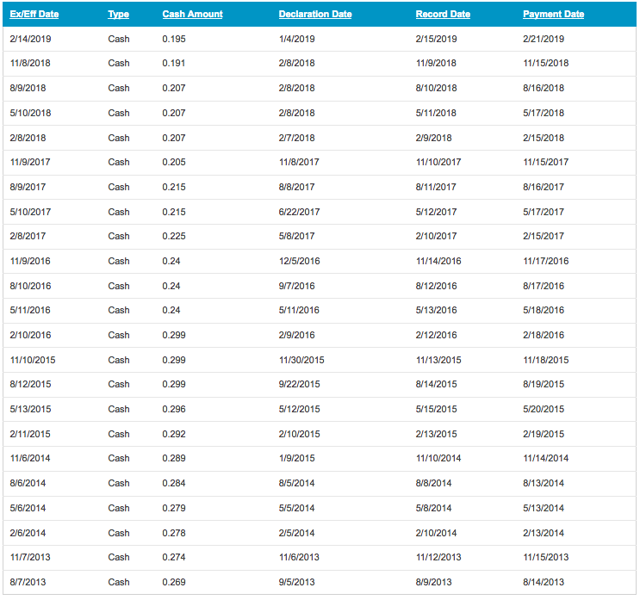 Source: Nasdaq
The reason for this is that the fund is an ETF, and so, sees the number of outstanding shares fluctuate continuously over time with investor interest. This is true even though AMLP is technically a C-corp, as the entity acts exactly like an ETF except when it comes to taxation. As the distributions are spread over a different number of outstanding shares prior to each ex-distribution date, they tend to vary somewhat. As such, the fund may not be ideal for those investors that required a fixed level of income, although the payouts do not usually vary by that much from quarter to quarter.
Conclusion
In conclusion, midstream master limited partnerships offer one of the more exciting opportunities for both growth and income in the American energy space today. As upstream companies grow their production, the higher throughput volumes should result in higher revenues, while the nature of the business provides some protection against commodity price fluctuations. Many of these companies are expanding their infrastructure to take advantage of this growth potential. The ALPS Alerian MLP ETF offers investors a way to profit off of this general thesis without making a bet on any single company. As such, an investor today may want to consider the fund for their portfolio.
At Energy Profits in Dividends, we seek to generate a 7%+ income yield by investing in a portfolio of energy stocks while minimizing our risk of principal loss. By subscribing, you will get access to our best ideas earlier than they are released to the general public (and many of them are not released at all) as well as far more in-depth research than we make available to everybody. We are currently offering a two-week free trial for the service, so check us out!
Disclosure: I/we have no positions in any stocks mentioned, and no plans to initiate any positions within the next 72 hours. I wrote this article myself, and it expresses my own opinions. I am not receiving compensation for it (other than from Seeking Alpha). I have no business relationship with any company whose stock is mentioned in this article.