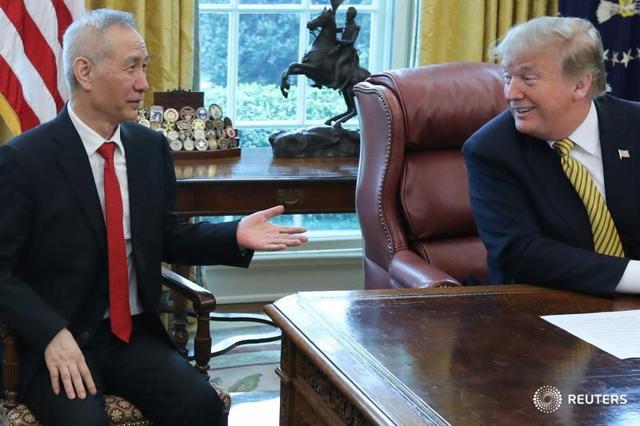 Photo Source: REUTERS/Jonathan Ernst. U.S. President Donald Trump meets with China's Vice Premier Liu He in the Oval Office of the White House in Washington, U.S., April 4, 2019.
For the first month in three, investors were net redeemers of mutual fund assets, withdrawing $7.4 billion from the conventional funds business (excluding ETFs, which are reviewed in the section below) for March. Investors remained cautiously optimistic the trade talks between the U.S. and China were progressing, but they were taken aback early in the month by a disappointing February nonfarm payrolls report. For the second consecutive month, stock & mixed-asset funds witnessed net outflows (-$27.2 billion). With the Treasury yield curve shifting down for March, the fixed income funds macro-group witnessed net inflows for the third month in a row, taking in $30.4 billion. And for the first month in six, money market funds (-$10.6 billion) witnessed net outflows.
For the second month in a row, ETFs overall witnessed net inflows, taking in $26.8 billion for March. Authorized participants (APs, those investors who actually create and redeem ETF shares) were net purchasers of stock & mixed-asset ETFs, adding $18.2 billion to equity ETF coffers. And for the fifth consecutive month, they were net purchasers of bond ETFs—injecting $8.7 billion for March. APs were net sellers of two of the five equity-based ETF macro-classifications—Sector Equity ETFs (-$2.0 billion) and Mixed-Asset ETFs (-$3 million)—while being net purchasers of USDE ETFs (+$18.5 billion), World Equity ETFs (+$966 million), and Alternatives ETFs (+$682 million). In this segment, I highlight the March fund-flows results for both types of investment vehicles.
Disclosure: I/we have no positions in any stocks mentioned, and no plans to initiate any positions within the next 72 hours.