Investment Thesis
MarineMax Inc (HZO) is the largest recreational boat and yacht retailer in the USA. It is currently trading at a P/E ratio of 9.23, which we feel makes the company a value pick. We see upside of around 34% upside from current levels. The firm has faced short term headwinds such as bad weather conditions, as well as the loss of a key product Sea Ray. It has replaced Sea Ray successfully, but this has led to short term marketing expenses. In the medium/long term these problems won't exist and the company continues to grow. The boat dealer is forecast to expand earnings 30% annually over the next 5 years. At current prices, Wall Street is pricing the firm as if there is no future growth.
Asymmetry
Weather
HZO is reliant on good weather for its boating sales. Droughts are just as bad for the business as excessive rain. In the last quarter the firm has faced bottom line pressure due to bad weather in the markets that it operates in. This contributed to the firm missing its Q1 2019 earnings estimates by $0.08 to make a total of $0.23. This also contributed to the downward revision for the full year to $1.75 - $1.85. We believe, however, that this was a one-off event, in typically one of the worst quarters for the business. We don't see these weather conditions as reflective on the company in the medium/long term. We therefore see this event as more of an opportunity for a patient value investor. This is a good time to start a position. It is worth noting that the firm has insurance against bad weather, although there's no assurance it replaces the lost revenue fully.
Sea Ray
The lower earnings and year guidance were also due to Sea Ray being discontinued by their manufacturer Brunswick recently. This has meant that HZO has had to find replacements for that previous revenue, which made up 10% of their revenue. This could have been a nightmare for the company, but the company did a good job at replacing that revenue with new brands - Azimut and Galeon. The flip side to this, though, is that marketing costs and training costs were up in the short term. Selling, general and administrative expenses were up $64 million. Again, just like the weather, we see these costs as one-off costs. They contributed to earnings pressure in the short term, but won't be a problem in the medium term although this recent pressure highlights the over-reliance that HZO has on its manufactures for its bottom line.
Acquisitions
The company is constantly looking at acquisitions to grow. The firm is constantly looking for great dealers and strategic real estate such as marinas to acquire. The firm went from revenue of $291 million in 2007/2008 to around $1.2 billion today. Acquisitions and new store openings played a big part of this. The boating industry itself has stayed stagnant going from $39.5 billion in 2006 to $39 billion in 2017. This highlights how HZO has grown from increasing market share against competitors, but as a long-term investment it would have been more attractive to see an industry growing overall. Acquisitions have led to the company to being able to offer new product offerings as well as expand total revenue per customer. Net income has been up YoY in 7 out of the 9 years.
The firm recently acquired 'Sail & Ski Centre' in the growing market of Austin and 'San Antonio' in Texas. It is good for us to see the company grow from acquisitions, and this is a strategy that we believe will lead to increased EPS growth moving forward.
The company has a huge reliance on Florida where 51% of its revenue is derived from. We believe that HZO would be a more attractive investment if there was more geographical diversification. The company has not stated any plans to achieve this.
Backlog & Premium Demand
The company has a strong backlog of orders, which we believe will be positive for revenue and earnings moving forward. The busiest two quarters for the company are still coming. We also believe that because of less demand in the winter months, there will be pent up demand moving forward, which could see the company exceed the new conservative earnings expectations.
The company saw total sales decrease year on year, but a positive was that the more premium, higher margin expensive boats have been selling faster than the lower priced boats. This will continue to contribute to revenue and the bottom line moving forward. There has been continued growth from higher margin businesses as well, including finance, insurance, service and parts, storage and charter operations. This should ensure margins continue to grow moving forward.
Valuation
P/E Ratio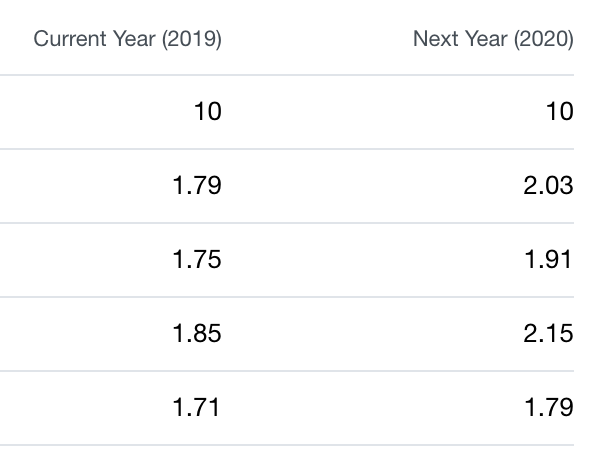 Above is a table showing EPS estimates for 2019 and 2020
Based on the updated downward earnings revision by the company of $1.75 - $1.85 EPS in 2019, taking the midpoint, the firm is trading at a P/E ratio of 9.23. The firm is a value play, if you look at the discount it's trading at to the overall market, its industry and its historical P/E.
The average industry P/E ratio is currently 19.95 and HZO has traded at an average P/E of 20.69 over the last 10 years. The current P/E ratio is at around the lowest that the firm has traded at over the past 10 years.
In 2020, the EPS is expected to be 2.03, which gives the company an even more attractive forward ratio of 8.2. At current levels, it doesn't seem like the market is paying any attention to the future growth of the company. The firm is trading as if future growth will be flat or negative, which limits the downside going forward.
Technical Analysis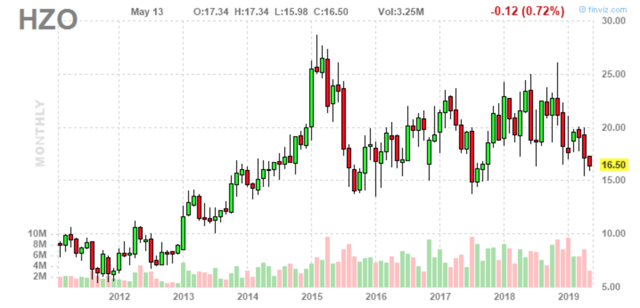 Now we will look at HZO from a technical analysis perspective, to support our fundamental analysis. The firm has continued to hit a low of $14 over the past 5 years and bounce from that level. This is a technical analysis pattern known as a 'multiple bottom.' The firm has huge support around this level and it's highly unlikely that the firm will fall below this level. That represents around 14% downside from current levels. On the other hand, the firm has continued to reach $22.5 - $23 from this bottom level. That represents around 35% upside from these levels.
Overall Valuation
Based on both technical and fundamental analysis we have a price target of $22.33 for HZO. This represents 34% upside from current levels over the next year. Fundamentally, this is a conservative estimate based on the firm trading at a P/E of 11 on an average 2020 EPS estimate of 2.03. This also supports the technical analysis chart where the firm has constantly topped out around this price over the past few years. The sell side professionals seem to agree with me, with an average price target $21.38. This is with a highly bullish consensus of 7 buys and 2 outperform ratings for HZO.
Risks
High Competition
HZO operates in a highly competitive industry. Although it has continued to grow market share over the past 9 years, it operates in a highly-fragmented industry. It is also reliant on continued marketing in the form of boat shows for sales. If they are unable to appear at boat shows for some reason, then this could harm their earnings. We believe that HZO is well positioned though, due to their leading position in the industry, quality customer service and high brand recognition.
Florida
As stated earlier the firm is very reliant on Florida for its revenues, with 51% of revenue in 2018 being generated from the area. This lack of diversification is a problem if there is a hurricane, storm or any environmental problems in the area. This was seen with Hurricane Irma in 2017 and this caused revenue to be affected. We would see HZO as a safer investment if this revenue was more diversified.
Economic Conditions
HZO's industry relies on solid economic conditions. The boating industry is funded by discretionary spending, which is the first to go when the economy goes bad. This would cause the projected growth in earnings to not materialize. With the economy doing well for 10 years, a recession is inevitable soon, which is a potential downside for the stock. However, we don't see much downside with the firm trading at such a big discount in comparison to its earnings.
Manufacturer Reliance
HZO is highly reliant on its manufactures. The manufacturer Brunswick for example makes up 40% of their revenue. As highlighted with the reliance on Florida, the firm seems overly reliant on external factors. Brunswick made Sea Ray, which they discontinued. This led the firm to spend extra in the short term to find replacement revenue. Although it did this successfully, there was a risk that they wouldn't have been able to properly replace this revenue, which at the time made up 10%.
HZO also enters into dealer agreements with boat manufacturers. It has to obtain certain customer satisfaction, market share goals, alongside other conditions. If it doesn't then it could lead to the loss of a dealer agreement, limits on inventory, additional conditions on subsequent dealer agreements or the loss of exclusive rights in a territory. This again highlights the reliance that HZO has on the manufacturer. If it was to lose Brunswick, which makes up 40% of its revenue, it would be a disaster for the company - although we don't feel that would happen because it would be a huge loss for Brunswick as well. Therefore when you look at the fact that both companies need each other, the risk is not as high as it seems. Although if Brunswick went bankrupt, HZO would be in trouble.
Conclusion
We believe that HZO would be a better investment if it was more diversified. However, at its current share price and valuation, there is limited downside and a lot of upside potential. This view is shared by the sell side. HZO has faced short term pressure in the form of marketing expenses and bad weather. These headwinds will not be a problem in the medium term. Any value investor should take a serious look at this company. It is interesting at its current P/E, although it does lack a serious economic moat. Investors are not properly taking into account the future growth of the company however. We believe that the company potentially has 34% upside over the next year.
Disclosure: I/we have no positions in any stocks mentioned, and no plans to initiate any positions within the next 72 hours. I wrote this article myself, and it expresses my own opinions. I am not receiving compensation for it (other than from Seeking Alpha). I have no business relationship with any company whose stock is mentioned in this article.