Trade War panic has once again hit many commodities with grains and soft commodities (especially cotton, soybeans) taking it on the chin. The on again, off again Trade War discussions with China have created incredible volatility in commodity prices for more than a year. Some news and consulting services that continue to spread optimism in grain prices and many other commodities about having a potential bull market have not been looking at market psychology nor fundamentals such as weather and the glut of many commodities for the past year! However, a weakening El Nino and more Midwest flooding could play an important role in lowering corn production in the weeks ahead. What does a weakened El Nino suggest? Find out here
Many bearish fundamentals in grains but big short position and Midwest flooding to put a floor in corn prices
Take soybeans (NYSEARCA:SOYB), for example. I have been bearish this market for close to a year due strictly on a great South American crop, potential U.S. stocks reaching close to 1 billion bushels by this fall and flooding Midwest rains this spring that will likely mean more acres going from corn (CORN) to soybeans. I mentioned in my last Seeking Alpha report, the "potential" corn prices could bottom in the coming weeks as the potential exists for some major planting delays similar to 1993. Back then, corn prices soared more than 50% during May and June. However, this season, huge global stocks not seen since 1988 will make it very difficult for corn prices to rally above $4.00-$4.20 unless there is summer weather problems. Soybeans on the other hand will trend to $7.00-$7.50 unless one of three things occur-- A legitimate Trade War Agreement, June flooding to Midwest soybean crops or a major summer drought. Just how bad is the Midwest flooding currently? Check out this article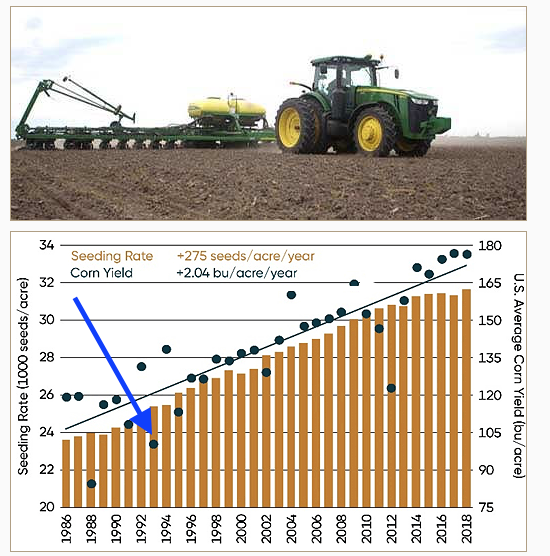 The table above shows U.S. corn yields since 1986. Notice why there has been a glut in grains the last few years! Corn yields have been above trend-line for 5 consecutive years. This has never happened before. Hence, history would suggest that cool, wet Midwest weather will lower corn yields this spring and summer and potentially put a floor on prices. However, the huge glut in global supplies and Trade War concerns may make it difficult to get a major bull market, like 1993. Crop damage during the spring of 1993 reached over $30 billion in today's dollar terms.
Some companies such as NYSE:ADM could see their 2nd/3rd quarter profits derailed by the Midwest Flooding. Cargill grain facilities along the Mississippi and Illinois Rivers have initiated flood mitigation plans and have suspended operations in some areas as river levels impact loading of barges.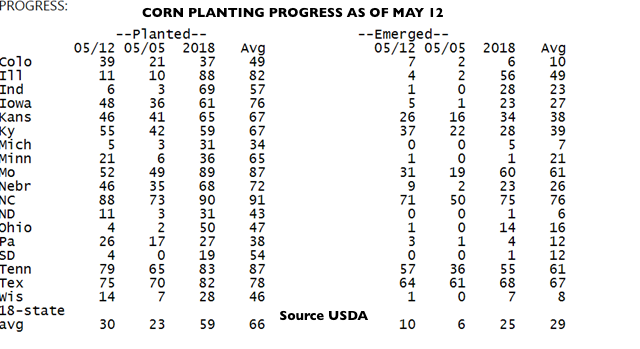 Notice the slow planting pace in the corn belt, which I began forecasting a month ago. This is the main reason that corn prices bounced off their lows on Monday and Tuesday. If germination continues to lag the 10 year average, then December corn prices will have a chance to reach $4.00-$4.20 or so in coming weeks, even in the face of huge global supplies. Being long corn and short beans over the last few weeks has been the way to play the grain market, though it is a bit late to get into this spread now.
While El Nino is only weak, the positive QBO index could continue to cause Midwest planting delays for corn well into late May and possibly early June. A good definition of the QBO is here.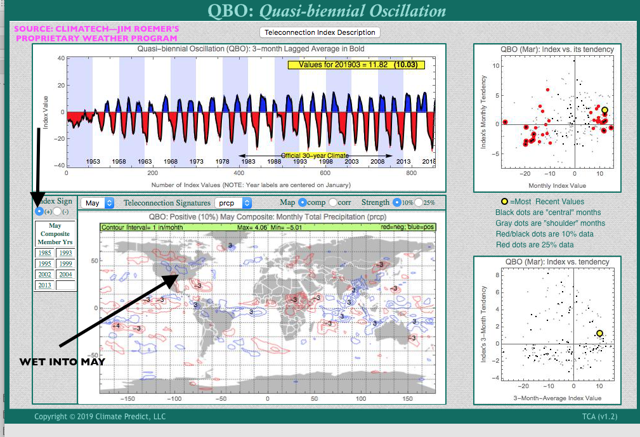 My in house long range weather forecast program CLIMATECH continues to show (blue--wet) over the Midwestern corn belt. This will delay corn planting further. Also notice the (red-dry) over parts of Russian wheat areas.
Is there any hope for a rally in coffee prices on Cold Brazil Weather?
Coffee (JO) is another market I have been bearish in for months. El Nino did NOT bring about crop problems to the Brazilian nor Vietnamese crops the last few months. Here again, there are some advisers who keep trying to say that "prices" are too cheap and a big short position makes the market vulnerable to a major rally and making sensationalist statements about crop problems a few months ago! But they have not been looking at the big picture of a lower Brazilian Real, which makes coffee cheaper in U.S. dollar terms. Also, expanded planted acreage in Brazil and improved weather since December has created a glut in this market.
Coffee sometimes rallies in May ahead of the Brazil coffee freeze season. However, since the last freeze of 1994, coffee trees have been planted further north and global warming has meant that there has only been two major frost scares since 2001.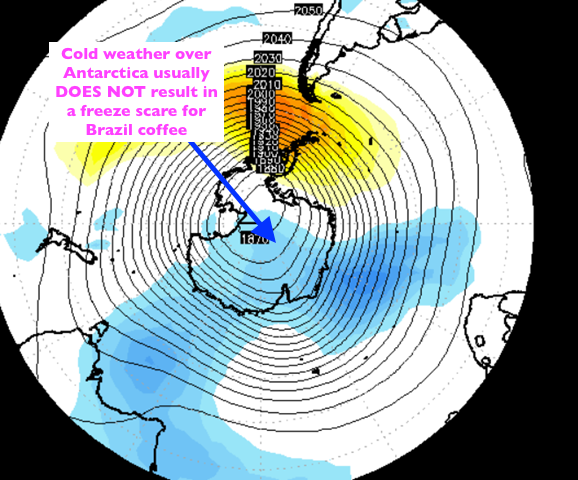 SOURCE: WSI
The map above shows the departure of normal temperature trends over Brazil and Antarctica, aloft, at about 65,000 feet. Ahead of most freeze scares in Brazil since 1950, we usually have to see warming over the South Pole. This in turn could push cold air further north into the heart of Brazil coffee. Right now, I do not have a new high confidence trade in coffee. I think the market is oversold.
The only other hope for this market would be a wet May-July period that could damage the coffee beans ahead of and during the harvest. Some big time rains are headed for Brazil coffee this week and it is possible some talk of minor crop damage could surface. So, again, being too bearish coffee at these cheap levels is probably a mistake.
The bottom line is, that many commodities are grossly oversold, and a weakening El Nino and wet U.S. weather could set a floor in some grain prices. Spring wheat (WEAT) in the northern Plains could also be adversely affected by more flooding. The back and forth Trade War nonsense makes it difficult to foster a longer term view in many markets. However, I continue to feel that corn prices will be supported on breaks and various spread plays against wheat, soybeans, etc. could continue to work. If the 1993 scenario continues to unfold, this may also be something to watch for the cocoa market and dry weather in West Africa a bit later. In addition, the soybean market would become more concerned about planting delays, deeper in the spring.
I am considering doing a paid version of a weekly newsletter on Market Place for Seeking Alpha for about $650/year. If I become bullish this market, subscribers would be notified. If any of you are interested in a paid version offering more weather, climate, hurricane updates, market impacts and a few trade ideas from time to time, I would be happy to hear your comments.
Regards, Jim Roemer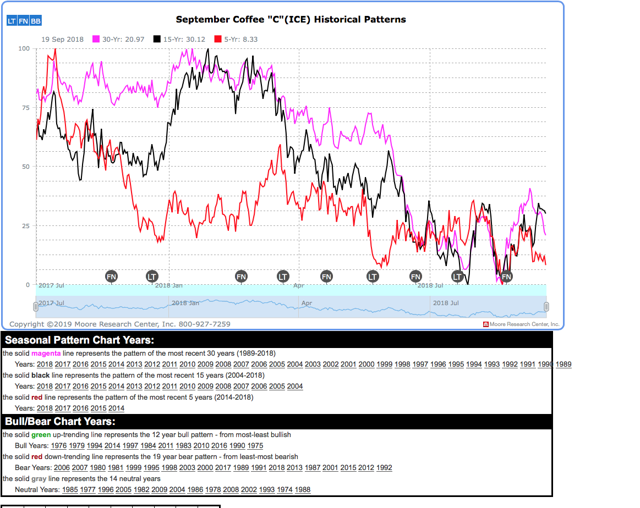 Disclosure: I/we have no positions in any stocks mentioned, but may initiate a long position in CORN over the next 72 hours. I wrote this article myself, and it expresses my own opinions. I am not receiving compensation for it (other than from Seeking Alpha). I have no business relationship with any company whose stock is mentioned in this article.
Additional disclosure: Please add symbol ticker for soybeans and ADM stock, Thank you