Duos Technologies (OTCQB:DUOT) designs, develops and implements advanced intelligent turnkey technology solutions combining sensors, data analytics and enterprise information management, predominantly for the U.S. government and Fortune 500 companies. The company focus is on mission-critical security, inspection and operations, predominantly in rail transportation, retail distribution, critical infrastructure security, and law enforcement sectors.
Driving the train
Duostech won its first multimillion-dollar contract in 2018 to provide four of its railcar inspection portals (RIP) to Canadian National Railway Company (CNI). CNI bought three more units late in 2018 and is expected to purchase additional units later this year. RIP provides detailed real-time imaging at 360-degree angles at speeds of up to 70 miles per hour. Other products that Duostech offers to the railroad freight industry include vehicle undercarriage examiners and speed sensors accurate to within 0.1 of a mile.
The Federal Railroad Administration - FRA - requires inspection of railcars as they enter the rail yard. Inspection is done by humans and can take as long as four hours. RIP offers quicker and more efficient inspection.
According to Duos's investor presentation, there are currently 1.6 million freight cars, 26,500 locomotives, over 500 rail yards and over 500 regional and local railroads in North America. Duos management estimates that their addressable market within the freight train industry is at least $29 billion dollars and rising (Source).
The Association of American Railroads - AAR - has a history of being slow to adopt technology but it seems like the current administration at AAR is keen on adopting technological advances for the railroad industry. At the AAR sponsored second annual RailxTech event, held earlier this month, AAR CEO Ian said:
Through data and a connected network, operators can identify problems before they occur to improve the safety and efficiency of the rail system."
Among the presenters at the event was CN demonstrating the Duos RIP:
Canadian National: CN offered an exploration of their new cutting-edge automated inspection technology portals, which use advanced digital imagery and machine learning to inspect trains in real time — as they travel at full speed — and identify rail cars that need repair.
Statistics prove that technology saves lives. Another motivation for the railroad industry is that safety improves profits.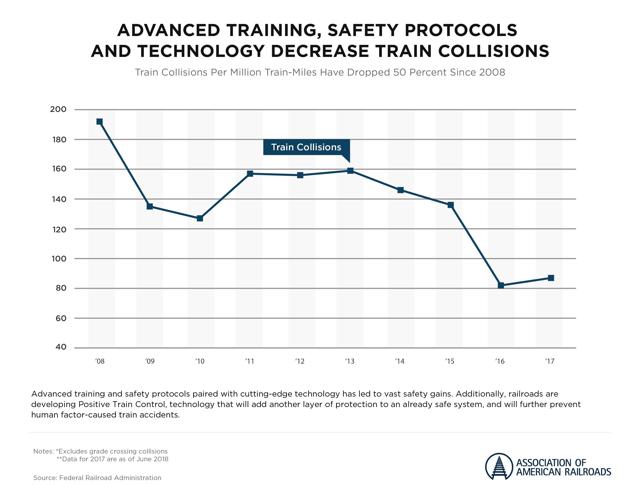 Two of the RIP systems bought by CN are being used in U.S. yards in Tennessee. It is anticipated that with AAR support of automated inspection that DUOS can monetize on an untapped U.S. market. In the 2018 Q4 earnings call, CEO Gianni Arcaini said:
We have just initiated conversations with the FRA. Just to remind everybody, the Holy Grail for the rail industry is eventually to get the FRA to buy into a shift in the rule making, whereby our automated process will be an acceptable alternative to current practices.
Wait, Wait... There's more!
Management focused 2017 on product development through large scale increase in R&D spending and began rolling out new products in 2018 with their automated railcar inspection offerings. Duos recently introduced truevue360, marketing artificial intelligence and deep learning software that is designed to provide solutions across a broad range of industries.
More immediately, truevue360 will be added to the company's existing intelligent technologies centraco® and praesidium®, which are the underlying software platforms for their automated railcar solutions. centraco is the front end, software that processes data analytics and pattern recognition information to find the best solution. praesidium software combines almost unlimited data sources with video management.
Duos charges maintenance and licensing fees for its software once their automated railcar solutions have been installed. Previously the company has contracted for software services that truevue360 will now provide, further enhancing their ability to grow recurring revenue. Revenue from truevue360 should begin kicking in during the 2019 2Q.
Earlier this year, Duos completed its first commercial application of dcVue, a software application that uses barcode technology to accurately identify IT assets and their physical locations within a data center for inventory and audit purposes.
Just last week, Duos launched its next generation automated pantograph system, aos3D with enhanced image and software capabilities that consistently produce accurate results above 99% of the time. The system will be available to ship in the third quarter this year and the company hopes will expedite acceptance of automated railcar inspection.
Brief history
The company combined with Information Systems Associates in 2015 through a reverse merger. ISA was focused on providing software solutions to large data centers and fits nicely with Duos's strategy of providing sophisticated technology and turnkey engineered systems. The new company has had only one quarter of positive earnings, the third quarter of 2018, mostly because it has invested heavily in developing new products.
The company made its mark through its work with Homeland Security. Its systems are employed at every railroad crossing on the U.S. southern border as well as implemented for various other uses such as undercarriage bomb detection. It now boasts a wide assortment of Fortune 500 companies as its customers as displayed on their investor presentation.
Got to look at the technical picture
Nice upward trend riding on its 50-day MA.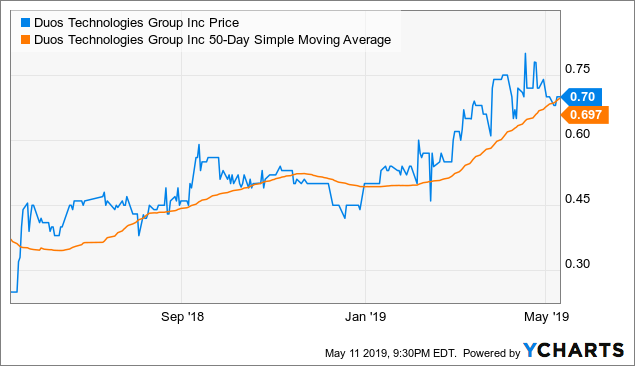 Show me the money
The company reported $12 million in total revenue in fiscal 2018 compared to $3.8 million in the prior year, a 212% increase. Gross profit increased 227% to $5.2 million from $1.6 million for the same period. The company expects to report revenue in the $14-$15 million range for this fiscal year, which would be a 16% to 25% improvement based on backlog and contracts already received. The main driver has been their railcar inspection systems but they have other kickers that they have specifically not included in their forward guidance. These people aren't hyping, and don't need to as they are addressing a huge unpenetrated market opportunity. They are certain to win additional contracts and have been establishing their ability to win million and multimillion-dollar contracts.
I could add wait, wait there's even more but I also don't want to hype. The company has been undergoing pilot programs in New York City for tunnel security and it has various new product development contract grants, including such sources as U.S. Homeland Security.
Risks
Duotech competes with the giants in the software analytic universe and there is more demand than supply of software and technical personnel. The CEO mentioned in the conference call that they recently completed practically doubling their staff. Going into the future, as the company continues to expand it will have to continue to be able to attract and retain software and technical personnel.
As with any new technology, there is the risk that it will not receive market acceptance or that a competitor will have a better product. I did not find another publicly traded company that offers automated railcar inspection systems although competition could come from larger companies as Nice Systems (NICE) or Verint (VRNT). The company reported that it only had about $1 million in cash at the end of the year. Total costs for 2018 to run the company were about $700K. The company has almost no debt. If the company does not turn profitable this year, dilutive action such as issuing more shares would have to be undertaken.
Conclusion
Duostech has established its ability to develop and innovate new technologies through its 12 patents and its predominantly Fortune 500 and U.S. government customer base. It has established a foothold on a new market opportunity in automated railcar inspection and has introduced various new products as well. Should Duostech become successful in the U.S., there is further expansion possibilities in the international arena.
Lately, my focus has been on companies that have recently uplisted to a major exchange. Duos management has been aiming at uplisting since the reverse merger. There's still work to be done to achieve that milestone but the recent developments make the possibility of uplisting in the not too distant future a very realistic possibility.
I think that the company will become profitable this fiscal year and revenue growth will exceed company guidance. The backlog was reported at a healthy $9.2 million as of the end of 2018 fiscal year. Margins should exceed 50% as the company has emphasized that they will maximize efforts to exclude low-margin business.
A modest estimate for 2019 would include new sales contracts for 10 out of the 500 or so rail yards in the U.S. bringing in revenues of $10 million adding in the backlog and $1 million in licensing and maintenance fees and $2 million in other projects, results in a 2019 estimate of about $22 million. Just a 63% increase Y/Y. Gross profits would be $11 million, more than double Y/Y. Applying a P/S of 2x result in a price target just shy of $2/share. A profitable technology company with strong revenue growth can command a P/S multiple of 5x. I want to play it safe and set a price target of $1.50/share, more than double the current market price.
I write mostly about small cap stocks and welcome discussion and encourage you to click to follow me if you enjoyed this article.
Disclosure: I am/we are long DUOT. I wrote this article myself, and it expresses my own opinions. I am not receiving compensation for it (other than from Seeking Alpha). I have no business relationship with any company whose stock is mentioned in this article.