Last week's minor adjustment to the value of the stock market has in my estimation incorporated just a small probability of a messier trade war. Fully pricing in risk for a full-scale trade war, including less predictable countermeasures from China, would likely be much costlier to stockholders. The value of the S&P 500 Index shed just 2.5% from its 52-week high through the close of last week's trading on Friday May 10, 2019. I am concerned that now that China's negotiators have returned home with no deal, but with higher U.S. tariffs enacted on Chinese exports, we might start to see cordiality replaced with more aggressive and unorthodox return fire from China. I expect investors had written off the possibility of the worst-case scenario, but that they would begin to price that back in, and in a disorderly fashion, if that possibility were to gain visibility again. In this sort of scenario, a 10% drop in stocks is plausible.
U.S. Trade Negotiators Emboldened by Domestic Economic Strength
The president's tweet at the start of last week, through which he seemed to guarantee an increase in existing tariffs to a 25% rate, from 10% previously, came on the heels of some recently reassuring U.S. economic data and stock market performance. Equities were marking new highs on a strong U.S. employment situation, solid recent GDP activity and a Federal Reserve still on hold.
The Employment Situation Report published over a week ago for the month of April showed superb labor statistics. The unemployment rate dropped two-tenths of a point to 3.6%, the lowest rate since 1969, or 50 years. Nonfarm payrolls grew by a stellar 263K in April, far better than a fully employed economy is expected to grow. Furthermore, first quarter GDP growth of 3.2% erased the concerns of many looking for a lull in economic growth, though the period benefited from a build in inventory that is expected to cost Q2 growth. Finally, the U.S. Federal Reserve remained on hold regarding its monetary policy, indicating no leaning to either hawkishness or dovishness. Given the solidified economic condition after previously expressed concerns, the Fed's neutral view strongly served investor confidence. Stocks gained on the back of all the good news.
U.S. Puts Trade Deal Pressure on China
Right at the start of the week, the president threatened China with an increase in tariffs should it not agree with U.S. demands. There were rumors thereafter that China might call off the meeting, but China's Vice Premier Liu He and his team reached the U.S. and remained here through the preplanned period that closed the week. Still, the U.S. President's deadline for a deal passed on Friday and the U.S. made good on its promise to raise tariffs on many China made goods. At the same time, the President threatened to expand the scope of goods being taxed. Chinese negotiators left the room with nothing but a hope to next meet with their U.S. counterparts in China rather than the U.S.
Why Stocks Recovered on Friday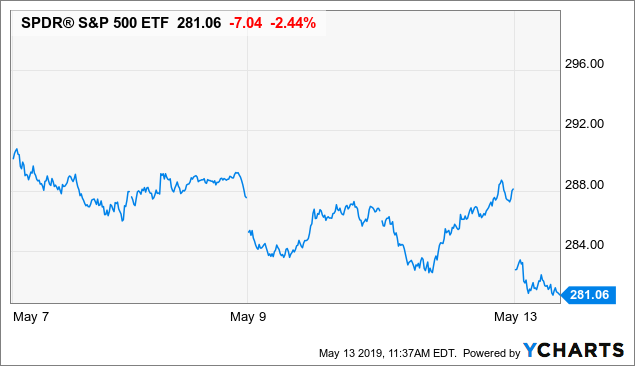 China said it would respond "in kind" to changes in U.S. trade policy. Stocks recovered and gained ground into the close of trading on Friday May 10, 2019, with the SPDR S&P 500 Index (SPY) closing 0.5% higher. The same was true for the SPDR Dow Jones (DIA), but the Invesco QQQ Trust (QQQ) and the iShares Russell 2000 (IWM) marked smaller gains. The stabilization of stocks and the deflation of volatility, with the iPath Series B S&P 500 VIX Short-Term Futures ETN (VXX) falling back 7.7%, can be attributed to a presumption of a better than worst-case trade policy result. However, might the investor comfort expressed into the close on Friday be premature and short-lived? It looked that way at the start of trading on Monday, when the Vanguard Total Stock Market ETF (VTI) opened roughly 2% lower.
U.S. China Trade War Escalation Risk
To date, China's responses to U.S. tariff hikes have been "in kind," but China's position and other actions could start to be less cordial moving forward. Through last week, China's response to unsettling statements from the U.S. President have illustrated astounding patience and perhaps wisdom. Even after a slew of incensed tweets and a new higher price to its trade with the United States, China maintained a semblance of stature. In an interview with Chinese media after the latest meeting, China's Vice Premier Liu He stated, "For the interest of the people of China, the people of U.S., and the people of the whole world, we will deal with this rationally."
Some might argue that China has responded in the manner that it has because it is in a weak bargaining position. I note that China, while it may be relatively poorly positioned for a trade war versus the United States, does have recourse against trade policy pressures, including certain nuclear options. I discussed those in several articles last year, but we considered them unlikely back then. In fact, we suggested buying into declines caused by trade war fears, and those moves proved fruitful through last week. Moreover, risk of unorthodox responses from China have slowly been priced out of the realm of possibility by stock market investors over the course of the last year. Still, as this trade war with China escalates now, they gain in probability weighting. While the potential unorthodox responses, like devaluing the yuan or reducing holdings of U.S. treasuries would likely cause China's own economy and financial markets pain, China may still choose to test America's resolve in some manner.
President Trump is clearly sensitive to the sensitivity of the U.S. stock market, with a flurry of marketing-like tweets following the close of trade dealings on Friday. He was selling America on the value of tariffs and "Made in America," which may sound okay to many today; but when prices of goods rise in America, the same may not be true. Furthermore, the strength of the job market and previously impervious economic growth could be impaired if China takes a more dramatic step in response to U.S. trade policy pressures.
"In kind" retribution includes increased tariffs on American exports into China, like those announced on Monday. As things scale up, it is starting to scare investors, but there are a few taboo transactions that would probably terrify them into a 10%+ correction. The President has banked on China balking on such options. I am not any longer because President Trump has shown he is sensitive to the performance of the U.S. stock market, and I think China sees that now. China has the ability to severely disrupt the operations of Apple (AAPL) and Boeing (BA), two critical companies to the performance of the Dow Jones Industrial Average, and certainly important enough to sway similarly significant stocks in other indices. And the yuan was down 0.8% early Monday in the U.S., also weighing against financial market stability.
Fear alone about what China can do has got stocks sharply lower to start the week. Perhaps this will bring the U.S. President to the table, and off the Twitter, but maybe not until after a stock market correction. As of the publishing of this article, President Trump was still threatening further escalation. Thus, I see wisdom in hedging market risk now and raising cash levels. The risk of unorthodox responses and unwanted side effects in this trade war is returning to factor analyses, and it is important enough now to protect wealth stores, in my view.
Disclosure: I/we have no positions in any stocks mentioned, and no plans to initiate any positions within the next 72 hours. I wrote this article myself, and it expresses my own opinions. I am not receiving compensation for it (other than from Seeking Alpha). I have no business relationship with any company whose stock is mentioned in this article.