I always find myself pondering the question of why a Canadian-passport-holding Chinese who lived in China for a considerable amount of time yet received education in the U.S. is so fascinated by the lingering scent of coffee instead of tea, as Chinese people usually prefer tea and tea-related beverages such as cheese tea and bubble tea.
The cold foam cappuccino waiting for me at the Starbucks (SBUX) by the subway station I get out of at 8:30am every weekday in midtown NYC is not only the excerpt of my mundane daily, but also serves as a tranquilizer. The magical beans explored in Ethiopia have been enchanting generations of people, and eventually become an integrated part of their life. According to Coffee Statistics, over 50% of Americans over 18 years old drink coffee every day. This represents over 150 million daily drinkers. Americans drink ~370 cups of coffee annually per person.
However, the consumption is much smaller in China: According to Frost Sullivan, Chinese people only drink 6.2 cups of coffee per year in 2018 but will drink ~11 cups in 2023(refer to p104 of Luckin's prospectus for more details on Chinese coffee market, as Luckin directly quotes data from Frost Sullivan). By then, the coffee market is projected to be ~$24bn. This is fueled by the increasing middle-class population and more disposable income on hand. According to McKinsey and Nation Bureau of Stats of China, the middle-class population in China is expected to double to 600mn by 2020, and the disposable income that grew 8% for the past 5 years is projected to grow at 9.6% from 2018 to 2020. Keep in mind that even if the prediction comes true, the average Chinese citizen will still drink less than 12 cups of coffee per year in 2023 yet a Japanese person already consumed~11 cups of coffee per week in 2014, according to survey by the All Japan Coffee Association. That being said, the coffee market in China is large, uneducated, and untapped, compared to its neighbor countries. The strongest player in the Chinese market we can think of is SBUX. Since its entry in China in 1999, SBUX has been ­fairly successful in penetrating the Chinese market but also experienced some difficulties: In Q3 2018, comparable stores sales ("comps") in China was -2%, 10% lower than +8% in Q3 2017. It was also the first time that SBUX has had a negative comps number in China for 9 years. In the same time frame, Luckin, a Chinese coffee company that publicly benchmarks itself to SBUX, was expanding at an aggressive speed and sending out free coffee via coupons on its app. Thus, investors across the Pacific Ocean wonder if SBUX will be challenged significantly by the sudden emergence of Luckin or, more horribly, if SBUX will lose the coffee battle in China to local contenders. In this article, I want to address how SBUX could unlock profitability in China via beverage innovation and how the landscape could change when Luckin becomes an unneglectable force in the coffee market.
1. Innovation is the elixir of SBUX during market expansion
SBUX has been streamlining its operations with three priorities. It streamlines by consolidating ownership: previously, it acquired the remaining 50% of its East China JV and divested its 50% interest in its Taiwan JV with long-term JV partners in both geographies. SBUX believes the unification of the business under a full company-operated structure in China will reinforce the leadership. The store count in CAP (China/Asia Pacific) segment shows the trend, as the number of company-operating stores increased ~68% from 2017 (4,409 stores) to 2018 (5,159 stores) and yet the number of licensed stores dropped by 24%.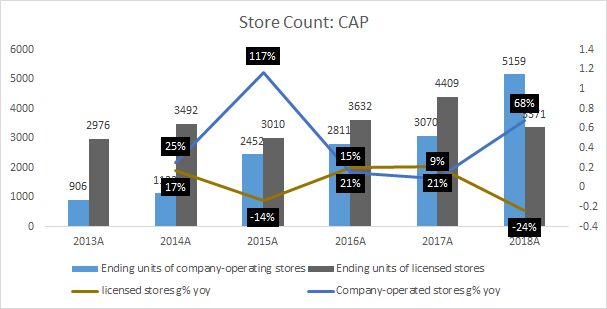 (Source: Author's consolidation based on company data)
In the most recent earnings call, the CEO Kevin Johnson, pointed out that SBUX focuses more in Europe recently and he personally met with licensed partners, including Alsea, to whom SBUX successfully transitioned the company-operated stores in France and the Netherlands.
The three priorities that go with the initiative are: Growth in China and the US, global alliance with Nestle, and shareholder returns. To me, the growth in China and the U.S. has always been a concern. The revenue growth is driven by comp growth, transactions, and ticket size. For the past 5 years, comp declined due to the sluggish progress in transactions(refer to the chart below for numbers). To drive the comp, SBUX hiked prices but the strategy doesn't always work. People question the cannibalization in the U.S. and the sustainability of growth in China given the lackluster performance and the competitiveness in the market. However, I do believe innovation is a unique advantage to SBUX's operation in China.

(Source: Author based on company materials)
To start with, SBUX's comp in Americas in Q2 2019 was +4%. According to the management, much of the beverage comp sales growth was driven by ticket, and close to half of the ticket growth was from beverage mix and attach, demonstrating that the higher-margin premium offerings resonated with customers and customers bought more beverages per transaction. Beverage innovation is the key behind the metrics. The cold platform showed continued strength driven by Nitro Cold Brew, and the newly introduced Cloud Macchiato performed very well. Similarly, the comp in Japan for the most recent quarter was 3%, driven by espresso blend and rewards program. The innovation on coffee drinks unquestionably drive comps in markets that are used to drink coffee. Surprisingly, it also works well in China, a tea drinking country. China sales comp in China went up 3% driven by a meaningful increase in transaction comp. However, the innovation is not from coffee-related drinks but is from the tea-based and the coffee-inspired drinks.
In Q2 2019, SBUX received a very strong customer response to Matcha beverage platform. This is a much-expected answer: I moved back to China from Canada and attended a public middle school. Back then, SBUX was still a premium brand associated with high-class-related fanciness described in a book called "Class" by Paul Fussell, a literary scholar and critic. The much-nuanced social status of each class in the United States, though written in a satirical way in the book, piqued the curiosity of Chinese people who coincidentally read the book summary from online forums. Coffee, a symbolic cultural product associated with the Westerners, started to attract attention. As a matter of fact, one of the most popular articles posted in a popular online forum in 2008, was about how to be an elegant poser in a Starbucks store. The author listed several "rules" to follow when order drinks in store, such as "bring a notebook from Louis Vuitton, and write on it with a fountain pen from Mont Blanc. Don't forget to frown when you write". A successful poser also needs to "be selective with the books he brings along: Class is a good choice, and Economist can barely fit"(the original source was in Chinese and this is author's translation).
Matcha Frappuccino has always been a favorite drink among curious Chinese customers who pilgrimaged the bourgeois brand on a weekly basis. In 2017, SBUX added two new additions of tea based bottled Frappuccino in China as a response to the increasing polarity of tea beverage in China. Last month (April 2019), SBUX came up with 8 brand new drinks under a category called "Modern Mixology". The drinks are inspired by cocktail yet use tea instead of alcohol as base. The names are intriguing (to name a few, sparkling espresso tonic, peach shrub fizz, citrus mint mojito) and each drink is paired with a uniquely designed reusable container. From purely tea-based drinks (Matcha Frappuccino, matcha latte, etc.) to coffee/tea mixed drinks (sparkling espresso tonic, cold brew lemon sour, etc.), SBUX keeps educating its Chinese customers on coffee via innovating the hand-crafted beverages, and is the only one that has the capability to innovate on a big scale given its influence as a cultural phenomenon rather than a coffee shop. The recent hype around the cat paw cups on social media puts SBUX back in the spotlight.
To conclude, although the Chinese market is large and still unused to coffee, SBUX makes profit via innovating its non-coffee drinks rigorously and keeps educating customers on coffee with some half-tea-half-coffee beverages.

(Source: Starbucks China)
2. Delivery services are likely to become a driver in the near future
SBUX started to test delivery service in Miami back in the fall of 2018, powered by Uber Eats. It saw strong demand, including repeat business throughout the day and positive feedback from customers. On January 22, 2019, SBUX announced the expansion of its successful Starbucks Delivers pilot to an additional six cities include Boston, Chicago, Los Angeles, New York and Washington, D.C..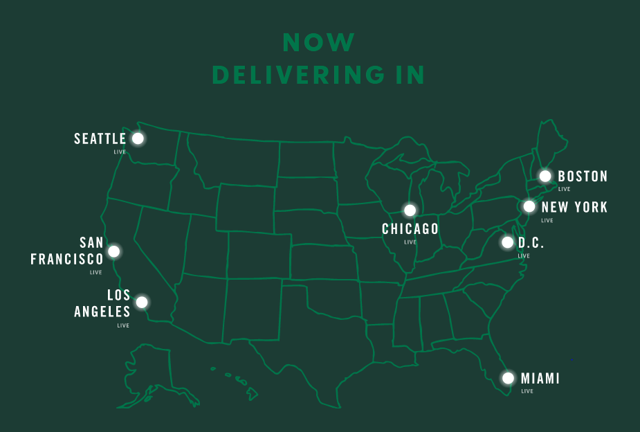 (source: Starbucks Delivers)
Although the company is still working on integration (delivery is not applicable for the entire menu), the service is already on multiple restaurant aggregators such as Doordash, Postmates, etc. There are currently 234 Starbucks locations in NYC that offer delivery services on postmates.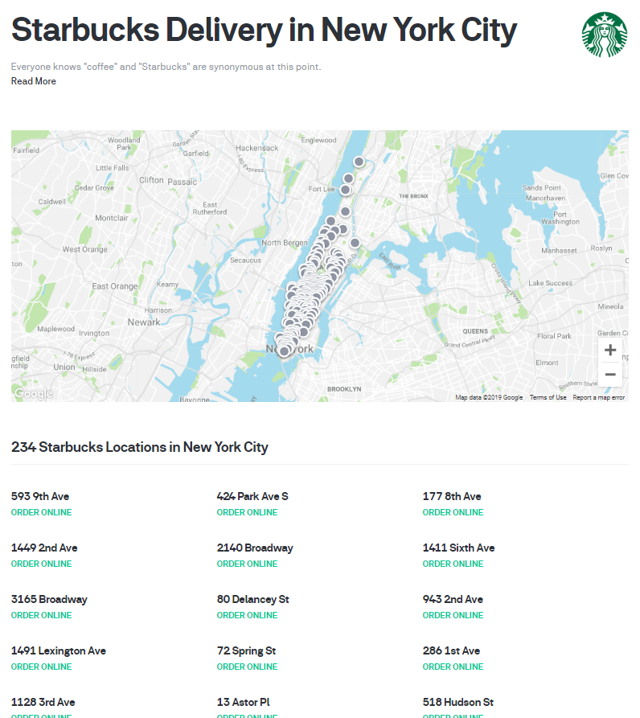 (Source:postmates)
At this moment, SBUX has 14,163 stores in the U.S. by Q1 2019, and less than 10% of stores offers delivery service. Although the company plans to bring delivery services to more than 3,000 stores across the U.S. by the end of FY2019, it doesn't hope to serve more purposes other than getting more people to try the service during the current stage.
However, the landscape is quite different in China. As a matter of fact, the 3% comp in China is driven by delivery and other digital initiatives. First, the total addressable market is huge. According to iiMedia Research, a Chinese industry research platform, the dollar amount for food delivery market reached ~$29.9 bn in 2017 (the original source used RMB as the base currency and author assumed the exchange rate is 6.7RMB per USD) and is likely to reach ~$36.3bn in 2018. Second, SBUX chose a strong partner. Ele.me, the Chinese partner of SBUX's delivery service in mainland China, counted for ~55% of the market share, after acquiring Baidu's food delivery service platform. Third, the delivery service is superior thanks to the on-time delivery and innovative package used in delivery. During the earnings call, the management confirmed that the performance, though still in the launch phase, is meeting the expectation with average delivery time under 20 minutes, higher average ticket, and strong trial from existing Starbucks Rewards members. According to an article published on WSJ, SBUX "spent nearly two years developing special lids and packaging" to protect drinks from spilling or cooling during delivery.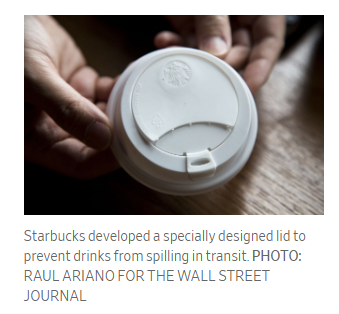 (Source: Starbucks Fights Hot Startup in China)
Besides partnering with Ele.me (now under Alibaba (BABA)), SBUX is also the first retail brand to establish dedicated kitchens within Hema and each has been designed to Starbucks exact standards to handcraft the consistent quality coffee and tea beverages. Hema is a retail store chain under Alibaba. The Hema stores use cutting-edge technology to enable users to shop more conveniently. I visited Shanghai last August and dropped by a Hema store in the neighborhood. Hema is groundbreaking to me as it enables both online and offline shopping. Customers who choose to shop in the brick-and-mortar store can easily retrieve the product information by simply scanning the item(refer to the picture I took in Hema below-you can see the barcode on the price tag). They can choose to pay via the mobile app or cash at checkout. Customers who choose to shop online can place an order easily on their phone. Their order would be manually picked by staff and sent to the overhead conveyor belts, waiting to be picked up by the delivery team. The customers within a three-kilometer radius are guaranteed to receive their order in 30 minutes. If you are interested, click here for a quick video by CNBC for the shopping experience in Hema.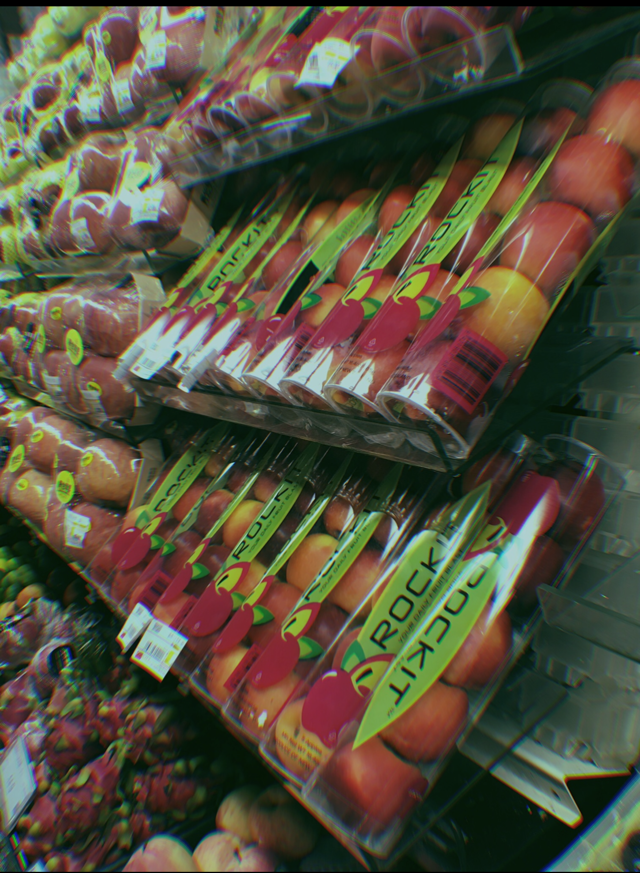 (Source: Author)
According to a report published by CNBC, Alibaba "has grown its brick-and-mortar supermarket to 65 stores over the last year. And, although it may seem a shift from Alibaba's tech roots, the store operates on cutting-edge innovations". CNBC also reports the stores "double as distribution centers". The "Star Kitchen" will leverage Hema's fulfillment and delivery capabilities, within a 30-minute delivery time frame, to further expand the scale and reach of Starbucks delivery services. The strategic partnership with Alibaba also enables the baristas to continue to focus on preserving the high levels of third-place experience for Starbucks customers in existing physical stores. This, to me, is a key differentiating factor when facing the competition brought by Luckin.
To quickly sum up, the runway in delivery is long thanks to the strong partnership with Alibaba and Uber Eats, the proprietary design of the delivery packaging, and the big and expanding total addressable market especially in China.
3. Is Luckin educating the coffee market in China for SBUX?
Besides SBUX, Luckin Coffee (NASDAQ: LK) also wants to challenge the tea-drinking tradition in favor of coffee. According to FT and Luckin's Form F-1, Luckin will raise up to $510m by selling 30m American Depositary Shares, each worth eight ordinary shares. Based on the data retrieved from Factset, the investors include BlackRock and GIC.

(Source: Factset)
Founded in October 2017 by Chinese entrepreneur Jenny Qian Zhiya, Luckin Coffee is the second largest and the most fast growing coffee network in China in terms of number of stores and cups of coffee sold, according to Frost & Sullivan( the details can be found at p73 on Luckin's prospectus). Luckin is famous for its crazy expansion-within 18 months of operation, Luckin has 2,370 stores in 28 cities by March 31, 2019. After 20 years, SBUX has 3,884 stores in China. Both companies will keep expanding store number in the future. Luckin also claimed it sold 90mn cups of coffee, driven by its new retail model, technology, and customer propositions. Some background of the founder will make it easier to understand Luckin's overall strategy:
Unknown to many investors outside of China, the founder of Luckin is not a veteran in the coffee business: Jenny Qian Zhiya has over 18 years of experience in internet-based car renting/ride-hailing service, and was a former COO of UCAR, an auto rental service provider in China. Though with no experience in coffee business, Jenny got interested in the industry when she stayed up late at work and fueled herself with coffee. She sensed the potential of the underdeveloped market and confirmed her hunch upon seeing major players including Starbucks, Peet's, COSTA, and Nestle forming alliance and streamlining operations. In one of her interviews, Jenny said she will apply the "internet thinking" that her previous businesses were based upon to her coffee business-a thinking that represents connectivity at anytime, anywhere to anyone so as to create and capture customer value. Her thinking clearly reflects in Luckin's strategy and operating model: According to Forbes, China has the largest mobile internet user base in the world with 817 million users in 2018, which is expected to further grow to 1,085 million users by 2023. The widespread usage of mobile internet and prevalent adoption of mobile payment have paved way for the development of a technology-driven new retail model in the coffee industry in China. Luckin adopted a technology-driven new retail model. It is 100% cashier-less, and processes every order on app. The mobile apps offer multiple payment options to customers as Luckin partners with major third-party payment service providers in China, namely Weixin Pay (Payment system used on WeChat), Alipay, and UnionPay. Similar to SBUX, customers may also purchase drinks using the vouchers stored in the "Coffee Wallet" of mobile app. The ease of use helps Luckin: By March 31, 2019, Luckin had over 16.8mn cumulative transacting customers. Although this is not an apple-to-apple comparison, SBUX's 90-day active Rewards member increased by 1mn during Q2 to a total of 8.3mn in China, four months after the launch.
Luckin also has a good base of stores. It operates three types of stores but 91% of the current stores are small-size pick-up stores that offer limited seating. From a strategy perspective, Luckin and SBUX are essentially different: SBUX has been focusing on "the 3rd space" yet Luckin doesn't want the customers to linger around. The picture below is what a pick-up store looks like: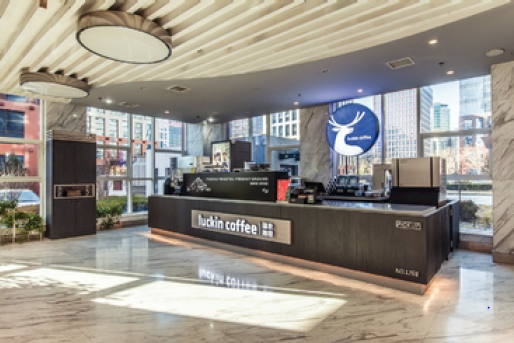 (Source: Luckin's Form F-1)
Luckin also claims it has a unique customer proposition: high quality, high affordability, and high convenience. Luckin ensures high quality by sourcing its beans from Guatemala, Brazil, Ethiopia, and Colombia, and collaborating with the winners of the World Coffee Roasting Championship to design the blends. Lately, Luckin also commenced cooperation with UCC Ueshima (one of the largest roasting companies in Asia) and incorporated a JV with its suppliers including Louis Dreyfus to better control the quality. Luckin also claims high affordability by offering coffee at a cheaper price point. To compare, I use SBUX as an example. A grande latte from SBUX sells for ¥29(~$4.3) yet a latte of similar size from Luckin only sells for ¥24(~$3.6). Also, Luckin has been subsidizing customers with vouchers and coupons. If a customer uses the "buy one get two for free "coupon, he/she can get a latte for only ¥8(~$1.2). Those discounts are recorded in sales and marketing expense that counted for almost 31% of total operating expenses in FY2018. Store rental was the second biggest expense, counting for ~24% of the total operating expense. Compared to SBUX which has been in China for 20 years and for sure attracts traffic to the landlord, Luckin doesn't have advantages in securing cheaper leases. In FY2018, the revenue was ~$125mn (5% of SBUX's revenue) yet the net loss was ~$238mn as a result of subsidization-based marketing strategy and expensive rentals. The two big expenses will linger for a while as Luckin clearly indicates that it intends to invest heavily in offering discounts and deals and other aspects of the business, especially sales and marketing expenses, in the foreseeable future (refer to p15 from Luckin's prospectus). Luckin offers high convenience via its app and delivery service. After placing an order on app, the customer can choose to pick up or have the beverage delivered. In its prospectus, Luckin pointed out that ~99.7% of the delivery orders were delivered on time. "Coffee at fingertips" is a good term to describe Luckin.
The key to understanding Luckin's business model is to understand the purpose behind the "helicopter coffee money": Luckin wants to attract users by offering cheap coffee then retain them by the ease of use and essentially, the taste of coffee. The PE/VC money burned via rapid store expansion and huge discounts is actually used on building a sticky customer base. This can be seen from the new customer acquisition cost, free product promotion expense, and customer retention rate.
From the picture below, we can see the new customer acquisition cost came down from ¥10.1 in 4Q18 to ¥6.9 in 1Q19, and the free product promotion expense dropped from ¥25 in 4Q18 to ¥16.9 in 1Q19. This is because the increase in new transacting customers as a result of the expansive network and in-app user engagement.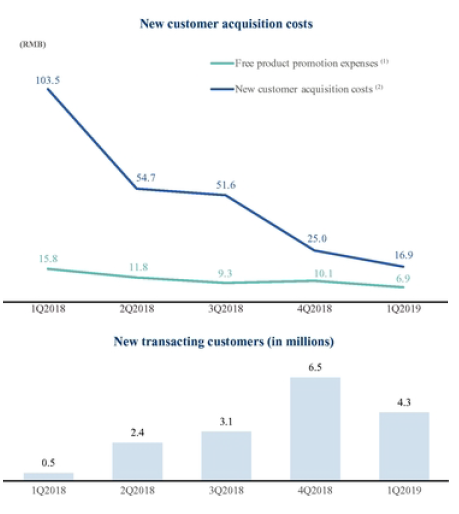 (Source: Luckin's Form F-1)
Customer retention also went up although we also see a clear seasonality in M2(February) because of the Chinese New Year. However, keep in mind that this is driven by the continuous distribution of free vouchers and discounts.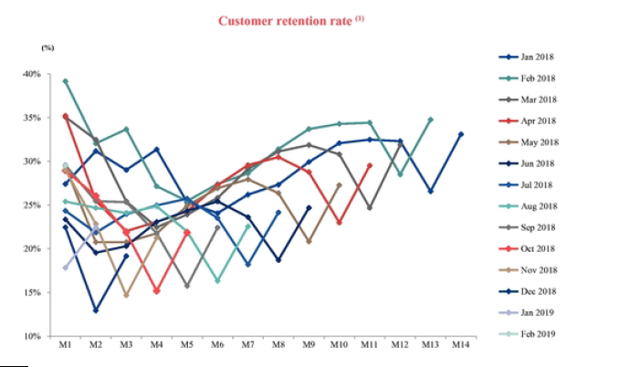 (Source: Luckin's Form F-1)
To conclude, I believe Luckin by all means is a disruptor in the coffee market. The management doesn't operate it as a coffee company but more like an internet company that utilizes an asset-light model and takes advantage of the investors' money to attract customers via heavily subsidized coffee. Price, rather than taste, becomes a determining yet unsustainable driver. Luckin is also very smart with its marketing by bench-marking itself to SBUX and challenging SBUX for multiple times in public. The rhetorical bluff on beating SBUX in China unquestionably attracts attention and creates a potential pool of user traffic. However, although both SBUX and Luckin sell coffee to the customers, the operating model are different. Starbucks emphasizes "in-store experience" in "the third space" and puts a lot of patience in educating Chinese customers on the coffee culture, yet Luckin majorly focuses on populating cheap coffee as fast as possible and doesn't seem to have a culture yet. Luckin also makes efforts to expand its product offering such as light meals and seasonal drinks. It launched a cheese tea in 4 flavors and a espresso-based drink this month, and came up with several creative salads such as lemon flavored chicken salad (refer to the pictures below).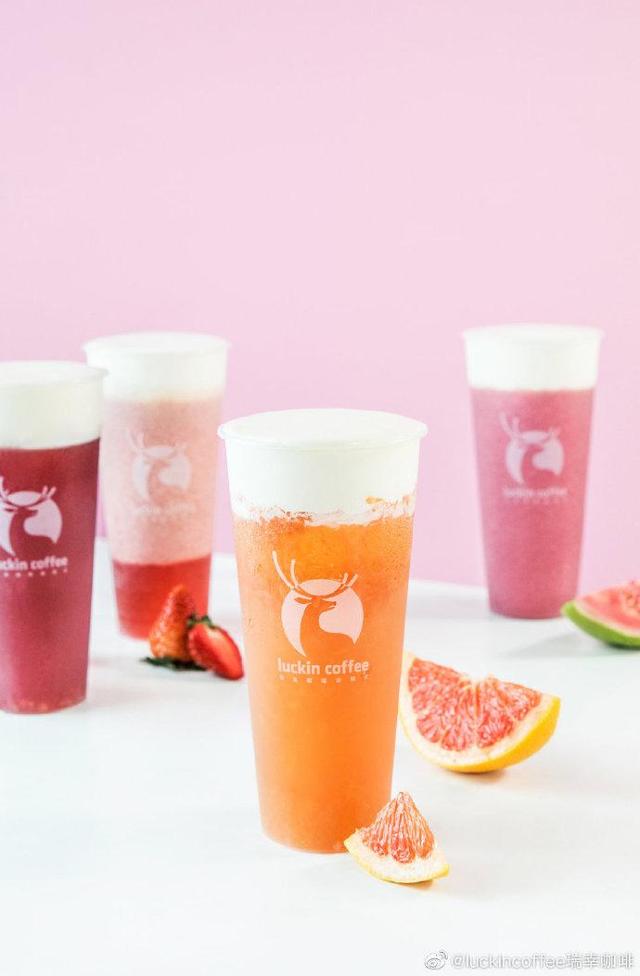 (Source: Luckin's official weibo account)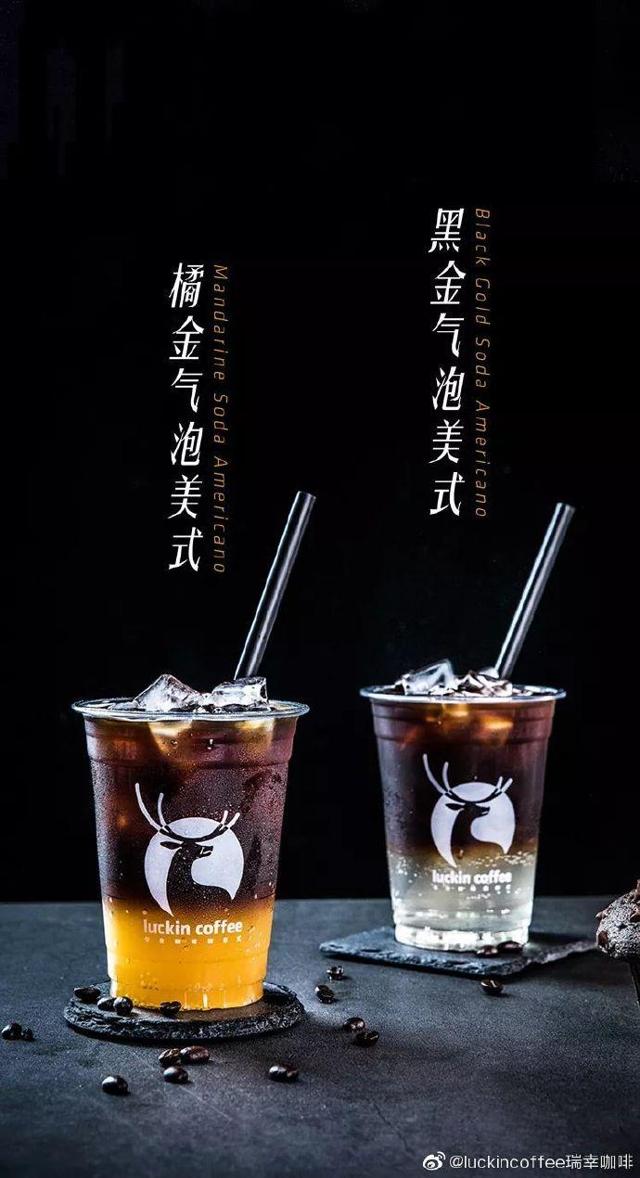 (Source: Luckin's official weibo account)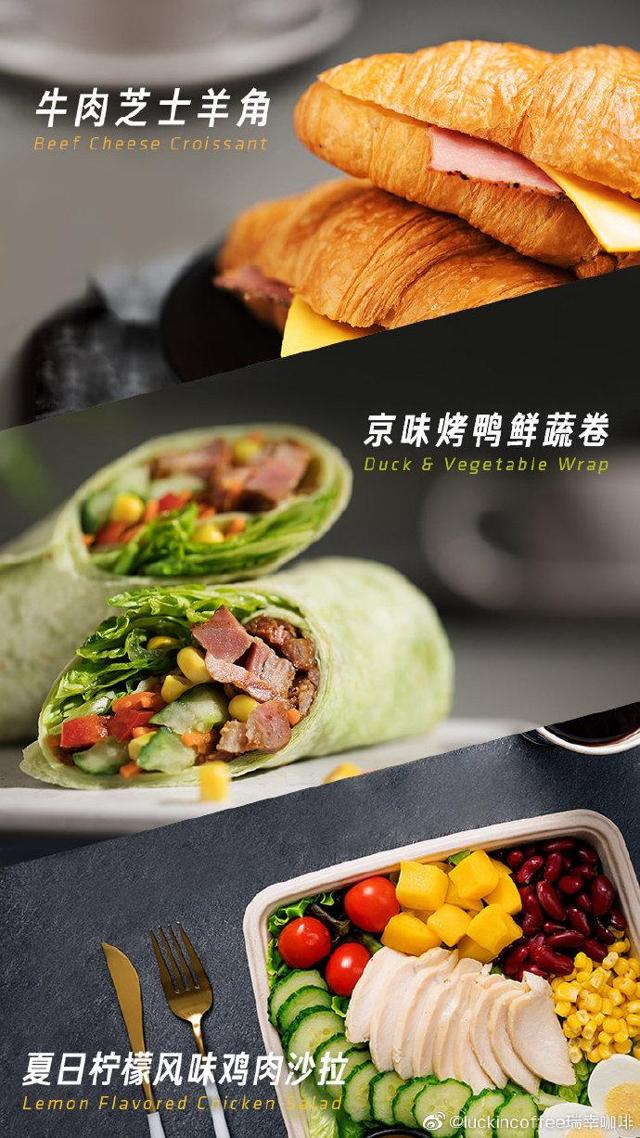 (Source: Luckin's official weibo account)
Indeed, Luckin's "localized" beverage innovation might play well as people are obsessed with cheese tea and would like to wait in a long line to get one during lunch break(refer to the picture I took in an office building below. "HeyTea" is one of the most predominant cheese tea shops in China).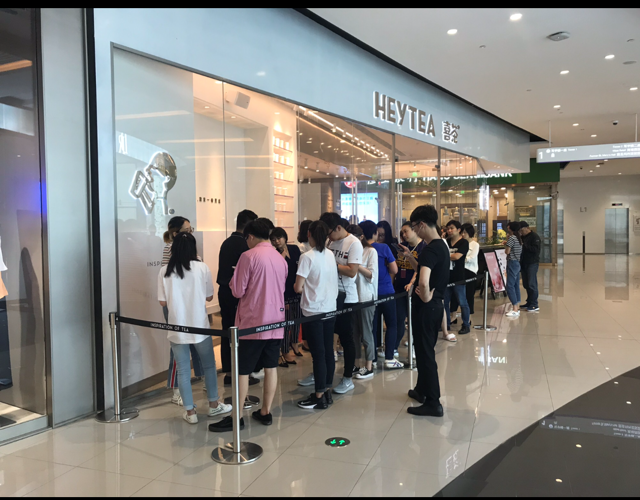 (Source: Author)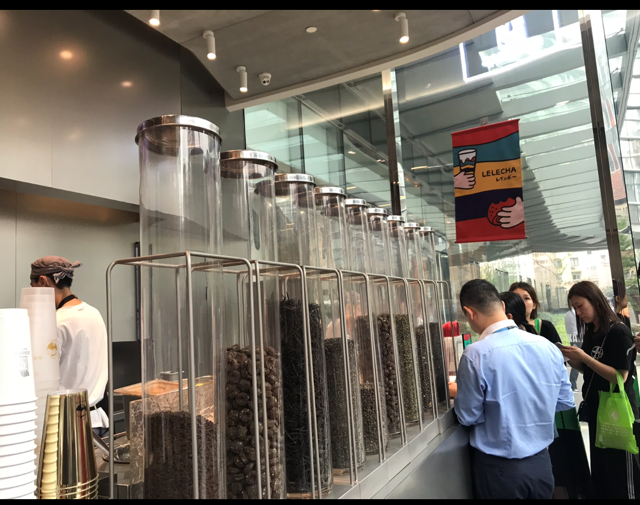 (Source: Author)
However, the lack of focus on quality and taste might be an issue going forward-more Chinese people can tell the difference of the blends each cafe uses, and more middle class love to go to boutique cafes (think about Chinese equivalent of Toby's Estate, Blue Bottle, Birch, etc.) as quality matters more. I visited a couple boutique ones in Shanghai and was amazed by the aroma, taste, and creativity. Some cafe even used hand-crafted ice ball and ingredients from New Zealand to offer a more sophisticated taste.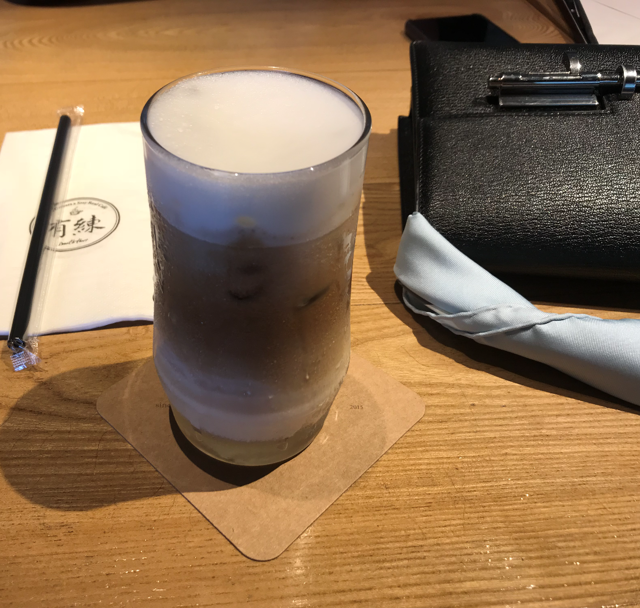 (Source: Author)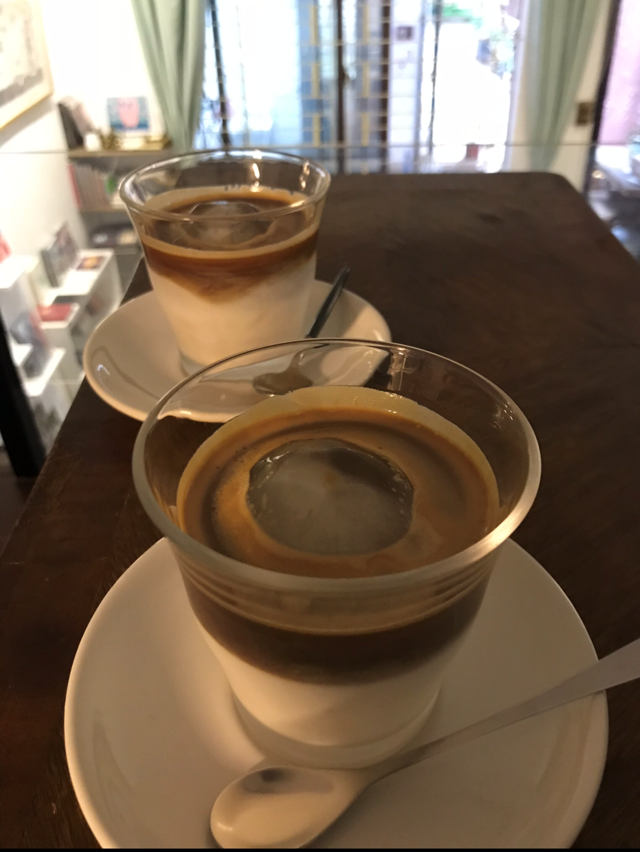 (Source: Author)
From a purpose perspective, Luckin propels potential coffee drinkers to try the beverage at low cost (Jenny Qian Zhiya described this process as "educating the market"), yet SBUX encourages the coffee drinkers to drink more and spend more (bigger ticket size, bigger traffic, and essentially higher comp) via beverage innovation on both coffee and non-coffee drinks, delivery, Rewards Program, etc. Going forward, Luckin needs to find ways other than distributing free coffee to build a sticky user base and economies of scale, or it is just simply educating the Chinese market for SBUX in the long run. The beverage innovation anchoring the popularity of cheese tea might work, but Luckin certainly needs more "ammunition" such as taste and quality in the long run, as customers get pickier and more gastronomic.
Lastly, if you want to know the user experience of Luckin, I recommend reading "How Luckin Coffee Can Beat Starbucks in China" by Jeffrey Towson, and "Whose Delivery Service is Better" by Xuewen Liu if you can read Chinese or simply want to see some pictures of the delivery package for SBUX and Luckin. We shall see how Luckin performs in the capital markets when the stock hits the tape on 5/17/2019.
4. Investment Thesis/ Takeaways
Given the escalated trade war, the big exposure in China, and the competitiveness in the coffee market, investors worry about how SBUX will perform in the long term. I believe SBUX is a value pick. If the market tumbles based on trade headlines, a valuable entry opportunity may unveil itself.
From a top line perspective, SBUX generates ~68% of revenue in Americas and ~18% in CAP. Revenue growth is driven by comparable store sales that is made of transaction and ticket.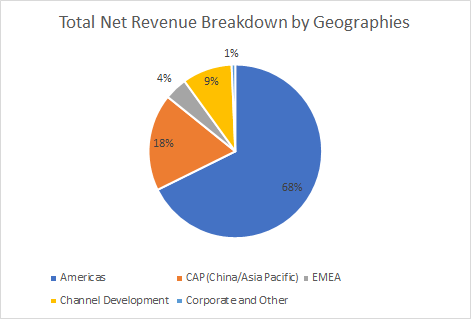 (Source: Author based on company data)
It's obvious that revenue has been growing after the plunge in 2017 in both Americas and CAP. According to company, the bigger ticket size, new store opening, and beverage innovation are the revenue drivers. The shift in the comp composition towards beverage, specifically the cold platform, offers margin benefits and top line growth.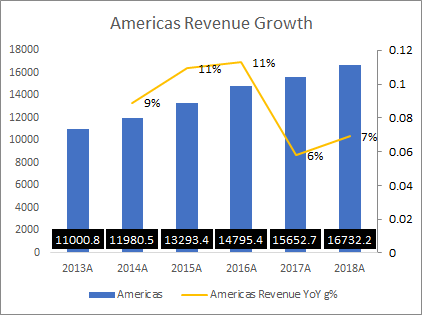 (Source: Author based on company data)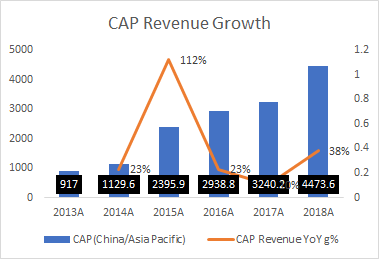 (Source: Author based on company data)
Starbucks has absolute advantages in beverage innovation and strategic partnership. First, although the Chinese market is large and still unused to coffee, SBUX makes profit for years via innovating its non-coffee drinks rigorously and keeps educating customers on coffee with some half-tea-half-coffee beverages. Second, the runway in delivery is long thanks to the strong partnership with Alibaba and Uber Eats, the proprietary design of the delivery packaging, and the big and expanding total addressable market especially in China.
Luckin does present itself as a strong contender but the business model is essentially different from SBUX. It currently burns cash to attract customers yet the customer stickiness in the long run remains unknown. The success of Luckin depends on whether it can come up with a sustainable business model and develop a scale with its operation. The lack of focus on quality and taste (the vast majority of people say SBUX tastes much better).
I use P/E multiples to value the stock, assuming a terminal P/E of 20x in 2021 and a discount rate of 6.85%. Refer to below for a simplified valuation model and the calculation of WACC. The calculated target price is $81.95.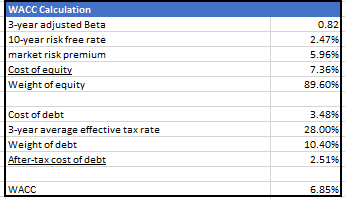 (Source: Author's projection based on company data)
Investors should also be aware of the lingering issue of new store cannibalization and the quarter-to-quarter volatility, given the worsened macro in China.
Disclosure: I am/we are long SBUX. I wrote this article myself, and it expresses my own opinions. I am not receiving compensation for it (other than from Seeking Alpha). I have no business relationship with any company whose stock is mentioned in this article.