Preamble
In today's modern world of investment opportunities, there are a myriad of attractions for an investor's hard earned funds. There are pros and cons for each one of them and sooner or later they all have their day in the sun. Investments on offer include but are not limited to; currencies, real estate, land, art, antiques, bonds, stocks, coins, various funds, cryptocurrencies, etc.
Our particular interest is the precious metals mining sector which unfortunately has been battered over the last five or six years and remains very much in the unwanted category. However, we could argue that "the time to buy is when there's blood in the streets." A saying that is attributed to Baron Rothschild, a member of the Rothschild banking family. He made a fortune by investing in the uncertainty that followed the Battle of Waterloo against France when his peers were disposing of their holdings. Is the precious metals sector bleeding at the moment? We don't think so, but this sector is most certainly close to it and worthy of further consideration.
The Gold Bugs Index (HUI) Chart
The chart below shows that there is strong resistance at the 180 level and despite a number of attempts to break out the precious metals mining stocks have failed to do so. The technical indicators such as the MACD and the STO are in the oversold zone with the RSI sitting just above the 30 level which is regarded by some technicians as a buy signal should the stocks drop below this level.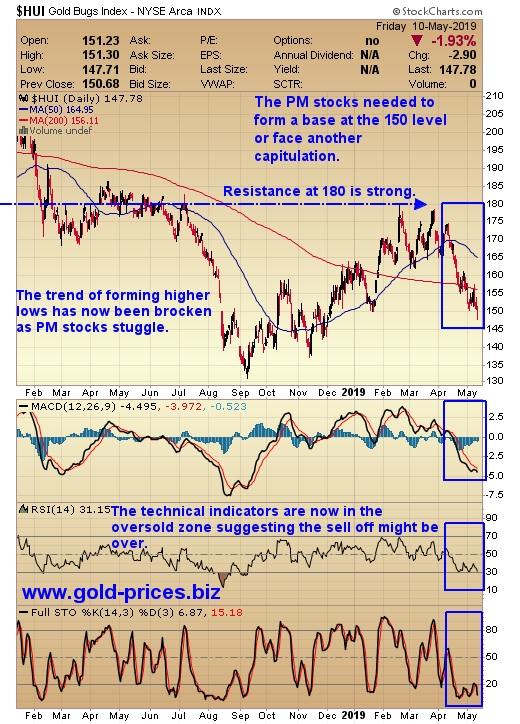 The recent sell-off from 180 to 150 wiped 16% of the value of this index and it coincided with the recovery of the S&P 500 which experienced a pullback in the fourth quarter of 2018. Those losses were regained in the first half of 2019 as the S&P 500 put in a very strong rebound. This action caused the Gold Bugs Index to struggle for a couple of months before it fell to Friday's close of 147. The danger now is that these stocks could suffer more pain over the summer months and once again test support at the 100 level. If this happens, then any gains made over the last three years will have been given back, much to the irritation of the gold bugs who support these stocks.
The S&P 500 Chart
The chart below depicts the dramatic fall of the S&P 500 and its subsequent recovery to a new high of 2,950.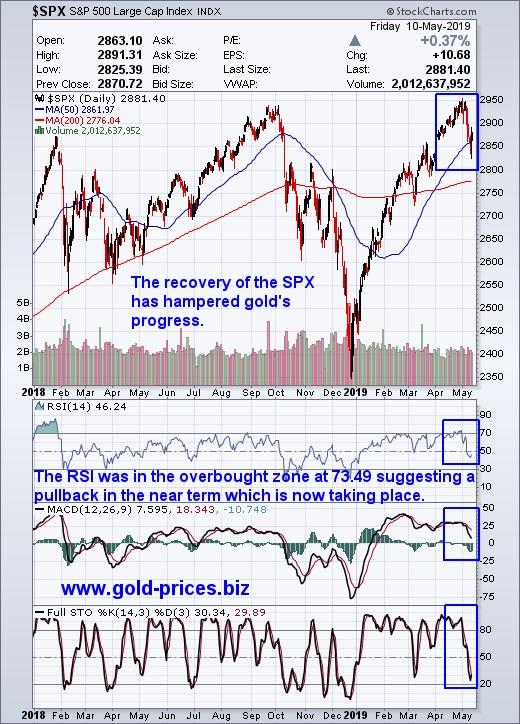 The technical indicators moved into the overbought zone with the RSI entering the overbought zone above the 70-level suggesting that a pullback could be on the cards in the near term. Such a rapid rise caused a reaction and the stocks are now experiencing a slight sell off.
Having peaked, the S&P 500 has commenced a pullback, so it will be interesting to see if precious metals producers can attract some of those disaffected investors to the precious metals sector and so mount another challenge of the 180-level.
Conclusion
The S&P 500 continues to attract funds away from the precious metals sector.
The U.S. dollar remains strong and because of its inverse relationship with gold hampers gold's ability to rally.
Other sectors as mentioned above also provide competition for investment funds.
Gold and silver and their associated stocks need an ignition to set this sector on fire. There are two candidates that could feature in their recovery and they are, firstly, the possibility of a trade war between the U.S. and China which could derail the markets.
And secondly, the Federal Reserve may implement a rate cut followed by the reintroduction of Quantitative Easing which would devalue the U.S. dollar and be supportive of gold heralding in a new rally in this tiny sector.
Milestones on the road to recovery for gold are for gold prices to breakout above $1,350/Oz and then progress to $1,450/Oz. If these two milestones are achieved, then investor interest would return providing the demand that is so badly needed.
Unlike the 1980 gold bull, which had a limited number of participants, this bull market would involve worldwide participation with demand outstripping supply causing massive spikes in prices.
It is time to build cash reserves and formulate your own individual investment strategy by shortlisting those stocks that you want to own.
In order to position ourselves in readiness for this resurgence in the precious metals sector, we have already committed 75% of funds and, yes, we may be too early but that is better than being too late.
Do your homework in preparation for the next breakout which will be dramatic when it finally arrives.
If you wish to see our posts on gold, silver, and the associated stocks, then please hit the follow button in order not to miss out or sign up for our free newsletter on gold-prices.biz.
Got a comment, then please fire it in whether you agree with us or not, as the more diverse comments we get the more balance we will have in this debate, and hopefully, our trading decisions will be better informed and generate better results.
Go gently.
Disclosure: I/we have no positions in any stocks mentioned, and no plans to initiate any positions within the next 72 hours. I wrote this article myself, and it expresses my own opinions. I am not receiving compensation for it (other than from Seeking Alpha). I have no business relationship with any company whose stock is mentioned in this article.
Additional disclosure: Disclaimer: www.gold-prices.biz makes no guarantee or warranty on the accuracy or completeness of the data provided. Nothing contained herein is intended or shall be deemed to be investment advice, implied or otherwise. This letter represents our views and replicates trades that we are making but nothing more than that. Always consult your registered adviser to assist you with your investments. We accept no liability for any loss arising from the use of the data contained on this letter. Options contain a high level of risk that may result in the loss of part or all invested capital and therefore are suitable for experienced and professional investors and traders only. Past performance is neither a guide nor guarantee of future success.