Thousands of scientists from around the world continue to compile vast amounts of longitudinal data about ice, water, air, and weather events all indicating that the scourge of human-contributed climate change is upon us and accelerating. Here is just a sampling of information reported in the last six months:
Renewable Energy Ideas
Six weeks ago, I expanded on an article I wrote back in December laying out what I consider to be major categories of investment opportunity for the decade ahead. One of them involved renewable energy and suggested a look at eight ideas: AES (AES), Ballard Power Systems (BLDP), ENGIE (OTCPK:ENGIY), First Solar (FSLR), Ormat Technologies (ORA), Orsted (OTCPK:DNNGY), Siemens (OTCPK:SIEGY), and Toyota (TM). These companies are leaders even though some have more to do to prove themselves financially and others to push their commitment to clean fuel:
Investment Horizon
An undercurrent of disagreement on SA involves timing and investment horizon. On the one hand, we have authors who advocate for buy-and-hold believing – with justification – that it's not advisable to attempt to out-guess a well-constructed portfolio; let it be. On the other hand, we have traders who expect short-term results and will move on whether they achieve them or not. Surrounding these folks are commenters / armchair pundits, who say, "Well, you should have looked at the performance of this-or-that over the last month, quarter, year, decade, [whatever timeframe suits my argument best]."
As with all emerging trends, it's illogical to invest by looking backwards. The future belongs to companies, even atrophying ones, that are out ahead of commercially viable transformative change. That said, readers have a right to expect that contributors demonstrate the value of their ideas. So below are two graphs, the first charting relative stock/ADR price versus the DOW against a 12-month starting point with the second chart showing the portfolio's more recent, 6-month, comparative results:
Twelve-Month Results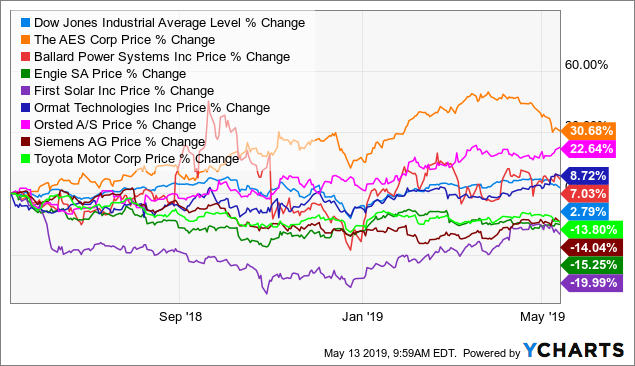 In this first chart above we see decidedly ho-hum results with the 12-month performance of this renewable energy book not even keeping pace with the DOW; boring. [Simply add the stock/ADR percentages down the right-hand of the y-axis and divide by 8 before comparing the average to the DJI in light blue.]
Six-Month Performance
However, in this second chart below we see that all of these renewable energy ideas have outperformed the DOW, many handsomely. Those who invested into this portfolio 6 months ago have done exceedingly well having beat that index by an average of over 10%. Could it be that the market is finally catching on to the alpha potential in renewable energy?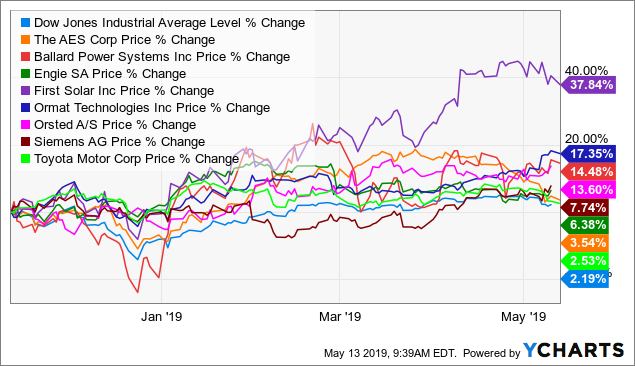 Looking ahead, the table below shows the spread of professional opinions for stocks/ADRs in our renewable energy portfolio. I've thrown in their 12-month median price target and calculated the appreciation against last Friday's close. Also, I've included Sumitomo Electric (OTCPK:SMTOY), a recent addition to our book. Their fundamental and technical indicators are strong, but I am especially drawn to their leadership in the area of commercial/industrial/municipal-strength flow batteries. My instincts tell me that this technology will be crucial to the further expansion of clean electrical energy.
| | | | | | | | | |
| --- | --- | --- | --- | --- | --- | --- | --- | --- |
| | Sell | Under- Perform | Hold | Over- Perform | Buy | Median Target | Price 5/10 | Appre- ciation |
| AES | 0 | 2 | 4 | 1 | 4 | $18.50 | $16.25 | 14% |
| BLDP | 0 | 0 | 2 | 0 | 2 | $3.63 | $3.43 | 6% |
| ENGIY | n/a | n/a | n/a | n/a | n/a | n/a | n/a | n/a |
| FSLR | 0 | 0 | 7 | 1 | 8 | $73.00 | $59.99 | 22% |
| ORA | 0 | 1 | 3 | 0 | 2 | $63.50 | $61.52 | 3% |
| DNNGY | n/a | n/a | n/a | n/a | n/a | n/a | n/a | n/a |
| SIEGY | 0 | 0 | 9 | 2 | 13 | $65.53 | $60.50 | 8% |
| TM | 0 | 0 | 7 | 3 | 13 | $151.45 | $119.27 | 27% |
| SMTOY | 0 | 0 | 5 | 1 | 4 | $15.05 | $12.52 | 20% |
I reserve the right to change my mind – adding and subtracting positions – based on new information. Barring that, I'm holding the course on this book believing that it will continue to outperform given the global attention that is being paid to climate change / global warming. And, oh, incidentally, it is advisable to separate politics from one's investment decisions, renewable energy being a case in point.
Strategic Investing
Before tying off this article, I draw readers' attention again to my piece of April 8th juxtaposed to my very first contribution to SA entitled, "Strategic Investing – Lead Not With Numbers." Because the most recent piece is now behind SA's paywall, here I've reiterated my other favorite categories of strategic investment and included stocks in which we are invested:
As the spirit moves me, in the coming months I plan to circle-back on these categories to see how the respective investment ideas have done just as I have in this article with renewable energy. Some of these areas appear to be taking flight. For example, stocks in the depressed crop-based agribusiness sector seem to have recently put in bottoms and started to move up, and 5G has witnessed a spectacular success with the settlement of Qualcomm's litigation with Apple (NASDAQ:AAPL) and Intel's (INTC) withdrawal of the mobile modem chip business. The 2020's promise to be an exciting time of change and growth. Investors are well-advised to consider how they might position for it.
Disclosure: I am/we are long ABB, ACN, ADM, AES, ANGPY, BAYRY, BG, BLDP, DNNGY, DWDP, ENGIY, FANUY, FSLR, GOLD, GOOGL, IBM, INGR, NEM, NVDA, ORA, QCOM, SIEGY, SMTOY, SZEVY, TM, VEOEY. I wrote this article myself, and it expresses my own opinions. I am not receiving compensation for it (other than from Seeking Alpha). I have no business relationship with any company whose stock is mentioned in this article.
Additional disclosure: Always do your own due diligence in consultation with a licensed and competent financial adviser who understands your unique needs and puts your interests ahead of their own. Remember, there are added considerations in owning foreign securities including those associated with ADR sponsorship, buying and selling the pinks, foreign withholding taxes on dividends, and fees. (All my proceeds from contributing to SA go to charity.)