Editor's note: Seeking Alpha is proud to welcome Up And To The Right as a new contributor. It's easy to become a Seeking Alpha contributor and earn money for your best investment ideas. Active contributors also get free access to the SA PRO archive. Click here to find out more »
Thesis
In a year full of promising IPOs, Pinterest (PINS) is trading above their $12B private valuation in 2017 when they last raised funding. It's been a long journey for the company founded back in 2010 and one full of VC money (raising ~$1.5B over many rounds).
In some ways, this IPO was a stark contrast to Lyft's (LYFT), which was characterized by more dramatic growth and more liberal losses. By comparison, Pinterest feels like a more mature, stable company, but I would argue that they have more upside.
I'm optimistic about Pinterest's long-term growth opportunity with their unique value proposition and huge ad monetization opportunity.
Unique positioning to win ad dollars
"Our mission is to bring everyone the inspiration to create a life they love."
Source: Pinterest S-1
The Pinterest mission statement is very clear about one thing: they are not a social media platform, but rather a place for discovery. This is an important differentiation from search, and sits at the crux of Pinterest's value proposition.
When you know what you want, the Internet already has two extraordinary ways to find it: Amazon (AMZN) and Google (GOOGL) (NASDAQ:GOOG). The two tech giants account for a combined 80% of initial product searches on the internet, and both have mastered the art of getting you into a checkout flow. When it comes to this search-and-buy experience, I don't see any reason that this consolidation of power will not continue as both companies serve that function well. Moreover, I don't think Pinterest will steal away a significant portion of advertising dollars from these companies.
In my eyes, the far more interesting problem that Pinterest seeks to solve is getting you engaged with different types of brands, products, and content in a more exploration-based way. In this way, I think Pinterest is uniquely positioned to capture advertising dollars.
Throughout the S-1 filing, the language underscores their focus on enabling people to accomplish more. To take it one step further, they claim to be the "productivity tool for your dreams". I think this makes Pinterest unique, and while they are certainly competing for attention with companies like Instagram, the messaging here is quite different.
Pinterest's focus is on helping you find and do things like redesigning your bathroom to trying new dinner recipes. Instagram and Snapchat (NYSE:SNAP) would struggle to defend that same claim that they guide you towards productivity. Productivity means doing things, which often means spending money. These aligned goals between what Pinterest users want and what advertisers want is what makes this company so promising.
Improvements in domestic monetization
The S-1 perfectly highlights their monetization opportunity and how it feeds into their customer experience:
"People actively seek relevant commercial content on our service, and advertisers are increasingly providing it. This fundamental alignment between Pinner and advertiser objectives differentiates Pinterest from other services, and we believe the continued growth of our advertising business will improve the core Pinner experience over time."
They are competing for ad dollars with the likes of Facebook (FB), YouTube, etc. While both have very mature and successful advertising monetization systems, the ads are still a distraction from the utility of the platforms. We experience ads when we want to do something else. I'll admit they are increasingly enticing, but it's still a distraction. Now of course, Google and Facebook are doing just fine, so the advertising opportunity is still strong, but I think it's worth highlighting just how good of a fit Pinterest has by comparison.
The ceiling for how efficient the return on these ads can become is very high. That being said, they certainly have not yet capitalized on much of this opportunity. As Bloomberg highlights, their revenue growth has not been particularly glamorous compared to its peers: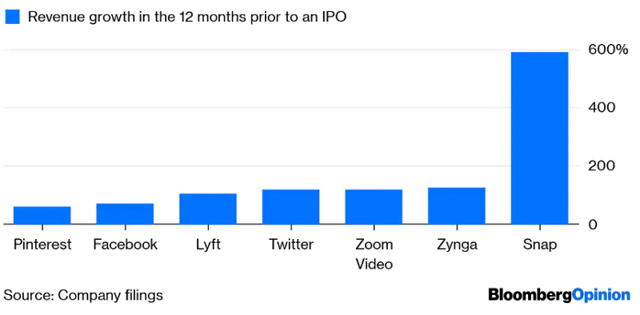 This isn't entirely problematic as Pinterest has been around for nearly a decade and is relatively mature as far as startups go. That being said, it's worth noting this suggests that they are either 1) not growing their user base or 2) not improving monetization.
To the first point, they have appear to have reached a critical mass of users in the US and most of their user growth now comes from international markets. This is fine given that they are so well penetrated into their core US market, particularly with the female population which accounts for 2/3 of their users.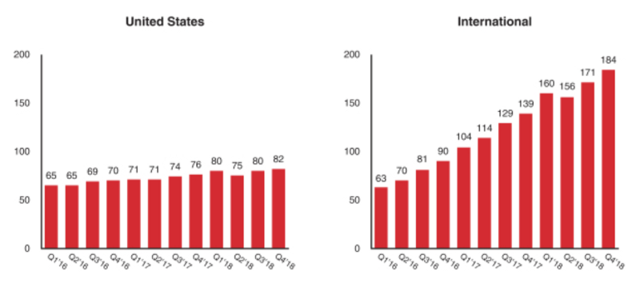 Source: Pinterest S-1
If we look at how they are monetizing their users, we can see that the focus has been almost entirely on the US, and their Average Revenue per User (ARPU) domestically has nearly doubled in the past two years. Another signal that monetization is working better is that advertisers who spent money on Pinterest in 2017 increased their spend by 29% in 2018, suggesting they are improving their experience for advertisers as well.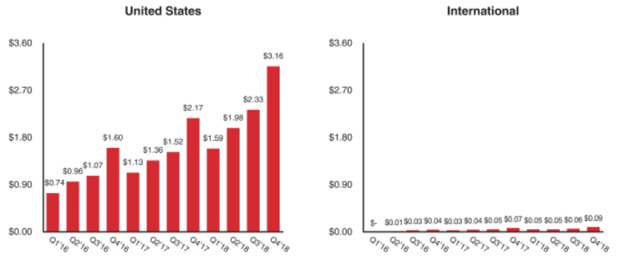 Source: Pinterest S-1
Given their user growth is concentrated in international markets where monetization is practically non-existent, we can assume any near-term revenue gains will be from improvements in domestic monetization.
This combination of graphs is encouraging as the priorities seem to be set on growing the user base internationally and improving the monetization of domestic users. In the longer term, they may be able to translate these successes to their international users as their advertising business matures and those digital advertising markets continue to grow.
Risk factors
When it comes to discovery, their most formidable competitor is Instagram, which has a mature advertising system a la Facebook and their eyes set on shopping experiences. The problem of translating inspiration into action is one that Instagram has made strides in as well: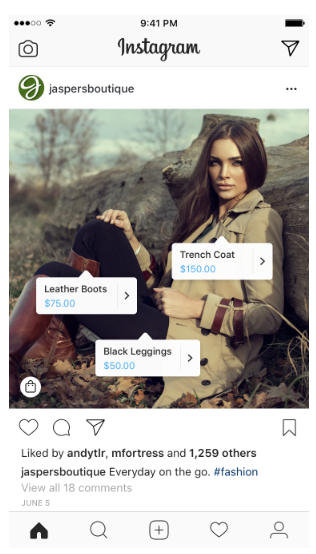 Source: Instagram
The saving grace is that Pinterest has a stronghold on its core demographic: moms! They specifically cite that they cover 43% of US internet users and 8 out of 10 moms. With such a big base of valuable users, there is plenty of room to grow ARPU.
My only other concern is velocity. Pinterest has been around for 9 years, which is a long time given their value proposition has been relatively consistent and thus their monetization opportunity is not new. I'm cautiously optimistic of this slower pace given that many of Pinterest's competitors are heavily resourced and encroaching on this opportunity.
With those two caveats, I still believe Pinterest's market position and unique value proposition give it a real shot at performing well in the long term. With a visual platform that thrives in mobile, Pinterest has a strong opportunity to translate pins into dollars. Their ability to bridge the collection and organization of pins on their website into actions and purchases will determine their success. If the product experience is strong in the moment between inspiration and action, then the advertising business will certainly flourish.
Additionally, international expansion could become valuable if monetization continues to improve domestically and gains in monetization are transferrable to international markets. It makes sense to continue to grow the user base particularly in markets with mature digital advertising markets given competitors will be looking to do the same.
Efficient revenue growth
With regards to valuation, the company is currently sitting at a share price of ~$29, implying a market cap of ~$15B. Their net loss was $63M, down considerably from $130M the year prior.

Dissecting this a bit, PINS's revenue was up 60% and most of their expenses were up less than 60%, suggesting they are gaining some leverage on their costs. In particular, web hosting agreements with AWS were amended which gave them some benefit this past year.
The largest line item increase is from sales and marketing, which according to their S-1 is largely driven by compensation for their sales team. Even so, they are growing revenue at approximately the same rate as sales and marketing expenses. If they continue to ramp up their sales efforts with this type of revenue growth, they will be able to erase that net loss completely this year.
With Snap currently valued at roughly the same amount, but growing more slowly and posed with a stronger competitive threat from Instagram, I think Pinterest is a better buy at current price. Also worth noting is that Instagram is estimated to be valued at ~$100B, more than 6x of Pinterest. No doubt these two are not equal in either user base or monetization success, but I believe as Instagram gets more saturated with advertisers, Pinterest will present a more and more compelling alternative.
As such, I am bullish on Pinterest and believe they will continue to grow in the next few years as their advertising business comes to life.
Disclosure: I am/we are long PINS. I wrote this article myself, and it expresses my own opinions. I am not receiving compensation for it. I have no business relationship with any company whose stock is mentioned in this article.