TripAdvisor reported its first-quarter results last week, and the stock price has been crushed. I'm going to tell you why, what the market is missing, and one way to think about TripAdvisor's new market valuation.
As for the things the market may not have liked, management said current second-quarter trends in the Hotel business in some international markets are softer than expected. But they still expect a recovery in the second-half as the company laps the marketing optimizations from last year. The market also may not like the fact that hotel shoppers fell sharply in the quarter, driving total unique visitors down 5% in the quarter. This is mostly a result of the performance marketing optimizations on the Hotel side, which should stabilize later this year. More importantly, management is driving much more profit out of its slightly smaller, but higher-quality hotel shopper base.
In the new realigned Hotel, Media & Platform segment, adjusted EBITDA grew 36.4% in the quarter. Adjusted EBITDA margins reached 41%, up from 30% in the year-ago quarter.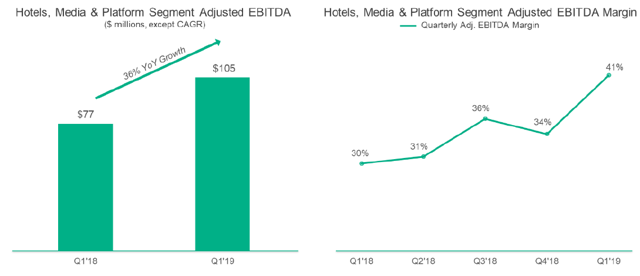 This segment is still seeing the benefits from management's eliminations of wasteful performance marketing spending. Essentially, the huge performance marketing spending cutbacks on the Hotel side has caused hotel traffic to fall but it was lower quality traffic that wasn't providing a positive long-term return. As a result, hotel shopper monetization has been rising and the segment is now spending far less on sales & marketing; hence, the significant profit growth and margin expansion. Management expects this to continue and has guided for another year of "strong double-digit adjusted EBITDA growth" in this segment.
On the Experiences & Dining side--the crown jewels of the former Non-Hotel segment (and of the whole company for that matter)--revenue grew 29% as-reported but 35% excluding changes in foreign exchange rates. Bookable supply in the Experiences business grew a staggering 94% year-over-year to 202,000.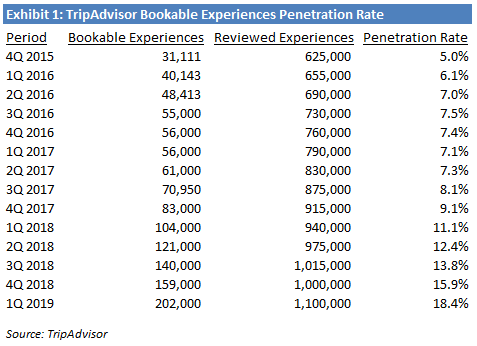 As you can see in Exhibit 1, bookable supply is up about 6.5x over the last few years. That's impressive growth and very valuable because TripAdvisor has a huge amount of natural demand on the platform looking for things to book. Bringing that supply online makes it that much more likely that the demand on the platform will find things to book. In addition to the growth in bookable supply, the addressable market in the form of the number of reviewed experiences has almost doubled over this period. So while TripAdvisor is growing its portion of the pie, the pie is also getting bigger. Had reviewed experiences stayed flat over this period, we'd be talking about a 32% penetration rate. Instead, we're looking at an 18.4% penetration rate, suggesting much more room to grow supply in the years to come.
It's a similar story with restaurants, as you can see in Exhibit 2.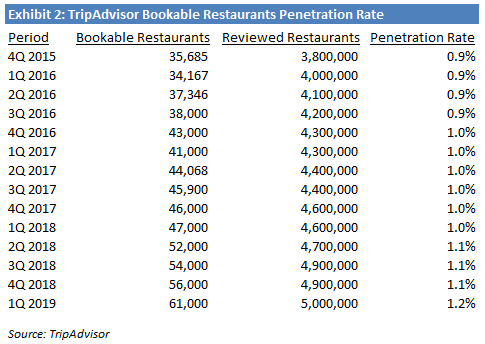 Bookable restaurants are up 71% over this period, but reviewed restaurants are up 32%, so the penetration rate hasn't changed all that much. So there's still a huge runway to add bookable restaurants in this business. I should point out though that the penetration rate is unlikely to get very high in this business for two big reasons: 1) reviewed restaurants includes North America, where TripAdvisor isn't doing restaurant table bookings, and 2) there are lots of restaurants that don't take reservations due to their nature, ie. pizza shops, ice cream shops, burger joints, etc. Still though, there is a lot of room to grow supply here, and like I said previously, more supply for all that demand drives up bookings and revenue.
The Experiences & Dining segment should see reported adjusted EBITDA decline a bit this year as the company is aggressively reinvesting in the business to capitalize on its leadership position in a huge addressable market. The market may not have liked that, but long-term shareholders like me love it.
What's The Market Missing
It's truly mystifying that TRIP is now available at $46 per share. Why? For starters, management's guidance calls for the whole company to grow adjusted EBITDA at a double-digit rate this year. That's a combination of modest declines in the Experiences & Dining unit, due to aggressive reinvestment spending, and a "strong double-digit" growth in the Hotels, Media & Platform business. Assuming 12% adjusted EBITDA growth this year, TripAdvisor will generate $473 million.
I've followed TripAdvisor closely for a long time. In 2017, at the depths of TripAdvisor's crisis, total adjusted EBITDA was $332 million. That was down from a peak of $468 million and $467 million in 2014 and 2015, respectively. Analysts and observers were unsure if TripAdvisor would ever grow profits again after two years of steep profit declines. If you had told me then that TripAdvisor would surpass its peak 2014/2015 profit figures just two years later--even while aggressively reinvesting in the rapidly-growing Experiences & Dining business, which depresses profits--and the stock would only be at $46, I wouldn't have believed it. And if you traveled back in time and told the market that outcome was going to happen, the stock price in 2017 would have jumped to $60 on the spot. People would have laughed at you if you claimed TripAdvisor would not only stabilize but recover, grow adjusted EBITDA by over 42%, and make record profits just two years later. Well guess what? It's happening.
Valuation
As you can see in Exhibit 3, TripAdvisor's market cap and enterprise value are $6.5 billion and $5.5 billion, respectively. For close observers, I add exercisable options to the share count and add the amount of cash that exercise would raise to their balance sheet.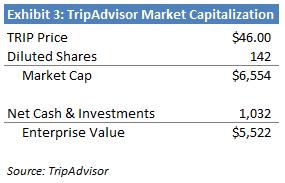 First of all, TripAdvisor generated $350 million of free cash flow (CFO - capex) last year. That's a 6.3% yield after backing out the net cash from the market cap. That should strike us all as quite attractive for an asset-lite business like this, situated at the top of the travel funnel (along with Google), with one very high margin slower growing business and one even higher future margin rapidly growing business.
However, another way I like to look at the valuation is to value the pieces of TripAdvisor. Let's start with the Experiences & Dining unit. Exhibit 4 shows my scenario analysis assumptions for this business.

My Base case has revenue growth slowing fairly rapidly to single digits by 2025. I would hope they can maintain a faster growth rate for longer, but I don't want to get too aggressive. I also assume 65% incremental adjusted EBITDA margin in this business over the long term. To be clear, that's not actual adjusted EBITDA margin; it's the amount of the next dollar of revenue growth that drops to adjusted EBITDA. I think that's fair considering these platform businesses have already been built out, and one incremental booking shouldn't have much incremental expense.
Exhibit 5 shows my Base case DCF that incorporates the Base case assumptions in Exhibit 4. It also builds in a 10% discount rate and a 5% unlevered free cash flow yield for the terminal value.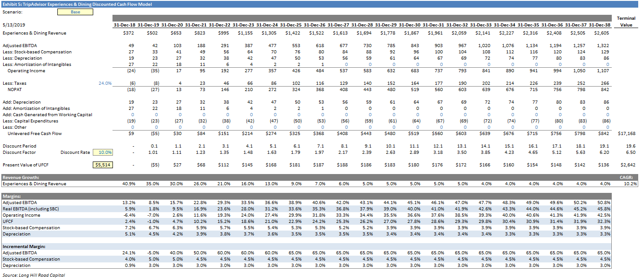 As you can see, last year's 41% revenue growth slows down over time to a 10% CAGR over the next 20 years. Adjusted EBITDA margins gradually expand to about 51%. That's about a 43% operating margin. I actually think these margins could end up conservative because the Experiences business benefits from the monetization of an OTA, yet has a higher take-rate than the hotel OTAs, and it benefits from the lower traffic acquisition costs that TripAdvisor as a whole benefits from as a result of its low cost brand-driven traffic. So while management says this should have "OTA-like" margins over the long-term, I think they suspect it should be even higher but would rather not overpromise or attract more competition.
As you can also see, these assumptions suggest a valuation of the Experiences & Dining unit of about $5.5 billion. To the extent that proves accurate, it suggests that the market price reflects zero value for the Hotel, Media & Platform business. Or the Other business, although that is worth very little.
So the implied value of the Hotel business is zero, or perhaps a slight negative number if the Other business is worth $150 million. Exhibit 6 shows this math.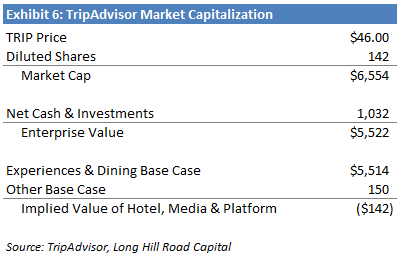 But how much profit does that Hotel, Media & Platform business generate? Well, last year it did $329 million of adjusted EBITDA. And management's guidance is for "strong double-digit" adjusted EBITDA growth this year. Given management's comments, I think that suggests something on the order of 20% growth this year. That means this unit should generate $395 million of adjusted EBITDA this year.
And the kicker is that revenue growth should improve towards the end of this year, heading into 2020, as the company laps its performance marketing cutbacks from last year. So revenue, especially display revenue, should see positive growth next year for the first time in a while. And given the operating leverage in this business, profits should grow further still. All this for a business unit that doesn't just appear free, but appears to have a slightly negative value--again, assuming my Base case assumptions for the Experiences & Dining are reasonable.
Risks
My appraisal of the Experiences & Dining business could be way off.
People could stop visiting TripAdvisor's mobile and desktop sites and its app.
TripAdvisor's auction partners could decide to bid much less for the company's clicks, which could reduce Hotel segment profitability.
Bargain-Priced Compounders
If this is the sort of research you want to read on a regular basis, check out my marketplace service, Bargain-Priced Compounders.
I manage a concentrated, long-only investment partnership, and I share my research with members. My goal is to identify businesses that will almost inevitably be far larger and more profitable in 5 or 10+ years, thoughtfully value them, and consider buying their shares when they trade at prices that will allow us to compound at a high rate.
Disclosure: I am/we are long LTRPA. I wrote this article myself, and it expresses my own opinions. I am not receiving compensation for it (other than from Seeking Alpha). I have no business relationship with any company whose stock is mentioned in this article.