I called my mommy on Mother's Day because I'm a good boy. She told me she was watching a 60 Minutes report on a conspiracy among players in the drug industry to simultaneously raise prices on generic drugs. Today, when I looked at the chart for Teva Pharmaceutical Industries (TEVA), I saw it gapping down: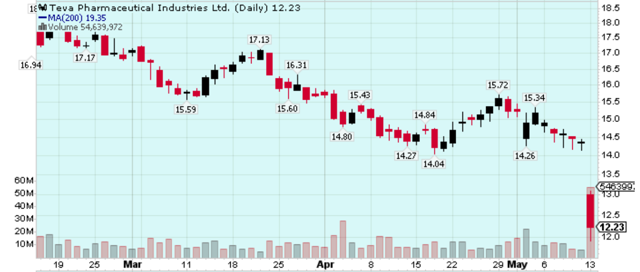 (Source: Stockcharts.com)
The candlestick pattern and the volume involved in the gap's appearance hint at a continuation gap, while the size of the gap itself points at the possibility of an area gap. We can get a better understanding of this type of gap via a number of methods. The most tempting first step is, knowing that the gap was caused by the 60 Minutes piece, check TEVA's cognitive dissonance profile – that is, investigate the stock's reaction to news events against the market.
Cognitive Dissonance: The TEVA Investor Profile
TEVA's cognitive dissonance profile is actually quite bullish. Upon receiving bad news, the stock falls to a lesser extent than the average stock. Upon receiving good news, the stock posts excess returns relative to the expected gains.
Being so, we can safely assume that the 60 Minutes piece hurt TEVA less so than it would have hurt another drug stock, were another drug stock named. In addition, the cognitive dissonance profile implies that TEVA's drop was bolstered by its investors in that TEVA investors are less likely to drop the stock on bad news. From here, dip-buying is a strong possibility, adding weight to the idea that this is an area gap.
I ran my Markov chain model on TEVA to get a better understanding of the stock's price action. While the stock has been moving downward slowly and with momentum, it nonetheless shows a consistent bullish pattern off the back of down gaps. Buying TEVA on down gaps brings consistently higher returns than do any consistent short strategy (30% higher than the best short strategy, which is shorting at market close on an up day).
Down Gaps As Opportunities
Hence, down gaps seem to present a good dip-buying opportunity but do not guarantee long-term returns because of TEVA's downward drift. This particular gap has a 2:1 odds ratio of being an area gap and filling by the end of the month. My backtest on this gap shows it's highly tradable, giving an average ROI of 16% per year when bought and held for three weeks: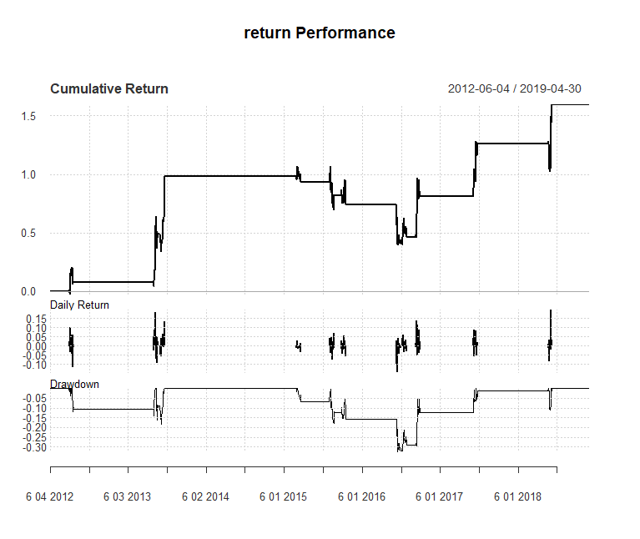 (Source: Damon Verial; data from Yahoo Finance)
The gap analysis thus gives us a price target of $14 by the beginning of June. Let's see if we can extend the price target to the end of July – the end of TEVA's current fiscal quarter – with some more information. As the 60 Minutes article is a temporary news event and unlikely to lead to a change in regulations on generic drug pricing or a significant loss via a lawsuit during this quarter, we can dismiss the news as a mere discount to the stock.
Sentiment is useful here. Management sentiment explains 50% more of the price movement than does EPS and revenue changes, quarter to quarter. I ran a sentiment analysis on TEVA via financial lexical analysis to see which way sentiment is pointing.
Sentiment Analysis
Sentiment this quarter, updated on May 2, has switched from negative to positive. While sentiment is slightly lower than one year ago, the switch from positive to negative (and vice versa) often represents a reversal in stock price momentum.
Here is TEVA's sentiment story over the past year: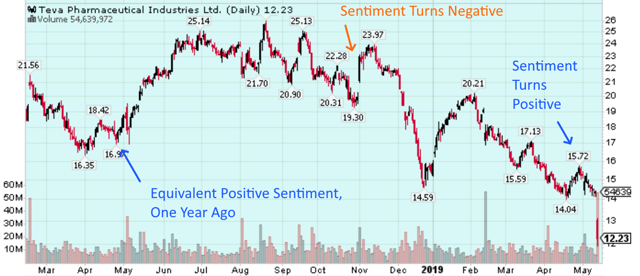 (Source: Stockcharts.com)
Note that sentiment is not always in-line with the earnings reaction. TEVA gapped up on Q3 earnings in 2018, while sentiment turned negative. The up gap quickly filled, and the stock drifted downward over the next two quarters (both quarters had negative sentiment). Now we have another sentiment shift coinciding with a down gap, only a few days after earnings.
Let's look a bit deeper into management's forward-looking statements from May 2 to see where the sentiment shift came from. The following statements are among those flagged by my lexical analysis. I selected a few, to repost here, for relevancy and representativeness.
"You probably remember a year ago where we took significant action to stop the declining value of the U.S. generic business by basically going out and saying that we would not be selling products at a loss and streamlining our portfolio of generics."
-Much of management's concern over the past year – and a significant driver of negative sentiment – was that of the US generic drug business. One reason for the sentiment shift is the near-confirmation generics have stabilized. The 60 Minutes article, clearly portraying TEVA in a bad light, could easily be interpreted in a good light by investors, as it has shown TEVA to have taken effective steps in stabilizing its revenue. Of course, collusion, if proved, will not be good for the stock, but this company, highly reliant on generics, is unlikely to risk its entire business on such an endeavor. The recent earnings call shows that management still is careful in playing by the rules:
"So really, from my point of view, I can't see anything which we've done, which is wrong, given the law and the rules of pharmaceutical manufacturing sales in the U.S."
Value investors, whom I believe make the bulk of TEVA's investors, are likely more than happy for this news. Even if management is engaging in problematic practices, the company itself is still undervalued. Management can always be outed, while TEVA's portfolio and clients remain unaffected.
"And that's, of course, partly due to the site consolidation closing manufacturing sites all around the world, but it's also due to channel savings in the whole P&L."
-With regard to debt reduction, management sees its $3B reduction over two years on-track. This year, the company is set to reduce debt by $2.1B, actually ahead of schedule.
"These declines are partially offset by our ongoing cost reduction programs."
-TEVA has been seeing declining growth and free cash flow losses over the past few years but is finally taking tangible steps to lessen the impact of these declines.
Conclusion
We always say to buy the rumor and sell the news. In this circumstance, it means to buy the drop and sell if and when TEVA is exonerated. This is in-line with a similar idea: buy the positive sentiment switch and sell the next time sentiment turns negative.
If the generic drug price fixing is indeed news, we should see this reflected in the next quarterly report. For now, we have a TEVA selling cheap and a couple quarters of good sentiment, reflecting a better industry environment and business prospects for the company. If anything, this selloff is a discount, as – let's be logical – the $2B loss in the market cap is not only offset by the $2B paid down in debt this year but unlikely to be the entire sum of losses to the company should this price-fixing snafu convert itself into real monetary losses (e.g., via a lawsuit and fines) for the company.
This is a dip-buying opportunity – at least until the next earnings report.
Exposing Earnings is an earnings-trading newsletter (with live chat). We base our predictions on statistics, probability, and backtests. Trades are recommended with option strategies for the sake of creating high-reward, low-risk plays. We have 88% accuracy for our predictions in 2019.
If you want:
A definitive answer on which way a stock will go on earnings...
The probability of the prediction paying off...
The risk/reward of the play...
A well-designed options strategy for the play...
Or... click here to see what Exposing Earnings members are saying.
Disclosure: I/we have no positions in any stocks mentioned, and no plans to initiate any positions within the next 72 hours. I wrote this article myself, and it expresses my own opinions. I am not receiving compensation for it (other than from Seeking Alpha). I have no business relationship with any company whose stock is mentioned in this article.