Back at the end of November 2018, I wrote a Seeking Alpha Top Idea article with an investment thesis of shorting Arcimoto, Inc. (FUV) at a price of about $2.20. The stock fell to under $2.00 just before Christmas, then started a climb to about $3.30. Then, after very little coverage previously, Arcimoto gained coverage via publications from Forbes, Bloomberg, The Drive, and RideApart, which sent the stock skyrocketing to over $7.00. Since those publications were released, the stock has returned to Earth and is trading at about $3.50 today.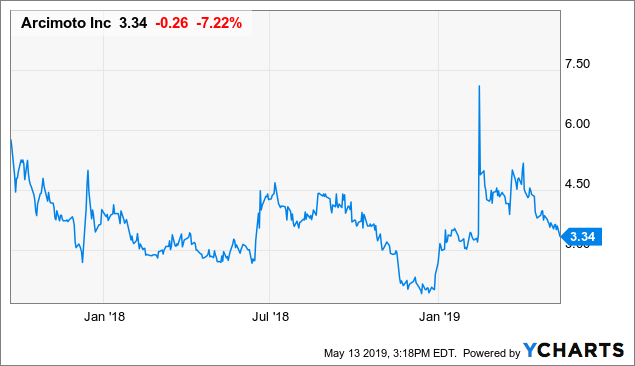 Assuming investors were able to maintain a position through the irrational volatility, a short position entered at the time of my original recommendation would be down approximately 59% as of today. Was my research and thesis flawed/incorrect, or has not enough time passed for the market to decide? I believe it is the latter rather than the former, and a short is still intriguing today - let's dig into why.
In the short run, the market is like a voting machine--tallying up which firms are popular and unpopular. But in the long run, the market is like a weighing machine -Benjamin Graham
Financial and Operational Results Are Still Unconvincing
For the three months ended March 31, 2019, there is relatively little to discuss in regards to Arcimoto's Income Statement in its 10-Q since it is not generating any "product sales" revenue (only about $2,645 in "other revenue"). The two points to note about its Income Statement are that SG&A expenses increased from $997,662 for the three months ended March 2018 to $1,816,690, and it operated at over a $3 million loss for the quarter.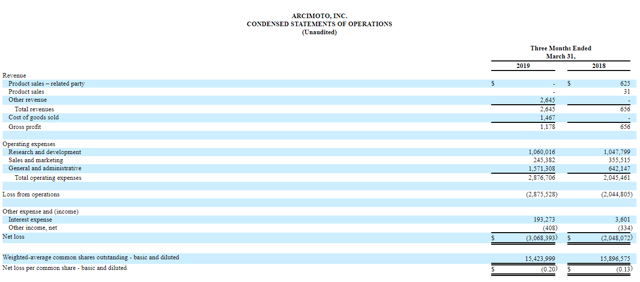 Source: 10-Q
As for its balance sheet, from the fourth quarter of 2018 to the end of the first quarter of 2019, it maintained its cash position and increased its inventory level, but it also maintained its relatively large current note payable. With nearly $4 million net cash used in operating activities and over $2.7 million in notes payable due within the next 12 months, Arcimoto is certainly going to need to raise more capital to fund its operations, which will further dilute current shareholders. In regards to the capital raise, management stated in the 10-Q:
The Company has not achieved positive earnings and operating cash flows to enable the Company to finance its operations internally. Funding for the business to date has come primarily through the issuance of debt and equity securities. The Company estimates it will require additional funding during the fourth quarter of 2019 to continue to operate in the normal course of business. Accordingly, there is substantial doubt about the Company's ability to continue as a going concern.
Not only should investors be concerned with additional dilution, but they should also be concerned with the availability of funds for Arcimoto to raise. While the economy is strong and growing, as it is now, capital is readily available and relatively easy to raise. However, with many economic indicators pointing towards a potential recession in the near-term, that could lead to a dire situation for Arcimoto. I expect it will be very, very difficult for Arcimoto to raise its needed capital should the economic conditions worsen.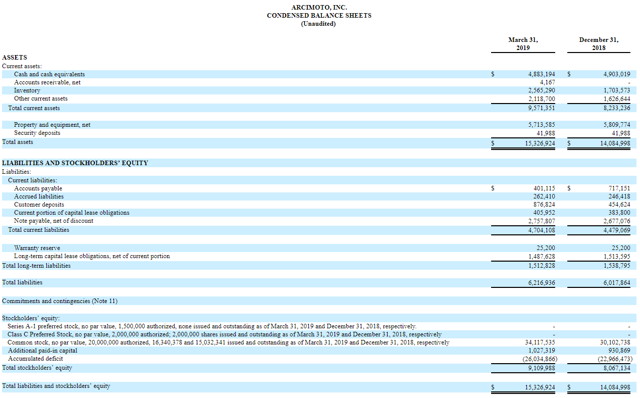 Source: 10-Q
Operationally, its results have not been much better. Despite continuously pouring money into R&D, the quality of its products is lacking. Of its 23 beta vehicles, 22 of them had major recall issues, which will be discussed further in a subsequent section of this article. More importantly, Arcimoto still cannot generate significant interest in its products. Management touts a "58% increase" year-over-year in "small refundable deposits from FUV pre-orders", but I believe this is misleading. You must consider the base from which the 58% increase occurred. At the end of March 2018, Arcimoto only had 2,461 small refundable deposits; this small base makes it relatively easy to increase this number by a large percentage. On an objective basis, it only increased its preorders by 1,422, a rather unsubstantial amount, especially when considered to Arcimoto's most direct competitor - Elio Motors (OTCQB:ELIO) ("Elio"). Elio has over 65,000 deposits for preorder, AND it's been in business two years less than Arcimoto. Arcimoto's financial position is weak, it is relying on future capital at a risky point in the cycle, its product development is failing, its product quality is subpar, and it is not generating nearly enough interest to build a sustainable and scalable business.
News Coverage Doesn't Rationally Increase the Value of a Company
It's not necessarily uncommon for a company's value to increase after a significant increase in coverage or popular news articles are released, especially for micro-cap companies, but that does not mean it is rational and warranted. In the case of Arcimoto, I think the significant increase in "value" that came from the increased coverage and news articles is absolutely irrational and makes little to no sense.
The day Bloomberg released its, "It's a Bird. It's a Tesla. No, it's an Arcimoto" article, Arcimoto's stock shot from $3.40 to $7.10. Keep in mind, Bloomberg was not announcing a new breakthrough for the company, nor were they covering any information that wasn't already publicly available - they were simply providing a brief report on the company and its Fun Utility Vehicle ("FUV"). Without any material change in the business, a 6-minute and 40-second video from Bloomberg more than doubled the value of the company in one day. This clearly is not rational, and the market has realized that; the stock has come back down to Earth and currently trades just about $0.40 (or 12.5%) higher than it did before the Bloomberg article.

Source: Arcimoto's website
Despite the return to Earth, I believe the increased news and analyst coverage has led to the stock remaining at elevated levels that it would not have without the coverage. Although the Bloomberg article was the only article to cause a major spike in the stock price, it is not the only coverage that has been initiated. Forbes, RideApart, and The Drive have all also published news pieces about Arcimoto since February 2019.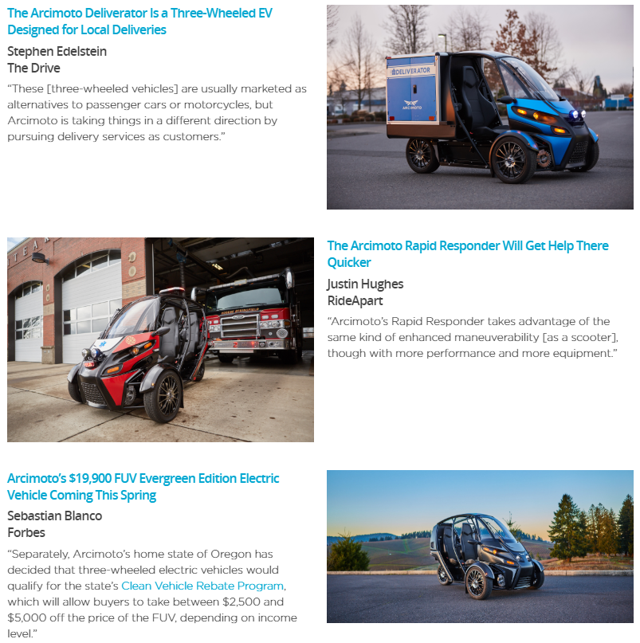 Source: Arcimoto's website
Since my last article was published, Arcimoto also added a "Third-Party Research Reports" section to its website; this did not exist when I wrote my first article. In this section of its website, Arcimoto has added a Social Impact Report from September of 2017, initiation of coverage reports from ROTH and Chardan, as well as two updated research reports from each. On its website, it states that ROTH's initiation of coverage was November 1, 2017, but this is incorrect. If you look at the report, it clearly states it was published November 1, 2018. This in and of itself is not a major concern, but by using the correct date, one is able to infer that all of this news and analyst coverage has begun within a 3-5 month time span, in which the stock has remained at elevated levels despite no material, positive change in its operating results. I believe without this news and analyst coverage, the stock would have continued to trend downwards, as it had from late-September 2018 until late-December 2018.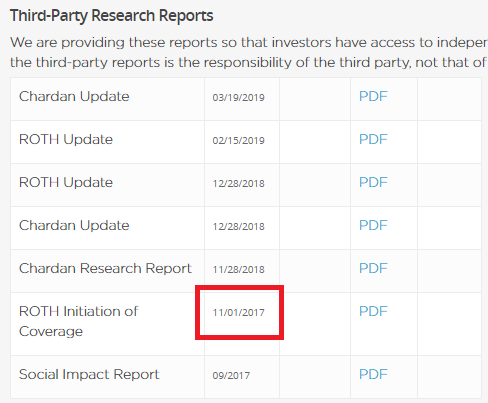 Source: Arcimoto's website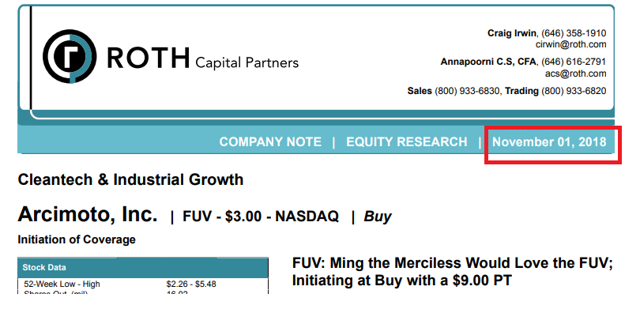 Source: ROTH Initiation of Coverage
Early Signs of Arcimoto's Quality Is Concerning - Major Recalls of Early Vehicles
In the Bloomberg coverage discussed above, it was stated, "After 11 years of development, the Arcimoto has finally arrived." After those 11 years of development, its initial vehicles still had major flaws that lead to nine recall and safety issues from the National Highway Traffic Safety Administration (NHTSA). Some of these issues are relatively minor, such as the "Turn Signals Incorrectly Positioned" or "Headlamps Positioned too far Apart", while others are much more serious and concerning, such as "Gearbox May Prematurely Fail," or "Possible Loss of Steering Control," or "Seat May Collapse In The Event of A Crash".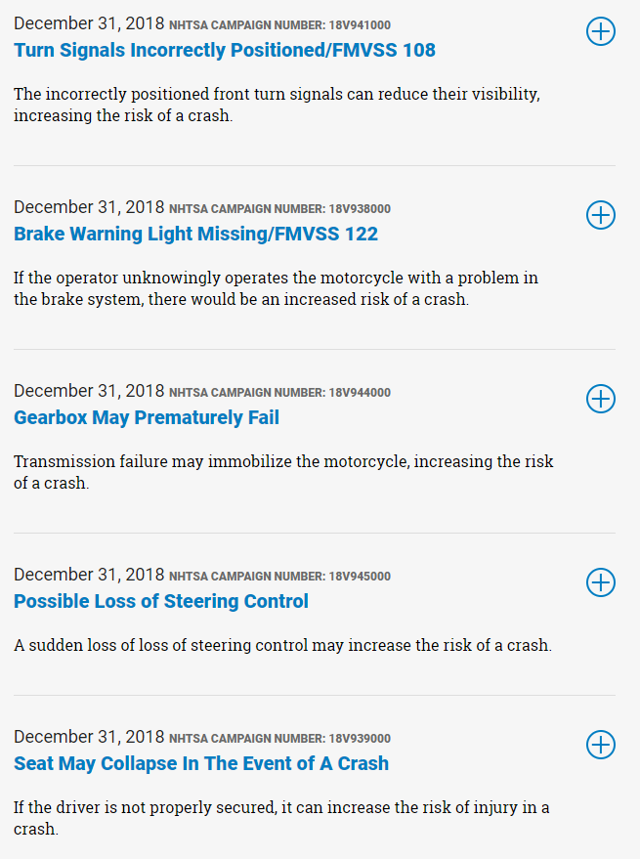 Source: NHTSA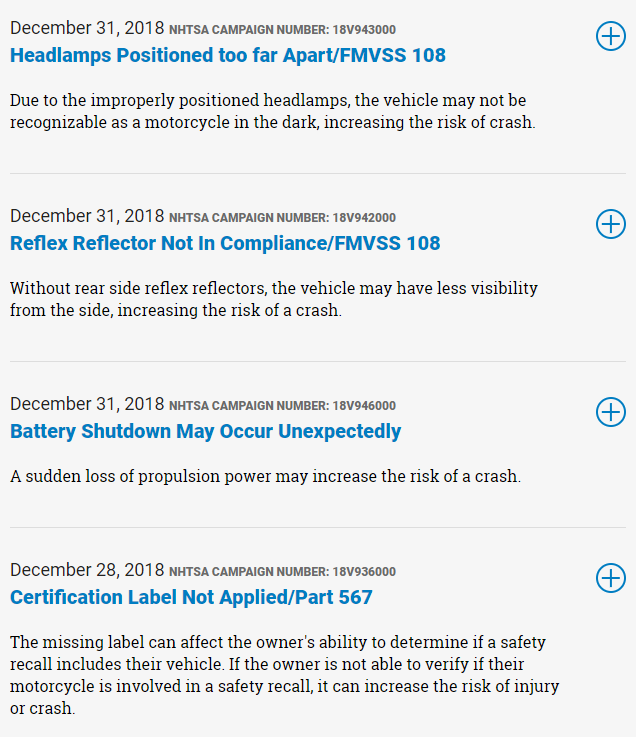 Source: NHTSA
Now, I understand it can take time to perfect a product and work out all of its issues, but given the 11 years Arcimoto has spent on R&D and the multiple release delays, I expected they would have had these major issues fixed prior to its public release. All of the recall items are likely things that can be fixed, but they are going to take even more R&D time and money to diagnose and correct - money that Arcimoto doesn't really have. These issues also call into question Arcimoto's ability to produce a high-quality product, which it will have to do if it wants to be successful in selling its vehicles at its expected price points.
Recalls Also Increase Safety Concerns
The recall and safety issues discussed above also further heighten the already-developed major concerns from consumers over the safety of these vehicles. One of the first thoughts for many individuals seeing the FUV is, "Is this thing safe?" By looking at the image of the vehicle below, you can likely see why someone would wonder this. Add the recall issues to the initial safety skepticism of consumers and Arcimoto does not have a great recipe for building customer trust.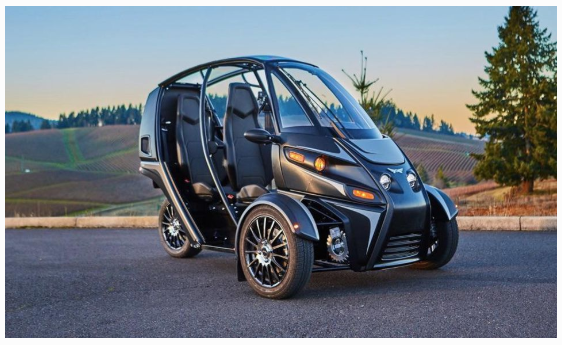 Source: Forbes
The "Motorcycle" Classification Is A Disadvantage and Makes the Sale Even Harder for Arcimoto
If you are an avid watcher of the CNBC (now ABC) hit show Shark Tank like I am, you likely have heard at least one of the sharks talk about how difficult it can be to require consumers to change their behavior to use a company's product. One of the most successful entrepreneurs in Shark Tank history, Jamie Siminoff, returned to the show as a guest shark and told an entrepreneur that was pitching to them, "I don't like that you have to change user behavior to do this. Why Ring worked is we didn't have to change the behavior of the customer." I believe Arcimoto's FUV requires exactly that - changing the consumer's behavior. The first reason is that it's not quite a car or a motorcycle. It requires consumers to change their behavior because they cannot use it as they would their normal car, nor can they treat it exactly like a motorcycle. Second, and more importantly, because it requires consumers to have a motorcycle license to drive it. This may not seem like a major issue, but this not only reduces its potential market (those who have or can obtain motorcycle licenses), it also adds an additional "step" or hurdle for many consumers. There certainly are millions of people in the US that have their motorcycle licenses, but for those who do not and are interested in purchasing an FUV, they must first go through all of the steps of obtaining a license in order to make the FUV even a viable option for transportation.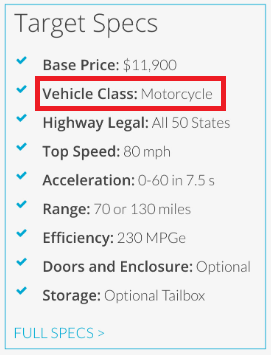 Source: Arcimoto's website
On top of all of this, the motorcycle industry has been struggling lately. In a Los Angeles Times article, when talking about the motorcycle industry, large motorcycle company's executives said, "We are in trouble, and there is no silver bullet," and "It's clear … that the bigger issue is lack of general interest in riding." Arcimoto's FUV is not your typical motorcycle and might be able to help bring some interest back to the motorcycle industry, but I wouldn't bet heavily on it.
Arcimoto's Pivot to First Responders and Last-Mile Delivery Is Admittedly an Intriguing Concept, But It Won't Save The Company
When I wrote my last article on Arcimoto, it hadn't released any information on its strategy to target first responders and last-mile delivery with its vehicles, and I had not given much consideration to these potential target markets. After objectively reviewing Arcimoto's potential market opportunities with these strategies, it appears there are interesting opportunities here. However, despite these opportunities, I do not believe they are enough to save Arcimoto.
On its site, it states, "Arcimoto has agreed in principle to test the Rapid Responder Fleet in pilot programs with the City of Eugene, the Eugene-Springfield Fire Department, and the city of Eastvale, California. We anticipate that the first production Rapid Responders will be delivered in 2020." The vehicles look neat and I can see some use to them for first responders, but overall, I do not see the practicality or a major need for them. As you can see in the image below, the vehicles can barely carry any safety equipment, which limits the first responder's effectiveness even if they are able to get to the emergency quicker.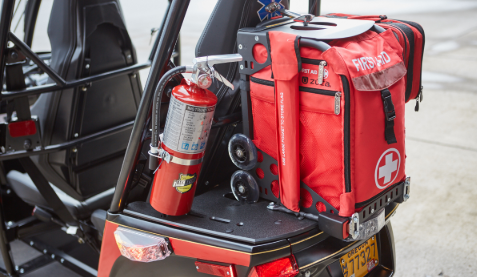 Source: Arcimoto's website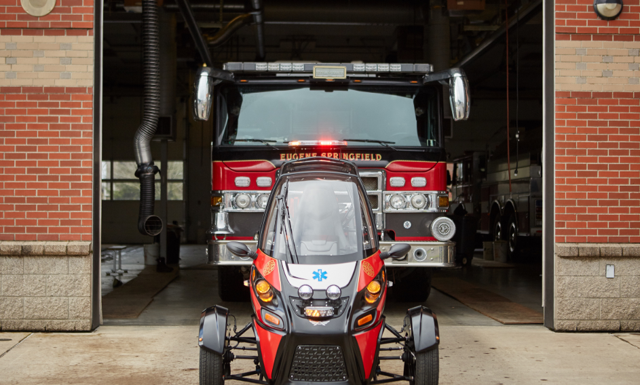 Source: Arcimoto's website
"The Deliverator" particularly intrigued me because of Amazon's (AMZN) initiatives to take control of the "last-mile" of the delivery process, Domino's (DPZ) delivery strategies, as well as the gig-delivery markets from companies like Uber Eats (UBER), GrubHub (GRUB), or Door Dash. On its site, Arcimoto writes:
Every day, people buy more things online. Fast delivery and order fulfillment is no longer just "nice to have" - it's the customer expectation. Gig drivers, local businesses, and corporations alike are searching for small-footprint, sustainable delivery vehicles that will cut costs, increase revenue, and improve the customer experience. We think we've got just the thing.

The Deliverator is a pure electric, last-mile delivery solution designed to more quickly, safely, and affordably get your goods where they need to go. Built on the Arcimoto Platform, the Deliverator can be customized to carry a wide array of products, from parcels to pizza, groceries to dry cleaning. Apply your logos and colors to transform the Deliverator into an eye-catching extension of your brand. Decrease delivery times and increase revenue, all at a fraction of the economic and ecological costs of traditional ICE vehicles. In short, the Deliverator delivers.
If you're in a relatedly large metro/suburban area, you have likely seen one of Amazon's new delivery vans. You've also likely heard of Domino's DXP delivery vehicle, Uber Eats, GrubHub, and/or Door Dash. While I don't believe The Deliverator is a great solution for all delivery applications, it could play an interesting role for the companies just mentioned. Amazon could turn to these vehicles to reduce fuel costs and increase efficiency on the delivery of smaller items. The Deliverator is a near-perfect pizza delivery vehicle if you ask me, and there is the potential for gig-delivery-drivers to reduce their operating expenses by using one of these vehicles to complete their tasks. Other companies that have been looking for a delivery solution may be able to turn to Arcimoto as an affordable, efficient way to deliver its goods.

Source: Arcimoto's website
While there is potential from these markets, there are also major flaws or issues that would need to be overcome in order to make Arcimoto's vehicles a good fit. Also, these vehicles are not expected to be delivered until 2020. While this may seem like only "next year" right now if the release gets delayed as other releases have, these new models could easily push into 2021 and even potentially beyond. This also gives other major auto manufacturers even more time to develop and produce their electric/hybrid vehicles. A big question I have overhanging this initiative is whether Arcimoto will even make it to 2020 (and beyond) and have the capital needed to produce another line of vehicles. I am not convinced that it will.
The Bottom Line
Arcimoto produces interesting-looking vehicles that are likely fun to drive, but many other companies have come before producing vehicles with similar characteristics and failed. I do not think Arcimoto is going to be able to build a sustainable, growing business due to the severe competition in the auto industry, capital intensive nature of its business, lack of demand, its niche focus, and overall lack of practicality of its vehicles. To date, my initial recommendation has not played out well for short investors. However, I am reiterating and continuing my recommendation for a short position in Arcimoto. This short position will not be without volatility, but I do believe over the next 3-5 years, Arcimoto will be worth significantly less than it is today, and possibly even bankrupt.
Disclosure: I/we have no positions in any stocks mentioned, but may initiate a short position in FUV over the next 72 hours. I wrote this article myself, and it expresses my own opinions. I am not receiving compensation for it (other than from Seeking Alpha). I have no business relationship with any company whose stock is mentioned in this article.
Additional disclosure: Everything included in this article is not to be taken as investing advice because I am not your investment adviser. Also, I have not considered your specific situation as your fiduciary. Investors are expected to do their own due diligence before making any investments and should consult with an investment professional who knows their objectives and constraints.