By Aristofanis Papadatos
Realty Income (O) is a retail-focused REIT that has become very popular among income investors for its exceptional dividend growth record. It has an impressive dividend history that includes 101 dividend increases since the company's listing on the NYSE in 1994.
Realty Income is also one of a small group of stocks that pays dividends each month. You can see the full list of monthly dividend stocks here.
While Realty Income has many attractive characteristics, the main challenge for investors is to purchase it at an opportune valuation level. While the REIT has incurred a 10% correction lately, Realty Income is not yet attractive enough to buy on a valuation basis.
Business Overview
REITs have faced a strong headwind in the last two years, namely the environment of rising interest rates. Higher interest rates negatively affect REITs for two reasons. First of all, they render the dividend yields of REITs less attractive, as investors can find decent yields elsewhere. Consequently, rising interest rates exert pressure on the stock price of REITs. In addition, most REITs carry excessive amounts of debt. As they usually have to refinance their debt, rising rates render their debt more burdensome.
Realty Income is a bright exception to this rule. It has a markedly strong balance sheet, with net debt (as per Buffett, net debt = total liabilities – cash – receivables) of only $7.6 billion. This amount of debt is just 8 times the annual funds from operations and hence it is much more manageable than the debt of the vast majority of REITs. It is not accidental that Realty Income has earned A3/A- credit ratings from Moody's and S&P. It is also worth noting that 88% of the debt of the REIT is fixed-rate and hence it does not become more burdensome during periods of rising rates.
Moreover, Realty Income has a proven successful record during periods of rising interest rates.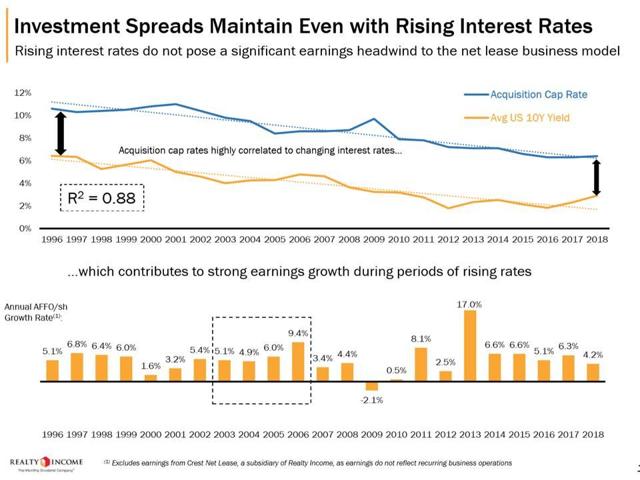 Source: Investor Presentation
As acquisition cap rates are highly correlated to the prevailing interest rates, the REIT was able to enhance its growth in funds from operations per share during the previous cycle of rising rates (2003-2007).
Of course Realty Income cannot avoid the pressure of higher rates on its valuation, just like every other REIT. However, its strong balance sheet and its robust business model, which is not hurt by rising rates, render Realty Income much more resilient than the majority of REITs in an environment of rising rates.
Realty Income also has an exceptional performance record. It has grown its adjusted funds from operations per share in 22 of the last 23 years and has achieved this impressive performance with at an enviably consistent growth rate. The REIT has grown its funds from operations per share at a 6.2% average annual rate in the last decade and at a 5.2% average annual rate in the last three years. When evaluating a stock, a consistent growth is paramount, as it confirms the strength of the business model, the strong execution of management and bodes well for the chances of sustained growth in the future.
Realty Income has exhibited such an impressive growth record thanks to its business model. It operates with long-term leases, which secure predictable and growing cash flows, with much lower volatility than the cash flows of most REITs. Management pays great attention on quality underwriting, with retailers who have strong business fundamentals. Thanks to this business model, Realty Income has always exhibited enviable occupancy levels, which have never fallen below 96%. The REIT thus manages to get the most out of its properties while it also secures same-store rent growth around 1% per year via its long-term leases.
All the virtues of the business model of Realty Income were evident in its latest quarterly report. The REIT ended the first quarter of this year with 98.3% occupancy and managed to recapture 104.7% of its expiring rent. It also grew its funds from operations by 3.9% over last year's quarter and acquired $519 million of new commercial properties in order to keep growing its cash flows.
Growth prospects
As mentioned above, Realty Income has grown its funds from operations per share with a remarkable consistency year after year. Nevertheless, growth has somewhat decelerated in recent years. To provide a perspective, the REIT has grown its funds from operations per share by 5.2% per year in the last three years, which is less than the 6.2% average annual growth rate of the last decade.
This deceleration led Realty Income to announce its first acquisition of retail properties in international markets. More precisely, the REIT has agreed to acquire 12 properties in the U.K. for £429 million, in a sale-leaseback deal with Sainsbury (OTCQX:JSAIY). The latter is a blue-chip grocery operator that has exhibited proven strength through multiple economic cycles and operates in a resilient, non-discretionary industry. The deal will have a 15-year internal rate of return of 6.6% and is expected to increase the funds from operations of Realty Income by $0.04 per share.
More important, this will be just the first step of the international expansion of Realty Income. According to management, Europe is an $11 trillion commercial real estate market, where there is strong demand from high-quality tenants for sale-leaseback transactions. Realty Income will thus try to take advantage of this tremendous growth potential and enhance its growth rate.
The above major shift in the strategy of Realty Income has led some investors to think that management does not see meaningful growth potential in the domestic market anymore. However, this is far from true. The domestic market still has a strong pipeline. To be sure, management reviewed $11.7 billion of asset opportunities in the first quarter of the year. Therefore, the REIT will continue growing its asset base in the domestic market while it will also try to enhance its growth rate via its international expansion.
Resilience to recessions
As a recession has not shown up for a whole decade and interest rates have risen in the last two years, it is important for investors to check the resilience of their holdings to recessions. This is particularly important for the shareholders of REITs, as most of them carry excessive amounts of debt and hence they are highly vulnerable to economic downturns.
Realty Income is remarkably resilient to recessions thanks to its business model. It has a diverse tenant roster and tries to do business primarily with tenants in the investment grade category. Out of its top 20 tenants, which generate 54% of its annual revenues, 12 tenants belong to the investment-grade category.
Moreover, Realty Income generates 78% of its total rent from defensive retailers, which possess at least one of the following characteristics: non-discretionary, low price-point (counter cyclical) or service oriented (resilient to e-commerce threat). Furthermore, the REIT generates 18% of its rent from non-retail tenants, which are thus resilient to the threat of e-commerce. As a result, Realty Income is well protected from economic downturns. It is remarkable that 44 of the 55 bankruptcies in the retail sector since 2017 have been experienced by companies that lacked all of the above three defensive characteristics.
The resilience of Realty Income was prominent in the Great Recession. As shown in the chart below, in the worst financial crisis of the last 90 years, Realty Income kept growing its funds from operations and its dividend, whereas the average REIT performed much worse.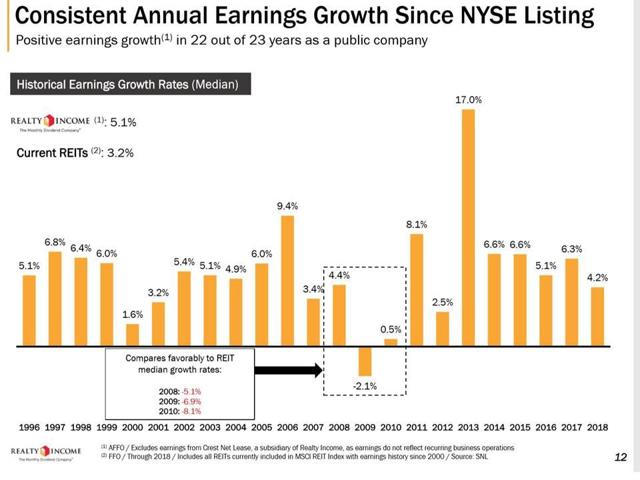 Source: Investor Presentation
In the Great Recession, Realty Income was one of only 11 REITs with positive earnings growth and one of only nine REITs that did not cut its dividend. The defensive nature of the stock is also confirmed by its markedly low beta (0.4). Thanks to its disciplined management, its focus on reliable tenants and its healthy balance sheet, Realty Income is likely to exhibit robust performance once again whenever the next recession shows up.
Dividend
Realty Income owns its popularity to a great extent to its impressive dividend growth record. It is currently offering a 4.0% dividend yield, which is attractive but is lower than the yield of the stock in recent years. More important, Realty Income has raised its dividend for 86 consecutive quarters and has implemented a total of 101 dividend hikes since its IPO in 1994.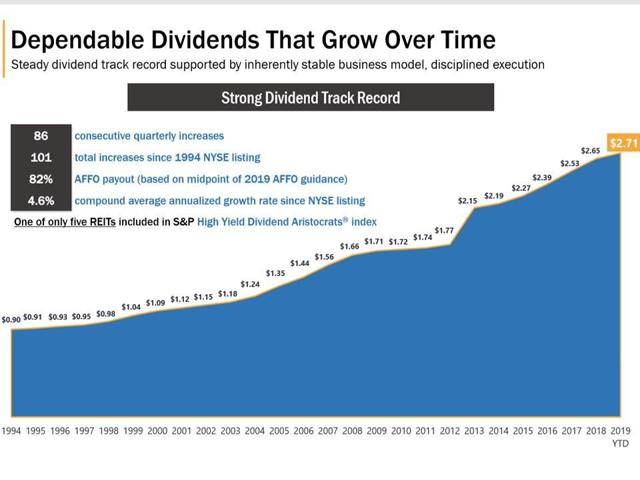 Source: Investor Presentation
Since its IPO, Realty Income has raised its dividend at a 4.6% average annual rate. The REIT has not decelerated in the last decade, as it has raised its dividend at a 4.9% average annual rate. It has been able to maintain such a consistent growth streak thanks to its business model, which is based on long-term leases and thus secures predictable cash flows.
Some investors may be alarmed by the high payout ratio, which currently stands at 82%. However, while this payout ratio is certainly elevated, it is important to note that the REIT has always maintained a payout ratio above 80% throughout the last decade. It has been able to do so thanks to its reliable and predictable cash flows, which are strong even under the worst economic conditions. As its cash flows are protected from dramatic declines, the current payout ratio can be considered safe for the sustainability of the dividend. Even if a recession shows up, investors can rest assured that Realty Income will not cut its dividend.
Recent Price Correction
Realty Income has incurred a 10% correction since the end of March. About half of the losses resulted from the recent announcement of a public offering of 11 million shares at $69.25 per share. The REIT will raise approximately $735 million from this offering in order to fund its new investments and pay off its debt. However, as the current shareholders will be diluted by approximately 3.5%, the market has punished the stock lately.
We do not believe that the above dilution will hurt the shareholders of Realty Income. The REIT has almost tripled its share count during the last decade but has been able to grow its funds from operations much faster thanks to its disciplined management, which invests only in high-return assets. We are confident that this will prove to be the case once again.
Valuation Analysis
Despite its recent correction, Realty Income is trading at a forward price-to-funds from operations ratio of 20.4. This is a rich valuation for a stock that offers a 4.0% yield and grows its bottom line at an approximate 5% annual rate. In fact, this is the richest valuation of the stock for a whole decade, with the exception of a short period just before its recent correction.
It is also important to note that management has repeatedly emphasized the importance of a high stock price in the cost of capital. It thus seems that management chose to issue new shares now that the stock is richly valued. In other words, management considers the current stock price somewhat overvalued. Therefore, investors should wait for a lower entry point.
A further 12% correction from its current level would lead the stock to a price-to-funds from operations of 18.0, which is equal to its 10-year average price-to-funds from operations and would thus render it much more attractive. In such a case, we would expect the stock to offer an approximate a 9.0% average annual return in the upcoming years thanks to its 4.0% dividend yield and expected 5.0% annual growth of funds from operations. As a result, investors should wait for a further correction of the stock. While such a correction may not materialize in the near future, it is paramount to have the discipline to purchase stocks at attractive valuation levels in order to achieve decent long-term returns.
Final Thoughts
Realty Income has an exemplary management, which remains focused on investing in high-return assets and doing business only with credible partners. This discipline is clearly reflected in the exceptional growth record of the REIT.
Nevertheless, despite its recent correction, the stock is trading just 10% off its recent all-time high, at a decade-high valuation level. As a result, the return potential of the stock from its current price is limited. Therefore, investors should wait for a further correction of the stock.
While investors should certainly put Realty Income on their radar, they should wait for a lower entry point in order to position for attractive long-term returns. This would result in a lower valuation, a higher dividend yield, and a more attractive total return outlook.
Disclosure: I/we have no positions in any stocks mentioned, and no plans to initiate any positions within the next 72 hours. I wrote this article myself, and it expresses my own opinions. I am not receiving compensation for it (other than from Seeking Alpha). I have no business relationship with any company whose stock is mentioned in this article.