Editas (EDIT) has resumed the uptrend after a bearish pullback to the 78.6% Fibonacci retracement price of $19.82. Price is now at the 61.8% Fibonacci retracement level, where it is expected that there will be a brief lull in price movement as the stock aims to breach this long-term resistance. Here is the analysis for EDIT as we enter the middle of the 2nd quarter of 2019.
Fundamental Outlook
Part of what caused the 78% downward pullback of EDIT from its 2018 highs was the exit of Katrine Bosley as CEO. However, the company has moved into its product development stage with the announcement of the publication of clinical data that supports EDIT-101 as a promising treatment for a form of congenital blindness. This news has restored some confidence in investors and EDIT is gradually seeing a price recovery in 2019.
Technical Outlook
The monthly chart presents the long-term outlook for EDIT. Presently, EDIT has met resistance at the 61.8% Fibonacci price level of $25.15, with a brief bearish pullback. This resistance price level has so far not been violated.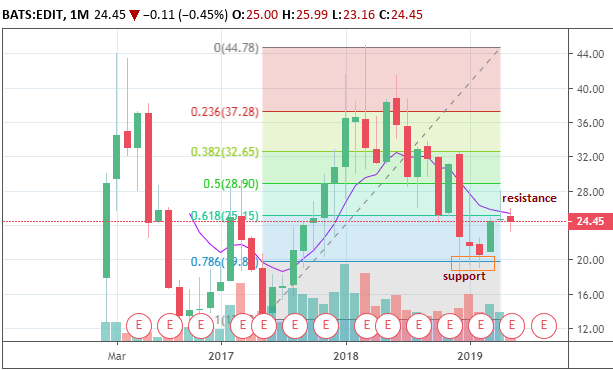 EDIT Monthly Chart: May 12, 2019
The weekly chart shown below reveals several key price levels of support and resistance. At current price levels, EDIT is resting on a support price area that was last seen in late 2018 (point C) and early 2019 (point D). Immediately below this price level is the support at $19.79, which is close to the 78.6% Fibonacci retracement level of $19.82.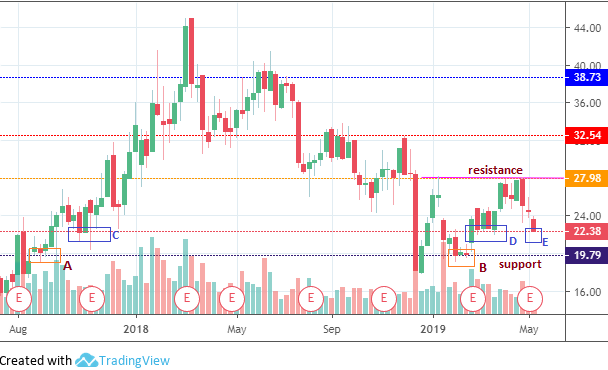 EDIT Weekly Chart: May 12, 2019
The daily chart reveals these support and resistance areas clearly. We can also see that price was actually in an upward channel, but broke below this channel with a pullback and rejection.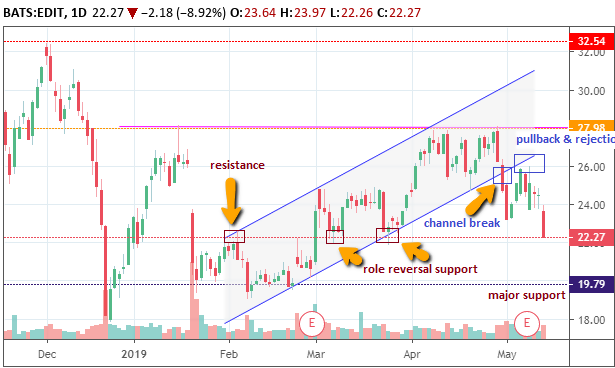 EDIT Daily Chart: May 12, 2019
Again, notice that the current price level is a former resistance which underwent role reversal to become a new support. Below this area lies the long-term support at $19.79.
Trade Scenario
A break of the current minor support at $22.25 will open the door for price to test the long-term support at $19.79. Not only is this an area where price previously found support on the long-term chart in late 2017, December 2018, January and February 2019, it also marks a key support formed by the 78.6% Fibonacci retracement level. The $19.79 price level is therefore a very strong support.
Price action has to break the minor support at $22.25 to be able to push downwards to test the $19.79 support level. If the $19.79 support line holds firm, we can expect a firm price bounce to the upside which will retest the $22.25 price level and possibly the $26.00 minor resistance. Further resistance is seen at $27.98 (orange line on weekly chart).
If the present support at $22.25 holds, a retest of the $24 and $26 resistance areas will be on the cards. What we will see with EDIT is a complex interaction of price with the various support and resistance levels, which will be very good for quick short-term trades.
Volume will be a major factor in determining the strength of upside moves and the ability of price to break through key resistance levels. This is the summary for EDIT: we may see short-term bearishness before we see a resumption of the uptrend.
Market Sentiment:
The long-term, mid-term and short-term outlook of EDIT is:
Long Term – bullish
Mid-term – bullish
Short term – bearish
Disclaimer
Please note: Traders should use the 1% or 3% penetration rule as well as the double candle close confirmations to determine when price has broken below a support or above a resistance.
JOIN THE COIN AGORA
Did you know the crypto market is up 50% since Jan 1st? Is the bear market over? Is Bitcoin going to shoot up like it did in 2017?
We provides news, research, technical analysis and more at the Coin Agora on all things crypto!
Sign up now and get instant access to our 2019 Pick Portfolio—where three of our picks are up more than 80% since January!
Disclosure: I am/we are long EDIT. I wrote this article myself, and it expresses my own opinions. I am not receiving compensation for it (other than from Seeking Alpha). I have no business relationship with any company whose stock is mentioned in this article.