What do you think of first when someone mentions Willy Wonka and the Chocolate Factory? Or Charlie and the Chocolate Factory, if you want to go back to the book?
Is it the short, green-haired, orange-skinned Oompa Loompas? They were quite attention-grabbing, to be sure.
How about Charlie and his bright, shiny gold ticket? The giant bubble machine that makes you fly - perhaps dangerously close to those swirling blades on the enormous fan above? Possibly Willy Wonka himself?
Or is it the chocolate? The candy.
Oh, the candy!
How often did you dream about getting your hands on that stuff as a kid?
There was the one and only Wonka Bar that could potentially contain a key to accessing Willy Wonka's mysterious, insanely delicious, larger-than-life workshop… the buttercups that grew like regular flowers but were ultimately one of the most delightful confectionery creations a kid could ever wish for.
And who can forget the Lickable Wallpaper? I can see and hear the movie scene in my head even now, complete with Willy Wonka's voice as he advises the touring group to:
"Wait a minute. Must show you this. Lickable Wallpaper for nursery walls. Lick an orange. It tastes like an orange. Lick a pineapple. It tastes like a pineapple. Go ahead. Try it."
Try it indeed, my friends, the snozzberries and all.
In this regard at least, the real-world stock market is something like the fictional chocolate world that British author Roald Dahl first brought to life in the 1960s. They both do have an undeniable appeal. And they both involve expected and unexpected risks.
I mean, whoever saw the dangers of the chocolate river coming?
Yet, in the end, we keep going back for more at the thought of those Everlasting Gobstoppers anyway.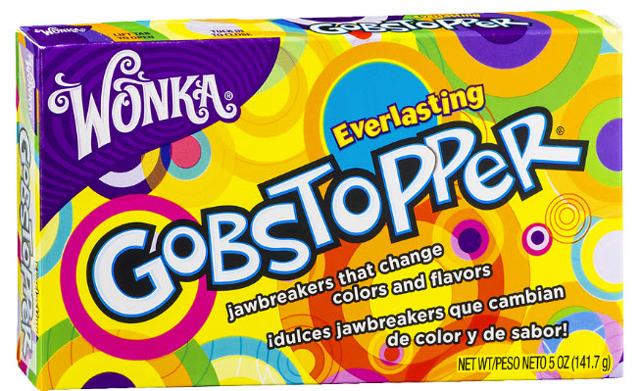 They Never Get Smaller
In both the book and the 1971 movie, there's a candy creation called the Everlasting Gobstopper. Designed to change colors and flavors as you eat it, it never actually gets smaller.
Which, come to think of it, is a really bad production and marketing strategy. Once someone buys one, they'll never need another. So how much was Willy Wonka going to sell the stuff for? $10,000 a piece?
Fortunately for our capitalistic desires, our real-world companies trading on our real-world stock markets are (mostly) more business savvy than that. So they know how to keep customers coming back for more. Some of them even know how to do that while simultaneously paying out plenty of cash to their loyal shareholders in the form of dividends.
In the long term, those are better than any Gobstopper ever imagined, everlasting or not. Because let's face it… Candy that never ends sounds like a great way toward a toothache.
Whereas dividend payments that never end sound like a great way toward a healthy, comfortable, enjoyable retirement… where, if a toothache does come along, you can get it promptly taken care of and get back to appreciating your wonderful life.
Willy Wonka and the Harvard Business Review
In Willy Wonka and the Chocolate Factory, the reason everyone went nuts over the product offerings being marketed was that they were different. They were innovative and fun and delicious - much more so than anyone else could produce.
Nobody else was making chocolate quite like Willy Wonka was.
This brings me to the November 2011 issue of the Harvard Business Review. It featured an article by Chris Zook and James Allen, who had some very interesting things to say. I've quoted them before, but in case you haven't read those write-ups, here are a few pieces to bite into regardless:
"Differentiation is the essence of strategy, the prime source of competitive advantage. You earn money not just by performing a valuable task but by being different from your competitors in a manner that lets you serve your core customers better and more profitably."
Translated from Harvard speak, they're essentially saying that companies that want to make it big time have to offer quality products or services that stand out from the crowd.
This makes me think of a short but substantial list of real estate investment trusts, or REITs, I know of. They may be in a very common market - real estate is, after all, everywhere - but they handle what they've got and what they do with class, conviction, scope of scale, and economic insights that keep them dependable.
Those four factors might sound reasonable and perhaps even obvious aspects to running a business. But that doesn't mean they're easy to implement.
If they were, my following list of delectable, non-cavity-forming REITs would be a whole lot longer than it actually is.
Deliciously Dependable Payouts
Going back to the concept of dependability for a moment, Zook and Allen had something to say on that subject as well:
"The power of a repeatable model lies in the way it turns the sources of differentiation into routines, behaviors, and activity systems that everyone in the organization can understand and follow so that, when a company sets out on a particular growth path, it knows how to maintain the differentiation that led to its initial success."
That "repeatable model" is the very kind that REITs are meant to be built on. According to their legal definition, they're designed to consistently - repeatedly - offer up dividend payments to their shareholders while still growing their businesses to make even more money down the road.
As legendary investor Benjamin Graham explained in his book The Intelligent Investor:
"Paying out a dividend does not guarantee great results, but it does improve the return of the typical stock by yanking at least some cash out of the manager's hands before they squander it or squirrel it away."
Take those increased odds, and add them with smart, unshakable business leaders who value their own integrity and shareholders' trust. When you do, you've just found yourself the real-world equivalent of Willy Wonka's golden ticket.
Welcome to the Chocolate Factory. Let me show you around.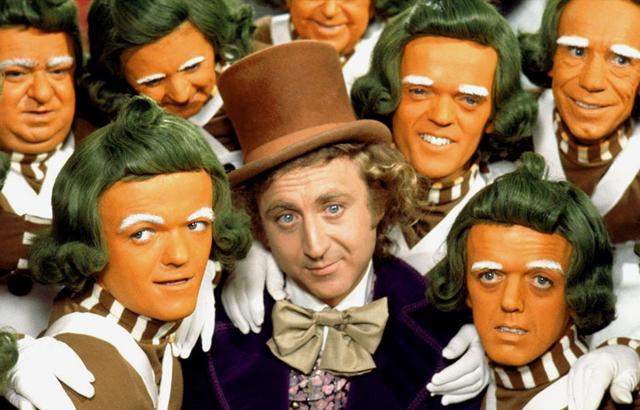 Photo Source
We're Going Right to the Gobstoppers
One of my favorite gobstoppers is Realty Income (O), aka The Monthly Dividend Company. It's a stalwart monthly dividend-paying REIT that's delivered an impressive history of dividend growth. I find it fascinating that a simple business model - that collects rent from commercial properties held under long-term leases - has become an almost cult-like entity with 585 consecutive monthly dividends paid since it was founded in 1969.
There are two simple ingredients that have made this particular gobstopper such a delicious treat.
First, the company has one of the healthiest balance sheets in the REIT sector… one of just nine REITs that are A-rated or better. That disciplined approach to risk management is what allows Realty Income to borrow (87% fixed-rate) for an average of 7.4 years at just 3.9%. It's because of the company's low cost of capital that it's able to acquire the highest-quality assets in the net lease industry.
Second, Realty Income has more than 5,000 properties, which means it has an enviable scale advantage. Over the years, the company has steadily improved its diversification, with an emphasis on investment-grade tenants. For example, in the last quarter, 67% of the deals it made were with investment-grade customers.
This scale optimization has allowed the company to weather multiple recessions, always increasing its dividend through good times and bad.
One of those bad times was naturally in 2008, during the Great Recession. Yet while most REITs were busy cutting their dividends, Realty Income was hard at work. Thanks to the policies it had implemented before and the standards it was determined to keep setting, it managed to increase its payout through one of the toughest markets in modern day history.
As viewed below, had an investor purchased shares during those darkest days, he or she would have enjoyed annual total returns of 17.4% over the last 10 years.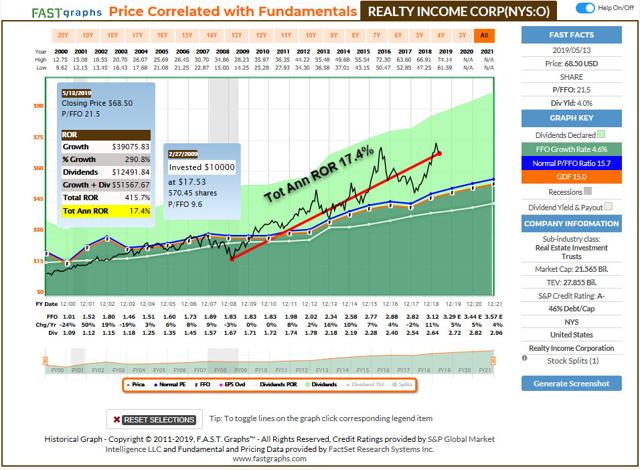 Source: FAST Graphs
These days, Realty Income has admittedly become more expensive. But that simply means there's greater demand for high-quality dividend income. Shares are now priced at $68.50 with a dividend yield of 4%.
To be sure, we have a $70 trim target. So while we wouldn't recommend selling shares today, there are better opportunities (as evidenced by the price points below when O was trading closer to 17x P/FFO).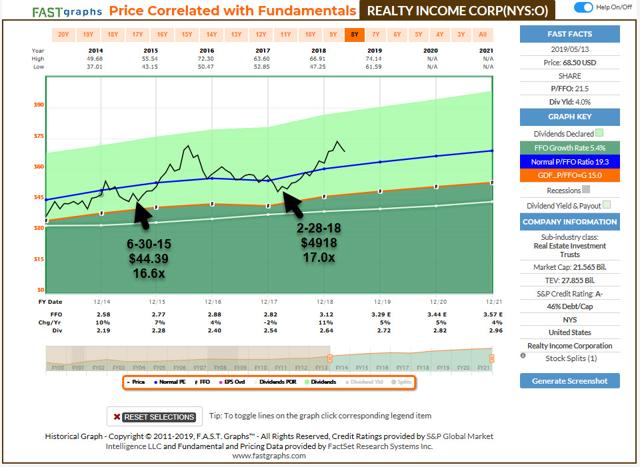 Source: FAST Graphs
As we continue our quest for Everlasting Gobstopper sweetness, let's take a closer look at Digital Realty (DLR). This one's a data center REIT with nearly 200 facilities in 32 cities across 12 countries. The world's second-largest data center REIT, it serves more than 2,300 corporate clients… many of which are investment-grade Fortune 500 companies.
Similar to Realty Income, Digital Realty has engineered a wide-moat model by focusing on its balance sheet. As of Q1-19, its net debt-to-EBITDA (earnings before interest, taxes, depreciation, and amortization) was 5.5x. And it featured a fixed charge coverage of 3.6x.
In addition, its debt maturities are well laddered, with a predictable path of minimal near-term maturities. Digital Realty is rated BBB+ by S&P.
The other secret ingredient for Digital Realty - also similar to Realty Income - is scale. Its diversification efforts have been led by the industry's most aggressive mergers and acquisitions. This includes 2015's $1.9 billion acquisition of Telx, which allowed it to swing from a 95% focus on wholesale cloud computing to a greater focus on colocation and interconnection. This way, it allows for reduced data inactivity and improved cybersecurity.
Overall, Digital Realty has become a consolidator. Spending $14 billion over the past eight years, it has achieved best-in-class economies of scale.
I became an aggressive buyer of Digital Realty back in 2013, and we continue to maintain an overweight position here. By recognizing the significant discount - or margin of safety - it offers, we've generated very reliable "sleep well at night" income.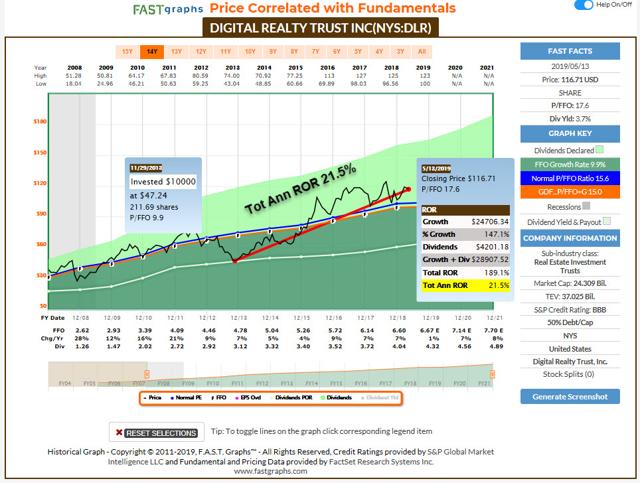 Source: FAST Graphs
These days, Digital Realty is trading in-line with its premium blue-chip status. And while shares aren't yet in the nose-bleed section, we believe we'd be well served to wait on a pullback to get in on this one.
Shares now trade at $116.71, with a dividend yield of 3.7%. And, as you can see below, an optimal P/FFO target is closer to 16.5x, whereas it's currently at 17.6x.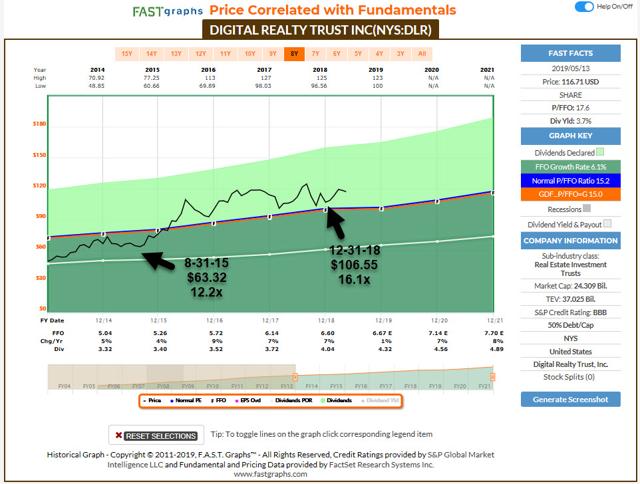 Source: FAST Graphs
But wait… Because I can't conclude this Willy Wonka story without providing you with a mouthwatering treat that you can buy today.
So, ladies and gentlemen, boys and girls, let me introduce you to Federal Realty (FRT).
This iconic REIT is a true dividend king. This means it has raised its dividend each year for five decades or more. And right now, it's definitely working on the "or more" part.
Federal Realty has amassed an amazing divided record that goes back over 51 years by now. That's right. It has paid and increased its annual dividends for more than 51 years in a row - a feat that no other REIT has come close to beating.
One of the key drivers for that success is demographics since Federal Realty has a diverse revenue stream. A whopping 77.1% of its assets are in the nation's top 20 markets, which comprise 37% of U.S. retail expenditures.
These demographics are unparalleled. They show a combination of concentration and wealth generation that sets Federal Realty's properties far apart from the competition.
In addition, it has a fortress balance sheet, which the S&P gives an A- scoring. This is exceptionally impressive considering how only 12 out of 25 dividend kings feature that kind of rating or higher.
This means that Federal is highly disciplined and recognizes that the true secret to its dividend's success is an advantageous cost of capital advantage.
Yet it's the following facts about Federal Realty that translates into highly appetizing dividend income and superior returns:
It maintains a high barrier-to-entry blueprint, with a preference for coastal markets. It keeps a necessity revenue model made up of 33% mixed use real estate facilities, 26% grocery store-anchored locations, 25% super regional units, 11% power centers, and 5% other kinds.
That's why it's boasted a 5% compound annual growth rate since 2008 vs. its peers' 3%... and why it has a 10-yr net asset value (NAV) growth of 8% since 2008 vs. its peers' -1%.
I wish I'd been smart enough to pick up some Federal Realty shares in 2008 and sold them in July 2016. That's when it was at $170 and featured a price to funds from operations (P/FFO) figure of 30.8x. But as they say, hindsight is always 20-20.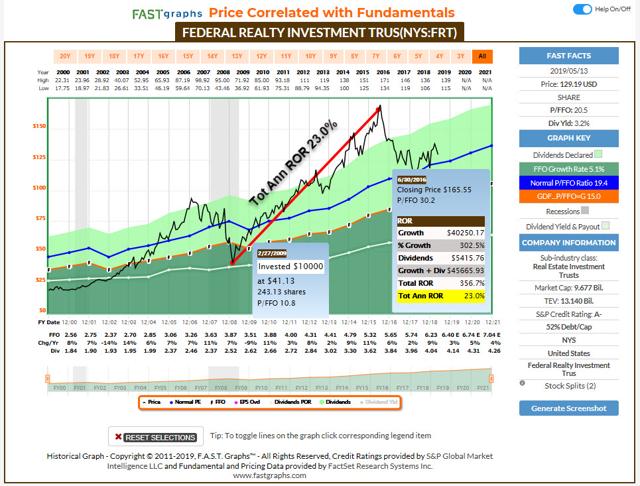 Source: FAST Graphs
Fortunately, there's always a time and a place. And it appears that NOW may be the time to take a bite of this particular Everlasting Gobstopper.
As viewed below, shares of Federal Realty are trading at an adequate margin of safety with stable net operating income (NOI) growth and sizable mixed-use makeup of roughly $4 billion. All of that provides investors with a lower-risk, higher-yield external growth path over the long term.
We acknowledge here that the FFO growth will be less enthusiastic (around 5% in 2019-2021). But we're committed to its long-term performance driven by rock-solid fundamentals and demographics.
We recently upgraded Federal Realty from a Hold to a Buy, and shares have moved closer to our ideal target price of $124. We recommend accumulating shares at the current price of $129.19 or below. Our long-term thesis is based on the premise that we anticipate shares to return approximately 10% per year.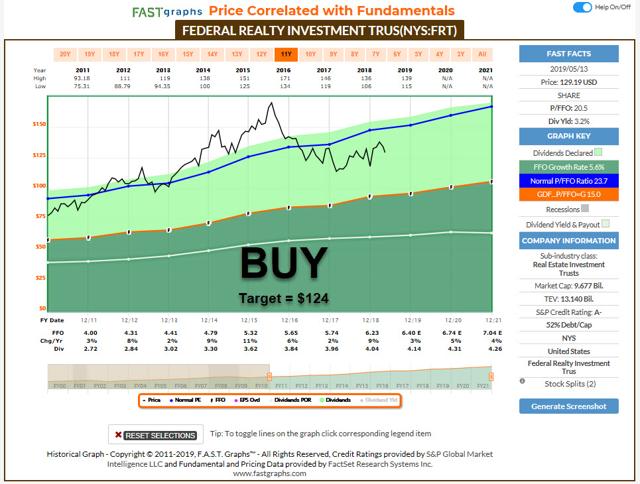 Source: FAST Graphs
Finally, as many of you know, I wrote on Tanger Outlets (SKT) recently, an outlet center REIT we consider to be the ideal Willy Wonka pick as expressed in terms of dividend repeatability and margin of safety.
That's true no matter that Mr. Market doesn't recognize the sweetness of Tanger's enduring dividend performance.
This is why Tanger is our quintessential Gobstopper built perfectly (and tastefully) for Willy Wonka… Don't get succumbed to the temptation of the Fizzy Lifting Drinks (i.e., Washington Prime and CBL) like Charlie and Grandpa Joe did for a moment there.
Stay focused on dividend safety. That's your golden ticket to help you "sleep well at night."
Invest with the #1 Ranked REIT and #1 Finance Analyst on Seeking Alpha
"Your articles should be mandatory in High schools and Colleges, as a separate subject on real estate investments."

"Always well-written, factual, and very entertaining, and you did it the hard way."

"Brad is the go-to guy, with REITs. Wonderful info, he has provided great ideas, on which I read & perform my own DD."

"Brad Thomas is one of the most read authors on Seeking Alpha, and over the years, he has developed a trusted brand in the REIT sector."
We are providing this special offer so you can sleep well at night...

Disclosure: I am/we are long DLR, FRT, O, SKT. I wrote this article myself, and it expresses my own opinions. I am not receiving compensation for it (other than from Seeking Alpha). I have no business relationship with any company whose stock is mentioned in this article.