Mesabi Trust (NYSE:MSB) has seen strong growth in net income (see below) due to volume and price increases of iron ore from the mine it holds rights to against a revised contractual structure. 2019 should be a strong year too, as prices continue to rise for the year so far. However, it does seem we are at high prices for iron ore pellets, and MSB's double-digit yield is unlikely to persist through the cycle.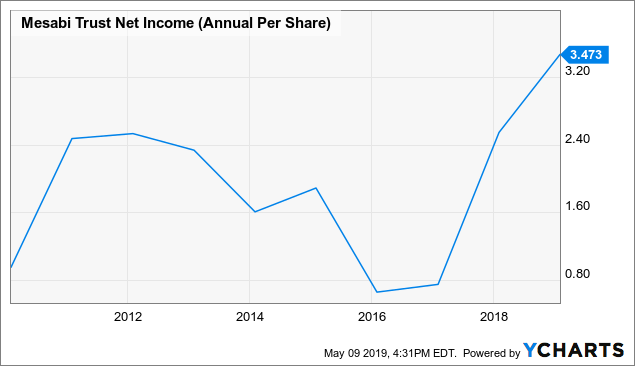 Source: Cleveland-Cliffs 2018 Annual Report
The Importance Of The Pellet Premium
The threshold price for the agreement can be found here, currently just under $57/ton, broadly similar to where producer Cleveland-Cliffs estimates cash costs per ton of $62-67 for 2019. At above this price, MSB earns incremental profits. The current iron ore spot is over $93/ton (see chart below). However, the mine produces not iron ore but iron ore pellets (see below).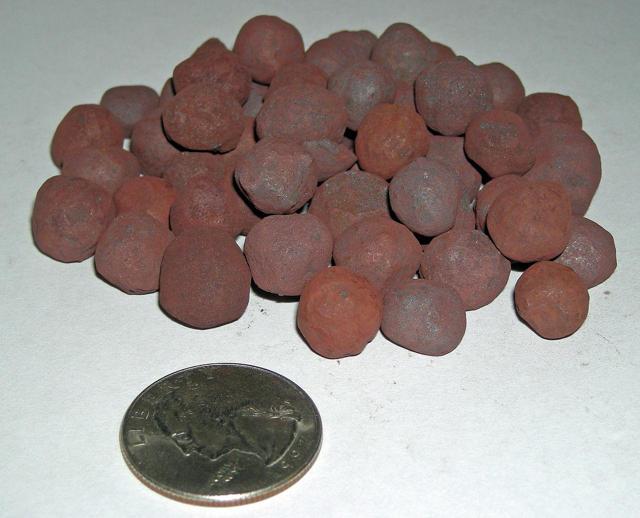 Source: Harvey Henkelmann/Wikipedia Creative commons 3.0
Pellets currently trade at an estimated $70 premium to spot. There is a good primer on why pellets matter and the historical premium here.
Basically, though pellets do typically command a premium, and there are environmental reasons to use pellets over iron ore fines, current pellet premiums are very high by historical standards; in part, as China looks to improve environmental efficiency in its steel production processes.
So, MSB currently sees a double benefit. Not only are iron ore prices high relative to recent history, but pellets are in demand, so the pellet premium relative to the iron ore price is also very high, historically speaking. Below, you can see that the iron ore spot price is rising but (second chart below) that the price for pellets (as received by Cleveland-Cliffs) is substantially above the spot price. This is the pellet premium.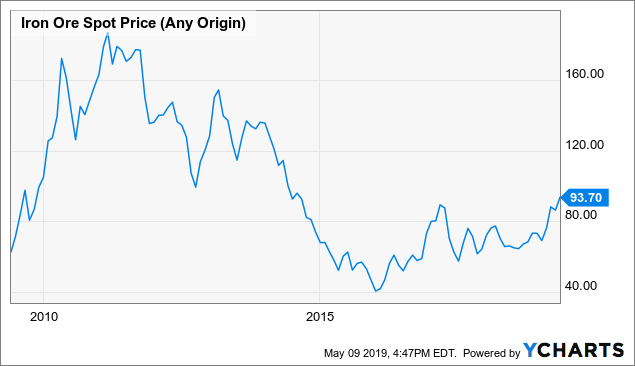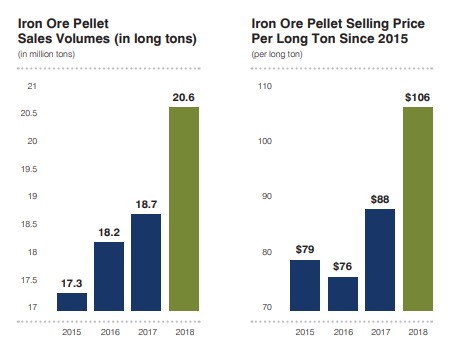 Source: Cleveland-Cliffs 2018 Annual Report
Note: truncated y-axis on both charts
2019 Volumes
Not only is pricing strong but volumes are relatively robust too.
What Cleveland-Cliffs is saying from Q1 earnings transcript 4/25/19,
Our second quarter shipments expectation is 5 million long tons, representing a significant increase from Q1 as usual. Also, our sales expectation for the full year is 20 million long tons and that includes 500,000 long tons of DR grade pellets to be delivered from our North Shore pellet plant in Minnesota to our HBI plant in Toledo during the third quarter.
Note that this full-year 2019 forecast is similar to 2018. In addition, the Northshore mine has just received a $90M upgrade enabling the Northshore mine to supply Hot Briquetted Iron as soon as next month.
This is also a positive because with a commodity supplier such as MSB, you want to see a level of commitment that that resource will be used over time. Cleveland-Cliffs' substantial investments in their Ohio facility suggest a long-term commitment to MSB's resources.
Seasonality
Investors in MSB should note that the mine operations are seasonal. Typically, shipments are transported by water, and the closer of the Soo Locks due to ice means that only rail transportation is available in the winter, which is less efficient and lowers volumes. Therefore, less product is shipped in calendar Q1. This and the nature of the contract whereby MSB receives incrementally larger payments for additional volumes means that MSB's earnings and distributions are generally weighted toward the end of the calendar year.
Trust Agreement
The Agreement of Trust has a duration ending 21 years after the death of the last survivor of 25 individuals living at the inception of the Trust, all of whom are named in an exhibit to the Agreement of Trust and were alive several years ago when the Trustees investigated this matter. Therefore, the trust is finite, but should run for several more decades.
What 2019 May Hold
The economics of MSB's royalty agreement are complex and laddered based on volumes and price (see 10K for details). Nonetheless, assuming volumes hold at around 5 million tons. Iron ore has risen around +$20/ton this year vs. last, and the pellet premium may be up +$15 year over year. Hence a $35/ton increase. Across 5 million tons, with MSB receiving a 7.5% share of the incremental proceeds (4.5% based on blended volume share up to 5M tons and then 3% on incremental revenue share), that's an extra $13.5M in earnings or $1/share. Enough to nudge the 12% yield up to 15%.
All Yields Are Not Created Equal
Yet, before we get too carried away with MSB's implied 15% yield we should note that, firstly, the assumptions rest on a number of assumptions concerning what Cleveland-Cliffs receives relative to spot and how pricing and pellet premiums hold up over the remainder of the year.
Secondly, remember MSB broadly pays out its earnings as a dividend. Most other firms 'smooth' their dividend in some way making it more stable by only paying out a portion of earnings. Therefore, just as MSB's earnings will rise in good times, such as we appear to be seeing now, so they will also fall in bad times.
A Normalized Level - $32/Share
So, what is a normalized level of earnings for MSB? Well, it's likely less than what we'll see in 2019 and requires a lot of estimation. But assume a marginal cost of iron ore production in the $60s, then assume a pellet premium on top of that of perhaps $30, and you have a $90 price received by MSB. Then, MSB receives approximately $30M in earnings (similar to 2017), and a normalised 7% yield would imply $2.29 of dividends or a $32/stock. That also assumes production stays at 5M tons.
Let's be clear that those point estimates conceal a range of volatility on price, pellet premium, and volumes. Still it suggests that, at current levels, investors should be careful if the stock gets carried away on great 2019 results.
Other factors suggest this too. Iron ore futures prices suggest moderation in prices in future years. Cleveland-Cliffs' new facility is an example of how capacity is expanding. Plus, looking at Cleveland-Cliffs and a range of steel producers, these are companies trading at low earnings multiples (see below), suggesting the market's view that we may be close to peak cycle earnings.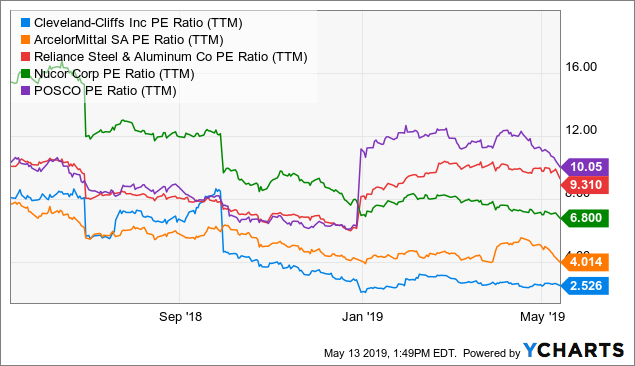 Summary
MSB is set for a strong 2019 and a yield that could hit 15%, suggesting the stock could ultimately rally. However, we may be close to the top of the cycle, and though the combination of strong results and a reasonable valuation may carry the stock above what may be fair value through the cycle, investors should be careful to not extrapolate what may be peak pricing too far forward.
Disclosure: I am/we are long MSB. I wrote this article myself, and it expresses my own opinions. I am not receiving compensation for it (other than from Seeking Alpha). I have no business relationship with any company whose stock is mentioned in this article.