The latest moves by Teekay (TK), even though being far from ideal - a 9.25% debt offering and selling equity in Teekay Offshore Partners (TOO) at rock bottom levels - seem to have taken out of the equation an equity offering, which was one of the main risks to the incentive distribution rights (IDR) story.
Teekay Corporation's Assets
FPSOs
Teekay Corporation owns and operates 3 FPSOs (floating production, storage and offloading vessel): the Hummingbird, the Banff and Foinaven. The first of these vessels to finish its present contracts is the Banff in August 2019. Hummingbird finishes its contract in September 2020. Foinaven is operating under an Evergreen contract (a kind of agreement that is automatically renewed at the end of its maturity period, if not cancelled by either party). The Foinaven contract is firm until 2021, and after that if BP or TK do not cancel the contract it will be rolled over.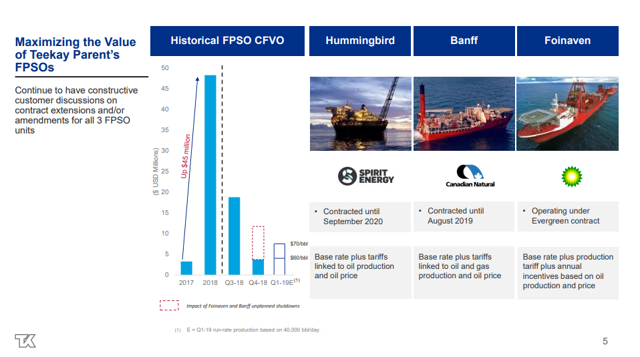 Source: Teekay Q4 earnings presentation
It is very hard to determine the value of the FPSO vessels. Right now, it is pretty low (some analysts think it should be valued as scrap material) due to the fact that the end of most of their contracts is near. But if TK managed to get long-term contracts for them, their value would skyrocket.
Teekay Tankers' stake
Teekay Corporation holds 77,298,441 Teekay Tankers (TNK) shares. This participation is valued at $96.5 million (using the 05/10 closing price, $1.25). Teekay Corporation's stake in TNK is 29%.
TK's stake in Teekay Tankers offers significant upside in case of a tanker market recovery. The share price has been harshly penalized due to the high levels of debt and the prolonged market downturn in tanker prices. This has started to change.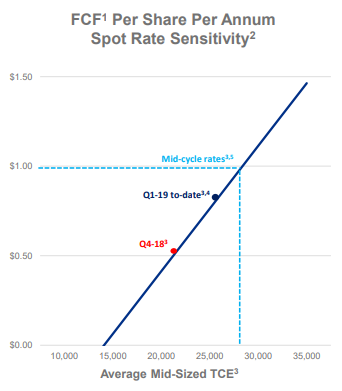 Source: Teekay Q4 earnings presentation
The tanker market has strengthened, and rates have started to appreciate. TNK is poised to benefit greatly if this recovery continues. Though, TNK is set to suffer greatly if tanker rates go down again (due to the company's high level of debt).
In the image above, the sensitivity to tanker rates TNK has is highlighted. If rates reverse to their mid-cycle figures (90% Clarksons global average 15-year mean), the company will generate $1 in FCF (keep in mind that the share price is currently $1.25). The dividend policy of distributing between 30% and 50% of their net income has been suspended temporarily to delever (and therefore reduce risk).
If you are interested in Teekay Tankers, there's a more in-depth article here.
Teekay LNG Partners (TGP)
Teekay Corp holds 25,208,274 TGP shares. Their current market value stands at $362 million ($14.35 per share, 05/10 closing price). Teekay's ownership in TGP is ~32%.
TGP is a global provider of LNG transportation. Its growth program has been executed in a near perfection way, and the company has started seeing its results (even though some of it has not kicked in yet). TGP's main characteristic is that it works on long term charters with very solid counterparties such as Royal Dutch Shell (RDS.A) or British Petroleum (BP), among others.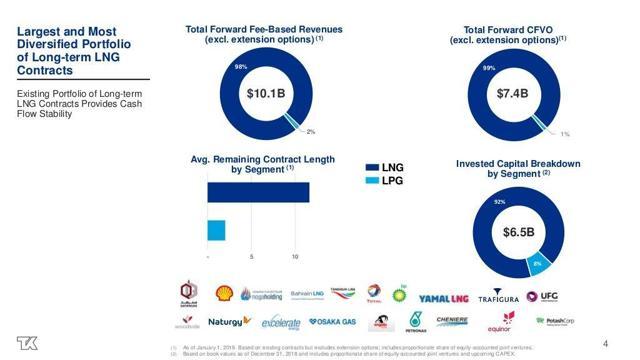 Source: TGP's Q4 earnings presentation
TGP's current backlog stands at $10.1 billion, which will "transform" into $7.4 billion in CFVO. The average contract length of the LNG contracts (which are their main area of expertise and source of profits) is 12 years. This makes the company less risky than the ones that get all their revenue on the spot market. If you are interested in Teekay Tankers, there's a more in-depth article here.
Debt
Debt has been the main problem in the whole Teekay family, and Teekay Corporation is not an exception. As of Dec. 31, 2018, the TK had a net debt of $392 million. After selling all of TK's stake in Teekay Offshore Partners for $100 million the company's net debt should stand at $292 million.
The private placement of $250 million senior secured notes at 9.25% was not a good deal. It's more expensive than the 8.5% the company was paying on the senior notes due 2020 (which were not secured). Even though, it must be kept in mind the general sentiment in shipping (extremely negative), and the fact that the present position of TK is far worse than it was when it made the 2020 notes offering.
TGP's IDR
Teekay's bullish prospects are based on the General Partnership it holds over TGP. TGP's management decided to delever before ramping up distributions, which in the short term hurt TK's IDR (they weren't producing anything). But, in the long term, it's bullish for them due to the fact that payouts in the future will be higher than they would have been if the company had been paying a big dividend until then.
| | |
| --- | --- |
| Quarterly distribution target | General Partnership interest |
| $0.4125 | 2% |
| Up to $0.4625 | 2% |
| From $0.4625 to $0.5375 | 15% |
| From $0.5375 to $0.65 | 25% |
| Above $0.65 | 50% |
For 2018's fourth-quarter TGP's distributable cash flow amounted to $0.64, which is really close to the highest quarterly distribution target of $0.65. When TGP ramps up distributions Teekay's IDR will start generating cash flow for the parent.
Conclusion
Teekay Corporation has been able to "refinance" its debt. The terms of the new offering are not attractive, but they keep an equity raise away, which would be certainly painful at this price levels. Cash flow will improve since the company is "changing" a $500 million at 8.5% debt offering for $250 million at 9.25% (about $20 million in savings per annum).
The TOO sale is not going to affect Teekay's cash flow due to the fact that the company was not making any distributions (they were stopped to delever). The problem of this sell is that Teekay is not going to receive any upside from the more than likely recovery in TOO shares. The $250 million at a 9.25% secured debt offering and the TOO participation liquidation are not ideal outcomes. These moves make an equity raise very unlikely and "buy time" for the IDR story to play out, creating more time to increase the distributions to TGP.
Disclosure: I am/we are long TNK, TGP. I wrote this article myself, and it expresses my own opinions. I am not receiving compensation for it (other than from Seeking Alpha). I have no business relationship with any company whose stock is mentioned in this article.
Additional disclosure: This article is for educational and informational purposes and should not be considered investment advice.