It seems like just yesterday that General Electric (GE) was one of the biggest and most discussed companies in the world. Jack Welch made mistakes, but GE was always seen as a bellwether for the US economy over the last several decades.
Today the negatives GE faced are being focused on too much and they have already been priced. The reality is that the company's core industrial division, the aviation business, remains strong. The company's issues in the power sector have been priced in and the company's pension obligations should subside in coming years. GE Capital's issues have been overstated as well.
The share price of GE has had a very tough run over the last 3 years, and the company has faced several main challenges over the last several years. There have been rising debt levels, specifically the pension liability, falling revenues in some of the company's core industrial divisions, and losses at GE capital.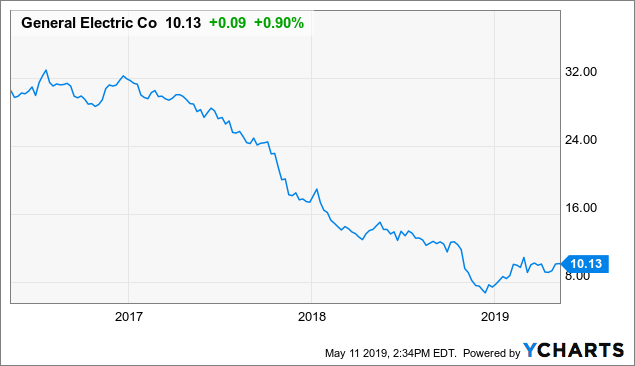 If you look at GE's biggest challenges today, they seem overblown. The company's most important core industrial division, the aviation business, remains strong.
GE's pension obligations are overstated for several reasons. Immelt closed the GE pension to new employees and while GE's recent decision to sell some Baker Hughes shares for a loss to fund the company's British pension obligations looks bad, GE's pension fund is well funded, and the company's pension obligations will drop significantly in the coming years. GE recently sold $4 billion in Baker-Hughes stock to raise capital. Despite the recent capital raise, GE's pension fund remains around 90% funded, since the current estimates of 80% funding are based on long-term interest rates expected to go up. GE already restructured the health benefits of the pension program, and since Immelt closed the program to new employees years ago and long-term rates are expected to rise, the pension liability should only go down from here. A higher ERISA interest rate lowers pension liabilities, and rates are expected to rise from here.
Second, GE's aviation business remains strong and the company's merger with Baker Hughes is starting to be profitable. GE's aviation division remains well positioned,and the company's struggles in the power division appear to be bottoming. GE recently reported a 5.5% drop industrial divisions year-over-year revenues. The drop in power sector orders occurred primarily because of a trade-off with renewable energy alternatives, and GE's renewable division continued to grow after a strong fourth quarter of double digit growth. Specifically, Renewable energy orders were up 1% even after a double digit increase in these orders in the fourth quarter, so falling revenues in the traditional power sector are trading off with increased renewable orders. GE also remains optimistic about some traditional power industries like natural gas.
The company's aviation division, which is the strongest part of the company's business, remains impressive. Aviation orders grew by 7% and revenue grew by double digits. The civilian and military sectors remain strong growth sectors, and aerospace companies such as Boeing (BA) and Northrop Grumman (NOC) continue to report strong revenues. The defense budget in the US remains large and the demand for new civilian aircraft is strong as well, with airline leasing companies such as Aercap (AER) reporting strong revenues. GE plans to hire more people in the aviation division, and the company's drop in backlog likely was because of overblown fears that growth was slowing in China and emerging markets in the first quarter. Most analysts view global growth rates and recent data shows growth rates in China have stabilized in March to April of this year.
GE's position in Baker-Hughes (BHGE) also looks to be bottoming as oil prices have stabilized and Baker-Hughes recently reported strong revenue growth. Oil prices have risen steadily over the last year and Baker-Huges doesn't have same exposure to the weak North American Natural gas market as many of the company's peers. Baker Hughes is reporting impressive results and the company's core service business appears to be recovering.
Third, GE Capital's overhang on the stock has also been well documented, but GE capital's losses are suppose to subside by the end of 2021, and GE Capital could become a source of revenue growth after the company's is done absorbing the final 2 years of losses from this division. GE capital will obviously be a smaller part of the company's overall revenues moving forward, but this struggling division should be cash flow positive after 2021.
GE currently trades at nearly $10 a share, and the company is going through a transition period. Still, the new CEO has been frank, and the company's financial liabilities should drop significantly over the next 3-5 years. As the company's financial problems connected to pension liabilities and GE capital continue to diminish, management should have increasingly flexibility to returns cash to shareholders with dividend and buybacks. GE capital should become profitable in the next couple years, the company's pension obligations will continue to drop, and GE's core industrial strength remains impressive.
Disclosure: I/we have no positions in any stocks mentioned, and no plans to initiate any positions within the next 72 hours. I wrote this article myself, and it expresses my own opinions. I am not receiving compensation for it (other than from Seeking Alpha). I have no business relationship with any company whose stock is mentioned in this article.