With the trade war long from being resolved and the Fed rate hikes tinkering between further rate hikes or a potential cut, it's no surprise the market has been volatile. I don't expect that to change anytime soon, and in fact, I suggest investors start positioning their portfolios accordingly.
If rates are rising, it's usually not prudent to be overweight fixed income, unless you're investing in asset classes that tend to be less sensitive to rates. However, doing so means you're being exposed to other risks such as credit risk, foreign currency risk, or geopolitical risk - the latter two being the case for emerging market bonds, for example. There is also a potential short-term sell-off in dividend paying stocks, particularly those that are sometimes incorrectly viewed as bond proxies. They include REITS, MLPs, and Utilities, among them.
While rising rates are a sign of a strong economy, which benefits REITs and MLPs in the longer run, these sectors tend to initially go through a sell-off as investors shift from equity income investments into fixed income investments that might now offer a more favorable yield and risk/return than some of the dividend paying stocks.
On the other hand, if rates are declining, the price of fixed income securities tends to rise (the relationship between rates and prices is inversely related). When rates decline, longer duration bonds tend to appreciate the most, so either lower coupon or longer-term bonds could be more favorable.
Within equities, more defensive sectors tend to perform well when rates decline. They include REITs, Utilities, and Consumer Staples, while Financials, Cyclicals, and Small Caps tend to underperform.
It doesn't always play out as simple as this because there are additional factors at play, but the fact that we don't even know which way rates will go only complicates the matter.
The Fed Dot Plot
The Fed's new dot plot hasn't changed much in terms of the range of forecasted rates over the next couple of years, but where rates might land within that range seems to have shifted to the low end.
The chart below shows the distribution of projected rates for each of 2019 to 2021 and beyond, and grouped by the number of governors that have provided each forecast.
In December 2018, the projections for 2019 were skewed to the high side - shown by the white dots with green outline. For 2019, 6 governors forecasted rates at 3.125% with the median rate at 2.875%. Fast forward to March 2019 and the median rate forecasted for 2019 dropped to 2.375% with 11 governors projecting the rate to be 2.375%. As shown by the solid green dots, the highest projected rate for 2019 as of March was 2.875%, and only 2 governors forecasted that rate.
Looking out to 2020 and 2021, the same shift occurred, with the top end of the range coming down from December to March forecasts, and the number of forecasts at the low end of the range increasing noticeably.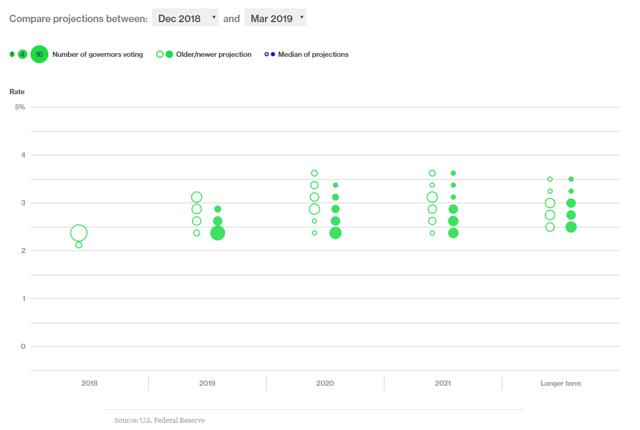 With this kind of wishy-washy forecast, how should you be thinking about positioning your portfolio? Do you play the additional rate hikes and underweight fixed income, or do you assume the Fed will start cutting rates and position yourself defensively? Or do you sit on cash and wait it out - potentially missing out on another leg up in the market?
The Case for High Quality
There are a number of managers that focus their investments on 'high-quality' companies, and each one might define quality differently. The overall philosophy is that companies with stable earnings, a strong balance sheet, a business model with a competitive advantage, stable and growing cash flows, and/or any combination thereof, should hold up pretty well in all market environments.
If the market continues to climb, these stocks should go along for the ride and generate some, if not the full, returns of a more aggressive or momentum strategy (which sometimes is characterized as a low-quality rally). While if the economy deteriorates and the market declines, the idea that these companies have solid balance sheets, robust business models, and steady earnings, should translate into outperformance relative to, well, everything else.
This past weekend, I read an article in Barron's, titled Deceptively Reassuring, Warning: Quality Stocks could be Quite Volatile. The article mentions that high-quality stocks tend to perform more strongly in the late stages of a cycle. We are arguably in the late stages of a cycle. Even if the cycle goes for another year or two, it's been well documented that come July, this will be the longest expansion in history.
Some of the other criteria of 'high quality' include low leverage, high returns on equity, strong cash flows, and lower accounting accruals. The article goes on to mention the Invesco S&P 500 Quality ETF (SPHQ) and how it has slowly evolved to have a current Technology weighting of 42%!!! It is also underweight financials, healthcare, industrials, materials, real estate, and utilities. So, while it might be high quality, it also looks to be potentially volatile, in my opinion.
I like the concept of high quality in this stage of the cycle, but I wasn't convinced that SPHQ was the solution.
The Other High-Quality Options
Before you go jumping into a 'high-quality' ETF or mutual fund, make sure you understand what's in it and how it defines and invests in high-quality stocks.
Vanguard U.S. Quality Factor ETF (VFQY) - The Vanguard fund looks for companies with strong fundamentals using a quant model. It has almost 700 holdings across small, mid, and large-cap stocks with an average ROE of 17% and earnings growth rate of 12%. It has a 28% exposure to consumer discretionary and pays just a 1.3% dividend yield.
iShares Edge MSCI USA Quality Factor ETF (QUAL) - QUAL is the largest of the high-quality ETFs with over $11 billion in AUM. It is also more heavily weighted towards information technology, although at 21%, it is considerably less than SPHQ. It pays a dividend yield of about 1.91%.
S&P 500 Quality Dividend ETF (QDIV) - QDIV has the highest dividend yield of the 4 high-quality ETFs we are comparing with a 2.88% yield that is paid monthly. Its largest exposure is to consumer discretionary at 20% but is followed by information technology at 16.7%. One of the drawbacks is that it has just $6M in assets under management and only has a 7-month track record.
Performance comparisons are difficult because at least 2 of the 4 ETFs were launched last year and don't have the track record to compare to some of the more seasoned funds. All have comparable fee structures, although QDIV is about 20bps more expensive.
The breakdown by sector is shown below. As already mentioned, the Invesco fund has a heavy allocation to technology, which is shown to be almost 35% as of the last public filing but is now above 40%. The most diversified by sector seems to be the Global X Fund, but it has a limited track record along with the Vanguard US Quality Factor ETF.

In general, we are carefully evaluating thematic approaches to our portfolio construction to take into consideration both the uncertainty of the direction of interest rates, the impact of a prolonged trade war or any agreed upon solution, as well as the fact that we are 10 years into an economic expansion that is closer to the end than the beginning.
The Income Strategist
We are providing portfolio strategies and investment ideas to income investors and retirees. Our asset allocation strategies guide investors on where to find the best income generating ideas and we provide individual security coverage on REITs, Dividend Stocks, MLPs, Preferred Equity, Bonds, BDCs, ETFs, and Closed End Funds.
Join us get access to our research and portfolios, including
Stable Monthly Income (6% annual yield paid monthly)
Dividend Growth (4% Yield with 9%-10% Growth)
High Income (9% average yield)
Municipal Income (5.2% yield)
Baby Bonds
Preferred Shares
Disclosure: I/we have no positions in any stocks mentioned, and no plans to initiate any positions within the next 72 hours. I wrote this article myself, and it expresses my own opinions. I am not receiving compensation for it (other than from Seeking Alpha). I have no business relationship with any company whose stock is mentioned in this article.
Additional disclosure: This article is meant to identify an idea for further research and analysis and should not be taken as a recommendation to invest. It does not provide individualized advice or recommendations for any specific reader. Also note that we may not cover all relevant risks related to the ideas presented in this article. Readers should conduct their own due diligence and carefully consider their own investment objectives, risk tolerance, time horizon, tax situation, liquidity needs, and concentration levels, or contact their advisor to determine if any ideas presented here are appropriate for their unique circumstances. Furthermore, none of the ideas presented here are necessarily related to NFG Wealth Advisors or any portfolio managed by NFG.