AbbVie's (ABBV) stock is under pressure due to the fact that the patent for Humira will be expiring in 2023, and this is a major uncertainty factor weighing on the stock. However, investors seem to be overreacting to this uncertainty, and AbbVie's stock looks like a bargain at current prices.
A Solid Business Facing Uncertain Times
AbbVie has a solid track record of financial performance over the long term, and the business has delivered consistently growing revenues and free cash flows for investors in the past five years.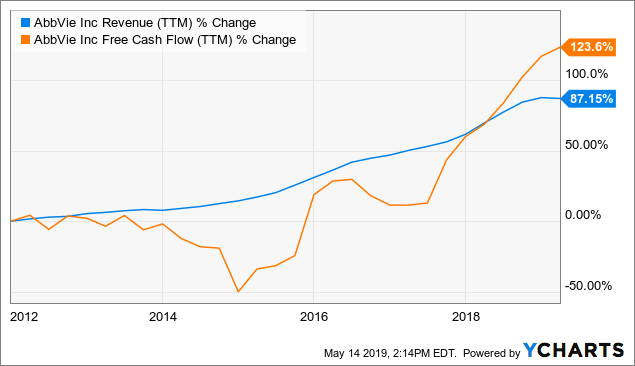 However, investing is about the future as opposed to the past. The company makes nearly 50% of revenue from Humira, and the patent for this drug is set to expire in 2023. This is understandably generating some concerns.
But it's important to note that AbbVie has some promising developments in oncology and immunology that have considerable potential over the middle term. Management estimates that non-Humira sales should be around $35 billion in 2025.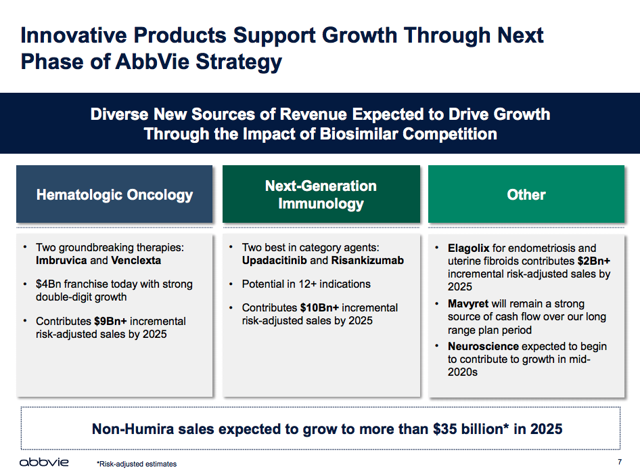 Source: AbbVie Investors Relations
The company made $32.6 billion in total revenue during 2018. If the business can produce $35 billion in sales without including Humira by 2025, this would mean that the company should do better than fine, even if we expect revenue from Humira to considerably decline after the patent expires in 2023.
Nevertheless, the market hates uncertainty, and AbbVie will be facing considerable uncertainty in the years ahead. This is clearly the main reason why the stock has delivered disappointing returns in recent months.
But the good news is that short-term uncertainty can many times create buying opportunities for long-term investors, and this seems to be the case when it comes to AbbVie's stock right now. At current prices, AbbVie is offering attractive potential for revalorization going forward.
Attractive Dividend Yield
Valuation ratios and discounted cash flows can seem like a distant concept to many investors. Dividends, on the other hand, are payments in cold hard cash, so valuation levels based on dividends are far more tangible and easy to comprehend from an intuitive perspective.
AbbVie has a solid track record of dividend payments in recent years, the company has increased dividends in the past six years, and what started as a quarterly dividend of $0.4 per share in 2013 has now turned into a much larger $1.07 per share.
At current prices, the stock is trading at a remarkably attractive dividend yield of 5.4%. In times when interest rates all over the world are notoriously low and the S&P 500 index is paying a dividend yield of 1.9%, AbbVie looks like a remarkably attractive play for dividend investors.
Importantly, the current dividend amounts to nearly 49% of earnings estimates for 2019. This means that the company can comfortably cover dividend payments with current earnings, and chances are that AbbVie will keep raising dividends in the future.
Valuation Multiples
Wall Street analysts are on average expecting AbbVie to make $8.81 in earnings per share during 2019. Under this assumption, the stock is at a conveniently low forward price to earnings ratio of 8.9. To put the number in perspective, the forward PE ratio for companies in the S&P is currently in the neighborhood of 16.
Not only is AbbVie attractively valued in comparison with the broad market, but also by historical standards for the company. As cash flows have increased and the stock price has remained under pressure over the past several years, valuation metrics such as price to operating cash flow are currently at the low end of the historical range.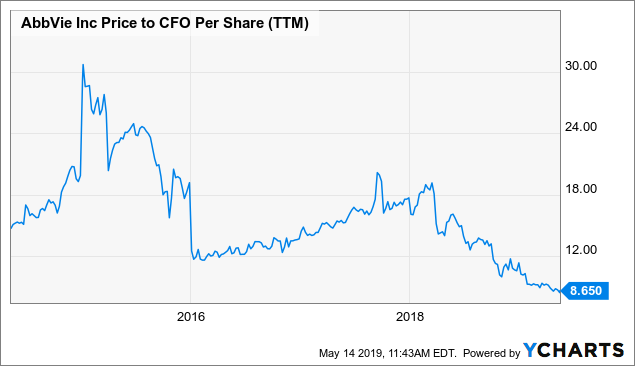 The table below compares ratios such as price to sales, price to cash flow, forward price to earnings and enterprise value to EBITDA versus the average level for those ratios in the past five years. On average, AbbVie is trading at a valuation discount of 32% versus historical standards for the company.
| | | | |
| --- | --- | --- | --- |
| | Current | 5Yr Average | Discount |
| Price/Sales | 3.57 | 4.64 | -23% |
| Price/Cash Flow | 8.45 | 16.53 | -49% |
| Forward PE | 8.9 | 12.6 | -29% |
| EV/EBITDA | 13.49 | 18.5 | -27% |
| | | | |
| | | Average | -32% |
Discounted Free Cash Flows
Even if revenue growth could be under pressure in the short term, it's important to note that capital expenditure needs are also very low for AbbVie. Operating cash flow has been moving in the right direction in recent years, while capital expenditures have remained contained. This has allowed AbbVie to deliver remarkably attractive growth rates in free cash flow over time.
| | | | | | |
| --- | --- | --- | --- | --- | --- |
| | 2014 | 2015 | 2016 | 2017 | 2018 |
| Operating cash flow (Millions) | $3,549 | $7,535 | $7,041 | $9,960 | $13,427 |
| Growth | | 112% | -7% | 41% | 35% |
| Capital expenditure (Millions) | -$612 | -$532 | -$479 | -$529 | -$638 |
| Growth | | -13% | -10% | 10% | 21% |
| Free cash flow (Millions) | $2,937 | $7,003 | $6,562 | $9,431 | $12,789 |
| Growth | | 138% | -6% | 44% | 36% |
Source: SEC filings
The following discounted cash flow analysis is based on very conservative assumptions for AbbVie.
Current sustainable free cash flow is assumed to be $11 billion.
Free cash flow growth is assumed to be 5% in the coming 5 years, and 3% in the five-year-period after that.
The terminal growth rate is 3%
The required rate of return is 10%
Based on these estimates, the fair value for the stock is $104.14, which means that the stock is undervalued by 32.4% at current prices.
| | |
| --- | --- |
| Sum of Present Value of Cash flows (Millions9 | 80,169 |
| Perpetuity Value of Final Cash flow (Millions) | 73,798 |
| Equity Value (Millions) | 153,967 |
| Implied Share Price | $104.15 |
| Discount/Premium to Current Price | 32.44% |
Importantly, the valuation exercise is assuming that sustainable free cash flow is materially below the levels produced in 2018, and growth rates remain under pressure for the foreseeable future. This provides plenty of room for positive surprises if AbbVie manages to outperform those modest expectations with successful new drugs from its broad pipeline.
Multi-Factor Analysis
The PowerFactors system is a quantitative algorithm available to members of "The Data Driven Investor." This system basically ranks companies in a particular universe according to quantitative return drivers, such as financial quality, valuation, fundamental momentum, and relative strength.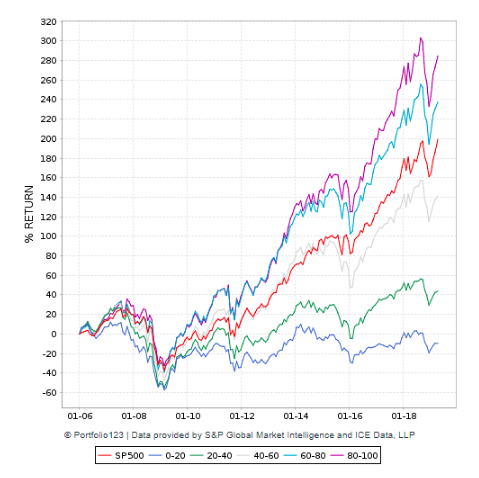 Data from S&P Global via Portfolio123
AbbVie is the top quintile with a PowerFactors ranking of 90.85. According to the backtested performance data, companies with the strongest quantitative rankings tend to generate superior performance in the long term.
In simple terms, when looking at dividends, valuation ratios, and discounted cash flows, AbbVie is very reasonably priced. Furthermore, when incorporating other quantitative return drivers into the valuation picture, AbbVie's stock looks well-positioned for attractive returns going forward.
Statistical research has proven that stocks and ETFs showing certain quantitative attributes tend to outperform the market over the long term. A subscription to The Data Driven Investor provides you access to profitable screeners and live portfolios based on these effective and time-proven return drivers. Forget about opinions and speculation, investing decisions based on cold hard quantitative data can provide you superior returns with lower risk. Click here to get your free trial now.

Disclosure: I/we have no positions in any stocks mentioned, but may initiate a long position in ABBV over the next 72 hours. I wrote this article myself, and it expresses my own opinions. I am not receiving compensation for it (other than from Seeking Alpha). I have no business relationship with any company whose stock is mentioned in this article.