It wasn't long ago that Disney (DIS) stock was mired in underperformance and critics had basically cast the company aside because the traditional cable model is dying. For years, I've sung high praises of Disney, not because of its distribution but because of its best-in-class content and the multi-tiered ecosystem that management has built. Heck, a few summers ago, I wrote this piece while I reported live from Disney World that the sky was indeed not falling. It's this ecosystem that makes Disney unique in the media space and a really easy stock for me to own. The way I see it, no other company can better monetize its content-related intellectual property. And with the Disney+ streaming service on the way, we'll see yet another avenue of monetization added to the Disney ecosystem. I suspect this will not only lead to increased revenues and earnings, but a sustained higher multiple on shares as well.
Disney recently reported earnings, yet it appears that the company's Q2 was fairly inconsequential. Revenues were up 3% and comparable earnings were down 13%, yet that wasn't the focus. I say comparable because the company's diluted EPS was actually up 81% y/y coming in at $3.53/share, yet management instead focused on the $1.61 figure that excluded one-time items. This makes sense, because that $3.53 comparison would have been nearly impossible to beat a year from now.
This was the first quarter that Disney reported with the newly acquired Fox assets tallied in, yet it's too soon for those to have really made an impact yet. The Twenty First Century Fox segment added just $373 million in revenues and $25 million in operational earnings. These results will obviously be much higher in the future. But the focus wasn't on the financial impacts in the short term, but instead, the great things that Disney CEO Bob Iger had to say about the perceived value of the Fox assets long term and the tremendous talent that was bought over in the Fox deal that now operates under the Disney umbrella. Although Fox isn't yet contributing much to DIS's balance sheet, in the Q2 conference call, Disney CFO Christine McCarthy highlighted the company's plans to deliver at least $2 billion in synergies in the first 2 years of the deal and said they remain on track.
The market seemed to shrug off Disney's earnings and continue to focus on the streaming upside. This has been the case for about a month now. Disney highlighted its streaming ambitions during its annual Investor Day presentation back on April 11th, and ever since, the market has had an insatiable desire for DIS shares.
During that presentation, Iger and Co. broke down the company's streaming plan. Disney's streaming service will be called Disney+, and it is scheduled to launch in the fourth quarter of 2019. The service will be priced at $6.99/month and offer content from 5 Disney brands: Disney, Pixar, Marvel, Star Wars, and National Geographic.
Management also highlighted the unparalleled success of these brands. Since 2006, the Disney and Pixar brands have produced a combined 22 films that averaged $690 million apiece at the box office. Since 2009, Marvel had produced 18 films with an average of $960 million at the box office (and it's important to remember that the record-breaking Avengers: Endgame is not included in these statistics, since it was launched after the Investor Day presentation). And since 2012, the Star Wars brand is responsible for 4 films, which have averaged $1.2 billion at the box office. All in all, since 2006, Disney's studio segment has produced 44 films that have earned a cumulative $37+ billion at the box office, which is good for an $850 million per film average. Disney has producing highly entertaining, highly profitable content down to a science. No other studio can match these success rates.
Disney+ has most of the hype surrounding it, but it's not the only streaming effort that the company has embarked upon in recent years. It's clear to Disney brass that the company needs to diversify its distribution channels to meet the wants and needs of consumers, and last year, this idea spawned the ESPN+ app. Since then, the ESPN+ digital platform has continued to show strong growth. The platform now has over 2 million subscribers, and management noted that growth remains high as it adds content. Disney wants sports fans to view ESPN+ as a "must-have" accessory.
Hulu appears to be the third leg in the stool that will make up the Disney streaming strategy. Hulu currently has more than 25 million paid subscribers in the U.S., and after the Fox deal, Disney now owns roughly two-thirds of this platform. AT&T (T) recently sold off its small stake in Hulu, and there are rumors that Disney is in talks with Comcast (CMCSA) to buy that company's stake, giving it sole ownership. Hulu is where users will find much of Disney's non-sporting related, adult-oriented content, and assuming that it will retain partnership with Time Warner and Comcast, Hulu has the power to rival Netflix (NFLX) in terms of content production.
It certainly won't be cheap for Disney to produce all of the original content required to drive long-term interest in its streaming platforms. However, CEO Bob Iger has said in the past the Disney won't have to spend nearly as much as rival Netflix, which bodes well for his company's bottom line. Furthermore, Disney has the advantage of already being a cash cow of a company. It will be able to use the cash flows from other operations (and the existing cash flows produced by more traditional distribution outlets) to help its streaming platforms flourish.
I really like Disney's approachable pricing strategy in this regard. ESPN+ only costs users $4.99/month and/or $49.99/year. As stated, the Disney+ service won't cost much more at $6.99. Combined, this is still well below the monthly price that Netflix charges. In a day and age where skinny bundles continue to grow more and more expensive, the Disney services should look like true bargains, allowing it to quickly and easily gain a foothold in this ever-important area of the media space. This is especially nice, because while I'm excited about the company's streaming potential, I'll be the first to say that management missed the original boat when it came to streaming and they certainly have a lot of catching up to do.
But right now, Disney's content reaches more than 100 million households in the U.S. Iger has recently talked about his company's ability to spread awareness and excitement about the upcoming launch with the existing distribution in place. This advertising reach is something that no other streaming play can match (Amazon (AMZN) can come close with its Prime members, but I don't think it's fair to compare Disney+ to Amazon Prime Video in terms of the content; Disney has that game won by a wide margin). I suspect that Disney will do all that it can to leverage the existing eyeballs on its traditional media sources while they last. I think this will ensure an orderly transition from traditional distribution to OTT as time moves on.
Streaming services remains a highly competitive market. Yet, this market is so large, that there appears to be more than enough room for a handful of players to succeed. With the Fox assets under its belt, Disney now has by far the world's largest film studio and a very impressive content library. During its Investor Day presentation, the company used a few slides to note the exceptional size of the OTT market. The company states that in 2010, the global streaming viewership was at 20 million hours. This global figure is expected to grow to 1.2 billion hours by 2020, meaning that streaming consumption has posted an annual growth rate of ~50% over the past decade. Improving technology and internet penetration should continue to serve as fuel for this secular trend.
This is especially the case in emerging markets, where Disney is focused on building brands and taking market share. For instance, the Fox acquisition helped Disney make a strong entrance into the Indian market via its Hotstar platform, which can be a strong growth engine for the company moving forward. The 5G revolution is expected to play a large role in the increased demand for streaming content as well.
I really like the Hotstar app. It basically combines streaming content with interactive gaming (and potentially gambling) and social media. To me, this type of platform represents the media consumption of the future. In the past, I've written about why Disney might want to consider acquiring a social media platform like Twitter (TWTR). I think that ship has sailed, because Twitter's market cap is much higher now than it was when I discussed that potential option for Disney (Disney's debt is also much higher now after the Fox acquisition, and I don't see the company making a bit M&A move anytime soon while it's focusing on repaying debt). But the Disney streaming service (formerly BamTech) is a great streaming platform, and I wouldn't be surprised to see the social aspects of viewership implemented in Disney's OTT universe, especially with the ESPN+ app assuming sports gambling becomes legalized/less taboo (which I think is the way we're heading).
In short, it appears that Disney has hitched its wagon to a very attractive secular growth trend and has assets in place in many of the world's largest markets. It's clear why the market is willing to place a much higher premium on shares. Right now, at $131/share, Disney is trading for ~20x forward earnings expectations. This is well above the market multiple, yet it's still below the company's long-term trailing 12-month average multiple of 20.6x.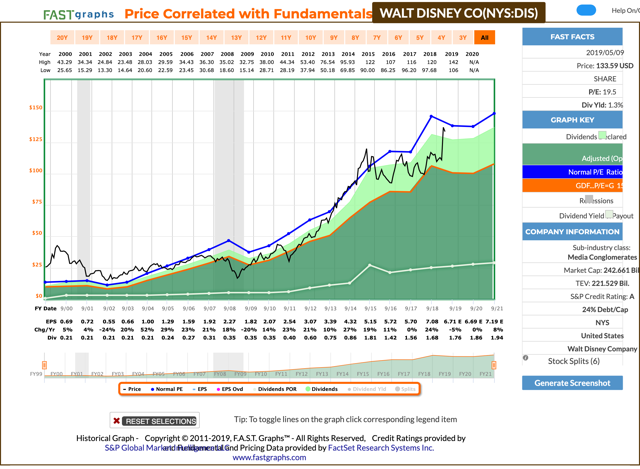 (Source: F.A.S.T. Graphs)
To me, the 3-year consolidation that we saw from 2016-2018 turned this company into a coiled spring, and I still don't think shares are overvalued. Disney isn't expected to post much (if any) EPS growth in 2019 or 2020 as it invests heavily in OTT services, so if the share price rises much higher, it will likely be a few years before the bottom line results help to justify the company's valuation. However, it's worth noting that the other digital media players all trade with much higher multiples than Disney still, and while I don't ever think DIS will trade with a sort of speculative, high-growth technology sort of premium, I do think that it can compete with the big tech names who're trying to take market share in the streaming space, and because of this, I don't think that a 22x-25x multiple is out of the question.
Personally, I wouldn't be buying Disney shares at those levels, but that's because I already have such a large position (Disney is my second-largest holding, making up ~6.5% of my portfolio). The sentiment surrounding shares has surely turned, and now I suspect that the prior $120 resistance level will turn into support. Around that $120 area, I think the stock gets really interesting for long-term investors.
With that in mind, even near all-time highs, I think DIS stock has relatively small downside when you think about its short-term growth prospects. The company is set to have a record-breaking film year in 2019 (Avengers: Endgame is on its way to becoming the highest-grossing movie ever on the big screen), and with the streaming launches on the horizon, I think this magical run-up could just be getting started.
The article was previously published for members of The Dividend Growth Club.
If you enjoyed this content and want to see more like it, please check out my Marketplace service: The Dividend Growth Club.  
DGC members have access to sample portfolios spanning different dividend yield thresholds, weekly Nick's Picks articles, highlighting the best DGI values I see in the market, real-time access to Nick's Portfolio and trade updates, and a vibrant chat room where an income oriented community has come together to share ideas.  
DGC members also receive early access to all other content that I post on Seeking Alpha
Feel free to take advantage of a free trial offer!
Disclosure: I am/we are long DIS, AMZN, T. I wrote this article myself, and it expresses my own opinions. I am not receiving compensation for it (other than from Seeking Alpha). I have no business relationship with any company whose stock is mentioned in this article.