Introduction
Edwards Lifesciences (EW) describes itself this way:
... we continue to lead the field of tissue replacement heart valves and repair products and advanced hemodynamic monitoring, which have helped treat and manage more than 2 million patients worldwide.
EW was spun off by Baxter (BAX) 19 years ago with a lot of debt and uncertain prospects. As this chart compares EW with two major competitors and the S&P 500 (SPY), it has been discovered:
EW trades with about 2X the prices:sales ratio of Boston Scientific (BSX) and about 2.5X that of giant Medtronic (MDT). BSX and MDT are more broadly diversified than EW beyond cardiovascular ("CV") medicine. EW makes a point of saying that it wants to stay relatively non-diversified. The company's collaborations with now-famous doctor-researchers, such as Drs. Starr, Fogarty and Carpentier, have represented a "win-win-win" situation for the company, the co-inventors, and society at large. (See 2018 Annual Report for more background and photos.)
At $178, EW trades near 34X non-GAAP consensus EPS for 2019, thus putting it at close to a relative P/E of 2X the non-GAAP P/E for the SPY. Is this attractive? Can this niche field really allow enough predictable multi-year above-trend growth to justify this very high premium?
Let's look deeper.
A brief overview of operations
While EW operates in about 100 countries, 55% of revenues come from the US, with the great majority of the rest from the familiar EU/Japan axis. (See p. 24 of the 10-K for this and other statistics.) The rest of the world offers tantalizing growth prospects, both because of the many untreated degenerative valve diseases of aging, but because of the much greater prevalence there of rheumatic heart (valve) disease.
Sticking with developed countries, the bullish story about EW relates heavily to its growth opportunities with catheter-based treatment of heart valve conditions. Sales data from 2016-18 tell the trend:
total sales rose from $2.96 B to $3.72 B, a CAGR of 12.1%
transcatheter valve sales rose from $1.63 B to $2.29 B, a CAGR of 18.5%
traditional heart valve dropped 2% to $762 MM
critical care sales rose from $560 MM to $675 MM, a CAGR of 9.8%.
So, from a company that made most of its money from making mitral and aortic valves for surgeons to implant during open-heart surgery, EW has taken an innovation of replacing (or repairing) aortic valves using a catheter and turned it into a company-changing business.
Why this could be the start of years of rapid growth
EW's current TAM (total available market) could be set to enlarge greatly. Currently, narrowed aortic valves (aortic stenosis = AS) are treated by EW devices by something analogous to angioplasty of an artery: the narrowed valve is pressed up and a replacement valve is placed in the opening; the design allows it to stay in place. Because of the several risks involved in cracking open a valve and sticking a new one in place without sutures, the initial use was on very sick, inoperable patients. A major advance came with approval for intermediate risk (less sick) patients. EW presents the data for this versus surgery on its website:
TAVR with the SAPIEN 3 valve demonstrated 75% lower rates of 30-day all-cause mortality and disabling stroke compared with surgery.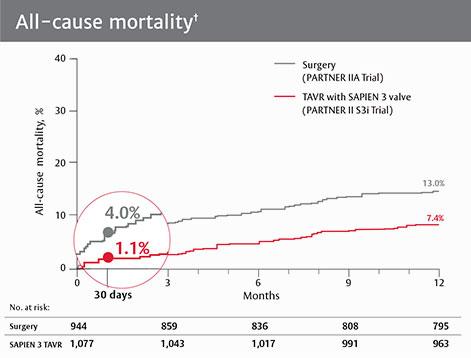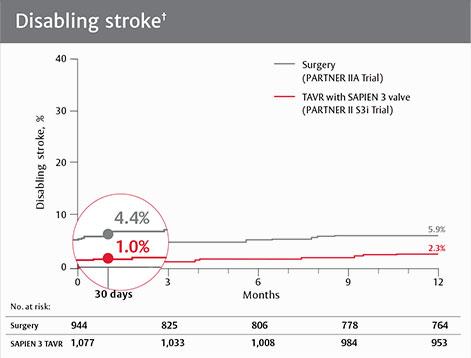 Note that the 30-day data, highlighted on the above graphs, represent percentage improvements that fade as percentages at one year, but the absolute rates further widen for mortality and stay the same for disabling stroke.
That was the PARTNER 2 (or, PARTNER II) study. The PARTNER 3 study looked at patients who were good risks for surgery. The expectation was that SAPIEN 3 would be noninferior to surgery, but EW was hoping for more, and also powered the study for superiority, which is what it got: a P value of 0.001 for superiority of the composite endpoint at one year. The absolute numbers are shown in a table at the link, as well as in the NEJM article. EW anticipates FDA approval for SAPIEN 3 for low-risk AS patients by year-end.
A MDT study on similar patients with a different type of transcather-delivered valve, was not felt to be as impressive, per Seeking Alpha's summary and as the chart of EW versus MDT shows (focus on the price action beginning mid-March):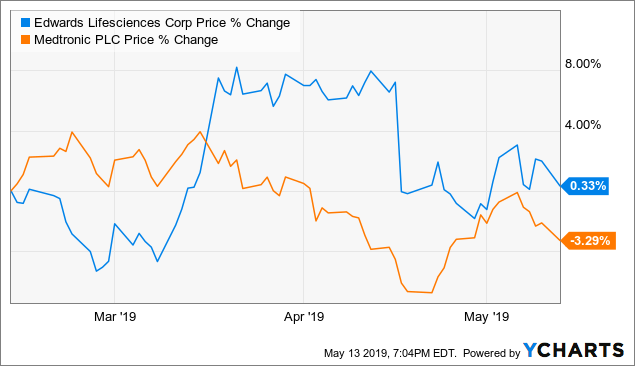 Taken together, the professional community gave quite a response.
TAVR for low-risk patients impresses a very tough crowd
The results of the MDT Evolut study and PARTNER 3 were presented at the American College of Cardiology in March. Cardiology Today reports (no link):
A 'win' for TAVR signals paradigm shift in treatment of aortic stenosis

Presentation of the PARTNER 3 and Evolut Low Risk trials at the ACC... were met with a standing ovation and applause, high praise from legends in the field and the overwhelming sense that transcatheter aortic valve replacement may soon replace surgical aortic valve replacement as the treatment of choice for patients with symptomatic severe aortic stenosis.
Eugene Braunwald, the dean of American and perhaps global cardiologists, said at the meeting:
"This is a historic moment, and all us here should recognize it as such."
He went on to describe the two studies as "magnificent contributions."
This sort of reaction from the key opinion leaders in the field suggests to me that the TAM for TAVR has just been expanded a lot. If these results play out in this direction in the real world, then as more centers get qualified for these procedures, and more specialists in the US and globally get trained to perform them, I think that EW is in line for significant secular growth.
Further, as the Cardiology Today article reports, specialists are already beginning to question whether patients with severe AS but no symptoms will become candidates for TAVR. I would add to that possibility another, which is that moderately severe AS may get treated with TAVR. As a co-principal investigator of the Evolut Study said:
... the procedural risk of TAVR... is low... [and] is growing lower every year.
So the number of use cases may expand longer than might be thought based on today's indications.
In any case, between expanding indications and geographic expansion - which could have decades of runway - I think there is a lot of growth here. EW and MDT are not the only players, but so far, I'm pegging EW to keep its #1 status.
Finally, another large aortic valve market that is not being addressed other than in an occasional case report is the use of TAVR for leaky aortic valves rather than narrowed ones (aortic insufficiency). I expect EW to be in the hunt for that condition, in addition to continually improving its devices for AS.
If that were all, I would say EW is interesting, but too expensive. However, there are...
One or two more things that could give EW alpha
There is another valve, the mitral, which has many more patients in need of repair or replacement than the aortic valve. At its December 2018 Investor Conference, EW devoted a presentation to its upcoming testing and early roll-out of its "TMTT" devices - Transcatheter Mitral & Tricuspid Therapies. The playback did not work, so I'm relying on the slides only plus other knowledge of the techniques. EW expects this market to explode from small in 2019, to $1+ B in 2021, to $3 B in 2024.
Slide 4 shows the US prevalence of AS at 1.2 MM patients and mitral/tricuspid disease (combined) at 4.5 MM. I do not know the breakdown between mitral disease, which is much more serious to the patient, versus tricuspid disease. In any case, it's a large market, and greatly under-served by current surgical and medical techniques. EW expects to generate $40 MM in revenue from its TMTT segment this year, but much more going forward.
No guarantees here, but past performance suggests to me to bet on EW becoming the leader in TMTT.
Before summing up, a comment on risk.
Risks to consider
The industry is highly litigious. It seems as though most years, EW is either receiving or paying money from patent suits. EW also grows via acquisition as well as internally, which may add risk. The very high relative P/E (using GAAP or non-GAAP) is a clear investment risk. Please see the company's disclosures in its SEC filings for a much fuller review of risks to investing in EW.
Concluding comments - can EW be an undervalued high P/E name?
Normally, 60-year-old companies such as EW do not merit very high P/Es. But, EW just might be an exception. EW is a very focused company. Unlike some of its competitors, it delivers its aortic valves via catheters, but does not compete in the angiogram/angioplasty market. For us investors, that means that if it can continue growing its TAVR business well into double-digit rates, and can ramp the TMTT business at very rapid rates, I estimate that 15%+ CAGR revenue growth could occur for many years, say 10-20 years. (The upper part of that time frame does assume growing global prosperity.)
In addition, the surgical valve business could hold somewhat stable, declining in developed markets but growing in other regions. So, that could be an important cash cow.
Finally, the critical care business, which involves many different products, could continue growing at, say, a 7% rate due to global expansion and EW's limited focus on CV products and critical care instrumentation. One longer-term potential upside from the critical care division could come from home monitoring of patients, which one day could become a big business rather than an over-hyped one.
EW has come down off its high in this latest healthcare (XLV) scare and more recent general market sell-off. As I very gradually back away from portfolios highly overweighted to bonds, I am comfortable dipping more deeply into healthcare stocks, especially given how impervious they are to trade wars and recession fears. While sticking with various names in need of chart repair, I prefer to put new money into stronger charts, and EW fits that bill. The single major risk I see is valuation. If the TMTT segment comes through as I hope, and TAVR continues its global ascendancy, EW's compound EPS growth could be durable and strong enough to reward the investor who enters around Monday's close, just above $178. As always, competition is fierce, and there are no guarantees. Patience may be a real virtue with this stock.
Thanks for reading and sharing any comments you wish to contribute.
Submitted Monday night.
Disclosure: I am/we are long EW,SPY. I wrote this article myself, and it expresses my own opinions. I am not receiving compensation for it (other than from Seeking Alpha). I have no business relationship with any company whose stock is mentioned in this article.
Additional disclosure: Not investment advice. I am not an investment adviser.