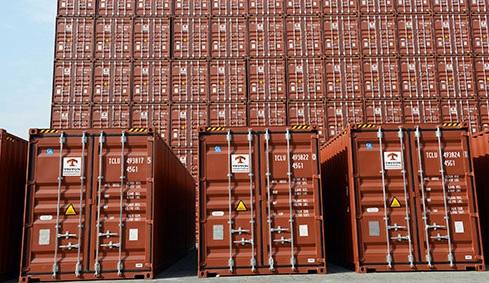 Image from TRTN company website
Triton International Limited (TRTN) had an excellent quarter and I decided to initiate a long position due to its strong financial metrics and cash flows. I believe that the US-China trade tariff drama has caused a downward pressure on prices that is uncalled for due to the nature of TRTN's business. The company represents a great value play, trading at around 89% of tangible book value (0.89 P/B), and comes with a well-covered dividend yield of 6.7% for income investors. The growth story is also a strength of the company, as free cash flow is being reinvested into the business and global sea trade remains nearly impossible to slow down. While shares have since popped the day after I bought in, this stock should see ample returns for long-term investors, especially ones that buy on headline-fueled dips.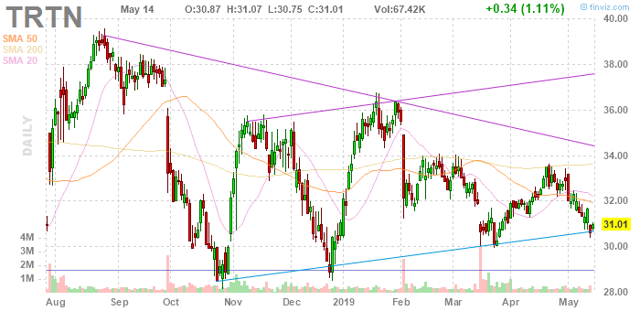 Image from finviz.com
Q1 2019 Earnings Highlights
$295,731 Net Operating Income
78,270,000 diluted shares outstanding
Last Twelve Months Free Cash Flow of ~$409 million
$5.35 per share of FCF
FCF "yield" of 17.2%, aka price/FCF ratio of 5.79 which is absurdly good
$44 million in container asset acquisition (increased assets 6.6% YoY)
$50 million in container sales
$40 million in dividends paid
$83 million in proceeds from preferred share issuance
$168 million net debt reduction
$82 million common share buybacks
2.9% reduction in share float YoY
The company throws off an insane amount of cash flow and both rewards shareholders through buybacks and generous dividends, and reinvests back into the business by purchasing more containers. The big problem here seems to be the $7.4 billion in debt on the balance sheet. With an LTM EBITDA of about $1.3 billion, the leverage ratio is about 5.7x debt/EBITDA. That amount of leverage would normally make me a little nervous, but the cash flows are very predictable.
TRTN is technically a leasing company that loans out the shipping containers on medium-term contracts. Below is a summary of the lease expirations:

Image from TRTN 1Q 2019 10-Q
This helps to smooth out the earnings a little bit as even sea trade has a bit of seasonality. Management expects Q1 and Q2 to be a bit lower in earnings with the back half of the year set for the typical stronger demand growth.
A Macro View
As the world's economy improves, more goods and services are exchanged. I think that developing countries are going to be increasingly present on the world stage going forward, potentially unlocking sources of growth for both the world and specifically for trading. While the United States and China will continue to be huge drivers of shipped products, we could see this established route lose "market share" as other routes become attractive. In any case, we can feel good by looking at the following graph of the growth of sea trade over the past 17 years: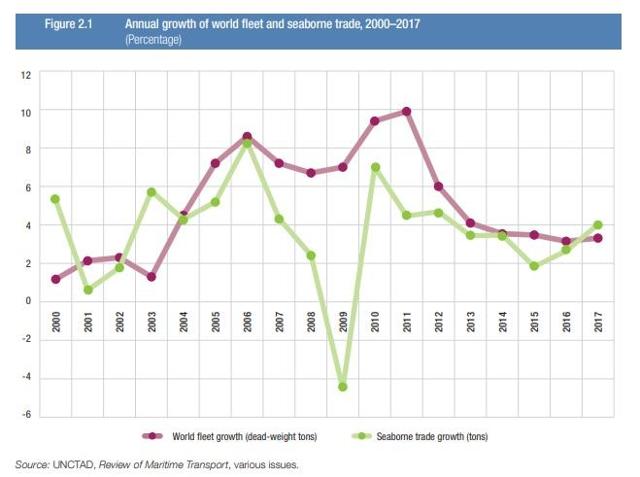 Source: UN 2018 Review of Maritime Transport
Despite all the doom and gloom around recessions and the risk to countries' GDPs, only one year, 2009, saw contraction in the overall sea trade volume. The decline was about -4%, which seems pretty trivial compared to the typical average year growth of 4%. Not only was the decline not that significant, but it was abrupt, as 2010 saw 7% growth, essentially mitigating the damage.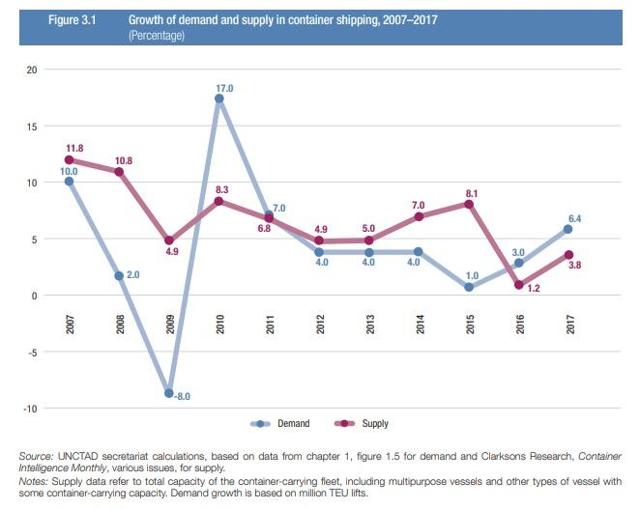 Source: UN 2018 Review of Maritime Transport
Again, when looking specifically at the growth and demand for container shipping over the past decade, 2009 remains the only time where there was a contraction. More interestingly, 2016 and 2017 represent a surging demand in container shipping where supply was muted.
It looks like the only thing that can cause a pause in growth for the maritime shipping industry is a total global economic disaster such as 2008/2009, and not just a regular recession. Since nothing is truly "depression-proof," we can almost conclude that TRTN's business is recession-proof. Critics may disagree with that strong of a statement, but I think we can safely conclude that the risks to TRTN's business model appear overstated.
A Micro View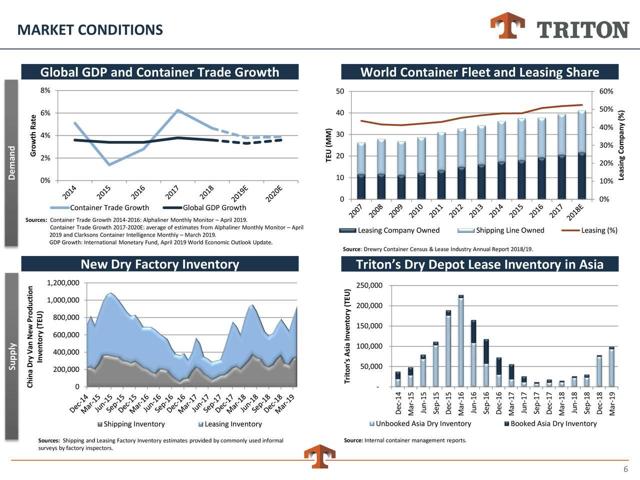 Image from TRTN's Q1 2019 earnings call slides
When we focus on TRTN's share of the global pie, the picture remains rosy. Future estimated container trade growth is expected to remain a healthy 3%+ over the next few years, which continues the above macro trends discussed earlier. Triton itself has expanded its overall share of the leased container market to above 50%. Utilization, in this sense "occupancy," for their containers averaged an impressive 97.6% for the quarter despite increasing the size of their container holdings by 6.6% YoY. TRTN has also been able to profitably "flip" their used containers and take advantage of price fluctuations for a profit, and while not a large profit, it shows that the actual depreciation of their assets is minor.
Dividend
While it's hard to predict dividend increases with this company, as they have only raised the dividend once in their history (May 2018), investors should feel safe with the 39.8% FCF payout ratio. This also assumes that the company stops buying back shares, when they have approved an additional $200 million authorization to purchase more company stock. If all $200 million was spent on buybacks, approximately 8.6% of the float would be retired. The resulting savings on the dividend paid would add even more safety to the payout. Since the current yield is about 6.7%, I for one am perfectly happy with using extra money used to pay down debt, retire shares and grow the business.
Summary
Triton International represents a unique combination of everything that I look for in a stock: undervalued, strong cash flows, higher yield, good management/commitment to shareholders, and dominant market position. The only negative here is the size of the debt, but even it is not outrageously high and we have shown that the company has the liquidity to carry it. Trade woes and tariffs are not as damaging to the underlying industry as it may appear, and with lease contracts and revenues not solely reliant on US-China trade (47.7% of revenue is from Europe), savvy investors should look at Triton for a great long-term holding.
Disclosure: I am/we are long TRTN. I wrote this article myself, and it expresses my own opinions. I am not receiving compensation for it (other than from Seeking Alpha). I have no business relationship with any company whose stock is mentioned in this article.
Additional disclosure: I initiated a long position on 5/13/19 at 30.50 per share