REIT Rankings: Self-Storage
In our REIT Rankings series, we introduce and update readers on each of the residential and commercial real estate sectors. We analyze REITs within the sectors based on both common and unique valuation metrics, presenting investors with numerous options that fit their own investing style and risk/return objectives. We update these rankings every quarter with new developments.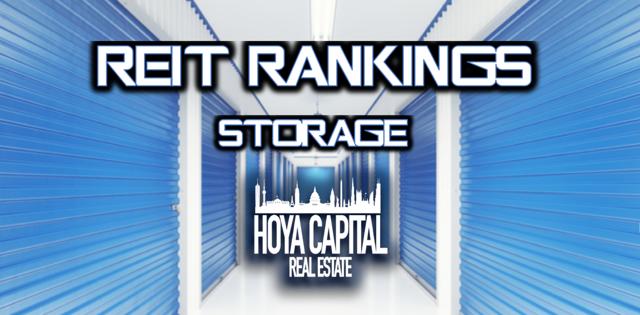 Storage REIT Sector Overview
Storage REITs comprise roughly 8% of the REIT ETFs (VNQ and IYR). Within the Hoya Capital Storage REIT Index, we track the five largest self-storage REITs, which account for roughly $65 billion in market value: Public Storage (PSA), Extra Space Storage (EXR), CubeSmart (CUBE), Life Storage (LSI), and National Storage Affiliates Trust (NSA).

Roughly one in ten Americans currently rent space in a self-storage facility. These 30 million Americans park their possessions in one of 50,000 self-storage facilities throughout the country. Proximity to one's home (generally 3-5 miles) is cited as the most important feature. 70% of customers are residential, with the other 30% split between businesses, students, and the military. According to a Marcus & Millichap report that we cite throughout this research report, millennials represent nearly a third of non-commercial storage demand and tend to visit facilities far more frequently than older generations. The self-storage industry is a highly fragmented industry. These five REITs own roughly 20% of the total square footage in the US and about one-third of the total "institutional quality" market. Revenue management technology, brand value, and cost of capital have historically given these REITs a competitive advantage over private market competitors.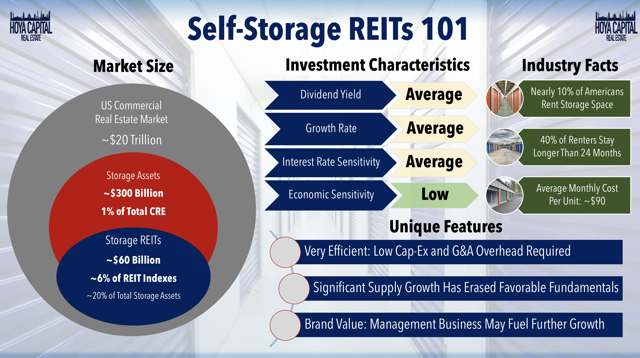 A key theme that we discuss throughout this report is the strong operating efficiency profile of self-storage facilities, which has been a double-edged sword for these REITs. More than most REIT sectors, cash flow coming into the business ends up in the pockets of investors. Commanding some of the highest operating margins and lowest G&A overhead margins in the real estate space, self-storage facilities can operate profitably with occupancy as low as 50% or less. The relatively low barriers to entry, combined with strong fundamentals between 2012-2016, promoted a wave of new development across the sector.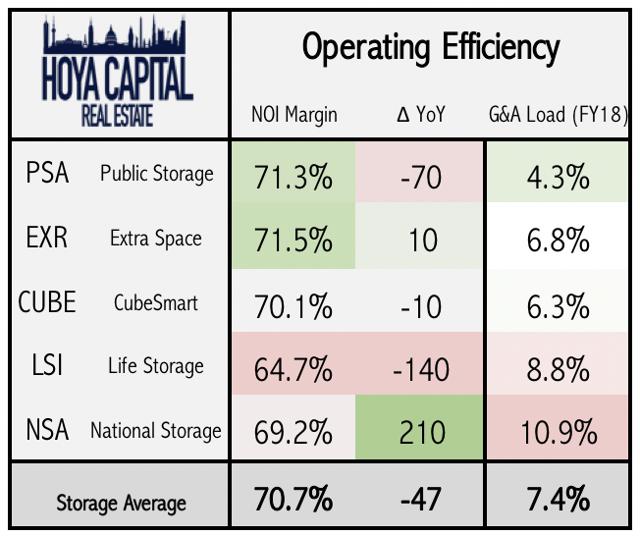 While all five REITs are diversified across the country, we note the geographic and quality focus of the four REITs above. CubeSmart has a high-quality portfolio with a focus on metro areas in NYC and along the east coast. Extra Space has a similarly high-quality portfolio but is more evenly diversified across the country. Public Storage, the largest storage REIT, has a large west coast presence and owns a higher percentage of suburban and international assets than its peers. Life Storage and National Storage have the lowest average-rent portfolio of the group with a more suburban focus in the sunbelt states.
The Bull and Bear Case for Self-Storage
"Renter nation" has been a boon for self-storage REITs, a property type where demand is driven by growth in household formations and underlying change within these households: moving houses, going to college, having kids, changing styles, etc. Declining homeownership rates, boomer downsizing, and a strong labor market have been key demand catalysts in recent years. Leases are typically short-term (one year), but demand for storage space tends to be sticky and somewhat counter-cyclical: nearly half of renters lease their space for more than two years. With capital so plentiful, self-storage REITs have not been able to put their competitive advantages to work, but acquisition and consolidation opportunities will be plentiful over the next decade and we believe that REITs do have a modest competitive advantage over private market competitors due to their access to capital, large scale and superior technology and revenue-management platforms, and brand value.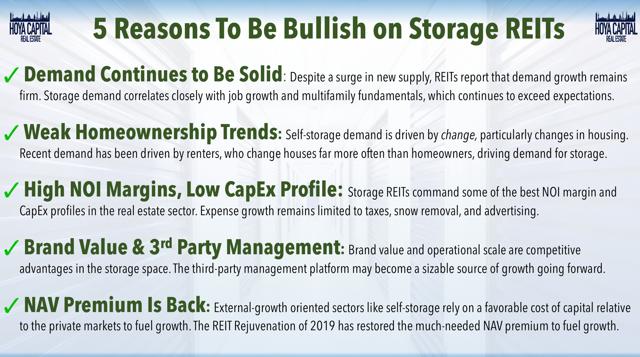 Supply growth has been plentiful over the past half-decade as developers stormed into space as development yields were simply too attractive to pass up. The long-held belief that restrictive zoning was a sizable barrier to entry for self-storage development has been largely debunked, in part because storage operators began to build more attractive facilities that can be largely indistinguishable from other building types. In addition to supply growth, the diminished NAV premium in recent years has made external growth less accretive, though the REIT Rejuvenation of 2019 has restored a mild cost of capital advantage for these REITs. Robust sales of "storable goods" including furniture and home improvement goods over the last five years has helped to support storage demand, but growth in these categories has waned over the past several quarters. Long-term demand for storage space from businesses and the military for paper file storage may be impaired by the growing application of digital file storage, which may weaken marginal demand.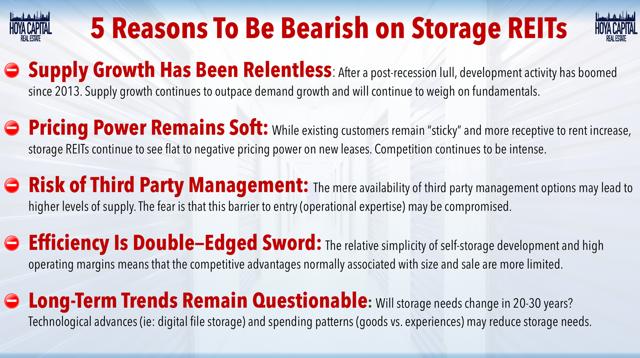 Recent Fundamental Performance of Self-Storage
The boom times are over for the self-storage sector, which saw sector-leading fundamentals from 2010 through 2016. Same-store NOI growth has fizzled-out of the last three years amid a wave of supply growth. The steady decline in average occupancy over the last two years has weighed on revenue and NOI growth. NOI growth averaged just 2% in 2018, the first year that the sector has underperformed the broader REIT average since 2009.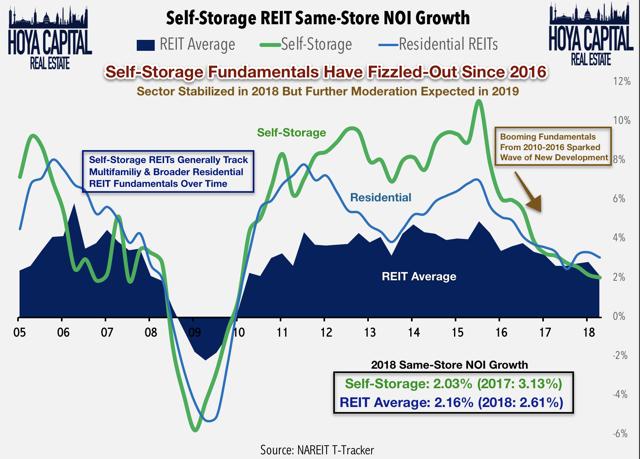 Weak fundamentals in 2018 and 2019 have been priced into valuations since late 2017, around the time that we published a piece Self Storage REITs Hit Rock Bottom. As luck would have it, self-storage REITs have outperformed the broader REIT average since this time as rent growth and underlying fundamentals have indeed stabilized over the last several quarters. Recent Produce Price Index, which has a nearly perfect historical correlation with same-store rent growth, has signaled positive momentum for the sector since early 2018.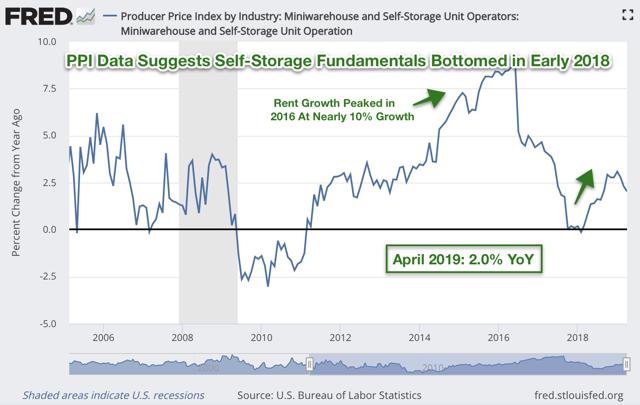 Storage REITs delivered fifth third consecutive solid quarter in 1Q19 as fundamentals appear to have fully stabilized following several years of deceleration. Continued weak operating performance from Public Storage, however, has masked the relatively strong results from the four smaller REITs over the past year. Realized rents climbed more than 2% while NOI margins and occupancy continue to trend sideways.

Same-store revenue growth is expected to decelerate further in 2019 based on the full-year 2019 guidance offered from these five REITs. We see this guidance as conservative, however, given the recent acceleration in multifamily rent growth in early 2019, which tends to correlate with self-storage rents. Expenses are expected to rise more than 3% in 2019, however, largely due to rising property taxes.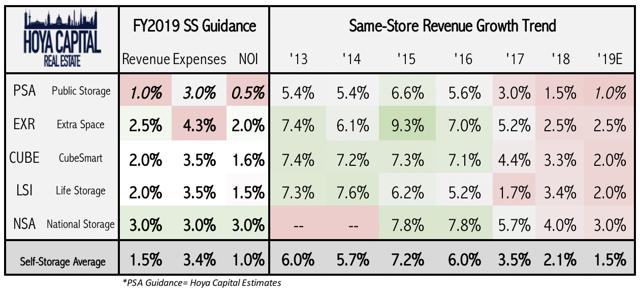 Core FFO growth, which rose by more than 13% from 2013-2016, continues to decelerate across the sector, but REIT commentary suggests that the tide may finally begin to turn by late 2019. Core FFO growth rose by 4.2% in 2018, led by National Storage and Extra Space. Growth is expected to average less than 3% in 2019, but the return of the NAV premium amid the broader REIT rally of 2019 should re-open some accretive external growth opportunities by the end of the year if valuations persist.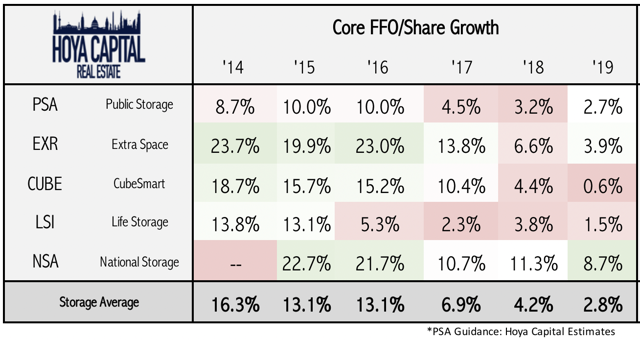 Self-Storage REITs External Growth
As discussed, the supply pipeline remains the key threat to fundamentals. The lack of new supply in the storage sector was the driving force behind the sector's significant outperformance in prior years. 2-4% annual supply growth is expected in each year from 2016-2020, likely outpacing the 1-3% expected demand growth. Supply growth has been most acute in the major metropolitan areas and less troublesome in secondary markets, but most analysts expect new development to flow into the areas that have seen less construction in recent years. Assets in markets with heightened supply growth generally see a 1-4% slowdown in same-store revenue, depending on the proximity and characteristics of the competitive location.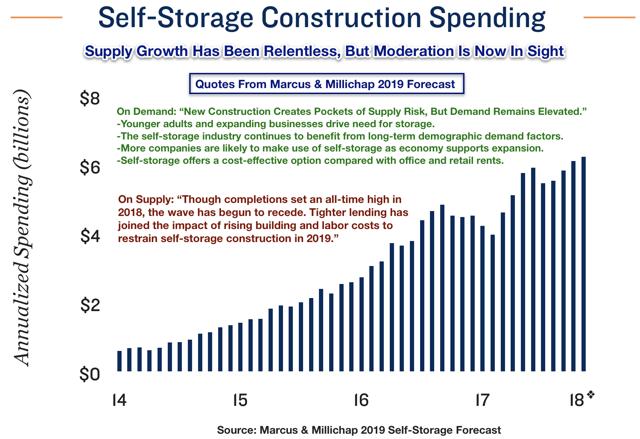 The storage REIT development pipeline has finally pulled back from the peak in 2015 and has been shrinking over the last seven quarters dating back to mid-2017. A double-edged sword for storage REITs which are some of the biggest culprits of adding new supply, development yields remain moderately attractive, which means that the new supply pipeline will remain at least somewhat active throughout 2019 and potentially beyond.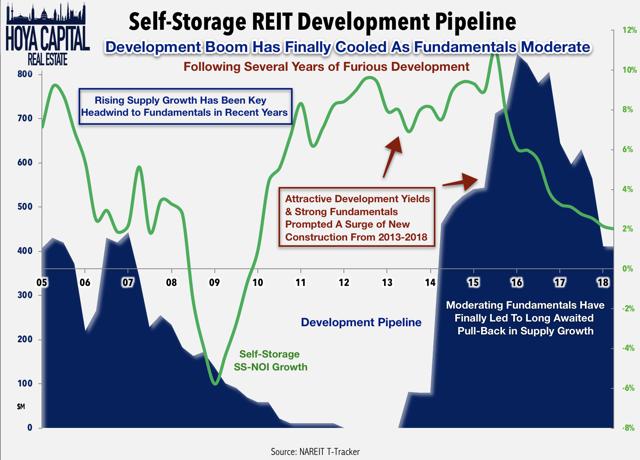 Interestingly, despite the significant pullback in storage REIT shares and valuations from all-time highs in the spring of 2016 and the continued weakening of fundamentals across the sector, in addition to rising risk-free rates, private market valuations have actually steadily increased over the last several quarters. REIT executives cite robust private equity and foreign demand for private market storage assets. According to the Marcus & Millichap report, cap rates trended modestly lower in 2018 despite the rise in the 10-year yield.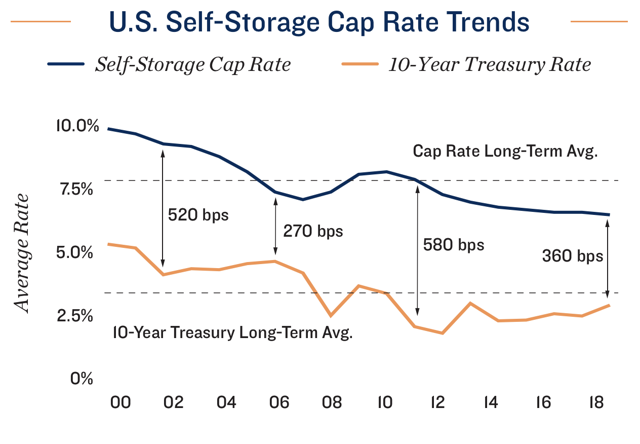 Storage REITs have historically been among the most active acquirers in the RIET sector. The premium on private market valuations has made acquisition-fueled growth less appealing for REITs, forcing many REITs to scale back on acquisitions. In 2018, these REITs acquired a net of $1.5 billion in assets, the slowest rate of external growth since 2013. As discussed, however, we think that the restored NAV premium may re-open the acquisition pipeline, which has historically been a key source of FFO growth.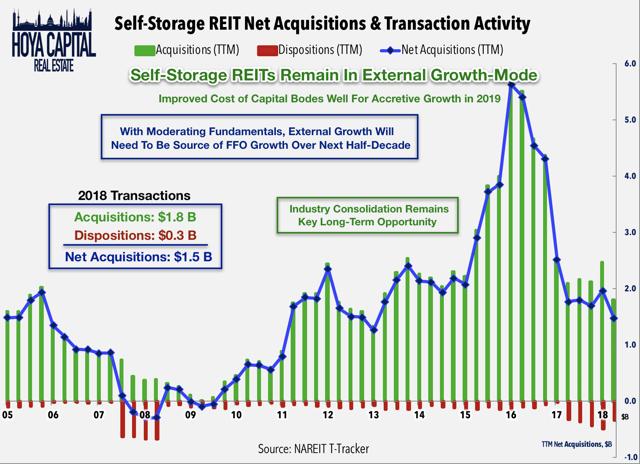 Third-party management is one area of the storage sector that has many investors excited about future high-margin growth opportunities. Public Storage calls it the "Amazon strategy", in which REITs collect a percentage of revenue from private storage operators for the use of their brand and technology platform. As discussed in the last report, we think it's more comparable to the hotel management business, where operators like Marriott (NYSE: MAR) are able to use their brand value and operational expertise to capture significant economic value.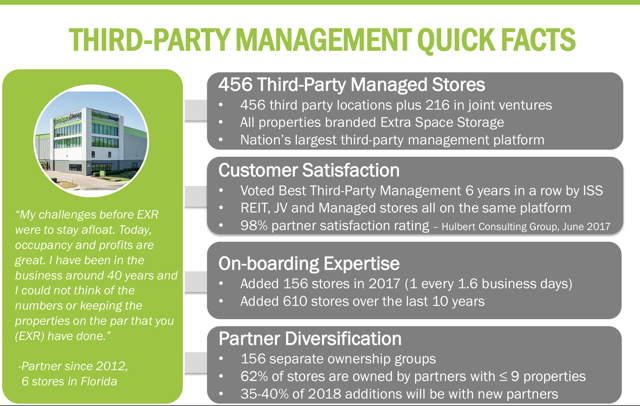 (Source: EXR Investor Presentation)
Clearly, margins are very high for this business line, but the long-standing fear among storage REITs is that it effectively lowers the hurdle to entry and encourages new development. Extra Space and CubeSmart have been the leaders in this category, but Public Storage should begin to make a push into the business line by the end of the year. EXR, CUBE, and LSI have each grown their third-party management by more than 10% over the past five quarters dating back to mid-2017. While it remains a small portion of total revenue (3-5%), we think it is an attractive business line that will blunt the negative impact of supply growth.
Recent & Long-Term Stock Performance
Storage REITs were the darlings of the REIT sector from 2010 through 2015, delivering a sector-leading average 28% annualized total return in that six-year span. The past three years have been far more challenging, as the sector was among the weakest performers in 2016 and 2017, but actually delivered modest outperformance relative to the REIT sector average in 2018. Storage REITs delivered a total return of 3% in 2018 compared to the FTSE Equity REIT Index total return of -4%.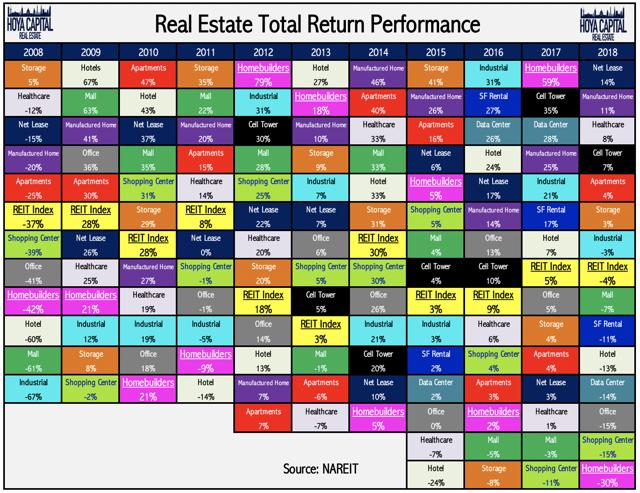 Since bottoming in mid-2017, the storage sector has been among the better-performing real estate sectors amid a string of better-than-expected earnings results dating back to mid-2017. In 2019, the sector has risen by more than 13%, though it modestly underperformed the 16% gain in the broader REIT average and the Hoya Capital US Housing Index, which tracks the performance of the broader US residential housing sector, of which the three largest storage REITs are components in the Residential REIT category.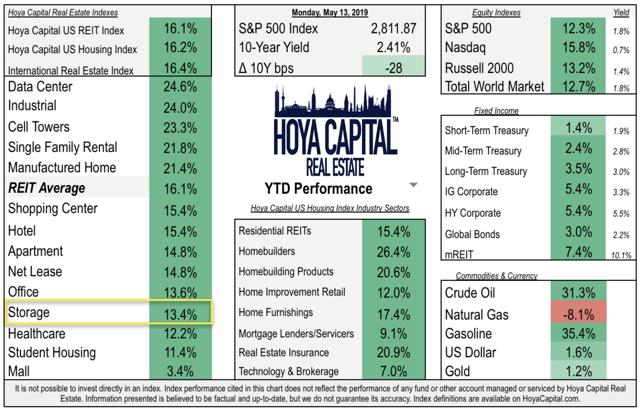 Extra Space and CubeSmart have been the top performer of 2019, followed by Public Storage and National Storage. Life Storage has been the laggard after delivering sector-leading performance last year.

Valuation of Storage REITs
For much of the post-recession period, storage REITs traded at sizable premiums to the REIT average, attributable to their sector-leading growth rates. As fundamentals have moderated, however, storage REITs valuations have come down to trade roughly in line with the broader REIT average. Compared to the other REIT sectors, storage REITs appear fairly valued, trading at modest discounts to the REIT averages. After trading at an NAV premium for most of the past several years, storage REITs now trade at modest NAV premium.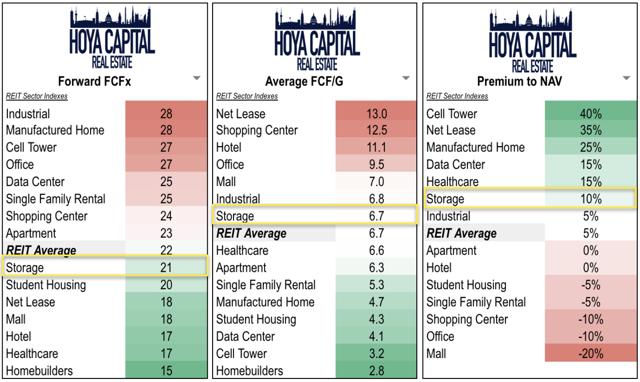 (Source: Hoya Capital Real Estate estimates, Company Filings)
Storage REITs Dividend Yield and Payout Ratio
Based on dividend yield, storage REITs rank in the middle, paying an average yield of 3.4%. Storage REITs pay out roughly 70% of their available cash flow, leaving sufficient cash flow for development and acquisition-based external growth.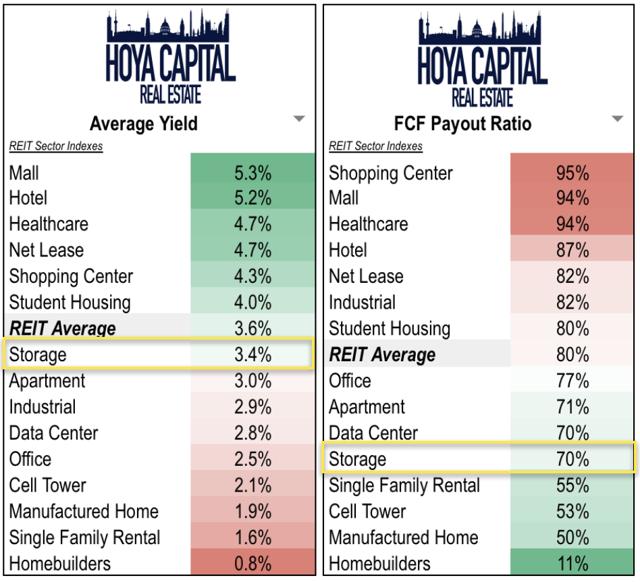 Within the sector, we see that Life Storage and National Storage pay yields of over 4% while the three larger REITs pay more modest yields. Generally, we think that growth-oriented investors, particularly in taxable accounts, should prefer REITs with more modest payout ratios that focus on retaining capital to drive further FFO growth.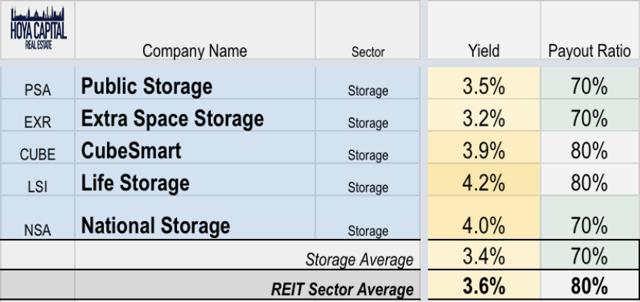 Storage REITs & Interest Rates
In recent quarters, as their growth rates have slowed, storage REITs have become increasingly more interest-rate-sensitive. The relatively defensive nature of the sector contributes to it's more bond-like properties relative to other real estate sectors. The sector exhibits relatively high interest-rate sensitivity but has among the lowest correlations with equity markets.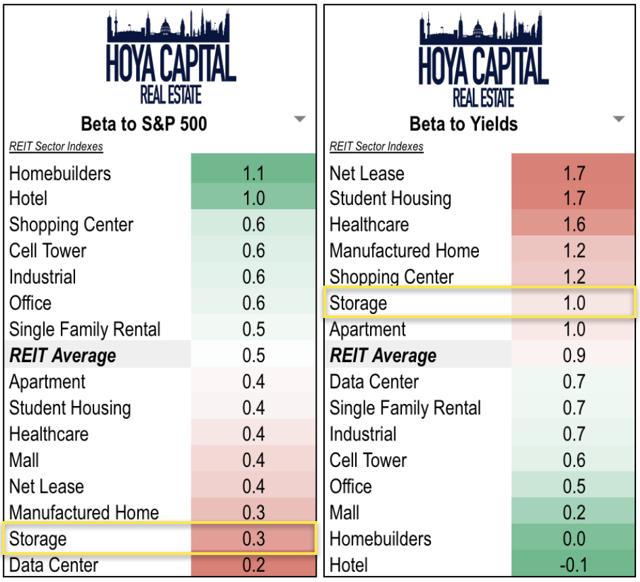 We separate REITs into three categories: Yield REITs, Growth REITs, and Hybrid REITs. As a sector, storage REITs fall into the Yield REIT category, reflecting that these REITs exhibit elevated levels of interest rate sensitivity.

Bottom Line: Another Challenging Year Ahead
The operating efficiency and relative simplicity of the self-storage business is second to none in the real estate sector, where properties can breakeven at sub-50% occupancy rates with sub-par management. For self-storage REITs, the business is almost too good. Developers and new operators have flocked to the sector in recent years, adding new supply at a furious rate, weakening fundamentals.
With capital so plentiful, self-storage REITs have not been able to put their competitive advantages to work, but acquisition and consolidation opportunities will be plentiful over the next decade. It turns out that millennials buy and store stuff too. Strong demand from renter households and businesses has kept rents and occupancy generally flat in the face of ample supply.
2018 appears to have been the bottom for self-storage fundamentals, but 2019 will be another challenging year. We remain neutral, noting ample supply but solid demand tailwinds from household formations. The slowdown in the single family homeownership markets in late 2018 should provide some benefit to these REITs, which have been big beneficiaries of "renter nation" effectively performing as an extension of the multifamily rental industry.
Leveraging their brand value and operational expertise, storage REITs continue to make headway into the higher-margin third-party management business. A recovering NAV premium should re-opened the external growth spigot, which has historically been a key source of FFO growth. If these REITs can retain their NAV premium throughout 2019 and begin to re-assert their cost of capital competitive advantage, we think current guidance may prove overly conservative.
If you enjoyed this report, be sure to "Follow" our page to stay up-to-date on the latest developments in the housing and commercial real estate sectors. For an in-depth analysis of all real estate sectors, be sure to check out all of our quarterly reports: Student Housing, Manufactured Housing, Cell Towers, Healthcare, Industrial, Data Center, Malls, Net Lease, Student Housing, Single-Family Rentals, Apartments, Shopping Centers, Hotels, Office, and Homebuilders.
Disclosure: I am/we are long PSA, EXR, CUBE. I wrote this article myself, and it expresses my own opinions. I am not receiving compensation for it (other than from Seeking Alpha). I have no business relationship with any company whose stock is mentioned in this article.
Additional disclosure: It is not possible to invest directly in an index. Index performance cited in this commentary does not reflect the performance of any fund or other account managed or serviced by Hoya Capital Real Estate. All commentary published by Hoya Capital Real Estate is available free of charge and is for informational purposes only and is not intended as investment advice. Data quoted represents past performance, which is no guarantee of future results. Information presented is believed to be factual and up-to-date, but we do not guarantee its accuracy.

Hoya Capital Real Estate advises an ETF. Real Estate and Housing Index definitions are available at HoyaCapital.com.