Arbor Realty Trust (ABR) is a mortgage REIT that barely survived the Great Financial Crisis of 2008/2009 but has returned 26x its low point in the time since then. The company today is one of the lone bright spots in an otherwise shaky sector that has seen earnings fall at peers such as Annaly Capital Management (NLY), AGNC Investment (AGNC) and New Residential Investment (NRZ). In the last article that I wrote about ABR, I asked whether or not it was going to "become the next New Residential". I think that the REIT's unique loan origination, holdings and sales help differentiate it from the rest of the pack and afford it a competitive advantage. This company shows no signs of slowing down. For those that want a refresher on how the company does business, I encourage you to refer back to my original article for specific details. This article will be more highlights on a great quarter's performance.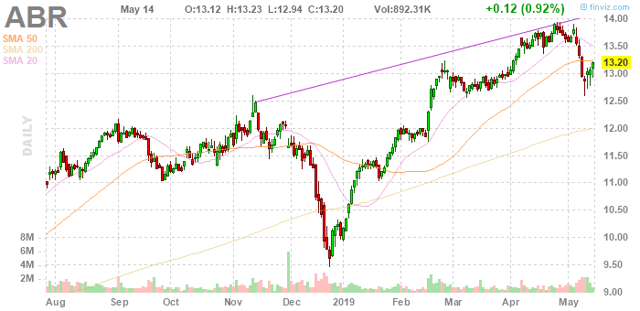 Image from Finviz
Q1 2019 Earnings
Since I last suggested that investors layer into the stock in February, ABR has gone from $12.30 to its current price of $13.20, a share price appreciation of 7.3% in a little under 3 months. The party keeps on going at ABR, as it recently reported strong earnings yet again on May 10th:

Image from Seeking Alpha
Highlights that I found interesting include:
Adjusted Funds From Operation (AFFO) was up 32% YoY from $0.25 to $0.33, thanks to robust asset growth in the company's loan and investment portfolio, along with its loan servicing portfolio. While loan origination volume of $845 million was significantly less than the $1.62 billion last year, the profit margin on loan sales increased from 1.13% to 1.49%.
The servicing portfolio stood at 18.8 billion at quarter's end, which was up 2% QoQ and 13% YoY. Yes, the weighted average percentage fee earned on those assets declined from .452% to .446%, but at least the weighted average life was up to 8.7 years from 8.6 years. The value of servicing fees is increased as the life of the loan increases.
My favorite part of ABR is the REIT's Structured Loan / Loan and Investment portfolio: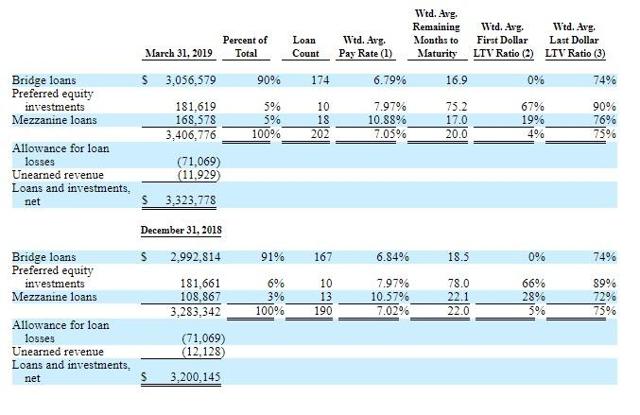 Image from ABR Q1 2019 10-Q
Total unpaid balance value of the portfolio increased by 3.7% QoQ and had an increase in interest rate to 7.05% on these loans. The loan-to-value of the portfolio is a decent 75%, which means that the loans are reasonably safe. Better yet, these loans are based on actual assets, the vast majority of which are multi-family homes, not just middle market loans made to small private companies a la Main Street Capital (MAIN).
A lot of companies in the mREIT sector are trying to copy New Residential's recently successful MSR strategy, but ABR seems to be what NRZ itself is trying to mold itself into. NRZ has made great strides towards trying to become more of a loan originator instead of just a holder or servicer, but ABR is already there. ABR is also one of only 25 delegated underwriters and servicers of Fannie Mae loans. The ability to originate and selectively hold onto the prized pieces of a loan portfolio or CLO truly make this company something special.
Debt
The only real issue that I see with this company is its debt. It stands pretty high at 1.03 billion despite the company repaying ~$100 million in the most recent quarter. Total debt and CLO obligations to equity is 4.2x, and I would be more concerned about the high debt, but ABR keeps printing money with it. What I would like to see is ABR not having any debt above 5% interest. I know that total weighted debt is only 4.45%, but I think the company should shoot for some better terms, whether it's with bonds or trying to get a better credit rating now that it has established itself as a fantastic company. Debt maturity in 2019 comes to a balance of around $288 million, which is a good chunk of change but not a big threat to the company.
I do wish, however, that ABR would be able to get some of its debt converted to fixed-rate, as virtually all of it is floating-rate. If mortgage rates fall, however, this could be a nice tailwind moving forward. It's almost like a hedge against a recession and the almost certain QE that would take place in the aftermath.
Dividend
It doesn't get much better than this:

Image from Seeking Alpha
ABR just upped its dividend 3.7% to $0.28 per share, with the next ex-dividend date being May 22nd. This represents an 8.5% yield today, which doesn't include the $0.15 special dividend paid back in January. If you count that special dividend, the $1.13 of dividends paid in 2018 was 126% higher than the $0.50 the company paid in 2013. That's an annualized dividend growth of over 25%. While future dividend growth is almost certainly going to be lower as the limits of scale take over, ABR's shareholder returns are marching in the right direction.
Q1 AFFO of 0.33 and a forward dividend per share of 0.28 is a payout ratio of 84.8%. While this could be lower, I like the commitment to shareholder returns, and it's still a better ratio than most of the mREIT sector right now. The rest of the sector is yielding around 11-12% but has declining earnings, while ABR has shown persistent growth.
Summary
It's a rare thing to be able to buy shares of a company yielding a well-covered 8.5% with such great growth. Shares trade for a very reasonable 10x AFFO considering that this is a unique company that is not dealing with the same type of earnings decay of peers. While I suggest that investors nibble, not jump all-in, at today's prices, it's hard to argue with the quality that you are getting with this company.
Disclosure: I am/we are long NRZ. I wrote this article myself, and it expresses my own opinions. I am not receiving compensation for it (other than from Seeking Alpha). I have no business relationship with any company whose stock is mentioned in this article.
Additional disclosure: I may initiate a long position in ABR over the next 72 hours. I am looking to add somewhere in the $12.70-$12.80 range.