Cohu (COHU) operates in the semiconductor and PCB test and inspection markets that operate in the following segments (from the May 2019 IR presentation):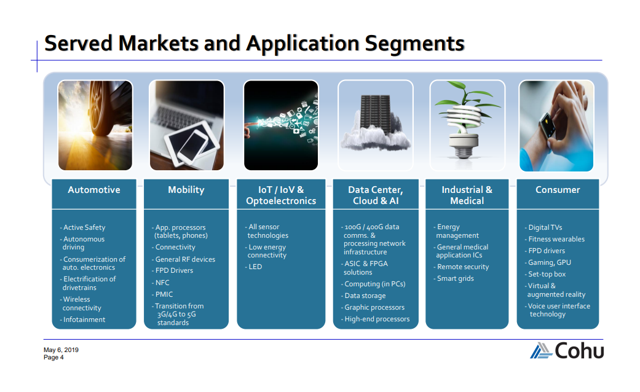 The company also has what can be considered as (higher gross margin) recurring revenues, from their contractor business (19% of sales in Q1) as well as from the data center, cloud and AI segments.
As usual, we start with a little 5-year overview: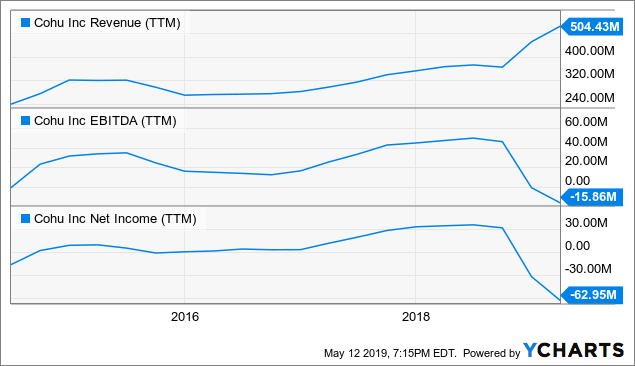 Xcerra acquisition
The pretty dramatic revenue improvement and accompanying deterioration in operational performance is of course the result of the acquisition of its nearest rival, Xcerra (XCRA) effective on October 1, 2018. Here is Luis Müller, Cohu's President and CEO in that PR:
The acquisition of Xcerra accelerates our strategy to diversify our product offerings and customer base, expanding Cohu's addressable market to approximately $5 billion across semiconductor test and handling equipment, thermal subsystems, test contacting, vision inspection, MEMS and PCB test. This combination also further strengthens our ability to fully capitalize on the growth opportunities in our key target markets of automotive, industrial, IoT and communications
Still, the share price didn't exactly take off: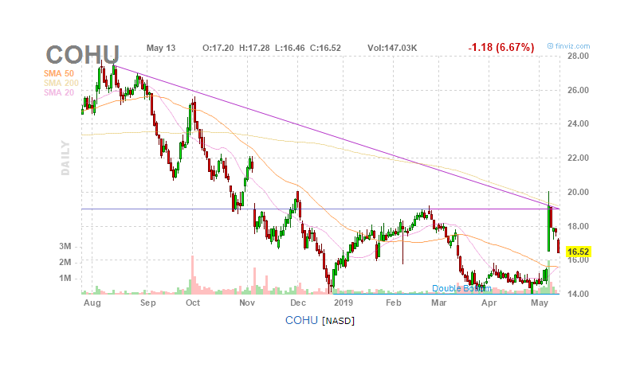 And this despite management claiming the acquisition will be immediately accretive to non-GAAP earnings and generate $20M+ in annual run rate cost synergies within 2 years. Management expects to achieve an additional $20M of annual run rate synergies over 3 to 5 years from products and facilities consolidation.
There is also little overlap in products which should create a fair amount of revenue synergies as well.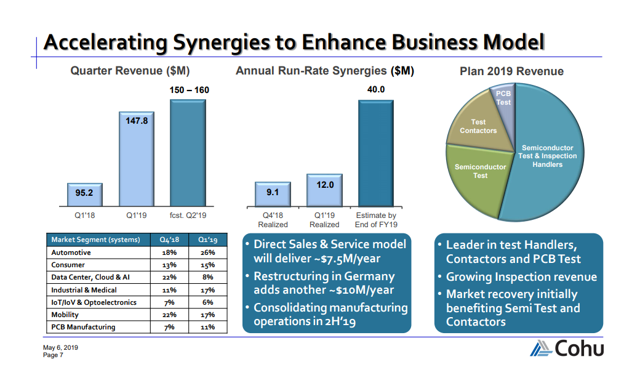 But on the Q1CC management had even better news, they now see accelerated cost synergies and expect to exit the year with the $40M run rate improvement, mainly due to the closure of two facilities in California and Malaysia and the consolidation of operations in Germany. From the Q1CC:
We've baked in about $4 million, little over $4 million of synergies into the Q2 guidance. That grows to just about $7 million in Q3 and then we're projecting it to grow to $9 million to $9.5 million at the end of Q4. So that brings us very close to that 2020 run rate, if you will, of $10 million per quarter.
Management not only believes it will achieve the $40M synergies much faster, it also believes they can go beyond these next year. As a result, management sounded quite bullish (Q1CC):
Cohu is only a couple of quarters away from achieving a substantial transformation of the P&L that will drive increased profitability and cash flow generation.
But this also depends on their growth perspective, but as it turns out, they see improvements here as well.
Growth
Here is basically the situation summed up in a single quote from the Q1CC:
While our customers forecast across these end markets are muted in the near-term, the fundamentals remained strong for increasing vehicle electrification, growth in automotive ADAS, increasing industrial automation and moreover the deployment of 5G communications that will have a significant positive impact in the industry.
So there are basically two ways of looking at it. Longer term the company has a secular tailwind as ever more electronics get into ever more stuff, and the electronics is getting more complicated as well (requiring more and more sophisticated testing), especially with the coming impuls of 5G which will give a big boost to the IoT and the electronification of things.
Near term, there was some softness in certain sectors, like mobile. However, management argued that Q1 was the low point of the cycle, it sees a recovery in H2 2019 and that is something we also heard from other companies in the sector (even if we have to see how the renewed escalation of the trade war will impact things).
Management argues that automotive is going to improve steadily throughout the year (as it already did in Q1 where there was an uptick in orders), mobility is recovering as the company has "seen here a ramp in orders for handlers into mobility" and there by Q3 the ramp with relation to 5G infrastructure will begin.
The strong recurring revenue from the data center cloud and AI markets will continue in Q2. Utilization rates will start to improve, especially OSATs (which is mostly related to mobile) but probably also IDMs.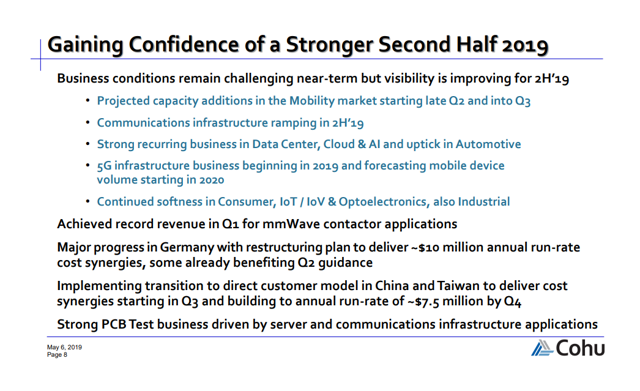 What is perhaps important to point out is that these are mostly not observations based on some general perception of markets recovering, but more concrete based on ramping of projects the company won, for instance, in mobile (Q1CC):
We expect to see towards the end of the quarter also an uptick in the mobility market associated with flat panel display and we have received an order in April already for double-digit units of test handlers for a mobile processor tests.
But the sentiment of a general market improvement is also there. For instance, an analyst argued that the big foundries see a 30% recovery (H2 over H1) in H2 this year.
Management argued that if that happens their utilization rates will be at 85% (up from 80% in Q1) across the board and would mark a notable improvement which they don't seem to expect, given their modest recovery guidance for utilization rates (81% at the end of Q4).
Q1 Results
From the May IR presentation: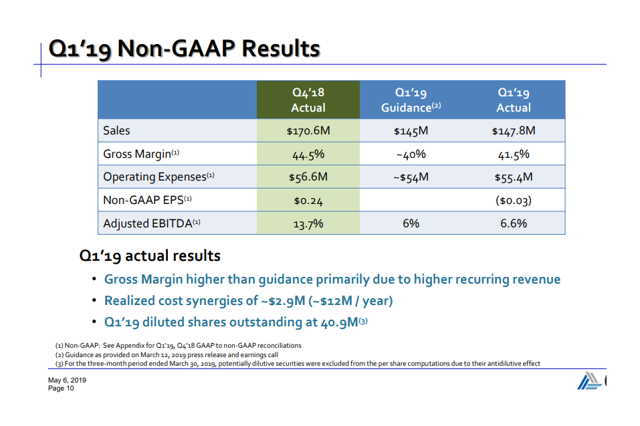 There was softness in the automotive and industrial sector, but management sees improvements even in these this year and there was compensation as well (Q1CC):
Offsetting this weakness was the strength of our new high performance products that are becoming the reference solution for millimeter-wave, over-the-air and high-signal performance applications.
Guidance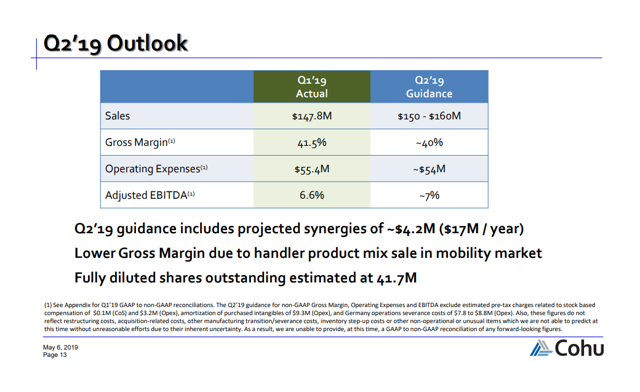 Margins
We've already discussed the accelerated cost synergies reaching $40M by the beginning of next year. GAAP margins have suffered, which is no surprise with the large acquisition and related cost: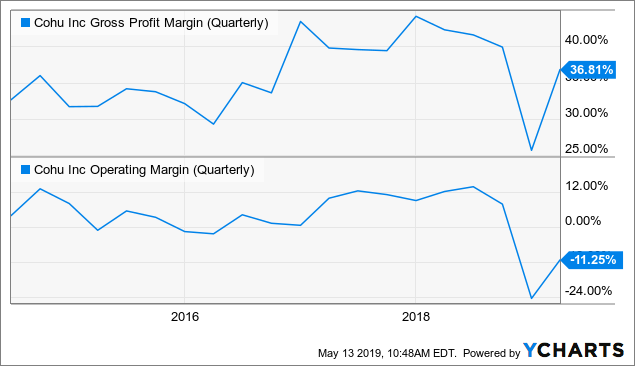 So we're not too worried about these GAAP deterioration (Q1CC):
The GAAP to non-GAAP adjustments primarily driven by the Xcerra acquisition include $10 million of purchased intangible amortization expense, $7.3 million of inventory and property, plant and equipment step-up costs, and $1.8 million of restructuring costs, including $400,000 of inventory written off to cost of sales.
In fact, non-GAAP gross margin (41.5%) came in well above management guidance (40%) and that's where we keep an eye on (even if once again they guide this at 40% for Q2).
The Q1 surprise came from a better than expected contribution from recurring revenues, and in Q2 there is some negative from the mix due to projected lower margin handler product mix for the mobility market.
Given the accelerated materialization of cost synergies, it's no surprise that management expects considerable leverage going forward: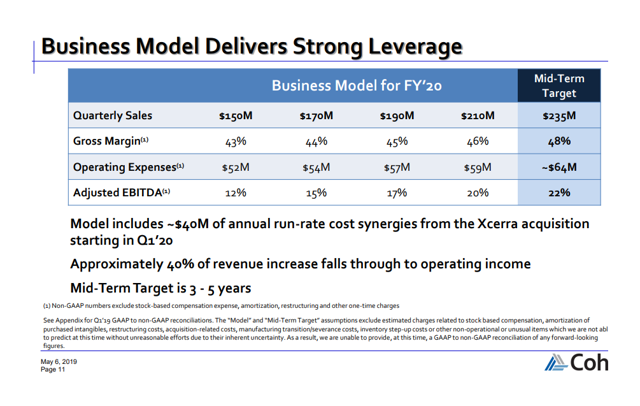 These are divided 50/50 in COGS and operational leverage.
Cash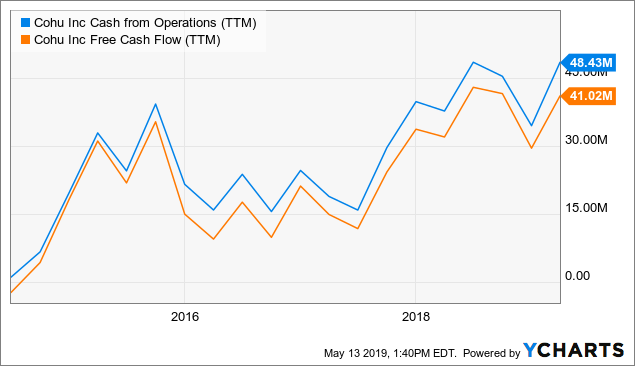 Cash flow recovered nicely in the quarter from the acquisition-related cost in the previous one. Going forward things look better with acquisition cost disappearing and revenue growth and cost synergies increasingly kicking in.
The company needs to generate cash as they have a substantial amount of debt: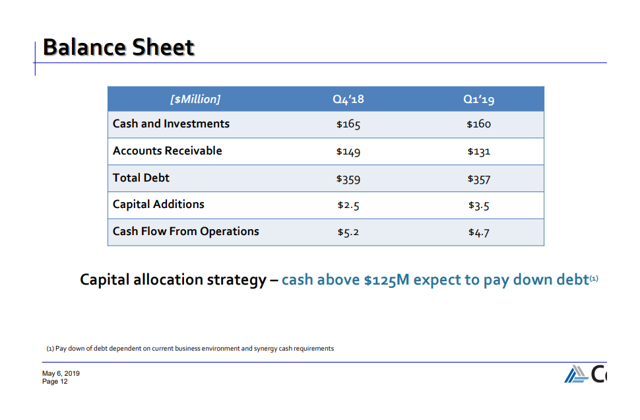 But the prospects for reducing debt look pretty good. Management argues that cash in excess of $125M will be used to pay down debt, so that already is an immediate $35M available, plus what comes in as free cash flow, minus the dividend pay.
The stock-based compensation and share count jumped (related to the acquisition) and the company even pays some dividends.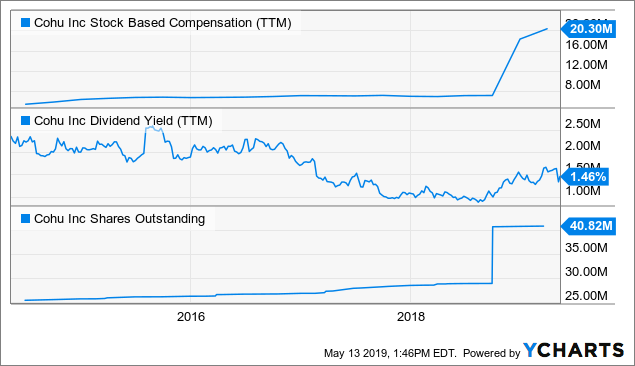 Valuation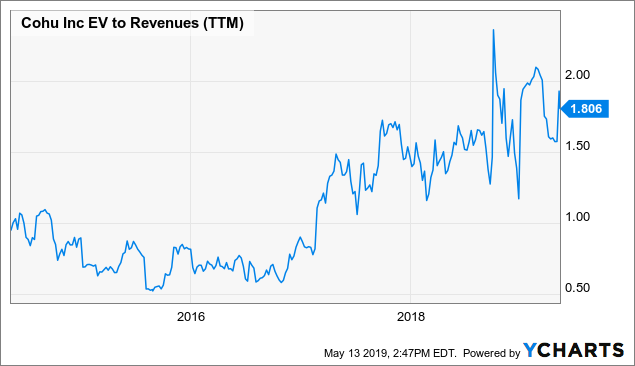 The sales multiple has increased, but given the expected growth and leverage from synergies, this year, adjusted EBITDA is a more meaningful indicator. At 15% adjusted EBITDA margin with a $170M quarter, something which seems quite attainable, adjusted EBITDA would come in at $102M (on $680M of revenue).
That would provide a 9x EV/EBITDA ($930M/$102M) valuation which is eminently reasonable. On an earnings basis, we have analyst expectations for an EPS of $0.61 this year, rising to $1.86 next year, which is also eminently reasonable.
Conclusion
The company seems to have support from secular tailwinds, as well as accelerated cost synergies from its acquisition of Xcerra, with none of the possible revenue synergies seems to be even factored in. To boot, this situation is likely to substantial cash generation and deleveraging and valuation seems modest.
But there are risks, which mainly come from the macro environment with the new flare up in the trade war posing the biggest risk, especially if this situation isn't improved. In that case, it could pose considerable problems for confidence and world economic growth, so despite the attractiveness of the shares, we hesitate to buy them at this juncture.
Disclosure: I/we have no positions in any stocks mentioned, and no plans to initiate any positions within the next 72 hours. I wrote this article myself, and it expresses my own opinions. I am not receiving compensation for it (other than from Seeking Alpha). I have no business relationship with any company whose stock is mentioned in this article.