We had looked at Sprague Resources LP (SRLP) recently and concluded that their distribution coverage was likely to be under 100% for 2019. The initial press release from Q1-2019 results caught our attention as management affirmed guidance for the year and their intention to maintain the current distribution. We analyzed the results and give you our take below.
Q1-2019
Before we start we have to make a comment on the business model here. SRLP has a rather cyclical business within the calendar year and all quarters are not created equal. The first quarter of the year is by far the most important, followed by the last quarter of the year. We can see this exemplified in the recent results. In both 2017 and 2018, the second and third quarters produced little to negative cash flow and the year was carried on the shoulders of the first and fourth quarters. Hence we have to examine the results produced in the context of a rather cyclical year instead of looking at distribution coverage just for the quarter. With that said, let us look at the actual numbers.
SRLP produces a number of figures beyond the net income and EBITDA numbers and these are exceptionally useful in understanding distribution coverage. The key ones to focus on here would be the adjusted gross margin and adjusted EBITDA.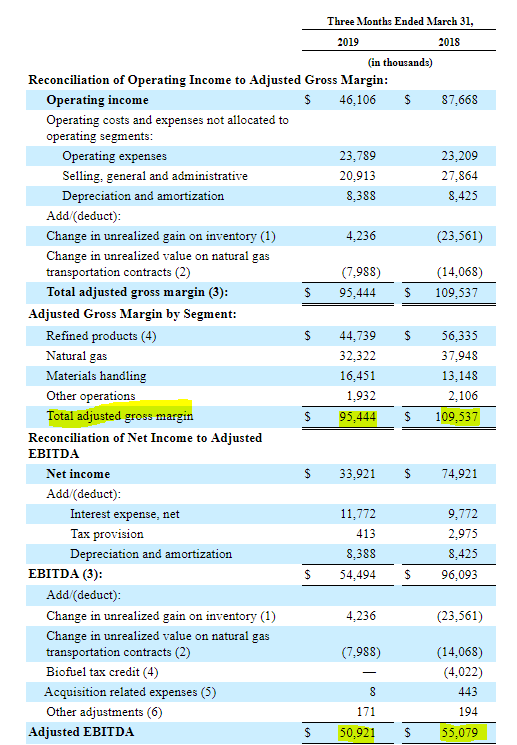 Source: SRLP Q1-2019 10-Q
SRLP produced lower amounts on both fronts and adjusted EBITDA declined by about 7.5%. The key culprit here was the profitability of the refined products segment which dropped more than 20% year over year. Looking further, Distributable Cash Flow or DCF, dropped by 8.7% as a result of higher cash interest expenses versus last year.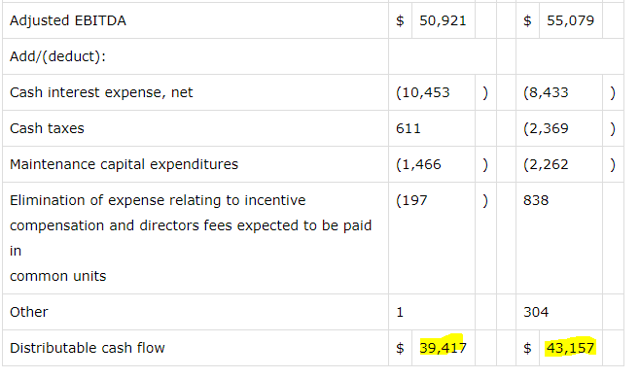 Source: SRLP Q1-2019 press release
On the surface this covered the distributions required at 2.4X, but as previously mentioned this is an extremely variable business and the true problems with distributions can be seen by looking at a rolling 12-month distribution coverage. This number came in at 0.7X, the lowest on record for SRLP.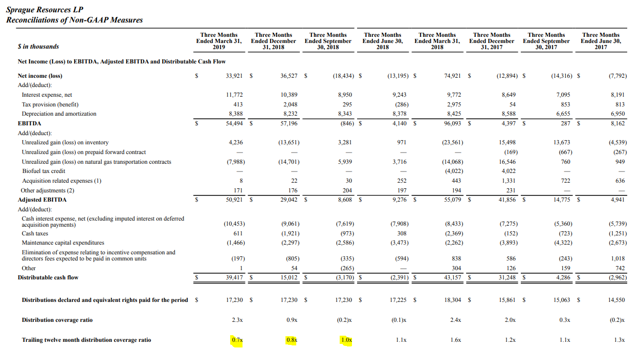 Source: SRLP supplementary
Rolling-four-quarter adjusted EBITDA came in at $97.8 million, well below the $105-125 million range being projected for the year. Q4-2018 was an absolute disaster for the company but even if we use the much healthier Q4-2017 in our numbers adjusted EBITDA only increases to $110.6 million, below the midpoint of management guidance.
One big problem that SRLP faces is that it is running on revenue treadmill. Just look at revenues for 2016 and 2017.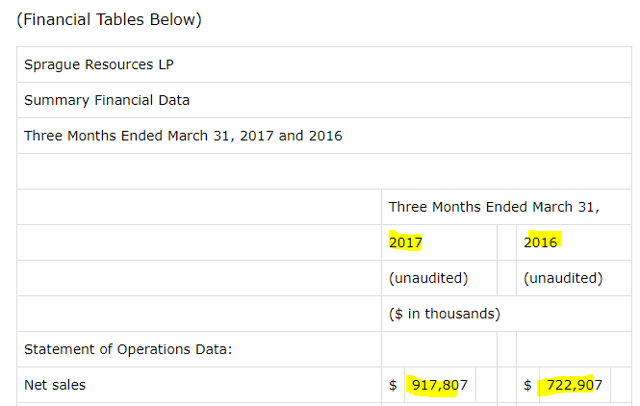 Source: SRLP Q1-2017 press release
Now look at revenues for the last two years for the first quarter.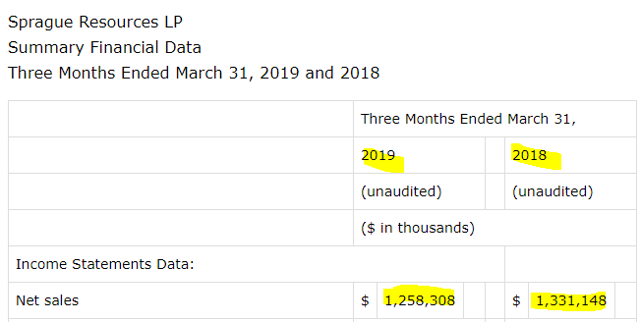 Source: SRLP Q1-2019 press release
2019 revenues are 74% higher than in 2016, yet distributable cash flow or DCF is just 4% higher. Large investments are producing revenue growth without moving the needle on DCF.
Our estimates
With both cash interest and adjusted EBITDA surprising to the downside, we have updated our estimates here to reflect the weakness. We have tightened our range from our last estimates to reflect the margin weakness. We project that Q2-Q4 might produce very little DCF at the low end and moderate amounts at the high end.

Adding these amounts to the Q1-2019 numbers gives us distribution coverage.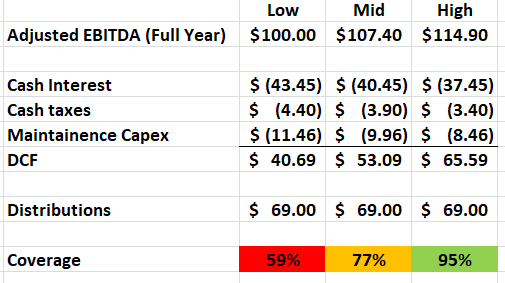 As can be seen, at the low end of estimates, coverage becomes a horror show.
Does that mean a distribution cut?
Many factors go into a distribution cut and predicting one can be an art rather than a science. Here coverage is moving materially lower and we think management is being rather optimistic about their projections. Management has, however, not guided for cash interest, cash taxes or maintenance capex and we are using recent numbers to extrapolate. This decreases our visibility to some extent.
One factor that some might argue that is in favor of maintaining is that SRLP continues to carry really low leverage at 3.6X. The back half of 2019 could also see margins improve slightly as energy markets which were in backwardation have shifted into contango. We think the DCF will come in on the "mid" level, resulting in a $16 million shortfall, but management could offset that with higher debt. As such even with rather bad distribution coverage, the distributions are likely to be maintained for 2019, as management claims. If we do have another fourth-quarter result, like we did last year, the distribution will definitely get cut in 2020 as leverage will start bleeding up to a rather dangerous level. We put the 12-month dividend safety outlook on our proprietary Kenny Loggins scale as follows: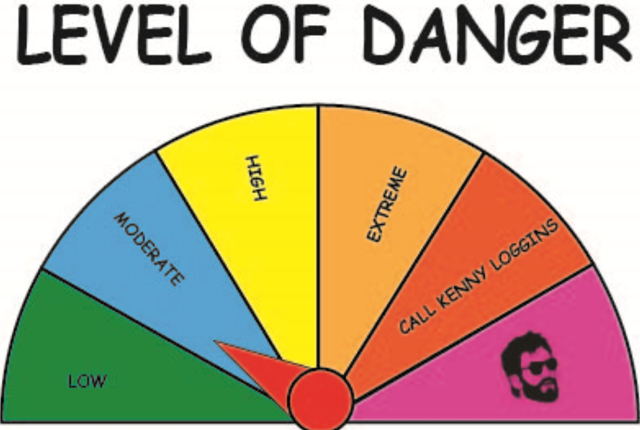 Conclusion
The yield is enticing but management is stuck trying to generate the same amount of DCF with higher and higher revenues. The stock is not expensive based on underlying DCF, but in the midstream space it appears to have a rather low-quality set of assets that are generating very poor margins. We are not fans of the stock but don't see it as a short opportunity either as there is not enough evidence that the distribution cut is imminent. We continue to observe this from the sidelines until the opportunity (we think it will be shorting one) presents itself.

The Wheel of FORTUNE is a most comprehensive service, covering all asset-classes: common stocks, preferred shares, bonds, options, currencies, commodities, ETFs, and CEFs.
Take advantage of the two-week free trial, and gain access to our:
Monthly Review, where all trades are monitored.
Trading Alerts. We don't trade every day, but we issue one trade per trading day, on average.
Model Portfolio, aiming at beating the S&P 500 performance.
"Getting Ready For 2019," a 19-part series, featuring our top picks across eleven sectors plus eight segments.
Disclosure: I/we have no positions in any stocks mentioned, and no plans to initiate any positions within the next 72 hours. I wrote this article myself, and it expresses my own opinions. I am not receiving compensation for it (other than from Seeking Alpha). I have no business relationship with any company whose stock is mentioned in this article.
Additional disclosure: Please note that this is not financial advice. It may seem like it, sound like it, but surprisingly, it is not. Investors are expected to do their own due diligence and consult with a professional who knows their objectives and constraints.

TIPRANKS: HOLD