Duke Energy continues to face regulatory scrutiny, which has put pressure on its stock. These regulatory fears are likely overstated, and Duke's posturing to investors seems more likely a move to trap regulators, rather than to express downside risk to investors.
Duke is seeking rehearings for a number of recent regulatory decisions. Primarily, Duke is seeking a rehearing for recent cuts approved by South Carolina regulators to Duke's subsidiaries rate hikes, as well as an appeal of the coal ash recovery costs and the allowed return on equity (ROEs) that the South Carolina Public Utilities Commission (SCPUC) previously approved. South Carolina regulators had voted to deny Duke from recovering around $600M from rate payers for coal ash costs (related to the Dan River spill in North Carolina).
The recent rate case decisions are worrying investors because of Duke's plan to expand into South Carolina through their potential acquisition of state-owned utility Santee Cooper (Duke is competing with NextEra Energy and others).
However, many of the comments Duke has been making seem more focused towards regulators as they seek to file appeals, not to investors.
On the Q1 earnings call, CEO Good said "we will closely evaluate further investing in [South Carolina] in light of these directives, but those decisions are yet to be made." This is likely just a veiled threat to regulators, rather than a warning to investors. This is likely in response to South Carolina regulators' vote to disallow a large charge that customers would pay towards executive compensation, rejecting Duke's proposal that 75% of Good's compensation and 50% of the compensation of other executives come from ratepayers. While this is certainly not material to the stock, the scrutiny from regulators is worth noting.
Among other issues in the state, Duke subsidiaries DEP (Duke Energy Progress) and DEC (Duke Energy Carolinas) were allowed a 9.5% ROE in South Carolina, significantly lower than Duke's proposed 10.5%. While this may not seem significant at the corporate level, the fear is that North Carolina regulators may take this cue and try to lower allowed ROEs in their jurisdiction as well.
On the coal ash side, South Carolina regulators also introduced massive cuts to the rate hikes Duke proposed to clean up their coal ash ponds.
| Utility | Proposed Coal Ash Recovery | Allowed Cost Recovery |
| --- | --- | --- |
| Duke Energy Carolinas | $470 million | $117 million |
| Duke Energy Progress | $333 million | $41 million |
| Total | $803 million | $158 million |
SOURCE: South Carolina PSC; ORS.
Duke is also facing coal ash issues in North Carolina. The state legislature is debating a bill which would prohibit the company from recovering clean up costs from customers, after regulators in the state demanded Duke clean up all their coal ash ponds. Duke filed an appeal to change North Carolina regulators' decision to require the excavation of all its coal ash ponds. Duke is attempting to charge customers $10B for coal-ash cleanup as a result of the decision, which is a more expensive option than Duke's original plan. The company said it wants to cover the coal ash storage pits with a waterproof cap, saying that would be sufficient. This would allow Duke to spend less money on the clean-up, and protect Duke from the legislation being debated which would cause each dollar spent to be a direct hit to margins. The appeal is likely to take 9-12 months, which will likely put an overhang on the stock. This could allow investors looking to build a position an attractive entry point, especially in a period of increased market volatility.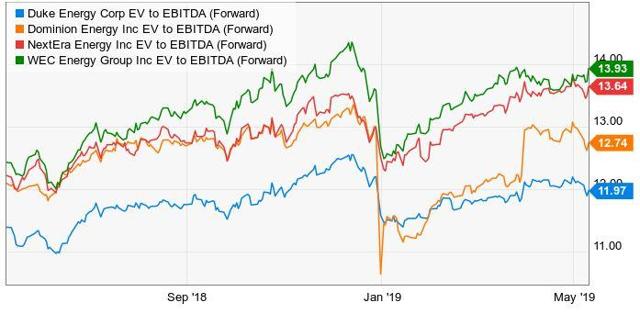 Duke appears cheaper than peers on an EV/EBITDA basis. Notice Duke trades below close peer Dominion Energy, which also faces similar regulatory risks in coal ash.
While Duke certainly faces major hurdles, the risk appears to be largely priced in. The risk reward looks attractive for investors on the long side.
Disclosure: I/we have no positions in any stocks mentioned, and no plans to initiate any positions within the next 72 hours. I wrote this article myself, and it expresses my own opinions. I am not receiving compensation for it (other than from Seeking Alpha). I have no business relationship with any company whose stock is mentioned in this article.