Investment Thesis
Loblaw (OTCPK:LBLCF) [TSX:L] delivered low single-digit top and bottom line growth in Q1 2019. The company has a digital strategy to help defend its market share. In addition, it also has several notable cost saving initiatives that will help it to control its operating expenses. Loblaw currently pays a 1.75%-yielding dividend. However, its shares are fairly valued. We believe investors may want to wait on the sideline for a better entry point.
Recent Developments: Q1 2019 Highlights
Loblaw delivered about 3.1% revenue growth in Q1 2019. Similarly, its EBITDA only grew by about 3.4% on an adjusted basis. The growth was not impressive as it saw food same-store sales growth of only 2% while the food inflation increased by 3%. This means that Loblaw was unable to take advantage of the food inflation to outgrow its same-store sales.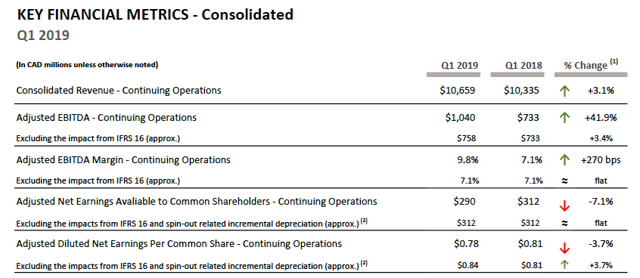 Source: Q1 2019 Supplemental
Earnings and Growth Analysis
Digital investments will help it to defend its market share and grow its sales
Loblaw has a digital retail strategy to help grow its total sales. Its digital investments include digital retail payments, loyalty program, connected healthcare, e-commerce sales, in-store pickups, etc. Here, we will highlight a few initiatives:
(1) Loyalty Program
Loblaw has about 20 million loyalty members. Its loyalty members are more than half of the Canadian population. We believe Loblaw's loyalty program is its biggest weapon to defend and gain market share in the future. The company can use the data from its members to study their shopping behaviour, and provide customized promotions and marketing activities to encourage its members to shop at its stores. This should support its same-store sales growth.
(2) E-commerce
In order to compete with other retailers, Loblaw continues to expand its online grocery pick-up and delivery business across Canada. There are now over 670 PC Express pickup locations. The good thing about Loblaw is that it has a large store network to support in-store pickups. We believe e-commerce will help drive Loblaw's revenue growth in the next few years as retail e-commerce sales should continue to grow at high single-digit growth rates in the next few years (see chart below).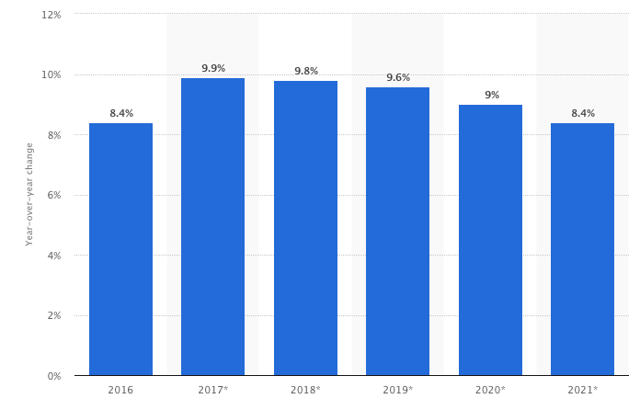 Retail e-commerce sales growth in Canada (Source: Statista)
Although we see promising growth with Loblaw's digital strategy, management has pointed out in its latest conference call that its digital strategy is perhaps more defensive than offensive. Management's conservative attitude is perhaps a sign that the current retail landscape is still quite competitive.
Cost-control initiatives
Loblaw has several notable initiatives to keep its operating expenses under control. One of the initiatives is to add more self checkout counters. The company has already rolled out self-checkouts in its food retails. However, it is also rolling out its self-checkout kiosks to its Shoppers Drug Mart stores. The current goal in 2019 is to continue to roll out its self-checkout kiosks and to increase the penetration rate. In its food retail stores (where self-checkout counters are much more common), the company is also upgrading its self-checkout technology to improve the scan rate. Management indicated that there are in fact several hundreds of initiatives that they have and some smaller scale initiatives include using electronic self-label instead of paper labels. We believe these efforts will improve Loblaw's operating efficiency.
Minimum wage hike headwinds are now behind
In the past year, Loblaw's operating expenses have been challenged by minimum wage increases that have happened in many provinces in Canada. This has resulted in operating margin compression. Fortunately, this is mostly in the rear view. There is no minimum wage hike in Ontario in the rest of 2019. Quebec just raised its minimum wage by C$0.50 to C$12.50 per hour on May 1, 2019. Therefore, we do not foresee significant operating margin pressure due to minimum wage increases in H2 2019.
Risks and Challenges
Drug pricing regulations
Loblaw's pharmacy business may be impacted negatively if there is a significant change in generic drug pricing regulations.
Future minimum wage increase
Minimum wage is set by each province in Canada. Although there are no significant minimum wage increases in most provinces in Canada in H2 2019, things could change if any provincial government decides to increase its minimum wage significantly.
Valuation Analysis
Loblaw's forward P/E ratio is currently at about 15.94x (see chart below). This ratio is slightly higher than its 5-year average of 15.48x. Its forward P/E ratio of 15.94x is about one multiple below Metro's (OTCPK:MTRAF) 16.94x but slightly higher than Empire's (OTCPK:EMLAF) 15.13x. Therefore, we believe Loblaw is fairly valued.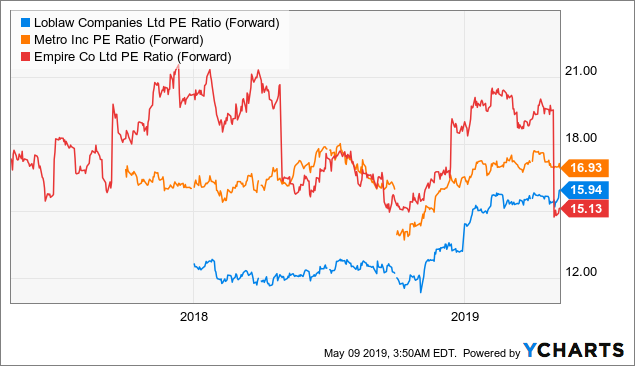 Data by YCharts
A growing 1.75%-yielding dividend
Loblaw has increased its dividend consistently in the past (see chart below). In fact, Loblaw just recently increased its dividend by 6.8%. It currently pays a quarterly dividend of C$0.315 per share. This is equivalent to a dividend yield of 1.75%. Although the dividend yield is not high, its dividend is safe as its trailing 12-month dividend payout ratio as a percentage of free cash flow was only 25.6%.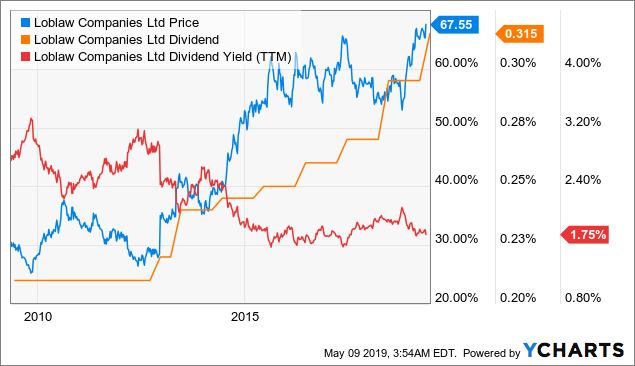 Data by YCharts
Investor Takeaway
While Loblaw should continue to deliver low single-digit top and bottom line growth, we do not see any near-term catalysts that will drive its share price higher, especially given management's conservative view on its digital investment strategy. The company has consistently increased its dividend in the past. Nevertheless, its shares are fairly valued. We believe investors may want to wait on the sideline.
Disclosure: I/we have no positions in any stocks mentioned, and no plans to initiate any positions within the next 72 hours. I wrote this article myself, and it expresses my own opinions. I am not receiving compensation for it (other than from Seeking Alpha). I have no business relationship with any company whose stock is mentioned in this article.
Additional disclosure: This is not financial advice and that all financial investments carry risks. Investors are expected to seek financial advice from professionals before making any investment.