Due to the escalating China-US trade war, the price of iShares MSCI Hong Kong ETF (EWH) has been declining in early May. Despite panics in the market, what is the real impact of the trade war on Hong Kong's economy? In the long run, does Hong Kong have the capability to navigate through the rising geopolitical tensions?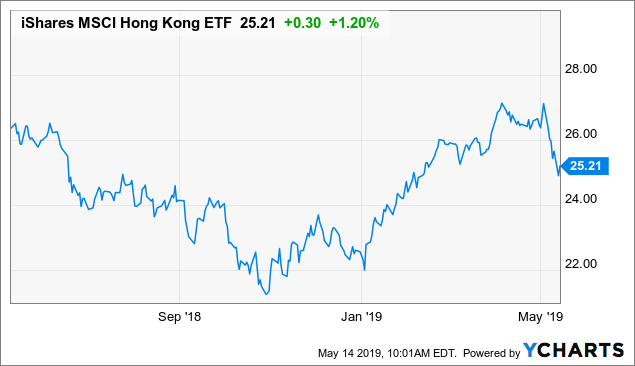 The Economic Structure of Hong Kong
As the leading global financial center in Asia, Hong Kong's economy is concentrated in financial services and trade. Its low taxation, almost free port trade and well established international financial market all make Hong Kong an attractive destination for investors and business people.
According to the Census and Statistics Department, the Government of the Hong Kong Special Administrative Region, services make up 92.4% of GDP in 2017. To break things down, the import and export trade take up 17.5% of GDP, and financing and insurance take up 18.9% of GDP.
Governed under positive non-interventionism, its economy is highly dependent on international trade and finance. The service-oriented economic structure makes Hong Kong greatly exposed to ups and downs in the progress of globalization. One classic example is that, in 2009, Hong Kong's real economic growth fell by 2.8% as a result of the global financial crisis.
The impact of the Trade War
Since the transfer of sovereignty in 1997, Hong Kong and mainland China developed close economic and political ties. According to the constitutional principle "one country, two systems" formulated by Deng Xiaoping, there would be only one China, but Hong Kong could keep its own economic and administrative systems and continue to have its independent trade relations with foreign countries.
Due to Hong Kong's unique status, even though the China-US trade war keeps escalating, US tariffs on Chinese goods do not apply to Hong Kong. The US has treated Hong Kong separately from China in terms of trade export and economics since 1997, as outlined in the United States-Hong Kong Policy Act.
However, this does not mean Hong Kong is completely immune to the negative impact brought by the trade war. Until today, Hong Kong's biggest trade partner is China. Besides, it is the re-export hub between China and the US. As the volume of trade declines between the two superpowers, Hong Kong's economy will certainly get hurt. It is just a matter of magnitude and time.
To deal with increased uncertainties, Hong Kong needs to bring greater diversification into its economic structure and actively expand markets. One opportunity ahead is a booming Southeast Asia. The shift of contract manufacturing and foreign direct investment to ASEAN (Association of Southeast Asian Nations) countries have sped up since the trade war and Hong Kong has a free-trade agreement with this bloc. In the long run, a stronger ASEAN economy provides a buffer against global trade tensions.
Takeaways for EWH Investors
What China-US trade war brings is not only negative investor sentiments but also real threats to Hong Kong's economic fundamentals. Investors are recommended against holding EWH during this time of extreme volatility and uncertainty. That said, Hong Kong is well positioned for market diversification and given enough time, it has the resources and capability to recover from the trade war chaos.
Disclosure: I/we have no positions in any stocks mentioned, and no plans to initiate any positions within the next 72 hours. I wrote this article myself, and it expresses my own opinions. I am not receiving compensation for it (other than from Seeking Alpha). I have no business relationship with any company whose stock is mentioned in this article.